The Independent's journalism is supported by our readers. When you purchase through links on our site, we may earn commission.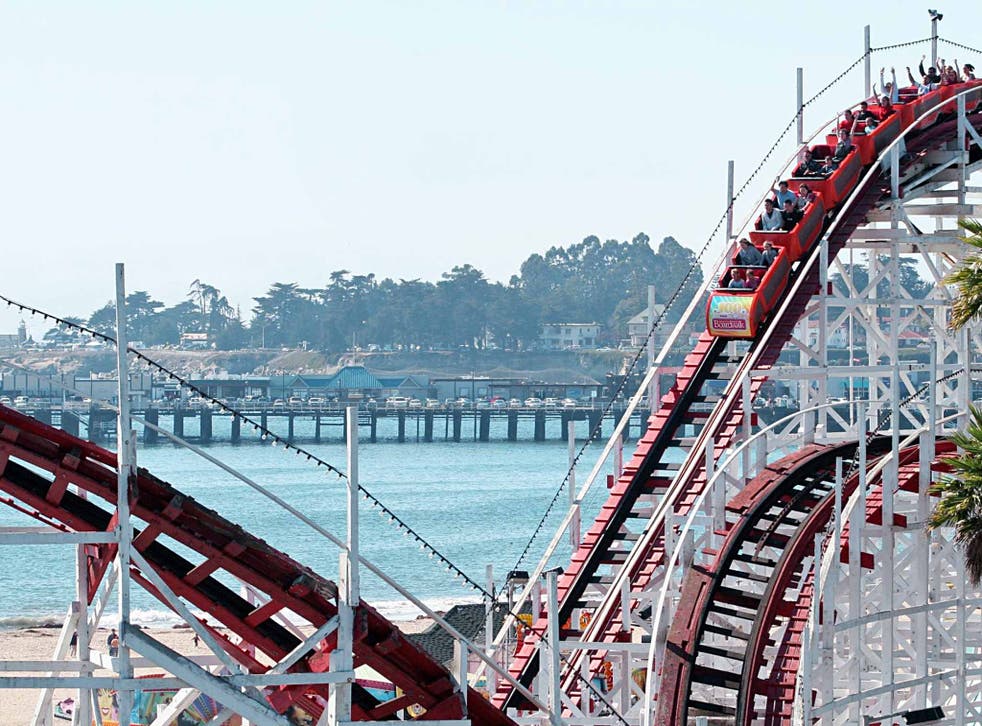 Family California: Traveller's Guide
From the high-adrenalin theme parks of Los Angeles to the natural wonders of Yosemite, this vast state will thrill visitors of all ages, says Chris Leadbeater
'We'll all be planning that route, we're gonna take real soon. We're waxing down our surfboards, we can't wait for June." The Beach Boys' 1963 hit "Surfin' USA" rather neatly encapsulated the appeal of California as a summer destination. Even now, with its talk of "surfin' at Del Mar, Ventura County Line, Santa Cruz and Trestles", it captures the idea of a place that is in thrall to the ocean's whoosh, and locked into some eternal day of sunshine.
Of course, while this is not a picture that is too divorced from reality in high season, there is a lot more to be found in California than boards and breakers.
The third biggest US state (behind Alaska and Texas), it is enormous – proffering as much geographical diversity as many entire countries. In stretching out to 163,694sq miles, it ranges from the Colorado Desert on its southern border (with Mexico) to the lofty crags of Lassen Volcanic National Park and the giants of the Redwood National Park – where its less-seen northern regions meet Oregon.
With such variety, it is also a wonderland for families. The focus, naturally, falls upon a shoreline that, in tracing the Pacific for 840 miles, makes up two-thirds of America's west coast (discounting Alaska). Here, there are myriad opportunities for child-friendly days on the sand in charming towns, while the seafront also hosts three of the US's most alluring major cities – San Francisco, San Diego and Los Angeles.
Then there are the grand areas where children can hear the call of the wild, not least Yosemite National Park.
Family holidays in California

Show all 7
Accessibility is also part of the appeal. Competition on the route between Heathrow and Los Angeles is intense – there are daily flights by British Airways (0844 493 0787; ba.com), Virgin Atlantic (0844 209 7310; virgin-atlantic.com), American Airlines (0844 369 9899; aa.com), Air New Zealand (0800 028 4149; airnewzealand.co.uk), and United (0845 607 6760; united.com).
There are other direct options too – British Airways, Virgin Atlantic and United all serve San Francisco from Heathrow. BA offers an extra service to San Diego (from Heathrow).
Road trips are hugely plausible, even with children in tow. A basic seven-day package for a family of four (two children under 10), flying to Los Angeles with Virgin Atlantic on 16 August, including a week's car hire, costs from £3,750 through Virgin Holidays (0844 557 4321; virginholidays.co.uk).
Fly-drive holidays can also be booked through America As You Like It (020 8742 8299; americaasyoulikeit.co.uk) and Timeless Travel (0844 809 4299; timelesstravel.co.uk).
Further details on California can be sourced at visitcalifornia.co.uk.
Los Angeles
Sand and sea beckon in many areas of Los Angeles (discoverlosangeles.com) – Redondo Beach, Santa Monica, Manhattan Beach. And young visitors will always want to dissect this celebrity era via the 2,500 stars on the Hollywood Walk Of Fame (walkoffame.com).
But when it comes to family travel, Los Angeles is all about the amusement parks. The most notable is Disneyland Resort, in Anaheim (001 714 781 4565; disneyland.disney.go.com). Here, two theme parks compete for attention – the original Disneyland Park, with Main Street USA and Space Mountain rollercoaster, and Disney California Adventure, with many rides tied to the Disney film Cars. One-day, one-theme-park tickets cost $96 (£60) for visitors older than 10, $90 (£56) for three- to nine-year-olds; five-day passes are $266 (£166) and $250 (£156) on the same basis. All tickets can be upgraded for entry to both parks, for $39 (£24).
Guided tours of Universal Studios Hollywood (001 800 864 8377; universalstudioshollywood.com) take in the sets where such movie classics as Back to the Future were made. One-day tickets cost from $87 (£54) for over-10s, $79 (£49) for three-nines.
To the north, in Valencia, Six Flags Magic Mountain has 19 rollercoasters. Entry is $45/£28 (001 661 255 4100; sixflags.com/magicmountain).
A seven-night stay for a family of four at the four-star Hyatt Regency Long Beach, departing Heathrow on 16 August, including a week's car hire, costs from £5,291 through British Airways Holidays (0844 493 0787; ba.com).
San Francisco
California's most picturesque city (sanfrancisco.travel) has the visual capacity to enthral, whatever your age. Its most celebrated site, Alcatraz (nps.gov/alca), is also the spot most likely to intrigue younger tourists, with its clanging cell doors and tales of dastardly former inmates. Tours – adults $30 (£19), five- to 11-year-olds $18.25 (£11); families (two adults, two children) $90.25 (£56) – should be booked in advance through Alcatraz Cruises (001 415 981 7625; alcatrazcruises.com). Departures 9.10am-3.50pm daily, from Pier 33.
Just south of Pier 33, the Exploratorium (001 415 528 4444; exploratorium.edu; adults $29/£18, four- to 12-year-olds $19/£12) is a science museum with exhibits such as the Tactile Dome – where youngsters negotiate a pitch-black maze using only their sense of touch. Similarly, the Children's Creativity Museum (001 415 820 3320; creativity.org; $12/£7.50) has a music studio where visitors can record their own tracks, and there's an animation area where they can make stop-motion figures from clay and bring them to life on screen.
A seven-night break for a family of four (two children under 10), staying at the four-star Serrano Hotel on a room-only basis, with one week's car hire – flying from Heathrow on 16 August – costs from £6,371 through Expedia (020 3564 3904; expedia.co.uk).
San Diego
At the south-west corner of the state, San Diego (sandiego.org) is a city defined by water with its own attractions set inland from the surf-pounded coast. San Diego Zoo (001 619 231 1515; zoo.sandiegozoo.org) ploughs a bestial furrow in the city's dominant green space Balboa Park, with pandas, elephants, gorillas and tigers – adults $46 (£29), children aged three to 11 $36 (£23).
Then there's Legoland California, which sits 35 miles north of the city in Carlsbad (001 760 918 5346; california.legoland.com). Here, Miniland USA recreates landmarks such as the Statue of Liberty and the Lincoln Memorial from the ubiquitous little plastic blocks. Adults $85 (£53), children aged three to 12 $75 (£47).
A seven-night holiday for a family of four (two children under 10), staying at the Declan Suites in San Diego on a room-only basis, costs from £4,414 – flying from Heathrow on 16 August, via Travelocity (0871 472 5116; travelocity.co.uk).
Seaside splendours
Away from the urban roar, the coastline is dotted with relaxed towns. Santa Cruz (santacruz .org), 72 miles south of San Francisco, is crowned with the Beach Boardwalk (001 831 423 5590; beachboardwalk.com; all-day passes are $32/£20) and an old-fashioned funfair that offers mini golf, wooden rollercoasters and free film screenings on the beach. The town's Dream Inn (001 831 426 4330; jdvhotels.com) has family suites from $404 (£253), room only.
Some 170 miles above San Francisco, Fort Bragg (fortbragg.com) is a lovely example of the northern California seaside. Here, Glass Beach is a pretty curiosity, an oceanside strip where bottles were dumped until 1967, only for the Pacific waves to shape them into smooth multi-coloured "pebbles".
Travellers can find family-sized rooms at Seabird Lodge (001 707 964 8000; seabirdlodge.com) costing from $95 (£59), room only. The under-17s can stay there free.
On the road
California's classic road trip is the 500-mile journey from Los Angeles to San Francisco on State Route 1 (Highway 1). Realistically, this is a three-day jaunt which can be broken up with a stay at Treebones (001 877 4244787; treebonesresort.com) – a quirky hideaway near Big Sur where permanent yurts overlook the Pacific. Family-sized accommodation (sleeping up to four; children must be over six) starts at $285 (£166) per night, including breakfast.
Northern California supplies a world wonder – the Avenue of the Giants, a 32-mile scenic route which snakes between the thick-trunked behemoths of Humboldt Redwoods State Park (avenueofthegiants.net).
Junior imaginations should be fired up by the fact that some of these enormous trees, including the Chandelier Tree at Leggett ($5/£3 per vehicle), are sufficiently sizeable that cars can pass through them – and by the stately age of the Immortal Tree, which has survived lightning strikes and loggers' hacksaws to chalk up its 950th birthday.
Wild frontiers
The rugged side of California is exemplified by the Yosemite National Park (nps.gov/yose) – the 1,200-square-mile zone of granite peaks, waterfalls and hiking trails (below) which wells up 190 miles east of San Francisco. This dramatic landscape does not need to be anathema to children. Those aged seven to 13 can learn about the wildlife with the Junior Ranger Handbook, available from all visitor centres ($3.50/£2) – while the Curry Village camp has cosy log cabins and heated tents that are perfect for families. Four-bed tents cost from $141 (£88) per night during August (001 801 559 4884; yosemitepark.com).
Similarly untamed, but less publicised, Lassen Volcanic National Park frames the 10,457ft lava-fried titan of Lassen Peak, some 240 miles north-east of San Francisco (nps.gov/lavo). Walking options include the three-mile Mill Creek Falls Trail, and cabins at Manzanita Lake Campground – from $89 (£56) a night, room only – are ideal for families (001 530 335 7557; lassenrecreation.com).
Register for free to continue reading
Registration is a free and easy way to support our truly independent journalism
By registering, you will also enjoy limited access to Premium articles, exclusive newsletters, commenting, and virtual events with our leading journalists
Already have an account? sign in
Register for free to continue reading
Registration is a free and easy way to support our truly independent journalism
By registering, you will also enjoy limited access to Premium articles, exclusive newsletters, commenting, and virtual events with our leading journalists
Already have an account? sign in
Join our new commenting forum
Join thought-provoking conversations, follow other Independent readers and see their replies