The Independent's journalism is supported by our readers. When you purchase through links on our site, we may earn commission.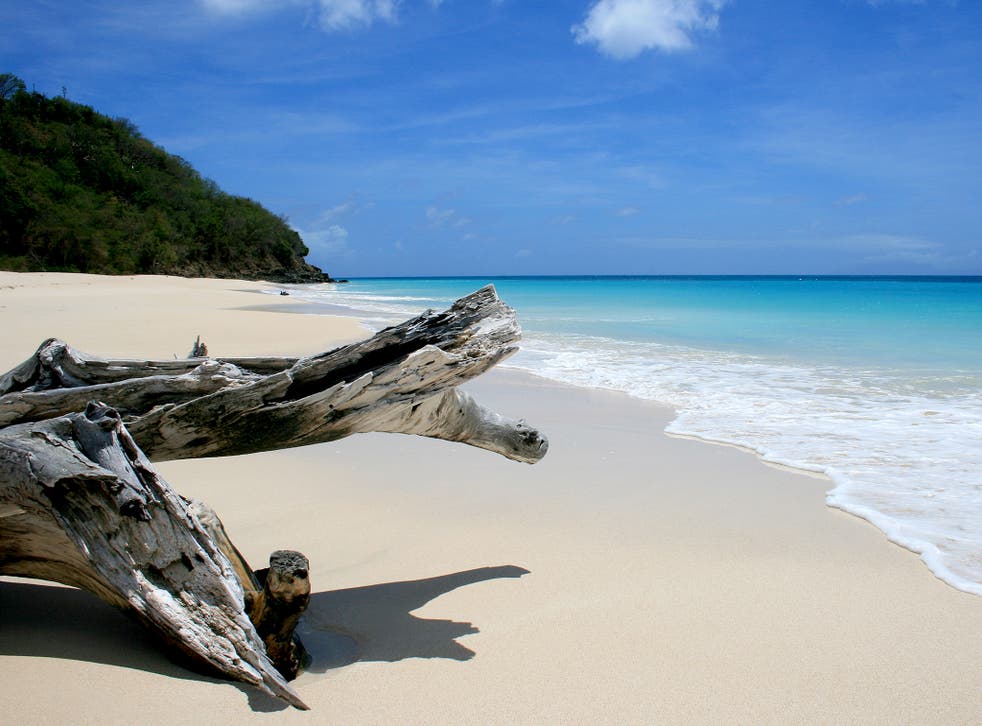 Fifty shades of blue: Antigua has them all
All-inclusive resorts might offer good value, but they can also keep you confined to one spot. Mark C O'Flaherty reveals how a multi-resort trip will feel like three holidays in one
Unless you're there for Sailing Week (25 April to 1 May), cricket, birdwatching, or to research the history of the sugar trade, there's not really much to do in Antigua. And that's why I love it. I can't whizz up and down a strip of great restaurants as I can in Barbados, and there aren't any bioluminescent bays to sparkle my way around in a kayak. But I don't come for any of that.
I could, if I wanted, scuba dive around the numerous shipwrecks, but like most people, I fly to Antigua for the supposed 365 beaches and to do nothing more taxing than debate whether midday or 1pm is acceptable for the day's first rum punch (I lean towards the former).
With an eye on a fixed budget, I always go all-inclusive. Along with some of the most beautiful beaches on the planet (yes, "one for every day of the year", we know), Antigua has honed a style of resort that gives all-inclusive a good name. Too often the model equates to rice-heavy buffets served repeatedly in the same restaurant, and beer guzzlers testing out the capabilities of the bar; but that's not the case in Antigua where the approach is rarefied. There are plenty of budget options too: you can bag a week at three-star Jolly Beach, with flights, for less than £1,000. For that, you get three meals a day, afternoon tea, bar snacks and all house-brand beverages and cocktails, as well as a non-motorised watersports and two kids' clubs. (Although $10/£6.70 a day for wi-fi seems tight.)
Elsewhere, a step-up from Jolly Beach's three-stars is the boutique Keyonna Beach, which has rooms from $817 (£554) per night.
But it's at the higher end that things really excel, while still representing a good deal. From the "Super Chill Out" packages at the sleek Carlisle Bay, to the offshore celebrity villas of Jumby Bay, Antigua has some of the best, most sophisticated all-inclusive resorts anywhere. At the highest end, you'll see little change from £4,500 for a week, but consider: if you were staying at a Four Seasons or Aman and dined at their restaurants three times a day, with cocktails, rosé and three courses, you could multiply that figure.
Inevitably, the best resorts punctuate the perimeter of the island. Each has a markedly different personality and visual appeal – in some cases, radically so. Which is why mixing and matching, rather than staying at one, is such a good idea. It's something that few consider, but if you've found yourself restless after four nights of the same bars, restaurants and beach, it's like having a second or third holiday. And you can mix and match price points – a week at Hermitage Bay may seem impossibly expensive, at nearly £6,000 for two, but perhaps you can stretch to three nights.
A good tour operator will have negotiated prices in advance and therefore should be able to get the best overall deal; they are also able to get the most flexibility on mix-and-match stays outside peak season. Also, booking a proper package holiday of flights and accommodation offers protection should any element go wrong. With that in mind, I put the mix-and-match notion to the test.
High-end classic: Curtain Bluff
That another guest would stop my driver and complain about his Japanese car because he was at Pearl Harbor on the morning of 7 December 1941 says a lot about Curtain Bluff. This is a resort that attracts an older, largely American clientele. While the decor has been refreshed and toned down a little in recent years (a shame – I loved the overblown Mills & Boon-cover style of yore), it's still something of a dark, split-cane furniture time warp. Some rooms open out on to a lovely beach, while the main beach has its own restaurant (reservations are required for dinner when it transforms into an intimate, Med-style dining space). The cocktails are full strength, the food is good and the service is slick, although a little surly at times.
Curtain Bluff reminds me a little of the family-run hotels I used to visit as a child on the south coast of England. Everyone here knows the fabulously chic, omnipresent Chelle Hulford, who colour coordinates her outfits like no one I've ever seen. Chelle opened the resort with her husband, Howard, in 1962. Howard died in 2009, but when the guests get together over a few bottles of champagne at Chelle's private home on top of the hill, where she awards them gifts for 20th, 30th, 40th, or even 50th visits (you get free stays for the rest of your life after that half-century mile post), everyone talks about him as they would a much-loved brother. And most are on first-name terms with one another.
This is a plush, well-groomed dinosaur of a resort on the south west coast, where people dress the part for a tennis match as much as for dinner and where a Martini in the bar feels as glamorous as it does civilised. Deluxe beach-front rooms start at $790 (£527) per night.
Boutique and romantic:
Hermitage Bay
Your swim may be marred by the reef, the sand has more than its fair share of shells and gnarly coral, and it's a steep walk, or a lot of steps, back to the bar and restaurant from your room, but I can't think of another resort that gives you as much "wow" factor right after check in.
Each of the Hillside Pool Suites at Hermitage Bay has a sizeable terrace and private pool, sized-up for sinking a cocktail a deux while looking out at the sea at sunset. It's an Imax-scale paradise moment; skinny-dipping is almost certainly on the cards.
This is a tranquil, intimate (25-room), sophisticated, adults-only resort in the middle of Antigua's west coast. Food portions in the restaurant are a little nouvelle (read: small). But the seafood and other bistro dishes have a lot of flair, with a few Antiguan twists: "chop-up" on the breakfast menu is a bubble-and-squeak blend of okra, pumpkin, aubergine and spinach. Refreshingly, the dining room feels like a real restaurant, not a mop-clean canteen or hotel breakfast room. Unusually for an all-inclusive, champagne (in winter only – prosecco in summer) as well as house wines and spirits are offered as part of the room rate.
The design of the Hillside Pool Suites gives you total privacy and actually makes you want to spend time away from the beach. The look is modern tropical: clean lines, dark wood, Missoni throws, great bathrooms and outdoor showers. Bedroom doors open out to the decking, to blur indoor/outdoor living. And walking is optional: a member of staff is more than happy to ferry you back in a little electric buggy.
This is perhaps one of the most beautiful resorts in the world, which goes some way to explaining the room rates. Hillside Pool Suites start at $1,245 (£830) a night, with cheaper villas available at ground level.
Family-friendly luxury: The Cove Suites at Blue Waters
Populated largely by British visitors, The Cove Suites represent the deluxe offering at the expansive, rambling Blue Waters resort, in the far north of Antigua. The staff are friendly to a fault, and are able to second-guess their guests: my wine glass was repeatedly refilled at lunch without any request.
On some scores, it's a throwback resort: there are immense buffets for breakfast and lunch which bring out the greed in the gourmand (I see nothing wrong with pasta for pudding); there might be dancing after dinner, or a panpipes cover of "Gangsta's Paradise" wafting over the barbecue. Then there's the soundtrack to the petal-strewn private dinner for two on the sand: "Every Breath You Take" and "Nothing Compares 2 U" are songs for stalkers and the heartbroken, not the honeymooner. But this aside, Blue Waters pretty much ticks every box on the paradise list.
The Cove Suites are extra large rooms, with balconies or terraces, in what look like private whitewashed mansions, surrounded by purple bougainvillea, with their own pools. Each house has its own poolside bar – and you can use the mobile phone you've been given on arrival to dial an order through, so you don't have to move.
The grounds are something special – I spent ages Instagraming spectacularly coloured (but poisonous) Elephant Hawk-Moth caterpillars that were devouring everything on the tree next to my room.
There are more than enough pools to make sure you don't see anyone else at all, and there's a large beach with plenty of watersports. I preferred the small, isolated, crescent-shaped beach, which I had to myself for most of my stay. Similarly, the resort manages to keep enough options open for dinner to make sure you don't have to eat more than once in the same place over a three- or four-night stay. The cliff-top Cove restaurant was the best of the bunch: the lobster and steaks were as good as anything in any upscale London dining room, and the room has urban glamour too. My only real gripe: when it says "all soft drinks" are included on the all inclusive package, an attempt to charge for sparkling mineral water (handled, tellingly, like Krug, with its own ice bucket) is not on.
The Cove Suites at Blue Waters are at the upper end of the Antigua price scale (from $1,037/£691 for two adults and two children per night). But for around half of the price of the larger suites you can get a freshly refurbished Superior Hillside Room in the same resort that has all the style, albeit less floor space and view. If you're unlikely to be spending much of your time in your room, it's an appealing option.
Travel Essentials
Getting there
ITC Luxury Travel (01244 355 550; itcluxurytravel.co.uk) has a 10-night holiday in Antigua for £3,639pp, including return BA flights from Gatwick on 1 December and private transfers. It includes four nights' B&B in a Superior Hillside Room at Blue Waters; three nights' all-inclusive in a Deluxe Room at Curtain Bluff; and three nights' all-inclusive in a Garden Suite at Hermitage Bay.
Antigua is served non-stop from Gatwick by British Airways (0344 493 0787; ba.com) and Virgin Atlantic (0844 209 7777; virgin-atlantic.com).
Staying there
Blue Waters Resort, St John (0870 360 1245; bluewaters.net); Curtain Bluff, Old Road (0800 051 8956; curtainbluff.com); Hermitage Bay, Perry Bay Main Road, Jennings (001 268 562 5500; hermitagebay.com); Keyonna Beach, Valley Church, Jennings (001 646 262 5234; keyonnabeach.com). Jolly Beach, Bolans Village, Bolands (001 268 462 0068; jollybeachresort.com).
More information
Register for free to continue reading
Registration is a free and easy way to support our truly independent journalism
By registering, you will also enjoy limited access to Premium articles, exclusive newsletters, commenting, and virtual events with our leading journalists
Already have an account? sign in
Register for free to continue reading
Registration is a free and easy way to support our truly independent journalism
By registering, you will also enjoy limited access to Premium articles, exclusive newsletters, commenting, and virtual events with our leading journalists
Already have an account? sign in
Join our new commenting forum
Join thought-provoking conversations, follow other Independent readers and see their replies