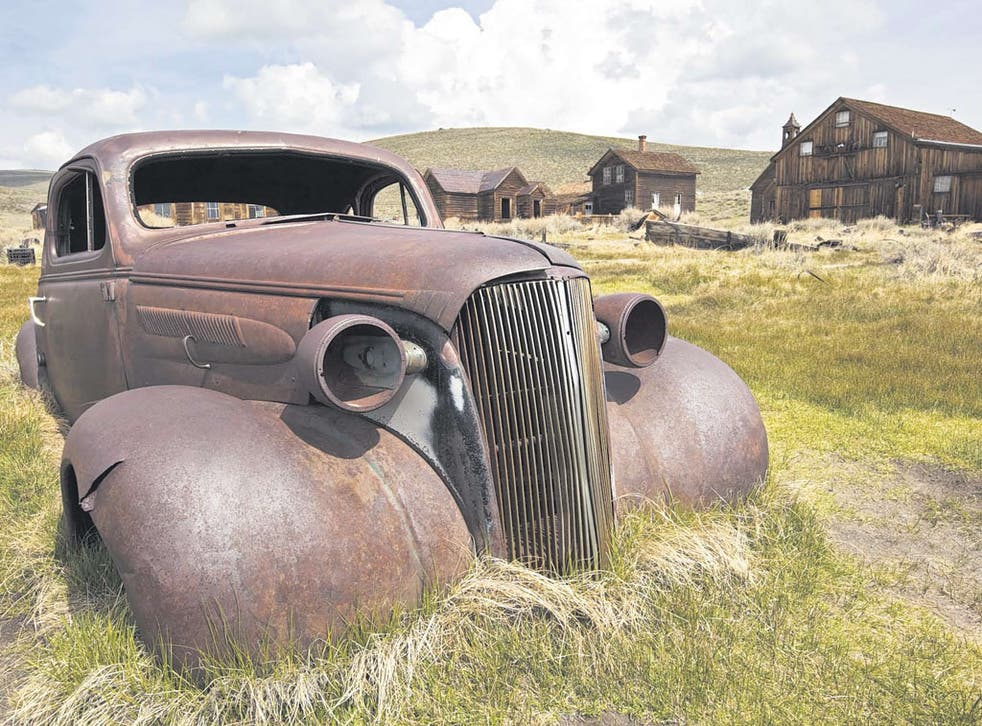 Forgotten corners of the South-west
Elizabeth Zach finds a deserted old town, lonely lakes and a poignant relic of the Second World War
Elizabeth Zach
Friday 02 November 2012 13:39 Comments
The unpaved road leading to Bodie felt like it led nowhere. Here on the California-Nevada border, you might as well be on the moon. Dusty plains, sagebrush and granite outcrops stretch east to Nevada, simmering in the desert heat. I drove on, slowly skirting canyons and boulders, hoping the car wouldn't overheat. It had been a while since I'd seen another car, leading me to imagine what those gold seekers more than a century ago must have been thinking, out this way with little beyond rumour that fortune, or even sustenance, could be found here.
After a dozen miles, the baddest, they say, of the old bad towns of the Wild West emerged. Bodie, which once was home to up to 10,000 brave souls, is now a ghost town, the most authentic in America's West, it's said. Pine clapboard houses, a mineshaft, schoolhouse and a general store are all preserved in arrested decline. So, too, are a Methodist church and a saloon, I noticed, as I passed along Maiden Lane and Virgin Alley. On the June day I visited, there were only a handful of tourists, so this ghost town did feel spectral, especially as the wind picked up and whistled around the town's dirt paths.
I peeked inside the old saloon at the roulette wheel and card decks. I saw the heavy coat of dust on bed box springs and a kitchen counter of one of the abandoned houses, left here since the early 1930s. Here and there, I spotted gold-mining equipment left to rust. I stopped to read in a guidebook that one child, learning that his family planned to move here, was reputed to have exclaimed, "Goodbye God, we're going to Bodie!"
My more pleasant visit was a 13-mile departure from US Highway 395, which I drove from north to south, eager to enjoy a lesser-known corner of California. I had already seen the famed beaches, hiked among the majestic Redwoods in the north and around Lake Tahoe, and been dazzled by San Francisco, that jewel of a city perched on the edge of the western hemisphere.
US 395, I speculated, might be the east of California's Eden, the proverbial off-the-beaten-path in the Golden State that John Steinbeck so admired. I learnt, too, that there are attractions such as Bodie and Manzanar, a former detention camp for Japanese-Americans during the Second World War that is now a national historic site. I planned to end up in Death Valley National Park, itself a great draw, but I was more curious about this desolate ribbon of asphalt.
Stretching south from Carson City, Nevada, to the Owens Valley 250 miles north of Los Angeles, the highway skirts the eastern slopes of the Sierra Nevada mountain range and rolls across the deserts. When I joined it, after crossing from Lake Tahoe at Stateline into Nevada, I stopped to look back at the mountains and was struck by the contrast here, for just on the other side, less than an hour before, I'd seen lush clusters of Manzanita and pine trees on the slopes. Now I was surrounded by greasewood, tumble-weed and jagged peaks, some with snow. It was off the beaten path, for sure, and offbeat, too.
I soon saw oases, too, such as Topaz Lake, bordered by gentle, treeless hills and dotted with a few houseboats. Further south, and perhaps the most alluring stop on the route is Mono Lake, where I spent a morning kayaking around surreal limestone towers and watching baby brine shrimp zip to and fro underwater.
I checked into the cosy El Mono Motel in Lee Vining. It has just 11 rooms, each individually decorated, a well-stocked library and game room. El Mono attracts mountain climbers before they head into less hospitable environs at nearby Mammoth mountain, Mount Whitney, and Yosemite. The view to Mono Lake, just across the highway, is immensely appealing.
This is California's own Dead Sea. Try to swim here, as I did, and the warm salty water holds you afloat. There are no crowds, no motor boats, no real roads leading to the water's edge. Mark Twain, in Roughing It called Mono "the loneliest place on Earth".
I'd reserved a kayak in advance with Caldera Kayaks, which includes a geologist guide who explains this fragile ecosystem. Stuart Wilkinson met me at the end of a gravel road, kayaks racked atop his truck. We were the only ones out on the shores of this lustrous lake, the serenity broken only by our kayaks gliding along and flocks of sandpipers and swarms of alkali flies overhead.
Wilkinson told me of the indigenous people, the Monachi, who once roamed both the eastern and western slopes of the Sierra Nevada, and how the lake's name comes from them. Mono is one of North America's oldest lakes – scientists reckon it was formed at least 760,000 years ago – and also one of the saltiest. With no outlet, it's three times saltier than the ocean.
I returned to US 395, then stopped at the Tioga Gas Mart. It wasn't petrol I was after, but the lobster taquitos and the tacos with ginger coleslaw and Brazilian black beans. The Whoa Nellie Deli part of the gas station is a gourmet jewel known mainly by word of mouth and located in the most unlikely of places. It served one of the best meals on my trip.
A few miles later, I took the June Lake Loop detour, stopping at crystal-clear Grant Lake in order to rinse off Mono's salt. Here I lay in the sun reading while three teenagers fished close by. Later, at June Lake, I watched paddle-boarders criss-cross the placid waters.
Returning to US 395, I passed the verdant Inyo National Forest, the landscape blending back again into parched valley where, off into the distance, I spotted the wooden watchtower that announces Manzanar National Historic Site.
In 1942, in response to espionage fears, the US Army leased 6,200 acres from Los Angeles and had dozens of barracks built as an internment camp for some 120,000 Japanese-American men, women and children following the bombing of Pearl Harbor. Today, it is a reminder of how quickly civil liberties can vanish in a democracy. However, inside the exhibit, the words "internment camp" felt incongruous, for what stood out for me was how determined the prisoners were to dignify or somehow normalise their imprisonment. Manzanar had newspaper offices, a fire department, police station, baseball fields, a Catholic church, orchards and gardens, a hospital, a Buddhist temple and a cemetery. I was drawn to photos of the camp baseball team and of women tending gardens, as well as wistful paintings of camp life and elegantly crafted brooches of birds and flowers.
That night, my last along US 395 before I left the highway and veered east toward Death Valley, I slept at Lone Pine, 30-minutes drive from Manzanar. I'd chosen Lone Pine, population 1,700, and specifically the retro Dow Villa Motel, built in 1922, because I'd read that John Wayne and Errol Flynn had been guests there while filming various Westerns in the nearby Alabama Hills. The neon sign still beckons die-hard fans and weary travellers.
After I checked in, I took a short walk along US 395 to see how the soft orange hues of the hills contrasted with the craggy Sierras beyond. Native Americans, fortune hunters, the US Army, filmmakers and adventurers – all have been drawn to this searing, ethereal landscape. Yet, thankfully, remarkably, it maintains its quiet beauty.
Travel Essentials
Getting there
The best approach for the northern end of US 395 is Reno in Nevada, served by a wide range of airlines, with the most frequent connections via San Francisco. The southern end expires near Hesperia, north-east of Los Angeles, which has daily non-stop flights from Heathrow. For Death Valley, Las Vegas – served by BA from Gatwick and Heathrow, and by Virgin from Gatwick and Manchester – is the best gateway.
Staying there
El Mono, US Hwy 395, Lee Vining (001 760 647 6310; elmonomotel.com). Doubles from $65 (£40).
Dow Villa Motel, 310 S Main St, Lone Pine (001 760 876 5521; dowvillamotel.com. From $105 (£65).
Visiting there
Bodie State Historic Park, Hwy 270 (13 miles east of US Hwy 395). See parks.ca.gov. Admission is $7 (£4.50), under 16s $5 (£3).
Manzanar National Historic Site, US Hwy 395. See nps.gov/manz. Free admission.
More information
Mono Basin Scenic Area Visitor Center, Hwy 395 (001 760 647 3044).
Caldera Kayaks (001 760 934 1691; calderakayak.com) runs tours from $60 (£37) per person.
Register for free to continue reading
Registration is a free and easy way to support our truly independent journalism
By registering, you will also enjoy limited access to Premium articles, exclusive newsletters, commenting, and virtual events with our leading journalists
Already have an account? sign in
Join our new commenting forum
Join thought-provoking conversations, follow other Independent readers and see their replies