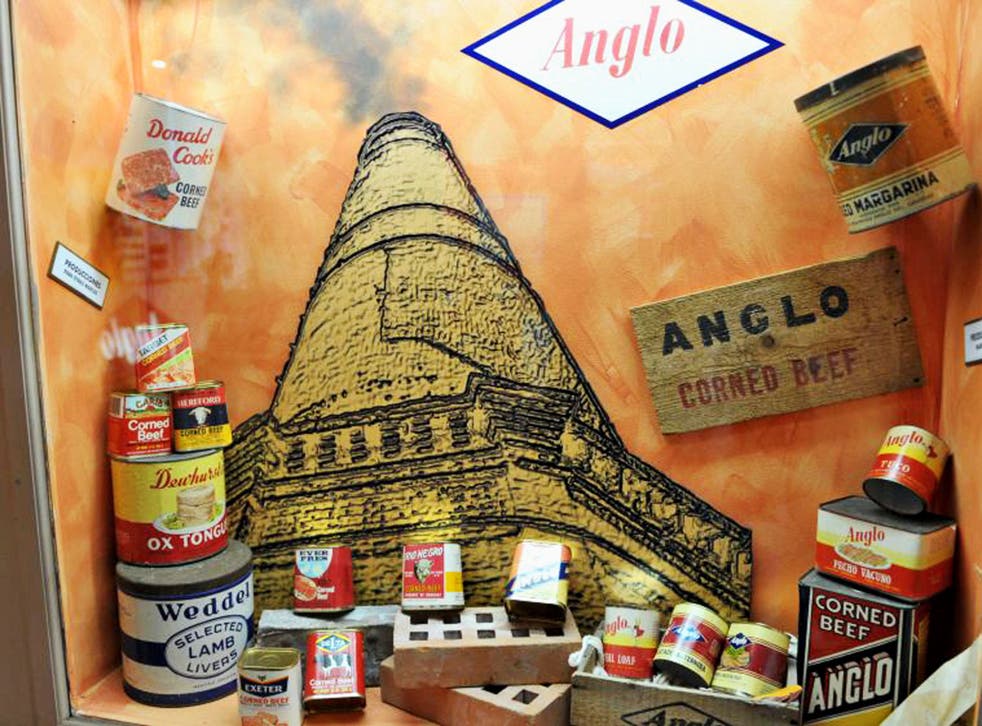 Fray Bentos: Uruguay's new World Heritage Site
Starting at the meat-processing plant in Fray Bentos, Chris Leadbeater hits the highway to explore this little nation's surprisingly varied highlights
At first glance it looks out of context – a dirty, work-weary giant snoozing in the Garden Of Eden. At second glance it looks worse – a rusty nail hammered into a Monet painting.
I peer at the gently flowing water, then at the huge cube of concrete that rears alongside, dabs of grime staining a wall where the word "Anglo" is still legible in black letters. Brick chimneys invade the sky, gnarled brown fingers jabbing at pale blue. In front, a distressed jetty juts wheezily into the currents, roped off, planks splintered, on the verge of collapse. You could never describe the Museo de la Revolución Industrial as the most beautiful of sites.
It sits in Fray Bentos, in the far west of Uruguay – a blot on the otherwise pristine river of the same name. And it has done so for 150 years, set up in 1863 as a processing plant for Liebig's Extract Of Meat Company, a German firm which had found a way to wring the last nutritious value from the humble cow (a foodstuff that would later be trademarked as "Oxo"). Perfectly pitched on the navigable river system of lower South America, and blessed with a constant supply of cheap cattle, the complex was a monetary miracle. For 116 years, it pumped out the bovine paste that would sustain Europe through two world wars – particularly after 1924, when it was bought by British food group Vesteys, becoming known as "El Anglo". At its height, it employed 5,000 workers, and it was in operation until 1979. Much loved by the town it made a byword for meat products, it was revived as a museum in 2005. Unesco has just given it World Heritage Status.
On paper, it does not sound an obvious tourist attraction. Yet in its own way, this temple to sweat and blood is as emblematic a sliver of the 19th century as the ornate ironwork of the Eiffel Tower, the enlightened thought of the Statue of Liberty, or the dusty toil of Cornwall's tin mines. It is an early totem of globalisation, of the planet's industrial growing pains.
Wandering inside, I feel I have plunged through a hole in time. The main office salutes a vanished era, enormous hand-scrawled ledgers open on desks of polished wood. On the floor below, a series of exhibits captures the soul of the site – glass cabinets full of items that were made here, pies, puddings, packaging; a delightful Ford 37-V8 delivery truck, a relic of 1937; a chart remembering the 60 countries – from Albania to Venezuela – whose citizens found jobs in these busy rooms; a mural by artist Ricardo Ríos Cichero showing boxes piled on ships, cows going to their doom.
The latter ritual comes into cold focus in the guts of the factory. A rickety ramp leads to the slaughterhouse, where the metal hooks that carried carcasses hang limp. The space is uncomfortably colossal, the sunlight that squeezes through the smeared windows unable to heat it. The refrigeration hall is dark and chill in redundancy, though there is a warmer vibe to the control room, where levers and machinery sing with familiarity. Every panel, it seems, is stamped in memory of the place that forged it: Derby and Wakefield, Leeds and Sheffield, Bedford and Glasgow, Britain's lost labours alive at the end of the world.
If this chimes as dislocated, out of synch – the metal and muscle of Yorkshire, Scotland and the Midlands recalled in a far corner of the Latin realm – then this is also appropriate.
For, of all the countries of South America, Uruguay may be deemed the one most lacking a clear identity of its own. It is the second-smallest state on the continent, a nation of just 3.3 million, roughly Britain's equal in area. It is a quiet child, drowned out by its garrulous siblings Argentina (to the south and west) and Brazil (to the north). Indeed, it has only officially existed since 1828 – the year it finally extricated itself from the grasp of these two powerful neighbours after a 17-year struggle.
When it drifts into focus, it is rarely for more than a moment. Charles Darwin passed through on his way to bigger revelations during the voyage of the HMS Beagle, visiting south-westerly Colonia del Sacramento in November 1833, finding it damaged by the recent fight for independence.
"Town pretty looking ... few vessels, ruined church," he wrote. And Graham Greene summed up the country's limited profile in 1969's Travels With My Aunt. "The low wooded shore of what I took to be Uruguay unrolled in the misty rain," muses the protagonist, innocent abroad Henry Pulling, without interest, as he sails up the River Plate. "The water was ... the colour of coffee with too much milk."
Greene's dismissive tone was not unfair. Utterly rural in its upper 80 per cent – a pastoral oasis where gauchos tend livestock – Uruguay cannot boast the sort of major landmarks touted by its continental colleagues: no huge Christ statues, epic waterfalls, or snowy peaks.
But it is this very obscurity that makes it such a fascinating destination for aficionados of South America (especially between December and February – high summer at this sub-equatorial latitude). Fray Bentos is a case in point. As well as cradling a curious fragment of Britain's former industrial prowess, it is a logical beginning for a road trip that traces a truly iconic waterway.
Sixty miles to the south, just below the tiny port of Nueva Palmira, the knoll of land known as Punta Gorda marks the spot where – fed by the Uruguay and Negro rivers – the River Plate (or Rio de la Plata) bursts forth. And my plan is to follow it, the planet's widest estuary, on its 250-mile journey to meet the Atlantic – trying to learn something of this shy country as I go.
A quiet prettiness abounds as Fray Bentos fades in my mirrors. I drive south, through the slanted streets of Mercedes, where families doze next to the Negro on Playa Los Michis – and on to Dolores, where elderly matriarchs fuss at flowers in the dim interior of the red-brick church on the main square. On the Ruta 21 highway beyond, birds swarm around my car, green parrots soaring out of my path. Outside Carmelo, they are replaced by the fireflies that swirl as I eat dinner on the porch of Finca Narbona – a 19th-century winery whose vines are encouraged by the proximity of the freshly-sprung Plate. As I drop into bed in the attached lodge, I can sense the river's unstoppable presence behind the grapes.
Colonia, 50 miles south-east, is also indebted to the estuary – as it has been since 1680, when Portugal founded it as a provocative foothold in Spanish territory. Over 300 years on, the rivalry continues, the skyscrapers of Buenos Aires faintly visible on the opposite shore, taunting a town that has barely moved on from the 17th century, though it has at least healed the broken bones jotted in Darwin's notebook. The Basílica del Santísimo Sacramento stands stocky on Plaza de Armas, Patrimonio serves Maestra beers in a garden overlooking the water, and the fine hotel Posada Plaza Mayor makes inviting use of a 19th-century house. There are ghosts too – the abandoned bullring on the outskirts, a purposeless shell since the bloodsport was banned in Uruguay in 1912.
Montevideo could be dismissed as a ghost too. On the next morning's drive to reach it, I start to doubt its existence, such is the absence of sprawl on Ruta 1 – until I finally espy the reluctant suburb of Ciudad del Plata. This is fitting. Uruguay's capital is a symbol of the country's silhouette existence, forever trapped in the headlights of estuary counterpart Buenos Aires. As I arrive in the Ciudad Vieja, all visual markers seem to disappear, the old town introducing itself as labyrinth, its tumbledown houses refusing to tell their tales.
Yet, again, the Plate has its say. It wraps itself around Montevideo like a scarf about the shoulders – soft and comforting. Its soupy depths support the clank and clang of the port, which still goes about its business pragmatically close to the centre – before the workers scurry over the road for lunch at the Mercado del Puerto, where meat crackles on the barbecues in this smoky 19th-century market hall. The river's waves frame the sunbathing afternoons of the locals on the urban beach Playa Ramirez. And it has long fuelled the city's economy, a fact implicit in the grandeur of the Ciudad Vieja building that holds MAPI (Museo de Arte Precolombino e Indígena), an institution where shards of civilisation that pre-date the Spanish conquest – Inca weapons, Cuasmal pottery, Mapuche jewellery – are showcased in a reconditioned 1890s mansion.
It is here, climbing the marble staircase at the museum's heart, that something occurs to me. It is a realisation that will be underlined once I have driven further east, through the giddy resort of Punta del Este, where legions of tourists doze in mega-hotels and the River Plate merges with the ocean – and on to the coastal village of José Ignacio, where a palpable affluence hangs on the air amid the seafront homes. It is that Uruguay does not need a flashy image to sell itself – that whether it is eulogising Derbyshire engineering in Fray Bentos or hosting chic Argentine guests in José Ignacio, it is a glorious slice of Latin idiosyncrasy whose secrets are ideally discovered in person.
Getting there
Chris Leadbeater flew as a guest of American Airlines (0844 499 7300; americanairlines.co.uk), which flies to both Montevideo and Buenos Aires from Heathrow via Miami.
Touring there
Latin America specialist Last Frontiers (01296 653 000; lastfrontiers.com) offers a range of tours in Uruguay, including a 10-day itinerary that takes in Fray Bentos, Montevideo, Punta Del Este, Colonia, and a stay on a rural estancia in the interior. Prices start from £2,783 per person, including international flights, transfers and B&B.
Staying there
Gran Hotel Fray Bentos, Fray Bentos (00 598 45 620 566; granh.com). Doubles from US$95 (£58), room only.
Finca Narbona, Carmelo (00 598 45 404 778; narbona.com.uy). Doubles from US$300 (£184), room only.
Posada Plaza Mayor, Colonia de Sacramento (00 598 45 223 193; posadaplazamayor.com). Doubles from US$135 (£83), B&B.
Axsur Design Hotel, Montevideo (00 598 29 162 747; axsurhotel.com). Double from US$139 (£85), B&B.
Playa Vik, José Ignacio (00 598 94 605 212; playavik.com). Doubles from US$754 (£461), room only.
Visiting there
Museo de la Revolución Industrial, Fray Bentos (00 598 45 622 918; bit.ly/FrayBentos). Daily 9.30am-7pm except weekends – 9.30am-1.30pm and 3-7pm. Entry UR$30 (83p), UR$50 (£1.40) with guide.
MAPI, Montevideo (00 598 29 169 360; mapi.uy). Daily 11.30am-5.30pm except Saturday, 10am-4pm, and Sunday, closed. Entry UR$65 (£1.80).
More information
Register for free to continue reading
Registration is a free and easy way to support our truly independent journalism
By registering, you will also enjoy limited access to Premium articles, exclusive newsletters, commenting, and virtual events with our leading journalists
Already have an account? sign in
Register for free to continue reading
Registration is a free and easy way to support our truly independent journalism
By registering, you will also enjoy limited access to Premium articles, exclusive newsletters, commenting, and virtual events with our leading journalists
Already have an account? sign in
Join our new commenting forum
Join thought-provoking conversations, follow other Independent readers and see their replies