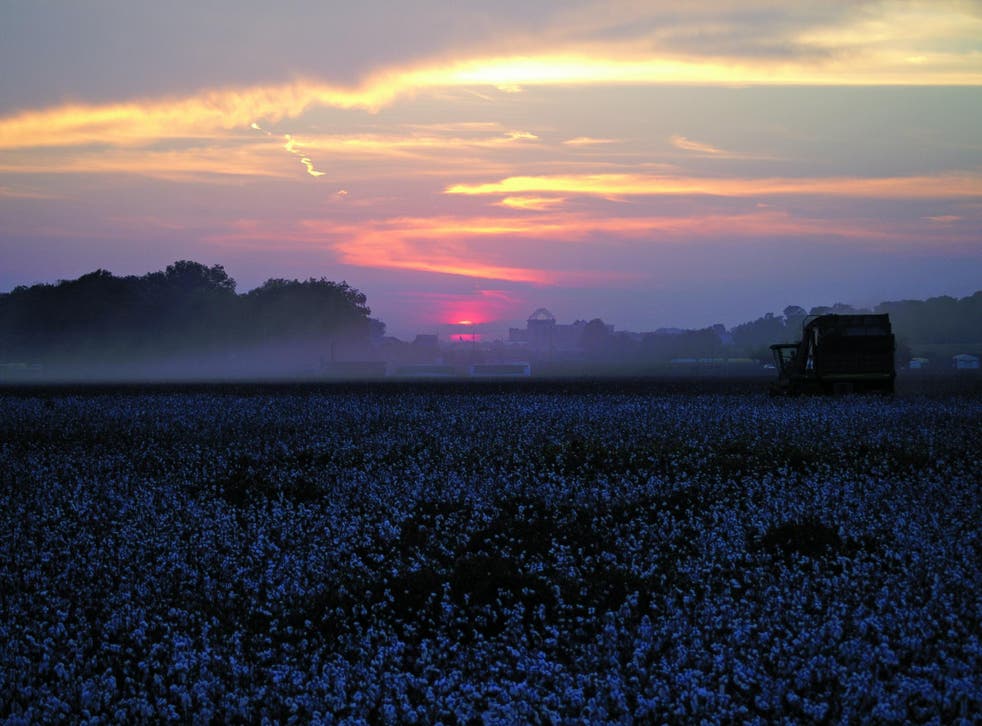 Discover the haunted Deep South: Voodoo, the talking dead and ghosts of the past
The Deep South is a world apart from the rest of the US – and potentially a portal to another plane, too
I'm becoming increasingly unnerved as my eyes adjust to the candlelit living room of Bloody Mary, my very own New Orleanian voodoo priestess. She certainly lives up to her name, with lips and long nails painted a devilish red. Behind her is a pyramid-shaped bookcase brimming with papery snakeskins, "gator" bones, bug-eyed voodoo dolls, and tufts of wolf hair, while in the fireplace sits a human skull.
To start the session she spits a mouthful of booze over a cypress tree stump – which she calls "Alison" – planted in the middle of the room. (It's meant to be a sort of altar and the booze is a baptism: "In voodoo, we baptise and name many of our sacred objects," Mary explains.) She shakes maracas to call the spirits of previous residents and hands me an oculus. A voodoo ghost hunter tool, it's a squat black box with two antennas and a screen that occasionally illuminates random words. It looks like it's been pilfered straight from the set of Ghostbusters.
I'm instructed to wander around her house in the dark, waiting for contact. I pace the creaky wooden floorboards, oozing scepticism. And then, the screen flashes. I look down and there's my middle name, "Sally", on the screen. A chill runs through me. It's printed nowhere except in my passport – and that's safely stowed in my suitcase back at the hotel. Suddenly this sceptic is officially spooked.
America's Deep South is like a country of its own: a land of swamps and sweet tea, where the hot soupy air slows time and the hum of cicadas could easily be mistaken for spirits. A place where voodoo is still practised, and ghost stories aren't just believed by goobers (idiots). Where better to holiday for Halloween?
My tour group start our journey in Savannah, Georgia. Beneath knarled oaks festooned with Spanish moss and the gas-lit lanterns that still flicker on porches, it's the perfect setting for some hammed-up ghost stories. "This isn't some folksy, cheesy ghost tour; it's a dark-history tour," warns our guide, Jessica Finkenaur. "In this town the truth is way creepier."
Frequently listed as the most haunted city in America, Savannah was caught up in almost every major American Civil War battle. We gather outside the railings of Colonial Park Cemetery, the oldest surviving cemetery in town – most have been paved over. General Sherman's Union army used it as a camping ground and Jessica points out where bored young soldiers amused themselves by "adjusting" the epitaphs on headstones. One woman now has 109 children (instead of ten), while a child's tombstone reads: "Told you I was ill."
Next stop is Moon River, a microbrewery and cafe, but we don't linger for drinks. Jessica leads us straight upstairs to the upper levels. Paint curls off the walls and exposed ceiling beams are snagged with cobwebs. "They've tried to renovate several times, but can't get a construction company to stay long enough because it's too haunted," she tells us. "Last time, the foreman's wife brought him lunch and was pushed down the stairs by something and broke her leg."
We head down to the basement and before my foot leaves the last step something feels very wrong. A creeping cold raises the hairs on my neck and a sudden weight seems to crush my temples. "I don't like it down here," I stutter. Everyone looks at me incredulously, except Jessica. "I get migraines every time I come down here too," she tells me.
In the past the building served as an orphanage and hospital for Union soldiers. "One time I brought a group down here and we heard voices whispering: 'Kill them, kill them, kill them'," Jessica says. She pulls out her smartphone and shows us three different videos with white vapours flashing across the screen. The time of the recording on each one is exactly the same: 9.15pm.
Next morning, we're south-east of Savannah at Bonaventure Cemetery, which is often billed as the world's most beautiful. Here, an array of marble is guarded by old oaks overlooking the lazy Wilmington River. I tell our guide, Tim, about some of the haunted happenings on the trip so far. He responds with a smirk. "Everything's haunted nowadays!" he laughs. "Don't get me wrong, I used to work in a restaurant and heard plenty of unnatural sounds locking up, so hauntings are real. But fake stories ruin it."
The cemetery is the resting place of several big names, such as Johnny Mercer – the most prolific lyricist in US history and co-founder of Capitol Records – but it's the quirky little details that are most interesting. Beside the grave of a Charles F Mills is a bell. "Yellow fever ravaged the town three times, but doctors were still a little shaky on how to define death," Tim explains. "Sometimes a feverish stupor was mistaken for loss of life and the sufferer was accidentally buried alive. When the family opened the tomb to inter another relative, they'd often find scratch marks in the roof of the coffin."
A genius solution was hatched: strings, tied to the "dead" person's toes or fingers, were attached to a silver bell above ground – so if you did awake to find yourself buried alive, a quick tug would attract help. It's where the sayings "saved by the bell" and "dead ringer" originated, according to Tim. "I bought my plot on eBay last year," he beams.
Driving to New Orleans, we pass through the rich flood plains of the Mississippi Delta – home of the Delta Blues, where Robert Johnson purportedly sold his soul to the devil on the crossroads in return for musical genius. A silvery heat, like spilt mercury, shimmers on the horizon of the long straight road, while the vast fields of cotton bushes are dotted with clapboard houses splintered by wind and worm.
Cotton gins and one-room worker cabins still stand in these parts and it hits home that the thread running through the South is the worst horror story of them all: slavery. For more than 250 years – roughly 12 generations – black Americans were persecuted in this way, and evidence of their suffering has been everywhere on our trip.
In Savannah, the First Black African Christian Church on Montgomery Street had pews engraved with Hebrew cursive giving escapee slaves directions for the Underground Railroad: a string of secret safe houses, barns and basements that led north to freedom. Later, in Charleston, we tread the cobblestone square outside the Old Exchange where "cargoes of prime and healthy negroes" had been auctioned in the 1700s. And, in Memphis, we see the balcony of Room 306 of the Lorraine Motel where, as recently as 1968, Dr Martin Luther King was assassinated fighting for equality.
Back in Savannah, Jessica had been right: the truth is sobering and far scarier.
Travel essentials
Emma Thomson travelled to the Deep South with Explore Worldwide (01252 884 723; explore.co.uk), which runs the new 14-day Deep South and Blues tour from £3,285 per person. Includes flights, accommodation and excursions but excludes meals.
British nationals can visit the US for 90 days without a visa, but need to register for an Electronic System for Travel Authorisation (ESTA) at least 72 hours prior to arrival (esta.cbp.dhs.gov/esta).
Click here to view our Deep South & Caribbean Cruise with Independent Holidays
Join our new commenting forum
Join thought-provoking conversations, follow other Independent readers and see their replies