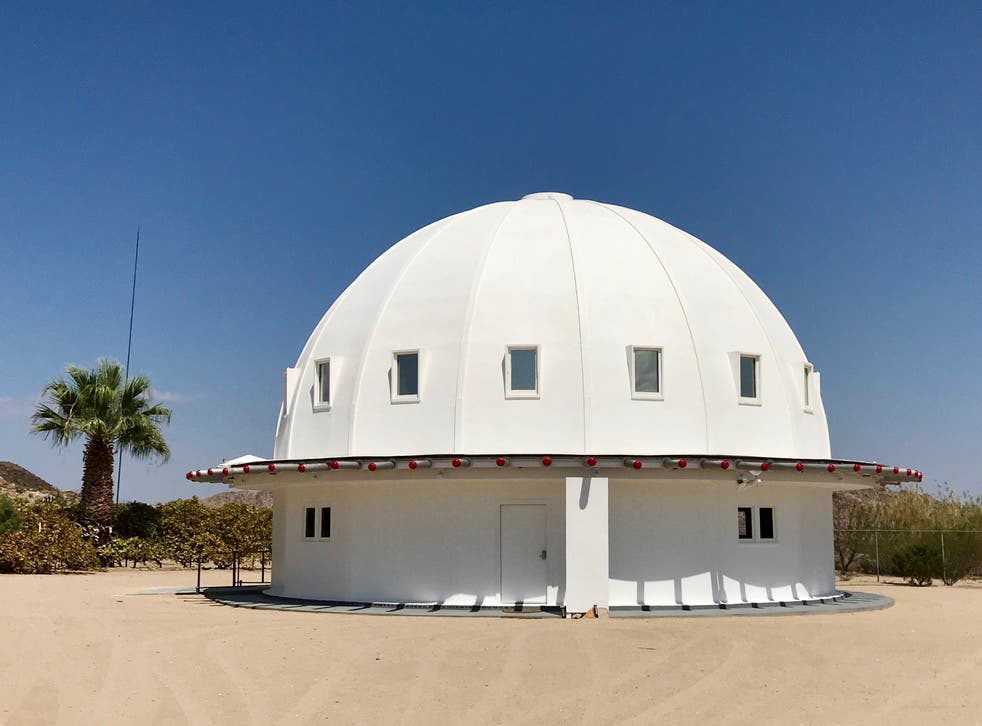 Integratron: Where to experience a sound bath in a dome planned by aliens
How the Integratron, a giant structure deep in the Mojave Desert, went from ufologist heaven to an in-demand recording studio
Maggie Downs
Thursday 05 October 2017 13:58 Comments
The man enters the dome and offers a quick smile before he sits on the floor, surrounded by 19 crystal bowls of varying sizes. He slides a mallet around the lip of one of the largest bowls, which is about the same diameter as an extra large pizza. It's a small movement but the swell of sound it creates is instant and intense, like running a wet finger around a massive wine glass.
"When you're ready, just roll over and close your eyes to hasten your spiritual awakening," he says, gently.
So begins my sound bath with 29 strangers in the Mojave Desert.
Calling this a "bath" is something of a misnomer. This experience doesn't involve any nudity or even any water. It's more of a sonic dip, resting on a mat for half an hour or more while a practitioner creates resonant sounds that swirl around the room and wash over the body.
Proponents claim these sound frequencies focus the mind, heal the body, and find harmony – maybe even helping the bather to attain spiritual enlightenment. (If you're scoffing at that last part, think of how many religions incorporate sound, from chants to hymns, as an integral component of worship.)
My guide is a man named Drayton, who introduces himself as a retired surfer.
"Now I just ride the waves of sound and energy," he says, completely straight-faced.
That sounds about right for California's Mojave Desert, a sweeping landscape where artists, eccentrics, bohemians, and misfits find space to thrive. The desert boasts a certain magnetism, a definite mystical quality. There's something about the long, open roads, the night skies spattered with stars, the sheer room to create. This is the land that attracted George Van Tassel – and the reason why there's a place for sound baths in the desert at all.
An aviator, mechanic, and engineer at various companies during Southern California's aerospace boom, Van Tassel left the industry in 1947. He moved his family to the desert near Landers, California, where they lived in cave-like dwelling hollowed underneath a giant rock called – well, Giant Rock. Over the following years, Van Tassel built a home, established an airport and opened a restaurant here, about a half-hour drive from what is now Joshua Tree National Park.
This is also where Van Tassel claims he was visited by aliens. In August 1953, Van Tassel said he was taken on board a glittering spaceship by a being from Venus named Solgonda. During this contact Van Tassel was offered the plans for a domed structure called the Integratron, which had the potential to restore youth, enable time travel, and benefit mankind in myriad ways.
The remainder of Van Tassel's life was consumed by raising money for the Integratron, constructing the dome and hosting annual UFO conventions, attended by thousands of fellow ufologists. When Van Tassel died abruptly in 1978, the dome was completed, but it was far from the machine he envisioned – a high-voltage electrostatic generator that could recharge cellular structure.
Now maintained by three sisters who have no relation to Van Tassel, the Integratron is open to the public for sound baths or available to rent for private sessions.
Simply from an architectural perspective, the Integratron is spectacular. It's 38ft high, 55ft in diameter and constructed entirely from light wood. No metal or nails were used during construction – the dome's 16 wooden spines are held together by a one-ton concrete ring at the top. Incredibly, the dome sustained no damage during the severe, 7.3-magnitude Landers earthquake in 1992.
What lures most people to the Integratron now are the acoustics, which are whisper-perfect. Stand in the centre and hum, and the sound whooshes around the dome and comes back to you. Speak on one side of the room, and the person directly across the dome will believe you've whispered in their ear. That's probably why the Integratron's substantial guestbook includes musicians like Robert Plant, Arcade Fire, Moby, Smashing Pumpkins and the Arctic Monkeys.
Baths are conducted on the dome's second level, where the air feels cool despite the sweltering desert day outside. The room is fragrant with rosemary and incense.
I close my eyes. According to Van Tassel, the Integratron is situated above a vortex of geomagnetic forces, and perhaps it's my imagination, but I swear I can feel the vibrations.
As Drayton plays the crystal bowls, my body relaxes into the sensation of being submerged in sound. It is loud, though it's not like standing in front of a speaker at a rock concert and getting blasted by noise. It's more like sitting atop the speaker, feeling each reverberation through the marrow of your bones. I can't decide if it is pleasant or unpleasant, but before long I'm not thinking much of anything at all.
When the sound bath stops, the resonance is still thrumming in my ears when a soft, melodic song plays through some speakers. It's one of the most beautiful things I've ever heard, like notes of liquid gold. My body hums.
I open my eyes, and Drayton is gone, like some kind of dream. Or perhaps the aliens have taken him, too.
Travel Essentials
Getting there
Landers, California, is located within a two and a half hour-drive of Los Angeles International Airport; Norwegian (norwegian.com) flies there direct from £480 return.
Staying there
The 29 Palms Inn (29palmsinn.com) is an actual oasis in the desert. This charming retreat is both steeped in history and boasts a terrific location near the entrance of Joshua Tree National Park. Prices vary by season, but start from around $140 plus tax, room only.
The Desert Lily B&B (001 310 849 7290) offers a relaxing desert experience with hammocks, fire pit and homemade cookies, as well as sweeping views of the area. Accommodation options include homestead cabins, as well as rooms in an adorable adobe house. Doubles from $165 plus tax, room only.
More information
A one-hour sound bath at the Integratron (joshuatree.guide/integratron) is from $30 per person for a group session; booking in advance is advised.
Register for free to continue reading
Registration is a free and easy way to support our truly independent journalism
By registering, you will also enjoy limited access to Premium articles, exclusive newsletters, commenting, and virtual events with our leading journalists
Already have an account? sign in
Join our new commenting forum
Join thought-provoking conversations, follow other Independent readers and see their replies