The Independent's journalism is supported by our readers. When you purchase through links on our site, we may earn commission.
Joshua Tree: Branch out to explore California's musical heritage
The national park's bizarre landscape has inspired countless musicians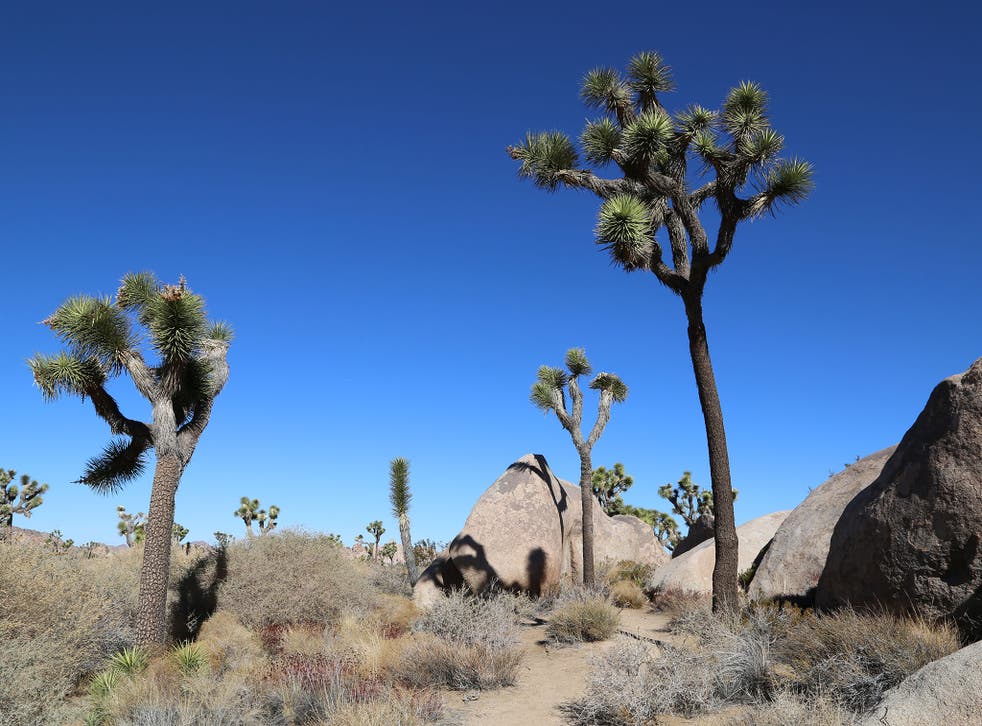 "Out with the truckers, and the kickers, and the cowboy angels. And a good saloon in every single town." The lilting lyrics of Gram Parsons' country rock anthem, "Return of the Grievous Angel", are bouncing through my brain. On the drive from Los Angeles to the tiny desert town of Joshua Tree, I'd had the song on constant repeat. Now I'm perched on a bar stool at The Joshua Tree Saloon, a Lynyrd Skynyrd-style drinking hole where "truckers" may be thin on the ground, but "cowboy angels" - with scuffed boots and ten-gallon hats - are still very much in evidence.
In September 1973, Gram Parsons and three friends pulled up at The Joshua Tree Inn, just a few hundred yards from where I'm sitting. Parsons often visited Southern California's High Desert (he came here in 1969 to spot UFOs with Keith Richards and Anita Pallenberg) but this particular trip was to be his last. In room No 8, the 26-year-old singer-songwriter died of an overdose.
"People come from all over the world to stay at room No 8," the waitress at the saloon tells me. "Seems pretty morbid if you ask me," she says, rolling her eyes. "We call 'em 'Grampires'."
I laugh, although I feel a little ashamed of myself. After all, I'm here in part to trace the story of his death, and the days that followed it.
Shortly before he died, Parsons had told his close friend and tour manager, Phil Kaufman, that his final wish was to be cremated in Joshua Tree National Park. Kaufman took him at his word; posing as an undertaker, he stole Parsons' body from Los Angeles airport, drove it about 10 miles into the park, and set it alight.
Leaving the saloon, I drive west on Highway 62, meandering through Joshua Tree's bizarre, Martian landscape to Cap Rock, the looming, granite outcrop where Parsons was cremated. Here, at the foot of a boulder, I find a small, graffiti-scrawled shrine. In my teens, Parsons's death seemed romantic - even inspirational. Now, staring at the dust and burned-out candles, it just seems very sad.
The park, on the other hand, is beautiful. From the lookout point at Keys View, the Coachella Valley glistens in the distance, and hundreds of Joshua Trees rise up from the sand like outstretched hands. The High Desert has always been attractive to musicians. Before arriving in California, I spoke to singer Eric Burdon about the 40 years he spent in and around Joshua Tree.
"There's something different in the ozone out there," he told me. "The night sky is like some digitally created movie, with constant star showers."
"Jim Morrison was around a lot," he continued. "Everything to Jim was a movie, a performance. He'd do ridiculous things, like tumbling backwards off a wall in the middle of a conversation. He was up for causing trouble any way he could."
U2 are another band to have drawn inspiration from Joshua Tree's Dr Seuss-style scenery. Having completed their most commercially successful album, 1987's The Joshua Tree, they visited the park, staying at The Harmony Motel - a string of bungalows about 12 miles east of town.
"The one with the long hair slept in this room, I think," the owner tells me when I arrive to take a look around.
"Bono?" I ask.
"Is that the drummer?"
A framed newspaper clipping on the wall, dated 30 April 1987, assures local readers that the group "are good Christians, and don't use drugs". The date is significant to me; in August of that year, I saw them play at Wembley Stadium. I was 12 years old; it was my first gig.
I hop back on the highway and make my way towards Pappy & Harriet's, the region's largest music venue. In spite of its remote location, up a steep and winding mountain road, the club is packed with a young, smartly dressed clientele. The crowd has changed somewhat over the years; back in the Eighties, Eric Burdon assures me, the owner ran a biker gang out of the bar with a shotgun.
Tonight's headliners are Cisco & Dewey, an alt-country band fronted by Bob Dylan's erstwhile bass player, Tony Marisco. Waiting to order a drink at the mahogany bar, I get chatting to Ted Quinn, owner of a local internet station, Radio Free Joshua Tree.
"There's a hell of a lot of musicians out here," he says. "Most of them come to escape LA for a while. It's an artist enclave, really - like Woodstock is to New York."
Since changing hands in 2003, Pappy & Harriet's has presented shows by hundreds of artists, including Sean Lennon and Robert Plant. The club also hosts the Desert Stars Festival: The Lemonheads, Swervedriver, and Lou Barlow will be playing this year.
The following afternoon, I have an appointment at The Integratron, an "acoustically perfect" wooden dome 20 miles north of Joshua Tree, on Highway 297. George Van Tassel, a former test pilot and aircraft engineer, built the dome in 1959, claiming to have received his instructions from benevolent extraterrestrials.
These days, "The Sound Bath", a 60-minute cure-all using quartz crystal singing bowls, is popular among touring musicians, many of whom perform at the nearby Coachella music festival - Erykah Badu, Arcade Fire and Fleet Foxes have all popped in for a spot of sonic healing.
"Think of it as a wooden spaceship," says our host, Drayton, as we enter the dome and lie back on our yoga mats. My inbuilt British cynicism seems suddenly to dissolve as the first notes reverberate through the air. Chills run up and down my spine, and as I close my eyes, I see vivid geometric patterns jumping out of the darkness. Who knows? Perhaps Gram Parsons and Keith Richards were on to something when they came here in search of UFOs back in 1969.
As I emerge from the Integratron, the sun sets lazily over silky clouds, and the first stars appear in the wide-open sky. Time for a drink back in Joshua Tree, I think to myself. I may not be a trucker, a kicker, or a cowboy angel - but I know a good saloon when I see one.
TRAVEL ESSENTIALS
Getting there
Edmund Vallance flew from Heathrow to Los Angeles with British Airways (0844 493 0787; ba.com). Returns start at £487.
Staying there
Vallance was a guest of Spin and Margie's Desert Hideaway (001 760 774 0850; deserthideaway.com). Doubles from $145 (£97) room only.
More Information
Joshua Tree National Park: nps.gov/jotr
Register for free to continue reading
Registration is a free and easy way to support our truly independent journalism
By registering, you will also enjoy limited access to Premium articles, exclusive newsletters, commenting, and virtual events with our leading journalists
Already have an account? sign in
Register for free to continue reading
Registration is a free and easy way to support our truly independent journalism
By registering, you will also enjoy limited access to Premium articles, exclusive newsletters, commenting, and virtual events with our leading journalists
Already have an account? sign in
Join our new commenting forum
Join thought-provoking conversations, follow other Independent readers and see their replies