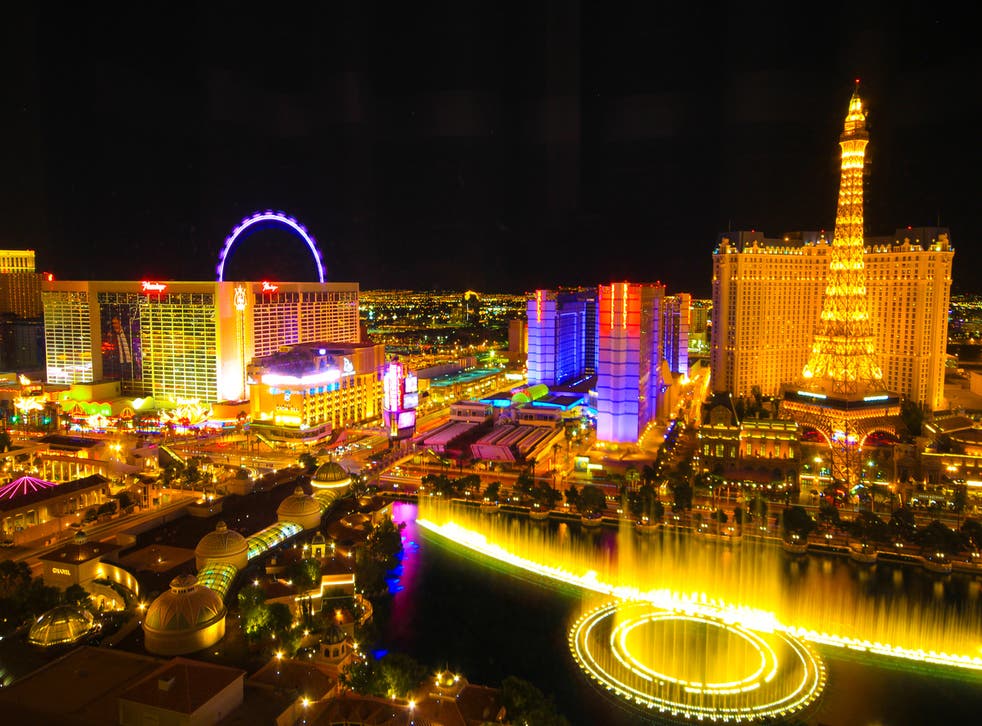 What's it like to spend 48 hours in a Las Vegas casino?
Spending two full days in a Las Vegas casino isn't for the faint-hearted. Edmund Vallance puts himself to the test with the Rio's new all-inclusive package
Edmund Vallance
Thursday 25 May 2017 16:47 Comments
A bloated bluebottle is floating in my Blue Sky Daiquiri, his sticky wings twitching in silent resignation. I am that fly.
This is my second night at the Rio All Suite Hotel and Casino in Las Vegas. I've signed up for the Rio Total Deal: a new, all-inclusive food and drinks promotion (it's available until September 2017) that provides an almost endless conveyor belt of burgers, steaks, and deep-fried onion sliders – plus a daily limit of 12 alcoholic drinks per person. After 48 hours at the Rio, my liver is filing for divorce.
Day one starts at the hotel reception, where I'm presented with a fetching pink wristband, free tickets to the rooftop nightclub (closed for the duration of my stay) and a 12-drink punch card. Heading straight for the pool bar, I'm hoping to suck up a gallon of lager before lunch. But I'm out of luck: outside bars, the server informs me with some relish, are not covered by this promotion.
Fair enough. It's midday, so I suppose I'll try lunch at one of the four Total Deal restaurants.Included are the Seafood Buffet, All-American Bar & Grille, Sports Deli (the clue is in the title) and Hash-House-A-Go-Go. But the deal is apparently so new that none of the Rio's staff are even aware of it. When I present my food and drink ticket to Bob, the barman at the All-American Bar & Grille, he stares at me blankly. A quick call to reception confirms his worst fears: I can order anything, as long as I stick to the $250 daily food allowance.
And so I start as I mean to go on: with a Jumbo Shrimp Salad ($16), a New York Strip Steak ($33), a Lobster Tail ($24), and a coma-inducing wedge of Chocolate Lava Cake ($10) – all washed down with two mega-pours of Pinot Grigio, and a demi-bucket of Cabernet Sauvignon. The food isn't bad. Neither is it particularly good. Not surprising, really: this is the Rio, not the Ritz. A $90 lunch, I calculate between gulps, will allow me a generous $160 for tonight's dinner.
Bob sidles over with the check. "The punch card is just a record of the drinks you've had," he grins nervously, as I swill back more Merlot. "You're not obliged to drink all 12."
You may be right, Bob. But I certainly intend to try. The Total Deal requires a two-night minimum stay, and I'm determined to hunker down at the casino for the entire duration. My guess is that Caesars Entertainment are using the Rio deal as a test. If it goes well, I expect they'll roll out the promotion to some of their other hotels, like Caesars Palace and the Flamingo. Well, if this is the test, then I am the self-appointed guinea pig. Let the games begin.
Leaving the All-American Bar and Grille behind, I stride out onto the casino floor in search of adventure. But in this dimly lit burrow, adventure is hard to come by. I spend most of the afternoon at Masquerade Bar trying to fire up conversation with the other guests, most of whom seem utterly hypnotised by the slot machines embedded into the bar. In an effort to join in the fun, I feed 20 single dollar bills into a hungry slot. Then I press a button and watch them all evaporate.
Up on the gallery (accessible by a broken escalator) frolicking plastic cherubs survey the Kiss mini-golf emporium below. I spend an idle hour wandering through the gaming tables. But I'm rubbish at roulette; crap at craps. There's nothing left to do but get drunk.
Accompanied by prawns, steak, lobster and ice cream, drinks seven, eight and nine slip down easily enough. But 10 and 11 are more psychologically challenging. It's only 9pm, and I'm losing the will to live. Celine Dion is not helping. As she warbles over the trebly speakers, I'm picturing myself an hour from now, face down in a pool of lobster vomit. In my vodka-addled imagination, the croupier is screaming, the barman is calling security, and I'm mumbling the chorus to 'All By Myself', frothy bubbles gathering around my nostrils.
How I make it to bed, I'm not sure, but my dreams are vivid and garish. I remember the image of the casino hovering below me like Jabba The Hut's Sarlacc Pit, sucking me into its bowels to be gnashed and gnawed over countless millennia.
The next morning at around 10am, I make my way to the only Total Deal restaurant serving breakfast – the Hash-House-A-Go-Go. This is a cruel and misleading name; there's not a crumble of hash in sight. Drugs might have been welcome, too: anything to blur the edges of this corrosive hangover.
After a mountain of cheddar, and a Bloody Mary chaser, I'm plodding across the Rio's sticky carpet once again. Running the gauntlet of one-armed bandits and identical-looking bars, I'm reminded of an episode of The Twilight Zone involving a Vegas slot machine that somehow morphs into a homicidal robot. The monster mercilessly pursues its victim (a clean-living insurance salesman named Franklin) who eventually hurls himself out of the hotel window.
Although suicide seems tempting under the circumstances, I opt instead for the All-American Bar and Grille. Here, under the orange strip light, sometime after sunset, I meet my bluebottle friend. Leaving him to enjoy his Blue Sky Daiquiri, I take the lift to the 20th floor and strap myself into the zip line ride.
After two days of creeping claustrophobia, it feels good to be outside, free-falling through the Nevada night. Trying hard to focus on the twinkling lights of the Strip, I'm careful not to release my dinner onto the good citizens of Las Vegas, some 500 feet below. Bed is the only option now. My work here is done.
Is it worth it?
Total Deal rates start at around $442 for two people for two nights. The same room on its own would cost about $150 for two people for two nights — a difference of about $300. So if, like me, you intend to stuff yourself and get blind drunk, you're liable to get your money's worth. If, on the other hand, you plan to pick at a salad and sip a solitary martini, this may not be the deal for you.
Getting there
British Airways (ba.com) and Virgin Atlantic (virginatlantic.com) both fly direct from Heathrow and Gatwick to Las Vegas from £540.
More information
Rio Total Deal (caesars.com) includes a $250 daily food limit, a daily maximum of 12 drinks per person, and free entrance to Voodoo Rooftop Nightclub (closed Monday and Tuesday). Prices start at $442 for two people sharing a Classic Mountain View Suite (two-night minimum stay).
Register for free to continue reading
Registration is a free and easy way to support our truly independent journalism
By registering, you will also enjoy limited access to Premium articles, exclusive newsletters, commenting, and virtual events with our leading journalists
Already have an account? sign in
Join our new commenting forum
Join thought-provoking conversations, follow other Independent readers and see their replies