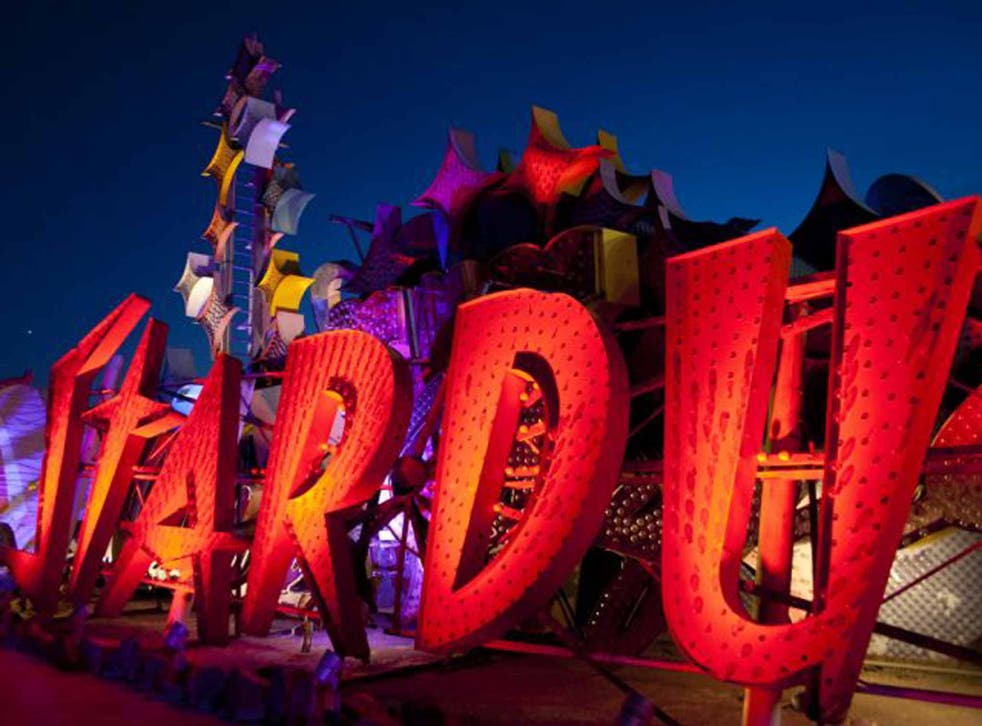 Las Vegas: Skip the Strip and go Downtown
This once-shady neighbourhood has been given a fresh lease on life, with new bars, restaurants, shopping precincts and creative spaces. Julia Buckley heads to Sin City to see for herself
Julia Buckley
Tuesday 06 January 2015 11:12 Comments
"This used to be a 7-Eleven­ store," says Jennifer Cornthwaite, sitting in Inspire, the "news café" she opened in 2013 in Downtown Las Vegas. "And it was a really nasty one."
Today, customers can browse 200-odd magazines that line the shelves, and even print their own novels on a bookbinding machine as they wait for coffee. But Downtown Vegas hasn't always been like this. Eight years ago, when she and her husband opened their first bar, this part of Vegas was a no-go area.
There was the Fremont Street Experience - a pedestrianised five-block strip of casinos, covered with a neon canopy, which does a cheesy light show on the hour. But if you weren't in the market for cheap gambling or deep-fried Oreos, it wasn't the place to be; and, beyond the canopy, it wasn't very safe.
Optimists have talked up the resurgence of Downtown for some time, but it was only last year that it became a fully-fledged renaissance.
Five years ago, when I lived in Vegas, the Fremont East district - low-rise, 1950s buildings just outside the pedestrian zone - was one small block of bars. Today, it's around nine square blocks, and is still expanding. Independent shops have opened, historic hotels have been renovated, big-name chefs have arrived, even bigger name musicians have played here, and the area's first boutique hotel, Oasis at Gold Spike, opened at the end of October.
In pictures: Downtown Las Vegas

Show all 4
After a six-decade break, during which the mega-resorts of the Vegas Strip, two miles south, eclipsed it entirely, Downtown is once more a destination in itself. This is where Sin City was founded, after all: the Golden Gate, now part of the Fremont Street Experience, opened as a hotel here in 1906. And whereas Downtown once was old and grubby, it sizzles, now, with a retro sheen. Frank and Dean impersonators perform at the El Cortez, mobster Bugsy Siegel's old joint. Local politicians power lunch at the old-school Triple George Grill. And the best local steakhouse, Oscar's, at the renovated Plaza casino, promises "beef, booze and broads" - local ladies of a certain age, who tell patrons about the history of Downtown.
Not that it's all locked in the past. Beyond the still-preserved façades of Fremont East's buildings are spots that wouldn't be out of place in Brooklyn: a gourmet doughnut shop, a coffeeshop-cum-arts-collective, juice bars, and Nevada's second independent bookshop, The Writer's Block, which opened last month.
"Previously, there were a handful of gems here," says Maria Phelan of the Downtown Project, responsible for much of the new investment. "But in 2014, it turned into a place where you can spend all day and all night." She's right - on my last two visits, I haven't set foot on the Strip.
UNPACK
Eyebrows were raised in 2013 when the Downtown Project bought up the ailing Gold Spike casino, banned smoking, and replaced gaming with actual games - like shuffleboard, darts and Connect Four. Last October, its new hotel wing, Oasis at Gold Spike (001 702 768 9823; oasisatgoldspike.com), proved equally avant-garde. Rooms at Downtown's first non-gambling hotel - a motel-style block wrapped round a pool - with cool grey walls, walk-in showers, and spinning bathroom towers that double as a mirror and wardrobe.
Sofas and record players feature in the higher category rooms, and bikes are available to all. But bring earplugs – it's not as well soundproofed as some places.
THINK LOCAL
Jennifer and Michael Cornthwaite were two of the first to foster Downtown's burgeoning community with Emergency Arts (001 702 385 2328; emergencyartslv.com), which turned an abandoned offshoot of the El Cortez into a coffee shop and arts collective. Their new complex,
INSPIRE
(001 702 489 9110; inspirelasvegas.com), opened in 2013 opposite the Fremont Street Experience. It is a private members' club, though non-members are allowed virtually everywhere. The complex houses the news café, three bars, and a theatre which often plays host to Strip performers working on personal projects, or special guests - such as the Arctic Monkeys, who played an acoustic set in October.
EAT
He's a Strip stalwart with restaurants at Palms, Harrah's and, previously, the Hard Rock; but chef Kerry Simon chose Downtown for his 47-seater Carson Kitchen, which opened last summer. Behind the original façade of a 1955 motel, its communal seating and veg-heavy menu is a far cry from typical Vegas fare. And Simon's not the only one transferring Downtown; next door is a doughnut shop run by a former Caesars Palace pastry chef, while Bradley Manchester, who revolutionised the Vegas buffet at the Cosmopolitan, will open Glutton(001 702 867 5309; facebook.com/gluttonLV), a block away, at the end of the month.
DRINK
Renovation, rather than implosion, is the modus operandi here, and the latest historical venue to get a facelift from the Downtown Project team is the Bunkhouse Saloon (001 702 854 1414; bunkhousedowntown.com).
A dive bar since 1953, it relaunched in September as a live music venue, bar and restaurant, with a large patio outside. Beer gardens, in fact, are what sets Downtown apart from the Strip, where most bars languish in the casino gloaming; one of the prettiest is at Park on Fremont(001 702 834 3160; parkonfremont.com), a quirky 2013 opening with a fairy-lit terrace at the back.
SPEND
Miracle Mile, Grand Canal Shoppes, the Forum Shops … for decades, Vegas suffered the tyranny of shopping malls. In winter 2013, Downtown responded with the Container Park (001 702 637 4244; downtowncontainerpark.com), which is now fully occupied. In these stacked shipping containers, housing independent shops around a central green (where Sheryl Crow played a surprise gig last year), you'll find everything from locally made watches and jewellery to gourmet jerky and children's toys.
For vintage Vegas, meanwhile, there's Antique Alley (facebook.com/antiquealleylv), where 20-odd antique shops cluster in the Arts District, a mile south of Fremont.
DON'T MISS
Las Vegas isn't quite the cultural vacuum it's made out to be, but the city doesn't help itself with its gleeful destruction of anything approaching the historical. Fortunately, Downtown has escaped much of the wrecking ball - including some of Sin City's iconic neon signs.
Fremont Street has several (from a flashing Martini glass to a spinning red stiletto), but the bulk are at the Neon Museum (001 702 387 6366; neonmuseum.org), just north of Downtown. It is an outdoor collection of 150 signs from long-gone motels to Caesars Palace and the Sahara - reborn in September as the SLS Las Vegas hotel.
Getting there
British Airways (0844 493 0787; ba.com) flies from Heathrow and Gatwick from £548. Virgin Atlantic (0344 209 7777; virginatlantic.com) has flights from Gatwick and Manchester and is due to add Glasgow in the autumn.
Staying there
Julia Buckley was a guest of Oasis at Gold Spike where double rooms start at $57 (£38).
More information
Register for free to continue reading
Registration is a free and easy way to support our truly independent journalism
By registering, you will also enjoy limited access to Premium articles, exclusive newsletters, commenting, and virtual events with our leading journalists
Already have an account? sign in
Join our new commenting forum
Join thought-provoking conversations, follow other Independent readers and see their replies