Learn to sail in Antigua
Where better to take a course than on the aquamarine waters – and among the A-list hang-outs – of the Caribbean? Leslie Woit raises the mainsail and takes a different tack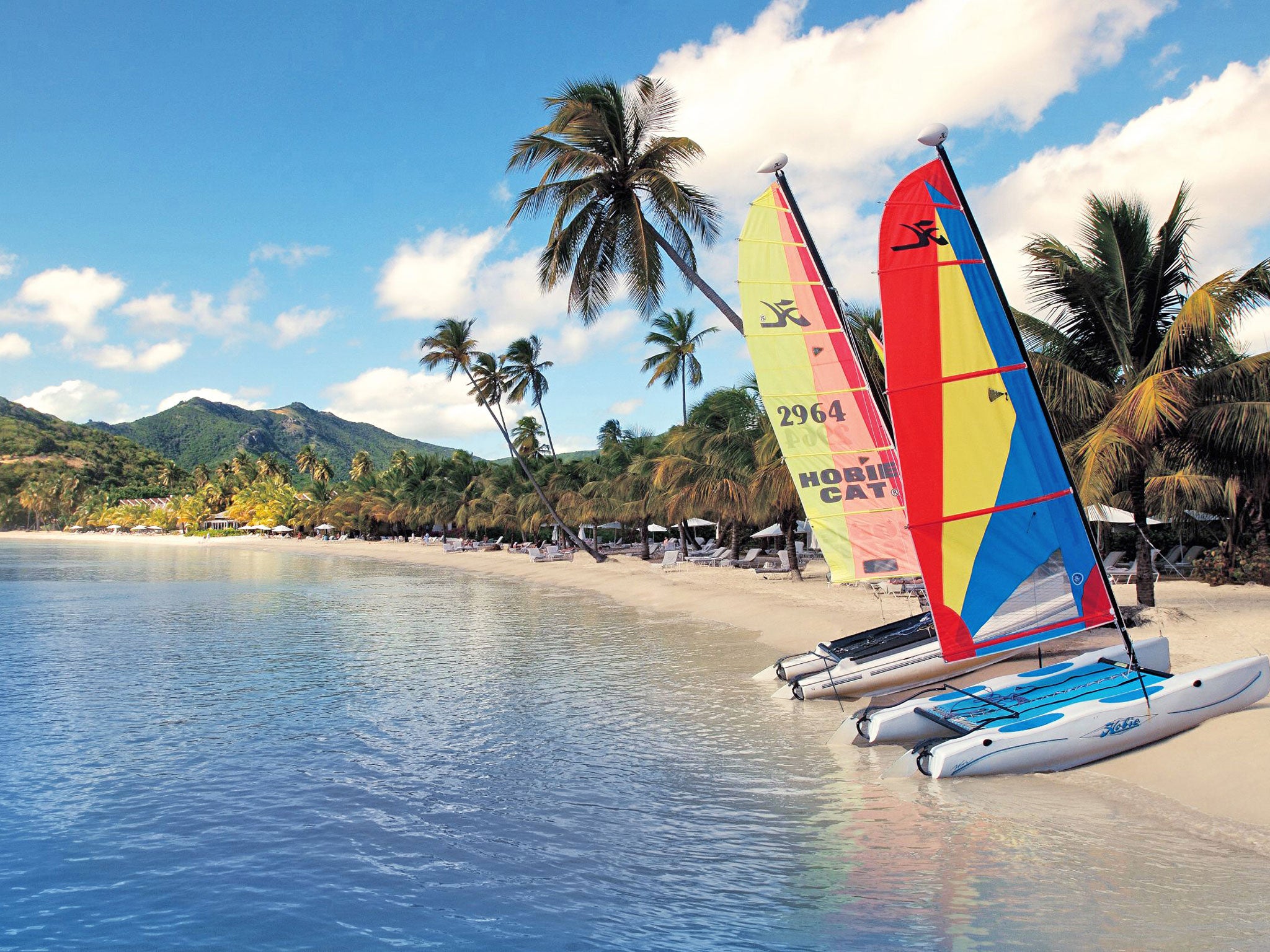 To reach the front door of Carib-chic Carlisle Bay, we walk along a wooden gangway flanked by a phalanx of tall, flickering candles. A symphony of tree frogs is in full croak, a silvery half moon casts shadows across the humid night air. It's a scene straight from an episode of Survivor – and I'm ready to accept my holiday challenge.
Frying supine on a chaise longue, rum punch on drip-feed, is not for me. I'll be on a learn-to-sail course in the big water of the Lesser Antilles, plying the seas on an elegant sloop, wind in my salt-tousled hair and spray on my face. With barely a moment to take a swing in my palm-shaded hammock or work out the espresso machine in my swanky suite, that was it. I was off the island.
"One hand for you, one hand for the boat," cautions Captain "Taff" John Pearce, as we board Nerius, her smooth 40ft lines bobbing gently in the bay. Along with his nimble trainee Simon, Taff would be my ticket to introductory sailing and seamanship – how to steer, hoist sails, handle lines, the basics of boat etiquette. His three students ranged from very experienced, to somewhat experienced, to me, for whom big-water sailing conjures vague memories of rope burn, seasickness and a lightly thumbed copy of Moby Dick.
Taff, with his testosterone-stiff CV, is clearly up to the task: 36 transatlantic crossings, two poles, one Falklands War. Last week, his student was Mike Horn, the explorer-adventurer with a 27-month solo circumnavigation of the Arctic Circle under his belt. Patently, Taff's not the kind of man to let the turquoise waters of the Caribbean get the better of us. Plus, he's Welsh: embarrassing gaps in conversation would be the least of our worries.
As schools go, I've won the postcode lottery. Sizzling sun, aquamarine water, pearly beaches laden with sand as soft as wet puppy fur. Pulling anchor and motoring smoothly out of the bay, Montserrat shimmers in the distance and Guadeloupe lies just out of sight. We raise the mainsail (big) and roll out the genny (small). For the moment, I'm planted firmly at the stern, part observation, part sun-soaked rapture. "You're here for a good time, not a long time," Taff reminds me, "I'm here to teach whatever you want to learn and show you whatever you want to see."
Well, I've always wanted to see Eric Clapton. He's a mate of Taff's, natch – New Year's Eve parties jamming with Ringo etc – and now we're riding high on tiny rollers, heading south, straight for his Antiguan getaway. Keen to improve my wind awareness en route, I test Taff's rule number one: there are no stupid questions. So, just which way is the wind blowing? A southerly wind travels from the south to north and a northerly from north to south, he explains, starting at the beginning. We don't sail into the wind – or too close to it, as the maxim goes – but something closer to perpendicular to it. Jibing takes the bow of the boat away from the wind. Tacking takes the bow of the boat into it. "Why is it called a boom?" With a crowd-pleasing talent for memorable aphorisms, Simon handles this one, "It's the last sound you'll hear when it hits your head."
Even though Eric's not home, beneath his cliff-side lair at Indian Bay we break for a picnic and swim. One beach down, 364 to go. From long, white crescents to hidden sandy coves that beg for Bo Derek or Leonardo DiCaprio to pop out, coconut cocktail in hand, Antigua prides itself on having a different beach for every day of the year. A boat really is the only way to make a respectable dent in the list.
Cool and refreshed, it's time to have a go at the helm. Manoeuvring the metre-wide round wheel, adjusting, correcting, feeling for the sweet spot that will fill the sails with a payload of warm Carib wind, I quickly remember that steering is much easier than hauling sheets, wrestling winches or trying to decide between all the lines that look like spaghetti at an all- you-can-eat Italian. Plus you get to shout things such as "Portside tack!" or "Starboard towards Guadeloupe!" (and Simon's favourite: "A flappy sail is not a happy sail!").
White caps and flying fish lace the water. Under blazing sun and temperatures in the high 30Cs, our next destination is to spend the night at that hotbed of Anglo-Antiguan history, Nelson's Dockyard. Restored with restaurants, shops and a museum, this was the headquarters of Britain's most famous naval commander and his fleet during the turbulent late 18th century. My head filled with visions of sugar cane, slaves and lead-poisoned rum rations, I hear Taff say "turn" and turn I do. Before I know it, I'm hard into pulling a full 360 mid-port – one up on anything Nelson could have managed on HMS Boreas. After a quick recovery and with Taff close by, I approach our mooring head on, angling Nerius a crisp 90 degrees at the last moment and sliding smoothly into the same slip used by the Royals on their occasional Antiguan jaunts. Stripe number one.
"I feel the need, the need for speed," says the sticker on our new boat the next morning. We've been performing well enough for an upgrade to Venus, a racing sloop. Heeling hard, my jib flaps like a fishwife hanging the laundry and I feel desperate not to let Venus down. My shipmate takes the wheel for a spot of goose-winging, whatever that is. As with learning a new language, comprehension takes time.
From rigging up the preventer to faffing with the vang, sailing involves endless terminology. I work on a need-to-know basis. Entranced with thoughts about today's shipwreck snorkelling expedition, and the tiny deserted island we're heading straight for at seven knots, Taff gives the call to tack: "Over there! Head for Armani's house."
Navigation, Antiguan style. From Armani to Clapton, to the likes of Oprah and Bill Gates, sailing is a great excuse to get up close to the lavish lighthouses of the modern era. And feeling the wind in your sails is only part of island life. When Nelson declared Antigua a "dreadful hole", I feel that he can't have had the right person to show him around. He probably never drank old-fashioned rum punch at the Mad Mongoose, exalted in sunset yoga on the jetty at Carlisle Bay or had the adrenalin rush of landing a dozen barracuda from the stainless steel fighting chair of a sonic-equipped deep-sea fishing vessel. He might not have got the hang of stand-up paddleboarding (I'm not really sure I did either) but he'd certainly approve of the high-level seamanship on show during next month's Antigua Sailing Week, one of the world's most prestigious regattas, which welcomes 200 yachts and thousands of spectators to these wind-sure waters.
Sailing back into Carlisle Bay, I can make out a waiter holding a tray of rum punches, a little stack of cold towels and yes, yes, there it is beside him – my hammock, calling like a siren. The motto of Antigua Sailing Week is "The beach is just the beginning". It also makes the perfect ending.
Travel essentials
Getting there
Elegant Resorts (01244 897515; elegantresorts.co.uk) offers a week's stay at Carlisle Bay in Antigua from £2,425pp, based on two people sharing a Garden Suite on a B&B basis. The price also includes British Airways flights from Gatwick and private transfers. Valid 27 April-22 August and 18 October-19 December.
Sailing there
Ondeck Sailing (001 268 562 6696; ondecksailing.com) offers a range of sailing courses. A three-day RYA Start Yachting course costs $620 (£375)pp, while a five-day RYA competent crew course costs $920 (£613)pp, including live-aboard facilities and two meals per day.
More information
Antigua & Barbuda Tourism: visitantiguabarbuda.com
Antigua Sailing Week runs from 26 April to 2 May (sailingweek.com)
Join our commenting forum
Join thought-provoking conversations, follow other Independent readers and see their replies