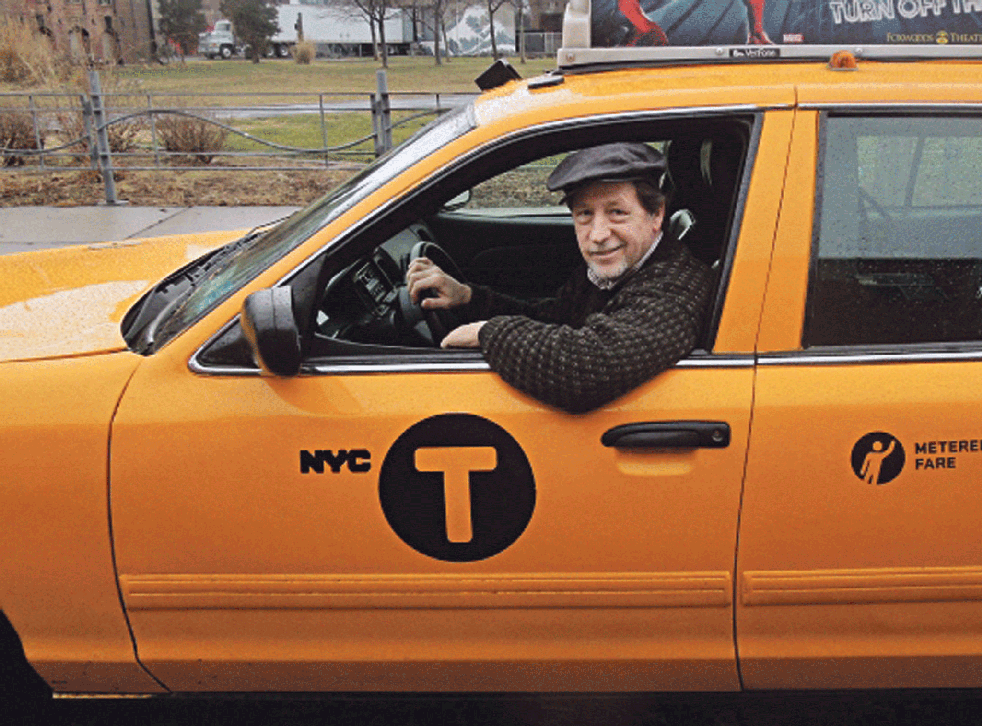 Manhattan transfer: New York by cabbie
A new book by one of the Big Apple's legion of yellow-cab drivers reveals a close-up view of life on the city's streets. Sophie Lam goes along for the ride
Sophie Lam
Wednesday 23 January 2013 01:00 Comments
There was a time in London, not so long ago, when you would hail a taxi and ask to go to the other side of the Thames, only to be refused with a curt, "I'm not going south of the river". It wasn't worth the risk of delving into the deep unknown and schlepping back north without a hope of picking up a return fare.
The same could have been said of New York City when asking a yellow-cab driver to cross the East River from Manhattan to Brooklyn. No longer. Not only are neighbourhoods such as Williamsburg, Dumbo (Down Under the Manhattan Bridge Overpass) and BoCoCa (Boerum Hill, Cobble Hill, Carroll Gardens) drawing Manhattanites and visitors east with their speakeasy-style bars, farm-to-fork restaurants and one-off boutiques, but it's also now against the rules for a New York cab driver to refuse a fare. So when I meet Gene Salomon, a New York-based and bred taxi driver, I can only send him in one direction: "To Brooklyn please."
Gene, one of New York's 40,000 taxi drivers, has just published his memoirs, Confessions of a New York Taxi Driver, bursting with anecdotes from a 36-year career that spans hitmen and heart attacks, via Paul Simon, Norman Mailer, a llama and a coyote. He hands me his card (yellow, of course). It reads: "More stories [sic] than the Empire State Building." The ubiquitous canary-yellow New York taxicab is as singular an icon as the 102-storey Art Deco skyscraper itself, its image immortalised on film by Robert de Niro's portrayal of the unhinged Travis Bickle in Taxi Driver (Gene rolls his eyes, "I hate that film") and in countless other "follow that cab!" celluloid scenes.
More than just an icon, they're woven into the fabric of everyday life. Manhattan, just 13 miles by two, is a sardine tin – there's barely enough room for the 1.5 million inhabitants, 1.6 million commuters and one million daily tourists amid the tightly packed skyscrapers, so private cars can forget it. Taxis are relatively affordable and you rarely have trouble hailing one.
I flag Gene down outside the W Downtown hotel, a new soaring addition to the shifting Ground Zero landscape. As I settle into the front passenger seat of the classic Ford Crown Victoria (it's not even three years old and there are 191,000 miles on the clock) that Gene leases from one of New York's 30 or so taxi garages, he points to a Greek revival-style Roman Catholic church across the street.
St Peter's dates back to the mid-19th century and is incongruously stately among the glass and steel of the Financial District. "It's one of my favourite landmarks," he tells me, and motions to a modest tombstone in the graveyard outside. It's the resting place of Alexander Hamilton, one of the Founding Fathers of the United States. It's now dwarfed by all that surrounds it.
Gene and his peers probably know the city better than anyone else. While commuters duck into offices, Subway train drivers channel underground, tourists gawp skywards and residents look down at their smartphones, it's the taxi driver who plies the streets everyday. We pass a sidestreet and he laughs. "See that street? I dropped a passenger down there the other day and it was the first time I'd ever driven down it. I couldn't believe it!"
We approach the Brooklyn Bridge. "By 1995 I became aware of an ominous trend which had seeped into the trade. People started to get into by cab... and tell me they wanted to go to some destination in Brooklyn on the expectation that I would actually be willing to take them there," Gene retorts in his book. As we cross the bridge and exit on the "wrong" side of the East River, we're in the second most expensive place to live in the United States and – if it was a separate city rather than one of New York's five boroughs – the nation's fourth biggest.
"Its proper name is Kings County, in honour of King Charles II; Queens, above it, was in honour of his wife," Gene informs me. In Brooklyn Heights, we're surrounded by Italianate brownstone homes, low-rise gothic and Greek revival houses and 19th-century mansions. We stop at a typically elegant junction near the river and Gene tells me to get out and walk to the riverside promenade. The view opens up to reveal downtown Manhattan and the Brooklyn Bridge in magnificent high-rise vision.
Further north in Dumbo, he stops at a cobbled dead-end, streaked with antiquated trolleycar tracks, at the Brooklyn Bridge Park. Here, I get a different aspect of the monster Manhattan vista, this time with the fairytale addition of a pristine 19th-century carousel encased in a glass pavilion, designed by the architect Jean Nouvel. Well-circulated images of the glass cube surrounded by flood water during Hurricane Sandy became a metaphor for the city's resilient spirit.
We loop down to the riverside neighbourhood of Red Hook. Unlike Brooklyn Heights and Dumbo there is no Subway, so gentrification has yet to take hold in this part of the borough. Gene scans the broad roads for his secret turning, then drops right to reach Valentino Pier.
There's nobody around, so we park by a row of warehouses under a no-parking sign, then walk to the end of the pier. Right in front of us across Upper Bay is the Statue of Liberty, her right arm held aloft towards us. This is the only point in New York City where you'll get a full front-on view of her, as she salutes France, which gifted her to the city. Behind is Staten Island, which Gene jokes was named "when the Dutch arrived by boat and one mariner asked, 's'that an island?'"
Gene takes the Ocean Parkway south to Coney Island, a five-mile boulevard to the Atlantic which he describes in his book, driving a man he calls "Joe Cool" accompanied by two "gorgeous chicks" on a similarly rainy ride. The passenger was cool and cocky, until the girls were dropped off and he and Gene came across an out-of-control car spinning towards them in the wrong direction, at which point Joe Cool becomes Joe Terrified and hugs Gene for dear life while screaming "Whooooa".
Happily, our ride to the sorry-looking boardwalk is less eventful. The hammering rain seems to have driven all human life away from the amusement park, but Hurricane Sandy has afflicted it with an even more forlorn air. As a token of the devastation, Nathan's Famous Frankfurters, home to the renowned annual hot dog eating contest and normally busy year-round, is boarded up for rebuilding.
On the way back to Manhattan, we travel through Brighton Beach, a Russian neighbourhood full of cyrillic shop and restaurant signs, then Borough Park where the pavements are almost exclusively roamed by orthodox Jews, one of the largest communities outside Israel. In Williamsburg, the hipster takes centre stage.
Not content to stop at Brooklyn, Gene calls my bluff. The Newtown Creek separates us from Queens, which we cross via the Brooklyn Queens Expressway. Here, in Long Island City, is the magnificent old Silvercup bakery, its huge vintage sign still in place with "Studios" affixed beneath it. Gene, who now lives in New Jersey, takes great delight in telling me that this is where the interiors scenes from The Sopranos were filmed.
We continue back towards Manhattan. Brooklyn Bridge might be New York's most iconic river crossing, but it's the 59th Street Bridge that delivers the most rousing views of the city and is Gene's bridge of choice when ferrying first-time visitors to the city. "I'll always take the upper level to get the best view," he tells me. From the approach, the forest of skyscrapers seems almost impossibly tightly packed, then as you get closer, the Art Deco Chrysler building pops up and all of a sudden, you're inside it. And in a yellow taxi, too. New York doesn't get much more iconic than that.
'Confessions of a New York Taxi Driver' by Eugene Salomon is published by The Friday Project, £7.99
Travel Essentials
Getting there
The writer flew with Virgin Atlantic (0844 209 7310; virgin-atlantic.com), which flies from Heathrow to both JFK and Newark. British Airways (0844 493 0787; ba.com) operates the same routes. Delta (0871 221 1222; delta.com) flies from Heathrow to JFK; American Airlines (0844 499 7300; aa.com) from Heathrow and Manchester to JFK; and United (0845 607 6760; united.com) from Belfast, Birmingham, Edinburgh, Glasgow, Heathrow and Manchester to Newark.
Staying there
W Downtown, 123 Washington Street (001 646 826 8600; wnewyorkdowntown.com). Doubles from $169 (£106)
Visiting there
Brooklyn Heights Promenade: nyharborparks.org
brooklynbridge park.org
janescarousel.com
coneyislandfun guide.com
nycvisit.com
More information
Gene Salomon's blog:cabsareforkissing.blogspot.co.uk
Register for free to continue reading
Registration is a free and easy way to support our truly independent journalism
By registering, you will also enjoy limited access to Premium articles, exclusive newsletters, commenting, and virtual events with our leading journalists
Already have an account? sign in
Register for free to continue reading
Registration is a free and easy way to support our truly independent journalism
By registering, you will also enjoy limited access to Premium articles, exclusive newsletters, commenting, and virtual events with our leading journalists
Already have an account? sign in
Join our new commenting forum
Join thought-provoking conversations, follow other Independent readers and see their replies