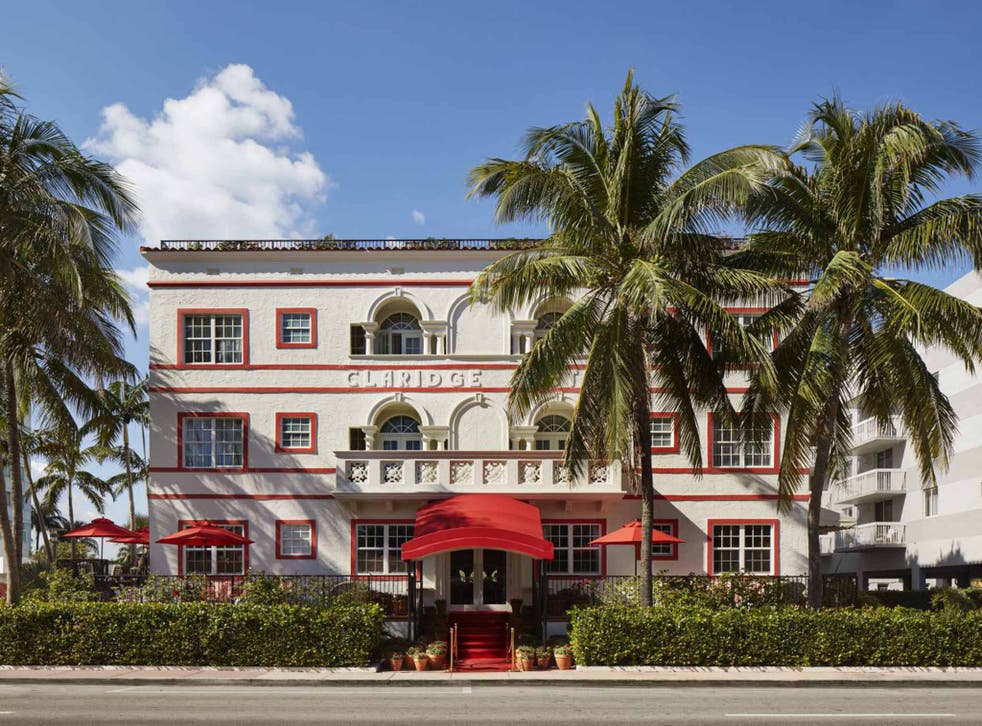 Miami Beach: A new billion-dollar arts district in the Sunshine State
The city is again enjoying a moment in the sun, thanks in no small part to one man's grand vision, says Samuel Muston
Samuel Muston
Friday 11 March 2016 11:32 Comments
Alan Faena is a tall man in a white suit and white hat. There is a white feather, too, that looks precarious in the ripping wind of Miami Beach in February. He moves like a panther, lithe and voracious, across the grass and paths and hallways and beach that make up his Faena Arts District on the north part of the coastal slip, always trailing a crocodile of employees and investors. His hat is a beacon, something to avoid or flock to, depending on your want or the want of this Argentinian tycoon with outsized visions about the future of modern cities. It is also a leitmotif, for him and his district. You find it on the beds, stitched into the pillow, and discreetly inlaid on the doors of the public rooms in the 169-room Faena Hotel. It is a quiet declaration that this is the baby, creatively at least, of one man alone, Mr Alan Faena. "I am involved at every level, from the micro to the macro, from design to construction, to the finish of every surface," he says.
It is baby with some heft, too. The project, created in partnership with the London-based, Ukraine-born American billionaire Leonard Blavatnik, will eventually comprise seven considerable buildings with a value pushing $1bn. Four are on the seafront: the hotel; its neighbour, the 18-storey Foster + Partners-designed Faena House residences, which has the most expensive penthouse on the beach since the last new penthouse on the beach, at nearby John Pawson-designed Edition Hotel Residences. This one sold to a hedge-funder for $60m, and will soon be bookended by two residential buildings, though it's unclear if they will have, as the current tower does, a monumental $14m Jeff Koons as a gate post.
Behind the residences and the hotel, there's Casa Claridge's – a more intimate "guesthouse"– and what Faena thinks of as the conceptual heart of the district – The Forum and The Bazaar. The Forum is a noteworthy bit of architectural grandiloquence. Designed by Rem Koolhaas, the "inter-disciplinary art space" features a rear cuboid gallery which provides ballast to a connected elliptical coliseum with a raised front that makes room for a reflection pool and neat set-concrete stairs. The 300-odd seat coliseum is for small concerts, dance shows and the like, while the cube in the back will host a revolving programme of contemporary visual art. This part of the project will be presided over by Mrs Faena, Ximena Caminos, who is a cultural powerhouse in her native Argentina. Next to the forum, the bazaar, which opens in the autumn, will host as-yet-undisclosed shops.
The question arises, as you look around Faena's empire – what is he doing here? Is he a hotelier, a real estate developer, or a curator? And why now and why here? Certainly Miami is once again having a moment in the sun. Ian Schrager opened his Edition Hotel brand here in 2014 to much hullabaloo and a Soho House Club and Hotel is going great guns up the beach, hosting a New Year's Eve party which pulled in Alexa Chung and Rita Ora.
In short, a new buzz seems to have taken hold in a resort that was once known as the last stop on the road to God's waiting room. These things are the background, the context, to Faena-ville – but the development is unprecedented in Miami, in both its scale, its ambition, and its origin.
To understand the project, you must understand the man. Faena founded his own clothes line, Via Vai, at 19 in 1985, selling it 11 years later for an undisclosed sum. His life course kinked in 2000, when he and Blavatnik bought an old warehouse and factory in Buenos Aires. Many thought the youthful mogul off his head. They saw unloved, unlovely lots, with no infrastructure or people. Today, that same area, Puerto Madero, has blossomed into a centre for contemporary art and a hub for restaurants and apartment blocks, with a Faena hotel at its heart. "I see myself as a creator. I converted not only the building but a neighbourhood," says Faena. "I knew I could do that in Miami."
Miami is not Buenos Aires. But the principles on which Puerto Madero prospered are here, too. An unloved tract of water-front property, some derelict buildings, the backbeat of an art scene, in this case Art Basel – the art fair-cum-bacchanal that engorges the city in December – and most important, a hotel already up and running.
When Blavatnik bought the hotel, he got a derelict shell with a lot of history and not much future. The Saxony, as it was called, was the hotel of Dean and Sammy, where Marilyn Monroe laid her head and the first hotel in the city with air-con, but by the late Noughties it was a relic. Today, it is perhaps the most interesting hotel in the world.
Most luxury hotels focus on brilliant service, facilities, food, entertainment, all anchored by a design meant to give a sense of place and permanence – the taste and place formula, if you like. The Faena hotel throws that rule book out of the window. It uses starchitecture and public art to seduce you through its portals, into another, grander, world – it is a set on which, if you can afford it, you can play out your own story. As Faena wrote in the book that promotes the project, his aim is to "bring a new point of view of doing things or feeling things". Quite the ambition.
What you might initially feel when you walk through the doors is your jaws slowly slipping apart. The 18.5ft high lobby, or cathedral as they call it, is extraordinary, with frescos by Argentinian artist Juan Gatti and vast columns of gold mosaic tiles leading your eye to the back doors and the cerulean ocean. From there, you are drawn to a whacking great Damien Hirst piece, a gilded woolly mammoth skeleton, called Gone But Not Forgotten, which is encased in a 19ft hurricane-proof glass box. The guest rooms are large, airy and bright, with vast beds, roll-top baths and hints of Art Deco and the Faena colours of teal-blue and deep red. The rooms feel filmic but reassuringly permanent. Perhaps this dichotomy comes from the collaboration between Faena and film director Baz Luhrmann. Architect Fabio Grementieri says working with Faena "stimulates people to join him in crossing all boundaries". He must be an accountant's nightmare.
Each room has a butler who will unpack and then repack your case, bring you coffee and clean your shoes at no extra charge. The likelihood is you won't be in the room much, though, with the six bars, vast Terre Sante spa, long outdoor pumice-lined pool and beach playground to explore.
There are two restaurants. Los Fuegos is Francis Mallmann's Argentine asado grill; Pao is a hybrid of Filipino-French-Spanish, with a bit of Japanese and serves the most beautiful pork rice.
Faena hotel is best thought of as the flashing light at the end of Gatsby's pier, an intoxicating dreamland. If the district succeeds, the hotel will be the primary force behind it.
The scale of the tasks yet to be completed probably doesn't worry Faena much, though. One story of him retreating to his small ranch on the coast of Uruguay after he sold his fashion business in the Nineties has become lore. He wanted to grow roses in his garden; but, with the Atlantic as a neighbour, it took him years to find a strain that would take root. But he did, and they grow there still.
The Miami arts district is his current rose garden – and you can bet that the man in the white hat won't stop tending it until it's in full bloom.
Getting there
Samuel Muston travelled with Virgin Atlantic (0844 209 2770; virginatlantic.com), which flies daily to Miami from Heathrow. Economy fares start at £560 return. Miami is also served from Heathrow by British Airways and its partner, American Airlines.
Staying there
Faena Hotel Miami Beach (001 305 534 4697; faena.com). Double rooms start at $745 (£530), room only.
More information
Art Basel Miami runs from 1-4 Decemeber (artbasel.com/miami-beach).
Register for free to continue reading
Registration is a free and easy way to support our truly independent journalism
By registering, you will also enjoy limited access to Premium articles, exclusive newsletters, commenting, and virtual events with our leading journalists
Already have an account? sign in
Join our new commenting forum
Join thought-provoking conversations, follow other Independent readers and see their replies