The Independent's journalism is supported by our readers. When you purchase through links on our site, we may earn commission.
How California wine country is rebuilding after the fires
In the wake of the devastating fires, tourists are cancelling their trips to California wine country in droves. But that's not what the locals want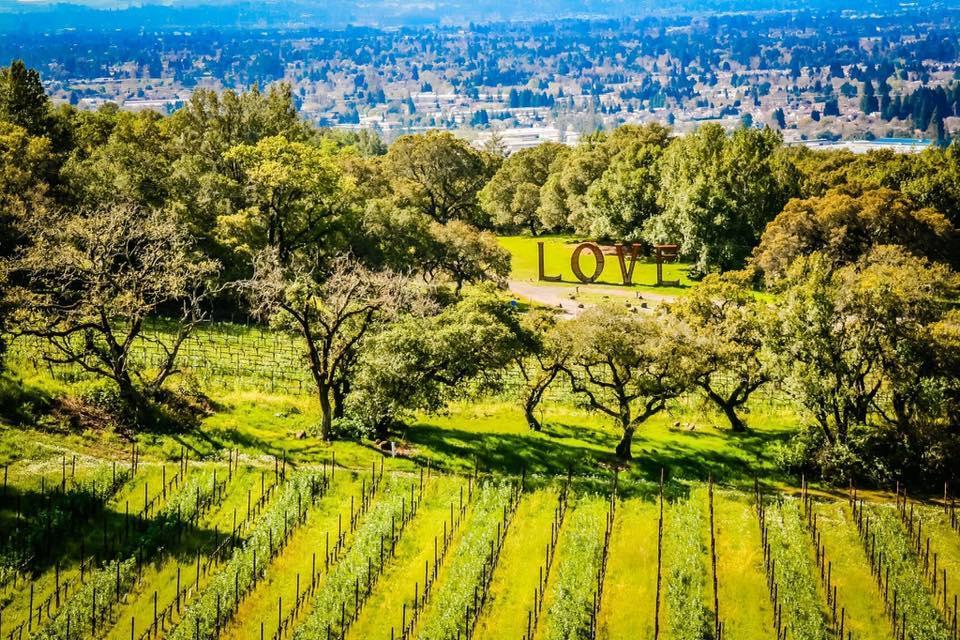 It's a perfect Sunday morning at Tedeschi Family Winery in Napa Valley, California. The vines are bright and green, the sky is clear and blue, and the picnic tables are urging a long, lazy lunch in sun-dappled shade. I'd never have believed that, just a five-minute drive away, I'd find another winery scorched to nothing; a ravaged patch of ash and melted glass at the foot of blackened hills.
Helena View Johnston vineyard's owner and winemaker, Charles Johnston, watched his winery, which he built in 1988, literally go up in smoke. "You spend decades putting something together by hand, you nurture it, and then – boom – within 15 minutes there's nothing," he says. I glance over at a mini mountain of wine bottles piled under a charred tree. "Glass melts at 2,600 Fahrenheit (1,427C)," Charles tells me. "Even the firefighters said they'd never seen anything as hot or fierce."
The wildfires that raged through 245,000 acres of northern California wine country last month were propelled by 60mph winds. And the changing direction of those winds is also to blame for the randomness of the aftermath: on some roads, untouched fields and houses sit next to burnt-out cars, and people sifting through the rubbled remains of their homes.
No doubt, there are vast swathes of devastation. Forty-three people perished, making it the deadliest wildfire in Californian history. An estimated 8,900 structures were destroyed, many of them homes. But a region that largely relies on tourism has also retained most of what makes it a world-class destination: uncommonly picturesque hills and pastures, vineyards, restaurants and hotels. According to Visit California, out of more than 1,200 wineries in the region, fewer than 10 were "heavily damaged".
Another five-minute drive from Tedeschi and Helena View, Calistoga is every bit the charming little tourist town. Spas advertise hot springs and mud baths. It was evacuated as the flames licked close, but today appears perfectly intact; the only clues anything happened here are the handwritten signs tacked up in shop windows, offering "huge bear hugs to fire crews".
I stay at Cottage Grove Inn, a cluster of cosy two-room cottages sprinkled among elms just off the high street. "October is ordinarily our biggest month," owner Bob Beck tells me. "But when the fires began, the phone started ringing with people cancelling reservations. After the fire, every reservation into November and December was gone." Winter is typically tricky for wine country: if the skiing is good, people plump for Lake Tahoe instead. But harvest time, October, makes up for it – the warm weather and abundant produce compel lengthy wait lists at restaurants and al fresco patios are packed with wine drinkers long into the evening.
This year, though, high season came to a rude halt.
At midday in St Helena the day before I spoke to Beck, the customary lines of traffic were beginning to amass, suggesting this middle-class Napa town was somewhat back in business. But Sharon Li, executive chef at upscale chophouse Press, tells me her sous chef – a former marine – has compared it in recent weeks to a war zone. "You could see the sky glowing, ash was flying in the air," she recalls. "There were no cars on the road, and the people you did see outside were just standing there, staring."
Press shut for two weeks during the fires; the whole area lacked electricity, internet and mobile phone reception. With food going to waste, and little else to do, staff turned up to work anyway, cooking meals for first responders on the front line. The restaurant's suppliers, their week's orders cancelled, donated food to the cause. "We kept it all seasonal," Sharon jokes – in a region priding itself on "farm to table", there's little option other than fresh and local.
But the localised economy of California wine country will work against it, if tourists stay away. As Nicole Murray, general manager at Press, notes: "All our friends in the vineyards who recommend us aren't getting visitors, so we're not getting people sent to us." In its first week of re-opening, the ordinarily overbooked restaurant was half-full: Nicole credits people who live in the area with keeping them going. "If vacationers aren't coming in, we have to do it ourselves," she says.
The fires burned predominantly in Napa's wooded hillsides, leaving the valley floor, and its vines, largely unscathed. At Compline Wine Bar in downtown Napa, co-founder Matt Stamp explains this is because many vineyards acted as fire breakers – with more moisture and open space than the surrounding oak forests, the flames couldn't take hold, save for places where the heat was particularly intense. Matt still has high hopes for his new business – the town centre is currently being rejuvenated, with new boutique hotels and chic tasting rooms enlivening this once sleepy locale – but he admits the fallout of the fires is far from over. "There's a lot of devastation," he says, "and a lot of work to do."
Devastation is no exaggeration for Santa Rosa, in Sonoma County, where five per cent of the city's housing stock burned. As I drive towards Paradise Ridge Winery, on Santa Rosa's outskirts, there's little evidence of fire damage – until I pass through a road block, defended by the National Guard. All around me, entire neighbourhoods have been razed.
Paradise Ridge, voted California's best tasting room by USA Today readers, hasn't fared much better. Owner Rene Byck tells me they've been making wine here since 1994; today, the winemaking facility is little more than a mangled pile of burned barrels and ruined vats. The tasting room and events centre, where weddings were held every weekend over summer, is just debris and seared earth.
Still, Rene stays positive: the vines survived, he plans to rebuild, and another tasting room in nearby Kenwood remains. He's more worried about his employees, some of whom lost their homes – and, with the demise of Paradise Ridge, could lose their jobs. Finding new work in an economy largely dependent on hospitality won't be easy – as wine country enters slow season, businesses will already have planned to pare down staff. "I just hope people continue to visit wine country," Rene says, "because that's what the community really needs. Buy our wines, eat in the restaurants, stay in the hotels – that's the best way to help."
On my last night in Sonoma, I'm invited to Bedrock Wine Company's harvest party in Glen Ellen. It's tradition to throw elaborate festivities within the wine community at harvest time, and Bedrock has gone all out: guests gather under fairy-lit gazebos, in a clearing among the vines. Oysters are shucked, a pig is carved, wine flows. The fading light bathes the green fields in an ethereal autumn glow. In the distance, I make out burnt-black patches scattered across the hills. Partygoers share stories of burned ranches, spared vineyards and interviews with local news crews.
"It feels weird to be celebrating right now," one reveller confides in me, "but I think we need this."
Travel essentials
Getting there
Virgin Atlantic (virginatlantic.com) flies twice daily to San Francisco from London Heathrow and up to four times weekly from Manchester. Return fares start from £390.
Both Napa and Sonoma Valley are around a 90-minute drive from Downtown San Francisco. The writer hired a car with Hertz (hertz.co.uk).
Staying there
The writer was hosted by the Cottage Grove Inn (cottagegrove.com) in Calistoga.
More information
For help planning a trip, see visitnapavalley.com, sonomacounty.com, and visitcalistoga.com
Join our commenting forum
Join thought-provoking conversations, follow other Independent readers and see their replies