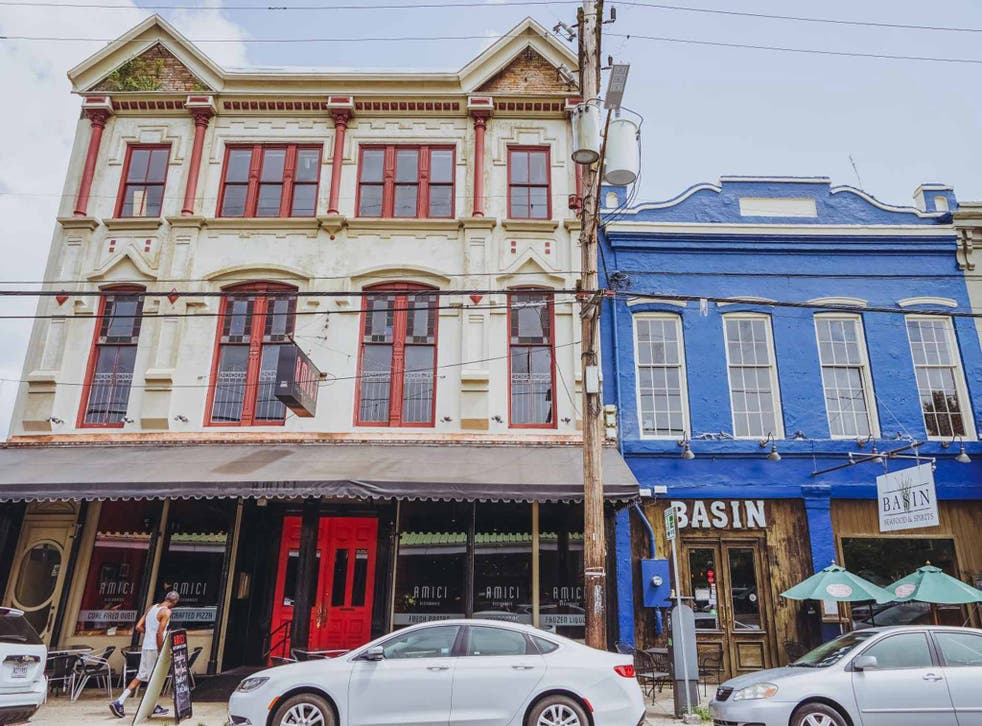 New Orleans finds its feet after the Hurricane Katrina exodus
After the destruction of Hurricane Katrina many residents never returned. But now, 10 years on, Hazel Sheffield finds that change is in the air
Hazel Sheffield
Tuesday 01 September 2015 13:02 Comments
Every New Orleans native has a story to tell about Hurricane Katrina: the hotelier who remembers elderly friends who skipped town before the floods, and were never to return; the restaurant owner who can still recall the smell of rotting meat in the fridges; the construction worker who battled three-hour commutes to help rebuild the city in the months that followed.
But for residents and the city alike, time has softened the trauma of the past. Ten years since the natural disaster that ripped it to pieces, New Orleans is going through a period of rapid regeneration.
"After Katrina, many of us felt things would never get back to normal," says Glen Miller-Monceaux, who co-runs the HH Whitney House (001 504 948 9448; hhwhitneyhouse.com) on historic Esplanade Street. Much of the Rococo interior of this traditional Creole mansion had to be refurbished in the years after the hurricane. But around 2010, something changed. "Now it feels like we have reached a new normal," Miller-Monceaux says.
When the French founded New Orleans in 1718 they picked high ground on the levees of the Mississippi to build what is now known as the French Quarter. House prices in the area have skyrocketed, forcing locals out, filling the neon-lit strip of Bourbon Street with dancing bars and fast-food joints.
The Erin Rose (001 504 522 3573), a pub just round the corner on Conti Street, provides some respite and the chance to try a po' boy, a traditional New Orleans sandwich. Killer Poboy, a pop-up in the back of the bar, crams them so full of delicious sauces that you'll have it running down your elbows.
While the higher ground of the French Quarter saved it from the worst of the damage, some of the Bywater neighbourhood ended up underwater in 2005. Since then, there has been an influx of younger people who have made Bywater their home. You're more likely to see its colourful Creole houses listed for rent on Airbnb than crumbled and abandoned – though every few blocks, a shell remains. Behind bright pink and green paint jobs, some buildings still display the black crosses sprayed on them by emergency workers to show that the house had been checked for bodies.
Around Royal and Dauphine Streets, Bywater is in full bloom, with locals gathering in trendy cafés such as Satsuma (001 504 304 5962; satsumacafe.com) for fresh smoothies and coffee in the day. At night, Elizabeth's (001 504 944 9272; elizabethsrestaurantnola.com) serves blackened fish and huge plates of chicken with generous sides orders of beets and creamed beans; and local dive bars such as Markey's (001 504 943 0785) stay open until 3am for shuffleboard and craft beers.
UNPACK
In downtown New Orleans, a short walk from the French Quarter, a brand new hotel, the Old No 77 (001 504 527 5271; old77hotel.com), has opened and is already proving popular for its hip interiors of exposed brickwork and polished dark wooden flooring. Rooms feature minibars stocked with local produce, and artwork made by students of the New Orleans art school, Nocca. Doubles from $107 (£69), room only.
THINK LOCAL
The New Orleans Centre for Creative Art is well worth a visit. Its on-site shop sells ceramics and other small pieces of work and serves as a gallery for the staggering work of the students and alumni. In March, the Press Street Station café (001 504 249 5622; pressstreetstation.com) opened on the site. During my visit, Lauren, a first-year culinary arts student, had been in the kitchen since dawn coating a three-tier red velvet cake in lashings of cream. An extensive vegetable garden provides produce for the kitchen.
EAT
Ralf Brennan was the first New Orleans restaurant owner to get his licence back after the hurricane hit. "Restaurants were meeting places after Katrina, when the city was still under the control of the federal government. People met to trade news and stories," he says over a cold sazerac – the city drink – in the courtyard of the fabulous Brennan's restaurant (001 504 525 9711; brennansneworleans.com).
What started as an absinthe house in the 1940s now serves upmarket dinners and brunches on Royal Street in the French Quarter. Try bananas foster for dessert, a caramelised banana that the waiter flambés at the table.
Brennan's has competition, however. This year alone, more than a dozen new restaurants have cropped up in New Orleans. Among the best, Angeline (001 504 308 3106; angelinenola.com) mixes southern tradition with Mediterranean ingredients, such as succulent pork "boudin" balls served with hot red sauce.
DRINK
The city's regeneration is transforming areas of New Orleans that suffered social problems even before Katrina. After work, locals head to Purloo (001 504 324 6020; nolapurloo.com) in Central City, an area you might not have ventured into at night just five years ago. Enjoy southern twists on classic drinks, such as peanut-infused bourbon, and stay for the superlative southern cooking of chef Ryan Hughes, who started as a kitchen hand at Brennan's.
Later on, the Spotted Cat (spottedcatmusicclub.com) on Frenchmen Street is the pick of the jazz bars for catching live music into the small hours, and for no more than the price of a pint.
SPEND
Magazine Street is unrivalled for vintage and thrift-store shopping. Lili Vintage Boutique sells beautiful dresses from the Fifties (001 504 931 6848; lilivintage.com), while over the road, Buffalo Exchange is a cavernous jumble sale – a sure place to find a bargain (001 504 891 7443; buffaloexchange.com).
Music lovers won't find a better record store than the Music Factory on Frenchmen Street (001 504 586 1094; louisianamusicfactory.com).
DON'T MISS
The best way to get a feel for the distinct neighbourhoods of New Orleans is by bike. The family-run Freewheelin' Bike Tour (001 504 522 4368; neworleansbiketour.com) offers three-hour tours from $50pp (£33). My guide, Laura, explains the geography of New Orleans, a city built in a natural bowl. "When the city pumps failed, the bowl filled with water," she said. "Katrina was a man-made disaster."
For a glimpse at Louisiana's primeval landscape – and perhaps a few 'gators – take a swamp tour (001 985 651 4477; cajunprideswamptours.com). From $19 (£13) for 90 minutes.
Register for free to continue reading
Registration is a free and easy way to support our truly independent journalism
By registering, you will also enjoy limited access to Premium articles, exclusive newsletters, commenting, and virtual events with our leading journalists
Already have an account? sign in
Join our new commenting forum
Join thought-provoking conversations, follow other Independent readers and see their replies