The Independent's journalism is supported by our readers. When you purchase through links on our site, we may earn commission.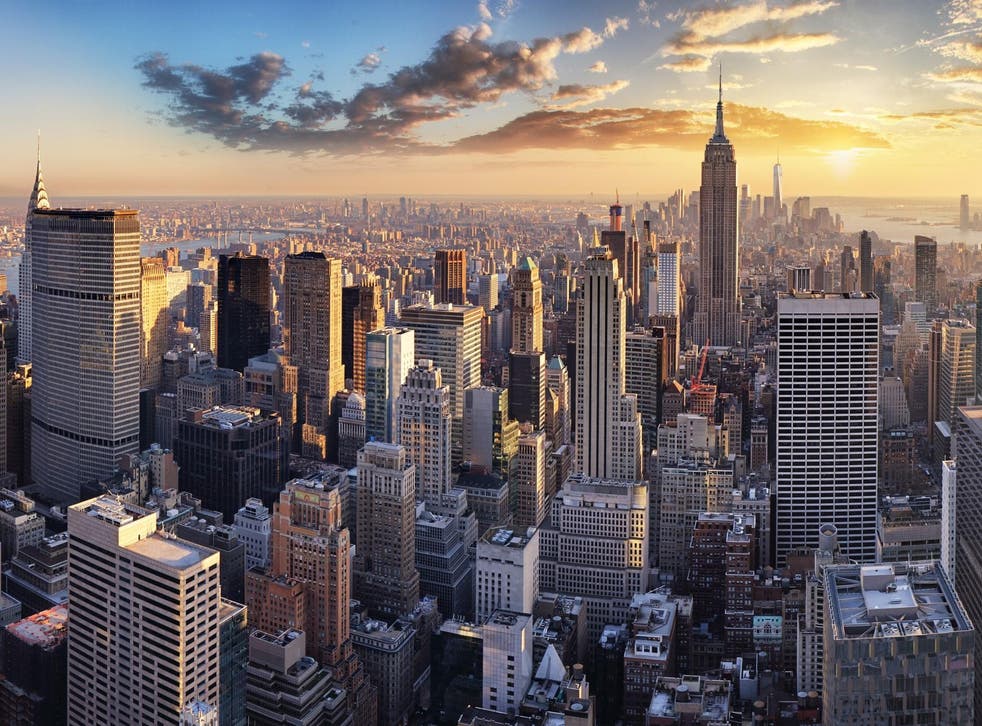 Uncovering the secrets of New York's skyline
It's been 60 years since the Guggenheim opened. Tamara Hinson goes in search of New York's lesser-known architectural wonders
The Independent's hotel recommendations are unbiased, independent advice you can trust. On some occasions, we earn revenue if you click the links and book, but we never allow this to affect our coverage.
I first went to New York 30 years ago. My father, who visited regularly on business, was keen to show us its most famous landmarks, hence the photo of my mum standing wearily between the Twin Towers. As a grumpy 10-year-old, my priorities included a visit to FAO Schwarz (to jump on the giant piano) and the Warner Brothers store to purchase a plastic Marvin the Martian. I never had a burning desire to return, until a spate of recent architecture tours taught me that, sometimes, the most fascinating aspects of a city are those hiding in plain sight.
So three decades later I've returned, in the year that Solomon R Guggenheim's iconic museum turns 60.
Not to clamber up the Empire State Building or wander the High Line, but to get under the skin of the city's architecture with an AIA (American Institute of Architects) boat tour around Manhattan. My guide is architect Arthur Platt, and the starting point is Manhattan's west side, near the elegant Hudson River Park. Platt points out that in the 1980s people simply didn't visit Manhattan's waterfront – now New York's priciest real estate. "Ironic, given rising sea levels," adds Platt dryly.
Inside Trump Tower: New York's least desirable luxury property

Show all 13
He explains that Manhattan's biggest transformation started in the 1890s, an era known – in architecture terms – as City Beautiful. Planners saw the beautification of Europe's urban areas (including London, where the Garden City movement was transforming suburbs) and hired Paris-trained architects to work their magic. Materials of choice were limestone and stucco, used to adorn Beaux Arts landmarks such as Manhattan's Grand Army Plaza.
Today the struggle for time and privacy shapes Manhattan's architecture. Platt points across the water to 200 Eleventh Ave, which has its own car elevator, allowing tenants to park in their apartments, and Tribeca's 70 Vestry, the recently completed residential complex designed by Robert AM Stern. Its limestone exterior and drive-in courtyard (a decadent rarity, but once a staple of Manhattan's most iconic buildings, including John Lennon's home, The Dakota) pays homage to the City Beautiful era.
The beauty of water-based tours is that they allow you to see details invisible from street level. Nearing Manhattan's southern tip, we pass the waterfront Star of David-shaped Museum of Jewish Heritage. Platt tells me that the six-tiered rooftop represents the six million Jews killed in the Holocaust. As we slide up Manhattan's east side, towards the Bronx – the only mainland borough – we're reminded that skyscrapers perched on this blustery island must be practical, not just beautiful. Through a jungle of buildings, we glimpse 601 Lexington Avenue, built in 1977 as Citibank's headquarters. It was America's first skyscraper with a mass damper – a 400-tonne weight that reduces sway. Later we marvel at the quirkiness of the recently unveiled American Copper Buildings, with its sky bridge pool which allows residents to swim between towers.
The next day I explore the Lower Manhattan and Wall Street area from ground level, on a tour led by former banker and architecture enthusiast Annaline Dinkelmann. I was expecting a tight tangle of financial institutions, but Dinkelmann explains that, post-9/11, laws stated that headquarters of huge companies must be split into smaller clusters, resulting in random chunks of empty office space. These were then filled with cafés, boutiques and even schools, creating a more colourful neighbourhood. There's plenty of history, too. We pass the Fraunces Tavern, a squat brick building built in 1719 which appears to lean against the skyscrapers behind it.
In fact, there's so much history here that anyone wishing to build a new skyscraper must first conduct an archaeological dig. On Broad Street, Dinkelmann points to a glass panel in the pavement which allows passersbys to peer at the remains of a 17th-century tavern, discovered during a dig. Nearby a sunny outline of yellow bricks marks the former footprint of Stadt Huys (city hall), built in 1641. It was New York's first skyscraper.
Equally groundbreaking is Beaver Street's Delmonicos (America's first restaurant with a printed menu), opened in 1837. Its terracotta exterior isn't just for show but chosen for its fire-resistance, making it the city's first fireproof building. New York was clearly ahead of its time in architectural terms, and Dinkelmann points out that its skywards expansion was never uncontrolled, thanks to laws such as the one introduced in 1916 which required skyscrapers to have a staggered layout, allowing light to permeate.
9/11 proved that the most innovative buildings aren't infallible and it's ironic that the one targeted in the world's first vehicle-bomb attack still stands proud. It was a horse-drawn cart, not a car, which exploded outside the JP Morgan & Co building in 1920, killing 30 people. The perpetrators were never found and the visibly scarred wall, pockmarked by shrapnel, has never been repaired.
After the tour I walk over to the Oculus, the new transportation hub for the rebuilt World Trade Centre. Stepping into this enormous white space feels like entering a dinosaur's ribcage. It's a reminder of New York's constantly shape-shifting skyline, but also that beauty can be found in the most unexpected places – after a visit to the Oculus, Waterloo station looks rather bland.
Further proof comes that evening. My dinner is at Legacy Records – chosen because I was desperate to try its famous honey-lacquered duck. But I'm even more taken with the building's design, and the gorgeous interior – an elegant mix of wood, brass and marble. I discover it was the former studio of a record label, prior to its transformation by designer extraordinaire Ken Fulk, and had subsequent regular appearances in Architectural Digest. And then there's my hotel, the seemingly innocuous Millennium Times Square New York. Selected because of its proximity to the places I needed to be, it turns out to be a beautiful explosion of art-deco fabulousness. Perhaps there's more to New York than giant pianos and Marvin the Martians, after all.
Travel essentials
Getting there
Virgin Atlantic flies from London Heathrow to New York from £272 return.
Staying there
Double rooms at the Millennium Times Square New York from £152, B&B.
More information
Wall Street Walks' Secrets of Downtown tour costs £28.
AIANY's Around Manhattan Architecture tour costs £69.
Register for free to continue reading
Registration is a free and easy way to support our truly independent journalism
By registering, you will also enjoy limited access to Premium articles, exclusive newsletters, commenting, and virtual events with our leading journalists
Already have an account? sign in
Register for free to continue reading
Registration is a free and easy way to support our truly independent journalism
By registering, you will also enjoy limited access to Premium articles, exclusive newsletters, commenting, and virtual events with our leading journalists
Already have an account? sign in
Join our new commenting forum
Join thought-provoking conversations, follow other Independent readers and see their replies