The Independent's journalism is supported by our readers. When you purchase through links on our site, we may earn commission.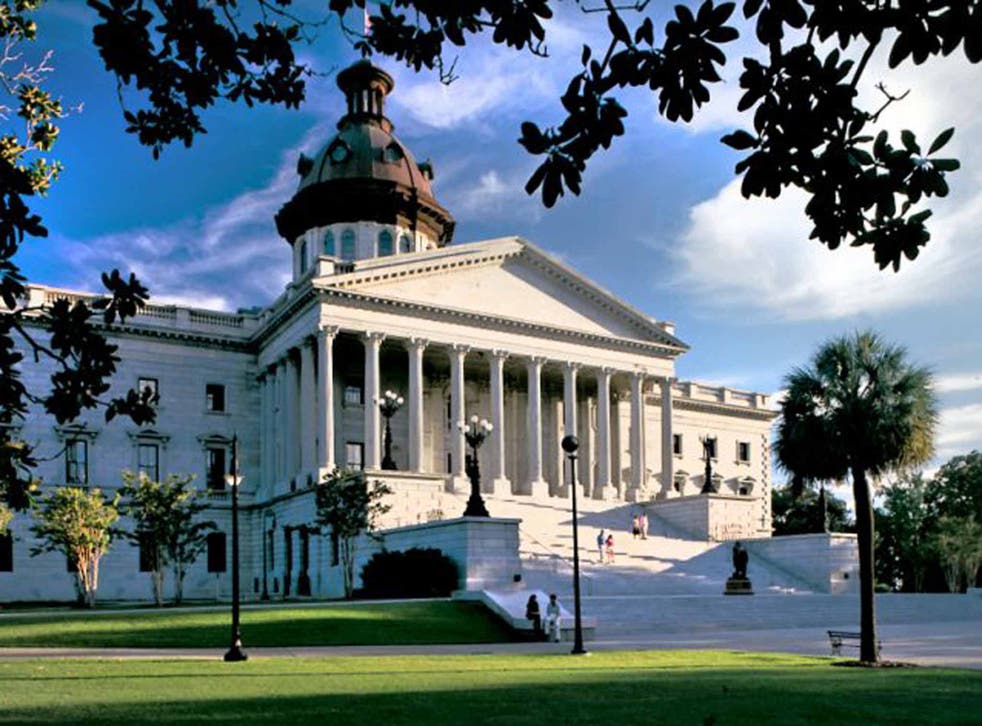 On the rights track in South Carolina
Sixty years ago, a racist assault in the state capital marked a pivotal moment in the quest for black civil liberties, says Chris Leadbeater
As statements against injustice go, this one hardly shouts its message. Pale brown in hue, decorated with white script, it juts out just above the larger green marker for Main Street at the point where Columbia's key avenue crosses Washington Street. Yet while it may be small, this discreet sign, which reads "Sarah Mae Flemming Way", is part of a bigger story.
It was at this exact location, almost at the heart of the state capital of South Carolina, that – on 22 June 1954 – a young black woman was ejected from public transport in a racist assault that would foreshadow a more notorious incident.
Sarah Mae Flemming was a maid living in Eastover, an unassuming suburb located to the south-east of this provincial US city. On a summer Tuesday, she boarded a crowded bus and took what she believed to be – by the segregation laws of the time – the last available seat for black passengers. Inadvertently, she sat in front of two white travellers and was soon challenged. Humiliated and flustered, she tried to leave the bus via the front door – an exit traditionally reserved for whites – and was punched in the stomach by the driver.
It was a tawdry moment – and one that would be echoed 17 months later, 350 miles away in Montgomery, Alabama, when Rosa Parks refused to give up her place on a packed bus and was arrested for civil disobedience. Yet while this latter dropped pebble made the big ripple in the pool of history, Flemming's tale was more shocking. Where Rosa Parks was a stoic 42-year-old, Flemming was 20, barely more than a girl. And while her situation was not ignored, with local civil rights lawyers filing a case that her entitlement to equal protection under the law, via the Fourteenth Amendment to the US Constitution, had been violated, a Columbia court – after two dismissals and appeals – found in favour of the bus company.
Standing at the corner of Main and Washington on a sultry morning – watching a modern, multi-cultural workforce streaming in and out of air-conditioned offices – I am struggling to equate the Columbia of 2014 with the 1954 version. Times have changed. Last year, this compact state capital joined six other Southern cities – Birmingham, Selma and Montgomery (Alabama); Memphis (Tennessee); Jackson (Mississippi); Washington DC – to celebrate the 50th anniversary of the civil rights movement high tide of 1963, when events such as Martin Luther King's "I Have a Dream" speech pushed racial equality to the very top of the American agenda. Sarah Mae Flemming Way was inaugurated as part of this "SC63" festival. A walking tour of landmarks linked to this tumultuous era – shops that finally agreed to serve black customers; cafés where sit-in protests occurred – is still online at columbiasc63.com/tour.
There is, though, a caveat. In the middle of Main Street, one of the pin-pointed sites – the South Carolina State House – offers a reminder that the battle against intolerance is never won. South Carolina is one of only two US states (the other is Mississippi) still to fly the Confederate flag in an official capacity. A compromise decision, taken in 2000, to move the banner from the dome of the building to a Civil War memorial in front has not doused the controversy about its presence. True, many Americans view this mix of red, white and blue as a symbol of identity and resilience. Many also see it as an emblem of hatred.
Its tarnished image does enormous disservice to the city in which it flutters – so much so that, when I pull up a chair for dinner at the Motor Supply Company Bistro, three blocks west, the flag is an audible and angry conversation piece at the next table. It is not hard to understand the depth of feeling. The clientele in this chic eatery is young, lively and ethnically diverse, passing the evening sipping cocktails with names such as Bobbin' 4 Apples (gin, honey, tonic, pear) and nibbling at alluring dishes such as sautéed shrimp with smoked-pork ragout.
This – and the other restaurants which make the Congaree Vista district a gastronomic hotspot – is more representative than any bedevilled Southern cross. Indeed, while Columbia is a dot on the map that you might easily speed through on a road trip around South Carolina's more documented attractions – the colonial grandeur of Charleston; the old-fashioned seaside fun of Myrtle Beach; the craggy scenery of the "Upcountry", where the Blue Ridge Mountains rise as precursors to the Appalachians; the wildlife-rich wetlands of Congaree National Park – it will also surprise those who linger.
There is a marked prettiness to the city's neat grid – and no little willingness to confront old demons. The Hampton-Preston Mansion, the former home of wealthy planters, sings sweetly of 1818, but makes no attempt to deny the role of slavery in the plantation's growth. The Nickel- odeon on Main Street is a clever example of regeneration, a cinema which stages "Civil Rights Sundays" film screenings – and has preserved the separate door through which black movie-goers were once corralled as a stark shard of the past. Then there is Columbia Museum of Art, where the photos of Richard Samuel Roberts – time-capsule shots of black life in South Carolina in the Twenties – are presented not as token gestures, but as worthy elements of a collection that boasts works by Monet and Botticelli.
This urban upsurge has largely occurred this millennium – an epoch that Sarah Mae Flemming did not witness (she died, aged 59, in 1993). The tragedy, of course, is that there were thousands of Sarah Mae Flemmings, whose sorrowful stories went unnoticed. For them, America's next red-letter date has special significance: 2 July marks the 50th anniversary of the Civil Rights Act.
Getting there
No airline flies from the UK to South Carolina. US Airways (0845 600 3300; usairways.com) flies from Heathrow and Manchester to Charlotte, North Carolina, 90 miles north of Columbia. Delta (0871 221 1222; delta.com) flies from Heathrow and Manchester to Atlanta, Georgia (210 miles west of Columbia). British Airways (0844 493 0787; ba.com) flies from Heathrow to Atlanta.
Touring there
America As You Like It (020 8742 8299; americaasyoulikeit.com) sells a 12-night "South Carolina Discovery" fly-drive package – from £1,025pp, including flights to Atlanta, car hire and accommodation.
Staying there
Columbia Marriott Downtown, 1200 Hampton Street (001 803 771 7000; marriott.com). Doubles from $140 (£83), room only.
Visiting there
Columbia Museum of Art, 1515 Main Street (001 803 799 2810; columbiamuseum.org; $12/£7.15).
Hampton-Preston Mansion, 1615 Blanding Street (001 803 252 7742; historiccolumbia.org). Tours from $8 (£4.75).
Motor Supply Company Bistro, 920 Gervais Street (001 803 256 6687; motorsupplycobistro.com).
Nickelodeon, 1607 Main Street (001 803 254 8234; nickelodeon.org).
More information
Register for free to continue reading
Registration is a free and easy way to support our truly independent journalism
By registering, you will also enjoy limited access to Premium articles, exclusive newsletters, commenting, and virtual events with our leading journalists
Already have an account? sign in
Register for free to continue reading
Registration is a free and easy way to support our truly independent journalism
By registering, you will also enjoy limited access to Premium articles, exclusive newsletters, commenting, and virtual events with our leading journalists
Already have an account? sign in
Join our new commenting forum
Join thought-provoking conversations, follow other Independent readers and see their replies