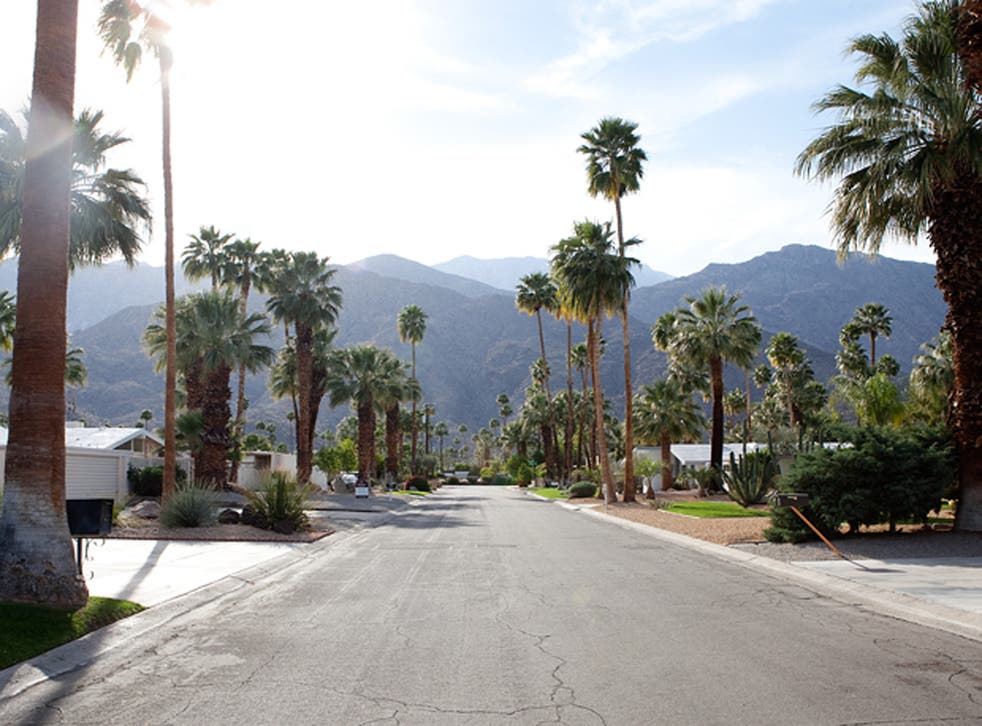 Palm Springs: a living museum of mid-century modern architecture
The Californian desert resort is home to some of the world's finest 1950s and 1960s designs
Heike Bohnstengel
Wednesday 24 June 2015 15:58 Comments
The rich and famous have a long love affair with Palm Springs. According to the so-called "two-hour rule", actors under contract with a Hollywood studio had to be available within two hours and nearby Palm Springs, with more than 350 days of sunshine per year, was the ideal place to go to for a quick escape. Their glamour made Palm Springs fashionable and attracted visitors from all over the world.
It is a far cry from Palm Springs' humble origins as a tuberculosis sanatorium. In 1909 a female entrepreneur named Nellie Coffman opened the town's first hotel. During an earlier stay in Palm Springs she noticed the benefits of desert air and decided with her husband, a doctor, to open a health resort, the Desert Inn. Among her first guests were two journalists from the LA Times who extolled the virtues of Palm Springs - and the rest as they say, is history.
With the striking desert and mountain backdrop, and the good weather, it wasn't long before the studios started to use Palm Springs as a film location. Early celebrity visitors stayed at the Desert Inn, but that changed in 1927 when El Mirador hotel opened with 165 rooms and a 75 foot pool. Its long list of celebrity guests include Johnny Weissmuller, Esther Williams, Charlie Chaplin, Shirley Temple, Albert Einstein, Salvador Dali and HG Wells.
Film stars soon started to build second homes in Palm Springs, and even today a neighbourhood called the Movie Colony is also referred to as "behind El Mirador". Inspired by the stark desert landscape and modern schools like Bauhaus and the International Style, the architects of the 1950s created in Palm Springs what is now called Desert Modernism - today it's the highest concentration of mid-century modern architecture in the world.
The Alexander house marked the first mass production of Desert Modernism homes. Named after the Alexander Construction Company, these homes almost doubled the housing capacity of Palm Springs with more than 2,000 built in a decade. In 1957 Twin Palms Estates, a neighbourhood in the then unfashionable south of Palm Springs became the first development. Named Twin Palms because every house featured two palms, starter houses measured 1,200 square feet and included a swimming pool. Priced moderately at $19,500, this radical concept was met with great enthusiasm.
These new developments brought a different class of homeowner to Palm Springs — upper middle class, as opposed to the very wealthy.
Twin Palms today is a handsome, quiet neighbourhood which appears surprisingly green in the midst of the California drought. An underground aquifer created from a freshwater lake that covered the Coachella valley in the last ice age, means that palm trees are native to Palm Springs, unlike in Miami or Los Angeles.
Wandering through the streets of Twin Palms, ocotillo blossoms, chollo and barrel cactuses add colour and shape. Interiors are often decorated with classic mid-century or Bauhaus furniture and along with the rediscovered appreciation of mid-century architecture, vintage cars are very popular.
In the 40s and 50s, Vista Las Palmas was another affluent neighbourhood with spectacular architecture, including the immaculately maintained 1946 Kaufmann Desert House. The Kaufmann family also owned Fallingwater in Pennsylvania by Frank Lloyd Wright, but for their second home they chose the more modern style of Richard Neutra.
Many of the film star residents became part of Palm Springs' cultural community. Dinah Shore, Marilyn Monroe, Dean Martin and Joan Collins each owned an "Alexander." Bob Hope, Frank Sinatra, and Kirk Douglas were among the celebrities who had a continued presence here. Kirk's wife Anne served on the museum's board of directors for many years and attended Palm Springs City Council meetings. Frank Sinatra, whose home was designed by E Stewart Williams and is now available to rent (complete with recording studio), would regularly perform for the annual Police Show. His daughter Nancy still lives in the neighbourhood.
Palm Springs has a pleasant small town feel and as architecture guide and as writer Michael Stern puts it: "I lived in New York for years and didn't know my next door neighbour, when I moved to Palm Springs I knew my entire street within a week.
Elvis spent his 1966 honeymoon at the Alexander Residence designed by William Krisler called the House of Tomorrow.
Another remarkable house near Vista Las Palmas is the Frank Lloyd Wright inspired Edris House designed by E Stewart Williams. Built in 1953 it appears to grow organically from its natural surroundings. The Palevsky Residence built by Craig Ellwood in 1968 shows influences of Le Corbusier. Around every corner seems to be yet another architectural beauty. It is an intriguing place to wander around for a few hours and do a bit of architectural window shopping.
Palm Springs continues to attract modern day Hollywood. Ocean's Eleven was partly filmed in Old Las Palmas, as was Behind The Candelabra. In 2014, 123 film permits were issued. As former mayor Ron Oden says, "We've always known that Hollywood comes here to relax and play, but it's pretty obvious that they come here for work too!"
Meanwhile, architecture fan Leonardo DiCaprio recently bought the 1964 Dinah Shore Residence by Donald Wexler. The six-bedroom house can be rented for $4,500 per night, which also gets you a swimming pool, tennis courts and a guest casita.
For a more affordable experience of mid-century living you can also stay in one of the city's restored hotels. The Del Marcos is a 17 room mid-century property designed by William F Cody, centered around a pool pitched against the spectacular backdrop of the San Jacinto mountains. Fifties tunes are played at the pool and mid-century furniture makes a welcome change from identikit hotel lounges.
When Lars, the owner of the Del Marcos bought the hotel 12 years ago it had been neglected like so many other properties of that time. As he says, "It's been a long process and an incredible amount of work. But then we won an award for the restoration, we met William F Cody's family and architect Donald Wexler, and they thanked us for preserving the vision that they had."
Travel essentials: Palm Springs
The Palm Springs Aerial Tramway climbs 6000 vertical feet and is described as the climate equivalent of a "drive from Mexico to Alaska." Touristy, but the view from the top is amazing (pstramway.com).
The San Jacinto mountains offer plenty of hiking trails, nearby Palm Canyon is a quick escape from the city; The Living Desert on the outskirts of Palm Springs is a more leisurely way to explore desert flora and fauna (livingdesert.org).
Desert Hot Springs known for natural, healing, hot mineral water offers a variety of spa treatments for every budget (visitdeserthotsprings.com).
Palm Canyon Drive is lined with restaurants. Head for Copley's at the northern end to eat at Cary Grant's former guest house (copleyspalmsprings.com); or hang out at one of the bars frequented by the rat pack, like Melvyn's (inglesideinn.com).
The Palm Springs Art Museum has excellent exhibitions and the Architecture and Design Center is housed in the historic Edwards Harris Pavilion, built by E Stewart Williams in 1960 (psmuseum.org).
Rooms at Hotel Del Marcos start at $229 ( £154) per night, room-only (delmarcoshotel.com).
Michael Stern's Modern Tour offers knowledgeable insight into the architectural history of Palm Springs (themoderntour.com).
For more information, see visitpalmsprings.com.
All images © Heike Bohnstengel 2015, kayenne.net
Register for free to continue reading
Registration is a free and easy way to support our truly independent journalism
By registering, you will also enjoy limited access to Premium articles, exclusive newsletters, commenting, and virtual events with our leading journalists
Already have an account? sign in
Register for free to continue reading
Registration is a free and easy way to support our truly independent journalism
By registering, you will also enjoy limited access to Premium articles, exclusive newsletters, commenting, and virtual events with our leading journalists
Already have an account? sign in
Join our new commenting forum
Join thought-provoking conversations, follow other Independent readers and see their replies