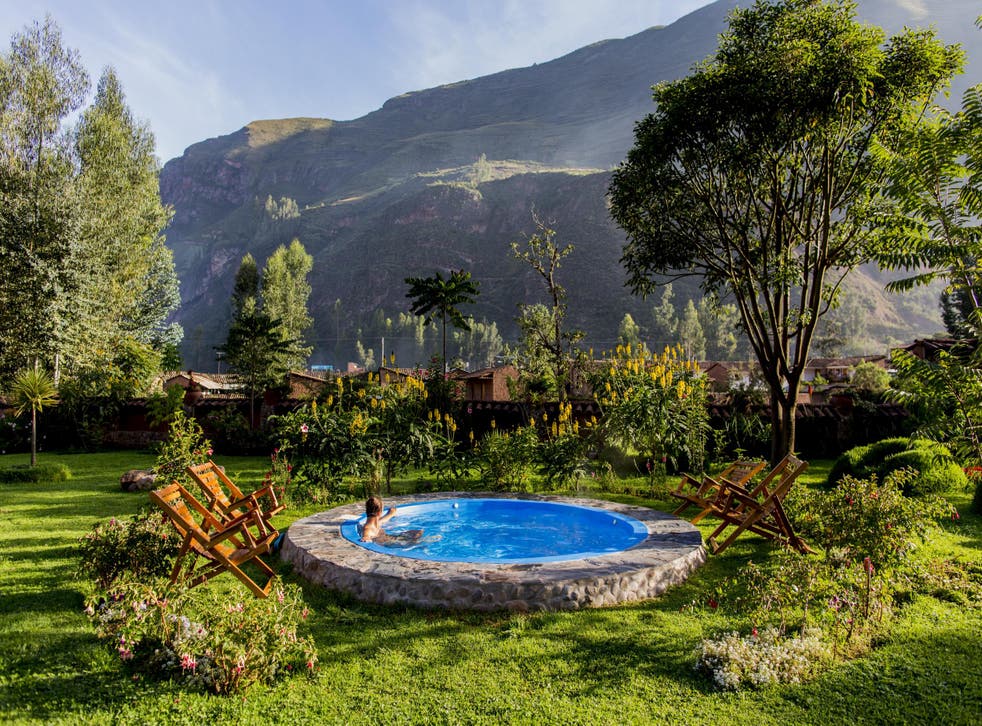 Why Peruvian wellness and a 'cocaine massage' could change your life
Even if you skip the hallucinatory drugs and all-night vomiting, this corner of South America can still offer healing, says Melissa Twigg
My heart was pounding, my hands were clammy and my brain kept leaping forward to ever more dramatic outcomes. It wasn't the first time I had let hypochondria get the better of me, but in this case, the NHS website had been replaced by a Peruvian shaman in a hot pink and orange shawl.
We were deep in the Sacred Valley of the Incas, where the altitude is so high that the midday sun only gently warms your skin and alpacas grow layers of silky wool. I was crouched under a candyfloss-shaped queuna tree, while Puric – the shaman – prepared for our coca leaf ceremony with the brazen look of someone who was about to look into my future.
He started the ceremony with a young woman to my right, chanting, touching her head, giving her leaves to chew and hold in her palm. "I see much physical pain in your future," he said, eventually, with round, sympathetic eyes. Another visitor was warned of a lifetime of loneliness. The third was told to leave her job. And then it was my turn. Having recently become single and freelance, visions of tragedy and destitution seemed inevitable.
I chewed a little harder on my coca leaves while Puric placed a gnarled hand on my head, pressed his cool fingers on my cheeks and, after an elaborate chanting ritual, tossed my leaves on the mat in front of him. He stared intently at them, looked up and slowly clapped his hands. "Bountiful blessings!" someone translated for me. "Your future is filled with love, power, joy and gold."
That was the moment I really got into Peruvian wellness. Peru is the global capital of healing ceremonies and each year thousands of tourists travel to Iquitos, the largest city in the Peruvian Amazon, for the infamous ayahuasca cure and the spiritual bender it promises.
Wellness, health and wellbeing tips

Show all 6
Fundamental to ayahuasca's appeal is that it makes no distinction between the mind and body. Ayahuasca practitioners claim that you will see the physical manifestation of some mental, emotional, psychological or energetic disorder and be able to fix it. And while there is something enticing about the Alice-in-Wonderland-like ability of one glass of bitter brown liquid to solve everything from diabetes to depression, as some fans claim, the prospect of hallucinations and hours of vomiting frightened me. I was determined to find an easier way.
I began indulgently, with a coca leaf massage in Machu Picchu, at Inkaterra Pueblo – a luxurious hotel and spa set near the ancient ruins themselves, where jungle leaves trail into bubbling hot springs and bug-eyed scarlet birds peer down from the canopy of leaves.
Peru is now the world's largest producer of the coca leaf, having wrested that dubious crown from Colombia. And while a coca leaf massage sounds like something Pablo Escobar would have demanded after issuing a few death threats, it actually harks back to Inca royalty, who saw the coca plant as sacred.
The leaf is filled with useful properties that help fight high blood pressure, alleviate altitude sickness and increase fat burning – Peruvians even believe it cures cancer. And while that remains unproven, its beauty credentials aren't bad given that it evens skin tone and wipes away dead cells. If it wasn't banned in the UK, Boots would probably be selling it.
After sipping coca tea in Inkaterra's tepee-shaped, eucalyptus-scented sauna, I was led to my spa hut, where coca leaves were ground up into a paste (no, not that kind) and spread all over my body. Within a minute or two it started to tingle, but in a minty way rather than an "I want to talk all night" one. Afterwards, I found my lingering altitude headache had disappeared, as had my stiff shoulders, while my muscles felt soothed.
The coca leaf dominates spiritual life in the Andes, but if you really want to do a deep dive into Peruvian wellness, you have to find your way to the Amazon and the terrifyingly potent jungle plants that await in the most botanically diverse place on Earth.
The flight from Cusco to Puerto Maldonado is disconcertingly transformative for a mere 40 minutes. The mountains give way to the dense Amazon jungle and the ground temperature rises by nearly 25 degrees. Once there, I took a wooden boat down one of the mud-brown tributaries that flow into the Amazon river, accompanied by flocks of parrots and the occasional caiman crocodile.
I was going to meet Manuas, an Amazonian shaman who specialises in flowering baths. Once negative behaviours have lodged themselves in the body, your emotions become unbalanced, and flowering baths redress that by finding your bad spirits and luring them out. During a typical ayahuasca ceremony, clients receive a flowering bath as the hallucinations are ending to leave them feeling uplifted.
Keen to catch up, I had two pisco sours on the beautiful wooden balcony of the Inkaterra Reserva Amazonica, which looks over the river and is louder than any London bar, thanks to a cacophony of parrots, parakeets and buzzing insects.
Under a fruit tree after the sun set, Manuas and I sat cross-legged and facing one another. He was dressed in a gold and white robe, with garlands of unrecognisable plants covering his chest and head. I was in a bikini, looking anxiously at a tarantula on a branch just above his head. He handed me a cup of bitter tea to drink, placed his hands on my head and – through a translator – started asking probing questions about my life. Each time I answered with something negative, he would pray and empty a jug filled with flowers and scented water over my head.
It may have been the pisco sours, or whatever was in the suspiciously metallic tasting tea I had drunk, but I found myself feverishly telling him the tangled problems of my life in London, as if we were in a makeshift therapist's office filled with mosquitos. With each confession, garlands of orchids, passion flowers and lobster claw flowers were chucked at my face, and I was told to repeat what I had been saying until I could find a positive angle.
In the modern world, sleep is often a barometer of mental health, and that night I slept better than I had in months. I didn't see Christ or Buddha or vomit away my woes, and I have no doubt that, had I taken ayahuasca, I would have had a more profound experience with potentially life-changing results. But I did return from Peru feeling more relaxed than I had in years.
All I'm waiting for now is the power, adulation and bags of gold I was promised in the Andes.
Support free-thinking journalism and attend Independent events
Travel essentials
Abercrombie & Kent offers nine nights in Peru from £2,595 including hotels, flights from London Heathrow and transfers.
Inkaterra has magnificent, eco-friendly properties in Cusco, the Sacred Valley, Machu Picchu and the Amazon.
Join our new commenting forum
Join thought-provoking conversations, follow other Independent readers and see their replies