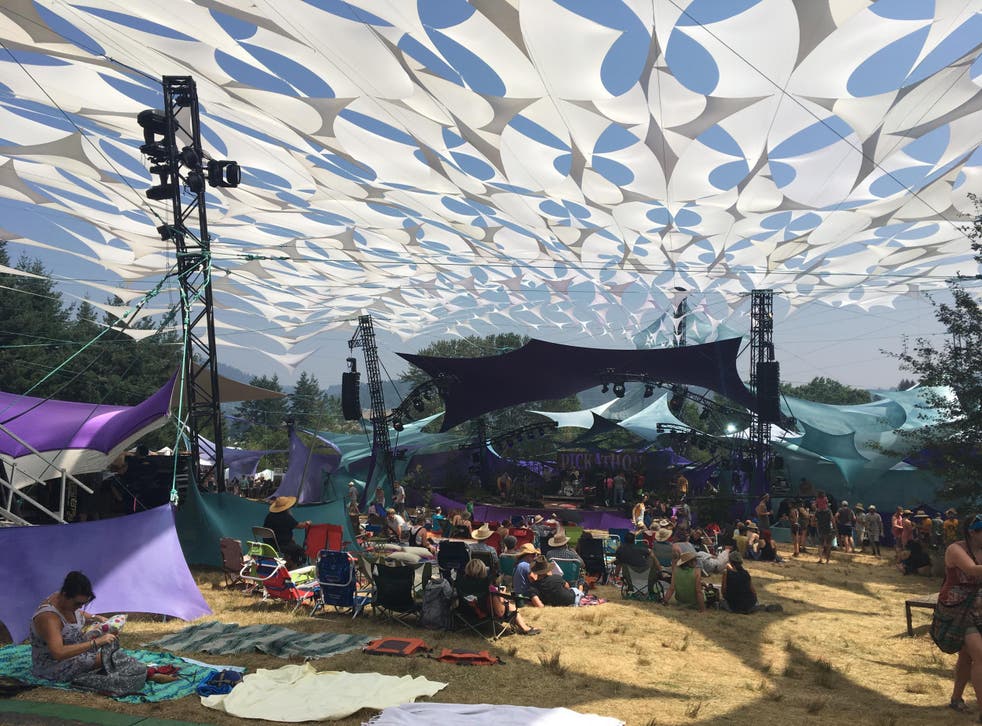 Pickathon: Is this Portland festival the most hipster event on the planet?
Right on but too tuned in to self-parody, Pickathon is a brill, musical and conscientious bubble that is all things Portland. Laura Chubb soaks up the vibe
Portland is perhaps, the most parodied city in the US. Known for earnest obsessions with local breweries, third-wave coffee, street food and a music scene unembarrassed by the ukulele, it can seem more like a sprawling, ongoing hipster meet-up than the West Coast state of Oregon's largest city.
Its rep has so far inspired seven seasons of sketch comedy Portlandia, which affectionately and mercilessly lampoons Portland culture. Take the "Is the chicken local?" sketch (to which the waitress responds, "His name was Colin, here are his papers"; and the "Dream of the 1890s" song ("When kids grew up to be artisan bakers and everyone pickled their own vegetables").
But though many have taken it upon themselves to represent Portland, how does Portland represent itself? I thought I'd find out by exploring a time-honoured Portland tradition – the Pickathon music festival.
On paper Pickathon, which rambles across farm and woodland just east of the city, is a Portlandia sketch made flesh. Stages double as art installations: this year, the Treeline stage was made from interlocking wooden gable trusses that, post-festival, are to be converted into sleeping pods for the homeless. (Yes, really.) It's also aggressively eco-friendly: there's no litter, as everyone gets one cup and one plate to reuse for the three-day duration. (Somehow, Portlanders make toting their dishware look cool, steel cups hanging artfully from belt loops.)
There is also a ticketed "Curation Series", where a reservation gets you into a secret field to eat a meal "matched" to a band. The band performs as you're served food by Portland's latest hot chefs, and a local mixologist pairs the drinks. Plus, the Pickathon line-up is wilfully obscure and often improbable: Saturday night kicked off with Swedish prog-rockers Dungen playing along to a screening of a German animated film from 1926, The Legend of Prince Achmed, and ended with a Mongolian throat-singing group.
In person Pickathon is, in fact, exactly like it is on paper: incredibly, unapologetically Portland. Only, turns out that's not to be mocked – it's utterly, revealingly brilliant. "Pickathon is very much like oddball Portland," says Zale Schoenborn, who founded the festival almost 20 years ago. "I love this city; there's no other place like it in the States." Terry Groves, the man who books the music, agrees: "We've definitely become a Portland thing – we're this festival in this town."
Things that make Pickathon perfectly Portland: thousands of music fans dutifully scraping leftovers into composting bins. A head-banging set by garage rockers Meatbodies on a fantastical stage made entirely of sticks. A line of glowing, giant singing mushrooms tucked into the dark depths of the woods. (It was a piece called "Fungully", by artists Nickie B and Ryan Ramage.) People sleeping out in hammocks strung between trees. A woodland "reading room" featuring a book of illustrations called Upset Cats.
But, most of all, that when Pickathon stages shows in a trippy shed called the "Galaxy Barn", or serves vegan soba noodle bowls, it doesn't do so cynically; it's just being Portland. I came to think of it as the best of the city concentrated into one long, summer weekend. Even the weather plays along, forgoing the typical gloom for 38C sunshine. It's a fantasy wonderland, a hopeful little utopia, where you just camp in the woods, eat fried chicken and biscuits for breakfast and enjoy art. What could possibly be wrong with that?
It doesn't make much money, but that's sort of the point. "Pickathon is a horrible business model, because there is a whole laundry list of things we do that fall under 'bad festival math'," says Zale. "But the things we do make for an awesome human experience." Like: they only sell 3,500 tickets per day, so the site isn't rammed full. (And believe me, that makes a wonderful and welcome difference to the festival toilet situation.) They pick acts according to who their cool friends say are killing it right now, as opposed to big ticket draws – which is why you'll have heard of basically no-one on the bill. It makes every time you wander by a Pickathon stage a potential portal to discovery. "And we'll never sell water or charge $11 for a crappy beer," says Zale. (You fill up your allocated cup at free water stations, and pick from local brews priced from a decent $6 a cup.) Like Zale said: "There are enough festivals that are just business models. It's the art of the better party."
Something else about Pickathon – remember that time someone edited the Reading festival poster to show only bands on the line-up featuring females, and it looked completely bare? So not Pickathon. The best acts I stumbled across were invariably genre-confounding women: Xenia Rubinos, a fierce Puerto Rican-Cuban from Brooklyn playing furious and vital hip-hop-meets-funk-meets-rock; Jay Som, a Filipina-American multi-instrumentalist who writes dreamy bedroom pop; and A-Wa, a trio of Israeli sisters fusing traditional Yemenite folk music with EDM. "There's a lot of female-driven music from the indie world," Terry told me ahead of the festival, "because I feel women are doing the best work in that arena right now." Praise be.
So, how does Portland represent itself? With hipster tropes aplenty, sure. But rather than sneer at diverse and excellent music, thoughtfully sourced food and drink, fun, interactive art and man-plaited-pigtails (at Pickathon, the new man bun), I think I'll just enjoy them instead.
Travel essentials
Getting there
Delta Air Lines (delta.com) launched seasonal, non-stop flights between Heathrow and Portland this summer, taking off four times weekly between late May and October.
Pickathon runs a free shuttle bus between the festival site and the Clackamas Town Center MAX light rail stop (trimet.org/max). It's easily reached by taking the MAX red line towards town directly from the airport, and changing onto the green line at Gateway/ NE 99th Transit Center. Tickets cost $2.50.
Staying there
Camping is by far the best way to experience Pickathon. There's plenty of space to pitch up in the woods, plus designated quiet camping zones if you need your shut-eye, and designated jam zones if you want to meet up with fellow musos and, you know, jam. Camping is included in the weekend ticket price, which in 2017 was $310.
More information
Pickathon takes place annually in early August. Keep up to date on Pickathon 2018 at pickathon.com.
More on Portland at travelportland.com.
Join our new commenting forum
Join thought-provoking conversations, follow other Independent readers and see their replies