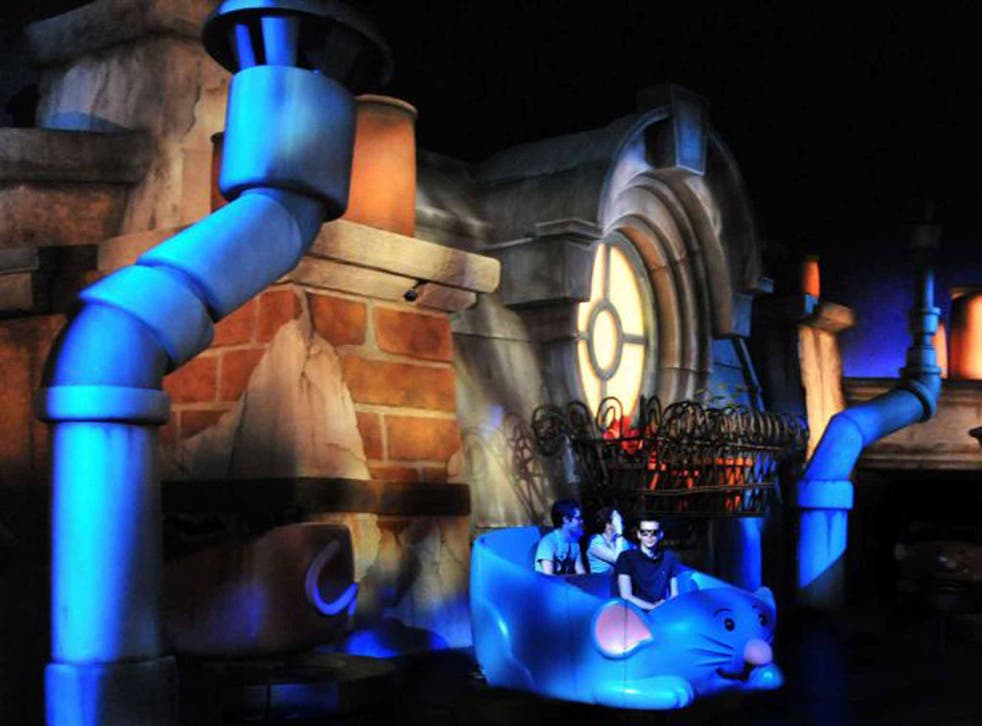 Ratatouille ride: Follow the rat race to Disneyland Paris
A new 'Ratatouille' ride finally brings a taste of France to the nation's leading theme park. Gerard Gilbert and daughter Iris report
Gerard Gilbert
Monday 07 July 2014 09:47 Comments
'Main Street, USA" is the first part of Disneyland Paris that visitors encounter as they pass through the turnstiles at the French theme park at Marne-le-Vallée – a frenzy of Americana that even Norman Rockwell would have found too folksy; you have to admire the planners' lack of kowtowing to Gallic critics who had cried "cultural imperialism" when the park opened in 1992.
Now, however, there has been a small act of reverse colonialism at the park. At the far end, a corner of Paris has been built. Ratatouille the Adventure is a welcome oasis of ersatz France in an ocean of ersatz America. It's in an area you could dub "Pixar World", since this Montmartre mock-up stands between Crush's Coaster (a ride inspired by Finding Nemo) and Toy Story Playland.
My eight-year-old daughter, Iris, and I joined hundreds of journalists and dignitaries from across Europe for the official opening of the Ratatouille ride and restaurant – an invitation that made me hugely popular at a time when Iris was coming to an age when the question of a visit could no longer be avoided. Because it seems that in the two decades since Disneyland Paris opened to such a shaky start, a trip there has become childhood rite of passage.
In our corner of west London, parents of primary-school age children warily ask each other, "done Disneyland Paris yet?" – mentally subtracting considerable sums from bank balances as they do so. With the park receiving 14.9m visitors in 2013 – twice as many as visit the Eiffel Tower – parents all across Europe and beyond are obviously having the same conversation.
I am not a child of Disney. If anything, I'm a child of Batman and Thunderbirds. However, if Gerry and Sylvia Anderson had ever opened a theme park, I'd have been pestering my parents around the clock. But Iris was co-opted by Uncle Walt from an early age, from toddler afternoons watching Disney Junior on TV to the twice-annual trip to the latest movie. The most recent Disney film was Frozen – indeed, a doll of that Oscar-winning film's heroine Elsa accompanied us on the Eurostar journey from London to Marne-le-Vallée, 14 miles east of central Paris.
We were put up in the 1,000-room Sequoia Lodge hotel, which is a designed to resemble a giant log-cabin in an American National Park, but reminded me of the hotel where Jack Nicholson ran amok in The Shining. It's got a great swimming pool, so Iris and I skipped the afternoon parade of characters to have a refreshing soak. After my first mind-bending day of Disneyfication, it felt good to reconnect with something as elemental as water.
Having shared the park with 50,000 other visitors on a baking hot midsummer weekend, it was a relief to be granted an exclusive preview to La Place de Rémy, with its new 370-seat Bistrot Chez Rémy (named after the rodent chef from Disney's Oscar-winning 2007 film), a Parisian-themed boutique, Chez Marianne (which wasn't yet ready) and of course, the new ride, Ratatouille The Adventure.
Obviously it won't be this peaceful after 10 July, once it's opened to the public and the inevitable lines start snaking around the holding pens. But the Ratatouille ride is going to be one of the 10 attractions for which you can queue-jump if you have a Fastpass, which are dispensed free of charge at terminals situated near the attraction entrance. This gives you an allotted time slot; VIP Fastpasses, available to certain guests at Disney hotels, circumvent the time restrictions – you can bypass the huddled masses whenever you like.
Peter Pan's Flight is one of the rides where you can queue-jump. Iris and I avoided eye-contact with the customers waiting 45 minutes in the sweltering heat for a charmingly quaint, old-school trundle through Neverland.
If Peter Pan's Flight is the theme park past, Ratatouille the Adventure is the future. And the future is 3D. Glasses are handed out as you step into trackless vehicles (a first for a Disney attraction) that carry you over the rooftops of Paris, before a vertiginous drop through the skylights of Gusteau's restaurant and a headlong descent into a 3D animation created by Brad Bird, the Oscar-winning writer and director of the Ratatouille movie. It's filmed from the rat's point of view, so you hurtle under tables and ovens (accompanied by a blast of hot air), chased away by mops (a dribble of water hits the car at this point) and outstretched hands.
I was told to expect cooking smells, but apparently my olfactory powers are on the wane. However, scores of slightly different scenarios have been filmed to make the ride "repeatable". And you will want to repeat it, so either get a Fastpass or get there early.
Travel essentials
A two-night, three-day stay at Disneyland Paris costs from £1,256 for two adults and two children sharing a room, travelling on Eurostar from London St Pancras and staying at Disney's Sequoia Lodge. Park tickets also included (08448 008 111; disneylandparis.com).
Ratatouille the Adventure opens on Thursday 10 July.
Register for free to continue reading
Registration is a free and easy way to support our truly independent journalism
By registering, you will also enjoy limited access to Premium articles, exclusive newsletters, commenting, and virtual events with our leading journalists
Already have an account? sign in
Join our new commenting forum
Join thought-provoking conversations, follow other Independent readers and see their replies