The Independent's journalism is supported by our readers. When you purchase through links on our site, we may earn commission.
Remotest Patagonia: Alone with the wildlife in the Chacabuco Valley
Over-grazed pastures are being reclaimed for nature - and a few tourists. Holly Williams is charmed by its inhabitants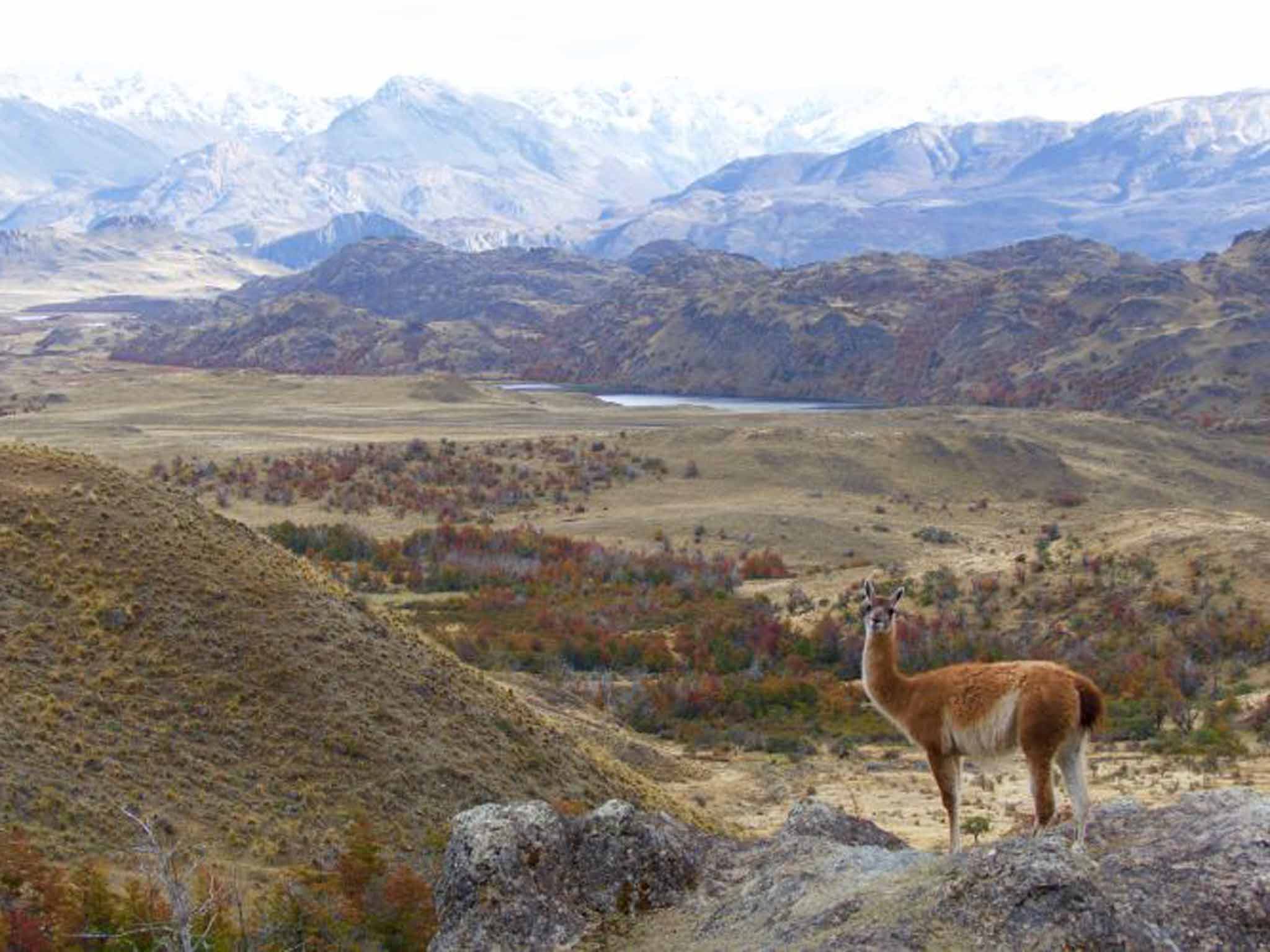 The sunlight ripples over sheets of long grass, sun-bleached to a pale gold; dark red-brown ridges of glacial moraines loom above, alongside forests of miniature beech, where tiny leaves are beginning to turn their autumnal hues, a scattering of ochre and scarlet among the green. Around it all, as if keen to contain the wide beauty of the landscape, are vast, dramatic mountain ranges.
This is the Chacabuco Valley in the Aysen region of Chile. And as I hike in this remote place, the only other living creatures on the horizon are guanacos. These serene, llama-like creatures have become the symbol of Parque Patagonia, a major conservation project in the valley that is now accessible to visitors thanks to new tourist infrastructure. It's almost impossible not to fall for these animals (which star in the BBC 2 series Patagonia: Earth's Secret Paradise). Their appearance is half-noble, half-comical, as they stand sentinel on the mountainside or skitter across the steppe. Just 10 years ago such free roaming would have been impossible – this swathe of northern Patagonia was ranch land, severely overgrazed by gaucho sheep farmers.
Parque Patagonia is the latest initiative of American couple Doug and Kris Tompkins, who set up Conservacion Patagonica to manage it; the hope is that it will be donated to the Chilean government, so long as they agree to designate it a national park to ensure maximum funding and protection. The couple hope it will achieve the status by 2020.
Doug Tompkins made his fortune with the clothing companies The North Face and Esprit, but in the late-Eighties quit business to set up philanthropic ecological programmes. After a life-changing odyssey through South America as a young man, Tompkins' heart has long belonged to Chile, and he established the Conservation Land Trust in 1992, to buy and turn land into reserves, safeguarding or restoring areas of natural beauty.
So it is with Parque Patagonia: the past 10 years have been spent taking down fences with the aim of returning the overgrazed pasture back to its pre-settler state (the valley was first settled by an intrepid Brit, Lucas Bridges, in 1906). There's been some resistance from locals but re-employment is high, and often makes use of the gauchos' skills; one man who used to hunt pumas now tags them so that Conservacion Patagonica can monitor numbers.
Wildlife corridors are gradually returning – while staying in the park, I watch eagles teaching a fledgling to fly, Andean condors wheeling close around rocky crags, and flamingos paddling. I even come face-to-face with the rare huemul deer – a stocky, stumpy beast, and a conservation priority. There are just 1,500 of these shy creatures in Chile, and about 150 of them live in the Chacabuco Valley. It's a lucky spot – but visitors may also glimpse the ostrich-like rhea, armadillos or even a puma.
The Tompkinses are recognised today for the value of their work, but it was not always so. Their first project, Pumalín Park in northern Chile, was viewed with suspicion in the early 1990s; Tompkins thought he was crafting a Yosemite of the Southern Hemisphere, but what Chileans saw was a rich American buying up their land. Twenty years later, and public opinion has been won over by Pumalín Park, and the Conservation Land Trust has gone on to establish Corcovado and Yendegaia National Parks to little opposition.
Those are little-visited wildernesses, however; Parque Patagonia is a different beast. It's just off the Carretera Austral, Chile's Southern Highway, which makes the park if not exactly easy to get to, comparatively accessible (a mere two days' drive from Balmaceda, the nearest airport). This is not a highway as you might expect: it is unpaved, pot-holed and twisty, but it also affords staggering views of mountains, rivers and lakes. "Doing" the Carretera Austral is popular among intrepid tourists, and it's hoped the park will attract more visitors.
This is the first year that Parque Patagonia is fully open; a British company, Pura Aventura, is the first to organise independent trips to the park. But still, it feels like I have the valley almost to myself. The contrast to the conveyor-belt pathways of Patagonia's most famous – and overcrowded – national park, Torres Del Paine, couldn't be more stark.
Parque Patagonia may not quite be able to rival that park's eye-popping landscape, but the project does combine a real taste of wilderness with a very comfortable stay: there are large camping grounds, but also El Lodge for those who don't fancy sleeping under canvas. It is newly built from local stone, but it has a vintage vibe, all wood panels, heavy furniture and black-and-white nature photographs. And the restaurant uses a remarkable amount of produce from on-site greenhouses.
As I head back to the lodge after dinner I look up at the glittering web of stars, which feel humblingly close. It's easy to see what makes this a place worth preserving. The rare blend of Patagonian landscapes ranges from the dry, grassy steppe to southern beech forest, and the valley is boxed-in by significant landmarks: the vast lake General Carrera to the north and lake Cochrane to the south – and the northern ice field to the west.
By buying up ranching land in the Chacabuco Valley, Parque Patagonia has linked two existing national reserves, Jeinimeni and Tamango. The average visitor isn't going to explore it all, but a few days allows for some great hiking. The Lagunas Altas day hike is a wonderful introduction – a steep climb is followed by a walk along a craggy ridge, weaving around several high, still lakes with views down to Jeinimeni. The next day I head out with park guide Sergio Urrejola to the Argentine border before another stunning lake walk, where the vista suddenly opens up towards the spectacular snowy peak of Monte San Lorenzo and across to the rugged glaciers of the northern ice fields.
More trails will be added, including some for horse-riding and mountain biking, while an existing hike will be extended for serious trekkers to cover the park's entire length. How many visitors will do battle with hundreds of miles of gravel roads to get here is unknown. But tourists who do head down the Southern Highway are rewarded with spectacular scenery that – for now – you can enjoy all to yourself. Well, you and the guanacos.
Getting there
Pura Aventura (01273 676712; pura-aventura.com) offers a 13-day self-drive trip along Chile's Southern Highway from £2,344pp. It includes 12 nights' accommodation (11 with breakfast, one room-only) including three nights at El Lodge, Parque Patagonia, two picnic lunches, 10 days' 4x4 rental, an Exploradores glacier excursion, a private boat trip, a day's guiding in Parque Patagonia, return domestic flights between Santiago and Balmaceda and airport transfers. International flights are extra.
No airline flies direct from the UK to Santiago de Chile. Airlines offering one-stop services include Iberia (020 3684 3774; iberia.com) via Madrid, Latam (0845 098 0140; lan.com) via Sao Paulo, Delta (0871 221 1222; delta.com) via Atlanta, and Air France (020 7660 0337; airfrance.co.uk) via Paris.
More information
Join our commenting forum
Join thought-provoking conversations, follow other Independent readers and see their replies