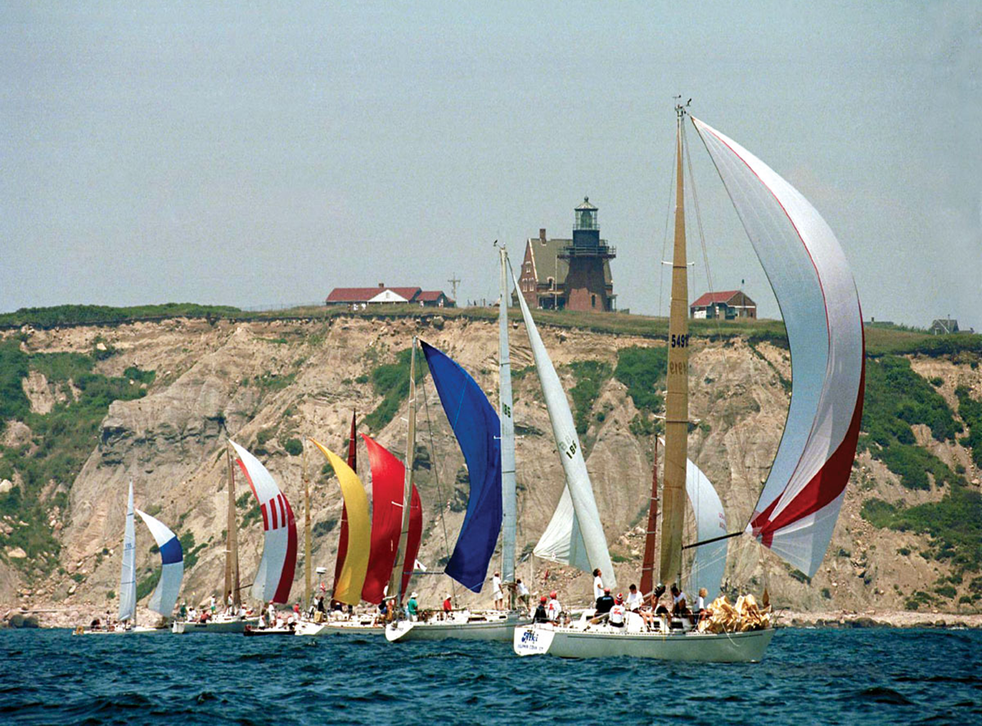 Rhode Island: This compact slice of New England packs a punch
It may be the smallest of America's 50 states, but Rhode Island has a lot to offer, with an arty capital, shoreside mansions and fine beaches
Few things confer a sense of mystique quite like a blurry foundation story. Take Rhode Island as an example. Historians are still unsure how this little north-eastern chunk of the United States came to gain its name. Or why.
It may have been courtesy of Italian transatlantic navigator Giovanni da Verrazzano – who, in 1524, noted a landmass that (he thought) resembled the Greek isle of Rhodes (it doesn't).
Or it could have been via Dutch sailor Adriaen Block, who charted what is now Long Island Sound between 1611 and 1614, and sighted "een rodlich eylande" (an island of reddish appearance). Which may have been accurate – but only if this green landscape was aflame with autumn foliage.
Add in the fact that what is known as Rhode Island in 2014 is not an island at all (though both explorers, who were referring to outcrops along the fractured New England coast, can be excused for thinking so) and you have a part of the US that is quite the enigma.
What is certain is that modern Rhode Island is not just the tiniest of the six states of New England. It is the most diminutive of the 50 states – a sliver of 1,545sq miles, so slight that it would fit into the biggest state, Alaska, 431 times.
It is a place you can easily miss, tucked between Connecticut (to the west) and Massachusetts (to the north and east).
And yet, in its modest size, Rhode Island underlines the idea of good things coming in small packages. Realistically, it is a destination that you would slot into a wider journey around New England – especially at this time of year, when summer is still flirting with the area's southerly beaches and the Fall will soon apply its golden touch to the trees of the region's three most northerly states, New Hampshire, Vermont and Maine.
But Rhode Island also deserves more than a cursory glance as you travel elsewhere, its torso laid out picturesquely around Narragansett Bay. This colossal estuary dominates the state, playing host, at its northern end, to the capital Providence – and to some of New England's finest beaches on its western flank. It also cocoons Aquidneck Island – a waterside playground whose sophistication is underscored by the gilded town of Newport at its southern tip.
If Providence is Rhode Island at work, then Newport (discovernewport.org) is the state at ease – and has been for more than 150 years since wealthy East Coast families such as the Astors and the Vanderbilts began to build palatial holiday homes on its coveted shoreline.
Ten of these stately confections are now protected – and accessible to the public – as the Newport Mansions (001 401 847 1000; newportmansions.org). Most, including the 1851 decadence of Chateau-sur-Mer, and Rosecliff, which was created for the Nevada silver heiress Theresa Oelrichs from 1898 to 1902 – are open daily, 10am-6pm, until 13 October. A one-property ticket is $14.50 (£8.60), a five-mansion pass is $31.50 (£18.80).
Elevated art forms are on offer at Newport Art Museum (001 401 848 8200; newportart museum.org; closed Mondays; $10/£6). Don't miss the colourful shapes by glass sculptor Dale Chihuly and 19th-century New England vistas by John Frederick Kensett. Beauty also holds sway on the city's splendid Cliff Walk (cliffwalk.com) – which traces Sheep Point Cove for 3.5 miles.
And, for somewhere to stay, consider Vanderbilt Grace (001 401 846 6200; gracehotels.com/vanderbilt) a boutique red-brick hideaway dating to 1909 which has 33 rooms and suites from $290 (£173), room only.
There are no direct flights to Providence from Britain – but Boston is a convenient place of arrival, the Massachusetts capital lying 50 miles to the north-east. British Airways (0844 493 0787; ba.com), Virgin Atlantic (0844 209 7310; virgin-atlantic.com) and Delta (0871 221 1222; delta.com) all fly to Boston Logan from Heathrow.
New York is also a plausible starting point – cueing up a pleasant 180-mile drive through Connecticut. Options include British Airways (to John F Kennedy from Heathrow and London City; to Newark Liberty from Heathrow), Virgin Atlantic (JFK and Newark from Heathrow), Delta (JFK from Heathrow), American Airlines (JFK from Heathrow and Manchester – 0844 369 9899; aa.com) and United (Newark from Heathrow, Edinburgh, Glasgow, Manchester and Birmingham – 0845 607 6760; united.com).
The offshore islands of Massachusetts – Nantucket and Martha's Vineyard – are global stars. Rhode Island's remote nugget of nirvana is less well known but Block Island, 13 miles south of the mainland (blockislandinfo.com), is nonetheless as striking as its more chic and reputable cousins.
The main (year-round) ferry departs from Point Judith, near Narragansett, at least four times a day during September (001 401 783 7996; blockislandferry.com; singles are $13/£8, while return fares are $24/£15). It takes about 55 minutes to reach this oceanic pinprick of 9.7sq miles but it's worth the trouble.
Around 40 per cent of Block Island is a conservation area, but there are bike trails and simple seaside charms to be found in the only town, New Shoreham. Here, the three-star Hotel Manisses (001 401 466 2421; blockislandresorts.com), which was a 19th-century inn, has double rooms from $124 (£78) , room only. Island Moped and Bike Rentals (001 401 741 2329; bimopeds.com) hires out cycles for $45 (£28) per week.
Traveller's guide
The whereabouts of Springfield, the town which frames "The Simpsons", has long been a secret – but America's other most famous animated comedy about dysfunctional domesticity is rather happier to reveal its setting.
"Family Guy" is very much a Rhode Island series. The town of Quahog is fictional, but it is based on Providence's suburban sibling Cranston – where a real-life Spooner Street (the address of Peter Griffin and his brood, pictured right) dots the map.
Key locations include the 1925 Bank of America Building, at 111 Westminster Street in Providence – whose distinctive outline often features in the show's backdrop. And there's Cherrywood Mansion, the fictional home of Lois Griffin's snooty parents, the Pewterschmidts, which is based on The Breakers in Newport Mansions (see 'Newport, old money') – open daily 9am-6pm; $19.50/£12).
Blackstone Valley Tourism Council, which promotes the north of Rhode Island, provides a free downloadable map of "Family Guy" sites at tourblackstone.com/ familyguy.pdf
Shore things
Rhode Island is not overly blessed with coastline – the state is able to claim just 40 wave-lapped miles. So there is much to commend Narragansett (narragansettri.gov). This little south-westerly town of 16,000 souls becomes a holiday haven in the summer, doubling its population due to the proximity of Scarborough State Beach, Roger Wheeler State Beach and Salty Brine State Beach. All three are gorgeous crescents of powder with lifeguard coverage (riparks.com).
Ten miles off to the west, almost at the Connecticut border, Misquamicut State Beach is a windy joy – a narrow sandbar that's trapped between the sea and the saltwater lagoon of Winnapaug Pond.
The Anchor Motel (001 401 792 8550; theanchormotel.com), next to Scarborough State Beach, is a cosy 15-room bolthole – with doubles rooms from $134 (£84), with breakfast. Camping is offered at East State Beach.
Rhode trip
Rhode Island is too small to cater to road-trippers by itself – a true odyssey in search of autumn foliage will always need to tick off other corners of New England. But the smallest state still has roads worth driving with camera to hand. Online resource, America's Scenic Byways (scenicbyways.info), singles out the Great and Breakneck Roads in Lincoln – a 1.5 mile route through the Moshassuck River Valley where sycamores rise en masse. Equally, Ministerial Road – six miles of Route 110 near Wakefield, in the south-west – is praised for its mix of wetland and rustic calm which comes ablaze in the Fall (below).
America As You Like It (020 8742 8299; americaasyoulikeit.co.uk) sells a 14-night Complete New England itinerary for all six states – from £1,289pp, including flights to Boston, accommodation and car hire. A simple package of flights to Boston on 4 October and a week's car hire costs from £646pp with Virgin Holidays (0844 557 4321; virginholidays.co.uk).
Go online to rhodeisland.com and discover newengland.org for further information.
Register for free to continue reading
Registration is a free and easy way to support our truly independent journalism
By registering, you will also enjoy limited access to Premium articles, exclusive newsletters, commenting, and virtual events with our leading journalists
Already have an account? sign in
Register for free to continue reading
Registration is a free and easy way to support our truly independent journalism
By registering, you will also enjoy limited access to Premium articles, exclusive newsletters, commenting, and virtual events with our leading journalists
Already have an account? sign in
Join our new commenting forum
Join thought-provoking conversations, follow other Independent readers and see their replies