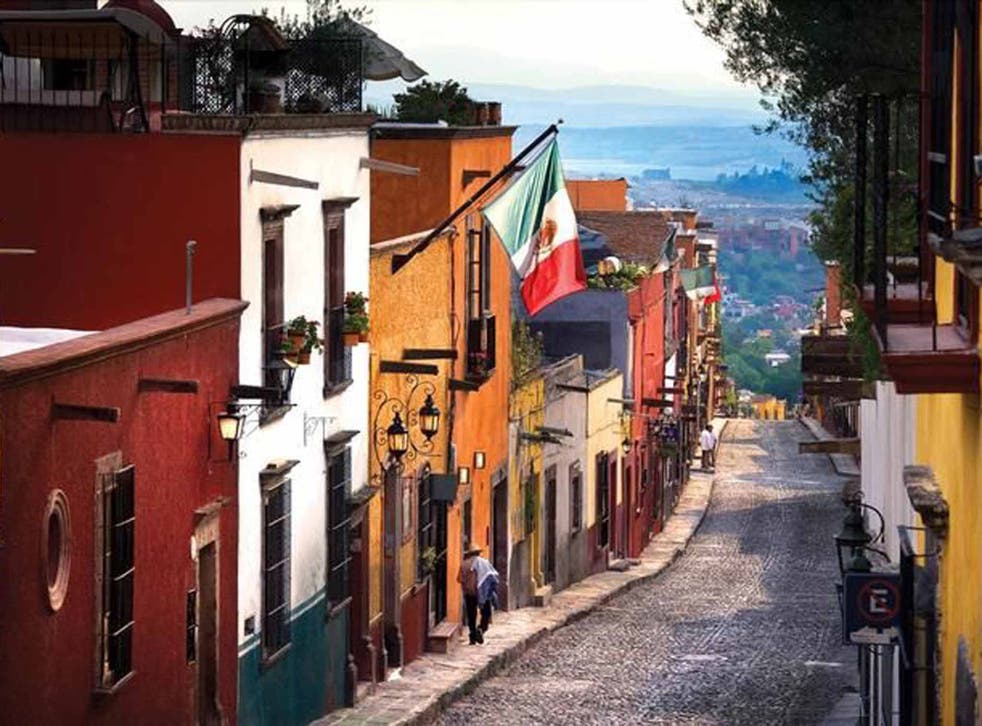 San Miguel de Allende: The new gourmet capital of Mexico?
The spiritual home of the country's independence movement, San Miguel de Allende is fast becoming a chic gourmet getaway, writes Amy Jenkins
Amy Jenkins
Friday 13 March 2015 11:17 Comments
A smart, contemporary interior, an on-site bakery, mouth-watering artisan bread, free wi-fi and an "all day lounge"; this is café Cumpanio in San Miguel de Allende, three hours' north of Mexico City and it's a home-from-home as far as I'm concerned.
I sip my honey latte and eye the couple at the next table. They are so cool and good looking – although unostentatious in well-worn black casuals – that I wonder if they've been hired by the café owner to give the place cred. He has a little man bun. She has smokey, almond-shaped eyes. When they catch me looking I ask what I should have for lunch and they advise me to have the pasta in perfect, although accented, English. I thank them kindly, deciding rather wildly that they must be in town on a fashion shoot, taking time out to treat themselves to a croque monsieur over their iPads.
Outside Cumpanio's plate-glass window is a small clamorous Mexican town of steep hills, high marble pavements, cobbled streets, bustling tree-lined squares – and colour, everywhere. Elegant haciendas and colonial buildings crowd in upon each other in yellow, ochre, plum and ruby. There are boutiques touting a rainbow of wares and bohemian eateries at every corner, not to mention the odd elegant deli, painted Ladurée green, selling organic chutney and expensive Baja wine. Above it all, the sky is high and bright and an utterly intoxicating blue. In fact, the weather here at this time of year is perfect. Hot under the sun in the day but cool enough after sunset that a blazing log fire might be just the thing.
The typical colonial hacienda is garlanded with bougainvillea and has barely a window to the street. Thick walls exclude noise, bustle and heat so that you step through the front door as if into a silent grave. Your pulse plunges, cool air rises from stone and painted tile and perhaps you hear the calm plip-plop of a fountain and ornamental pond in an internal courtyard with palm fronds, camellia and lemon trees. You feel the kind of deep-in-the-bone chill you only get where the sun has never been. There may be a colonnade with armchairs and a fireplace, open to the elements on one side. A wide, winding stone staircase with iron balustrade may well lead up to spacious bedrooms each with a private terrace. The overall effect is a glamorous, seductive gloom.
This kind of elegant living is partly why San Miguel was "discovered" and recolonised by expatriate American and Canadian artists in the 1950s. As well as the glorious weather and the excellent light, it was a romantic, unspoilt and cheap place to live within easy reach of Mexico City. And it is still unspoilt – now protected by Unesco as a World Heritage Site – although the expatriates these days are US retirees rather than artists.
There's a saving grace, however. San Miguel's real claim to fame, and the reason it will never truly fall to the incomers – or to tourists – is the role it played in the Mexican War of Independence. The town was the birthplace of Ignacio Allende. He was a captain in the Spanish army, who became one of the founders of the independence movement and, eventually, its leader – meaning that San Miguel became the first town to declare independence from Spain in 1811.
For this reason, Mexicans hold San Miguel close to their hearts and there is a healthy influx from the capital at the weekends, not to mention the excellent chefs and restaurateurs who have recently made San Miguel their home.
There is even talk of the city becoming the new gourmet capital of Mexico – and with good reason. The best restaurant in town is Aperi at Dos Casas, a stylish boutique hotel, on the corner of Quebrada and Canal. The food here is the kind that makes little colourful islands of deliciousness on the great white expanse of your plate. Chef Matteo Salas used to be at the now-closed Oca in Mexico City but has set up on his own here with great aplomb. Calling his new place Aperi for good reason, Salas opens up his kitchen and welcomes diners in for a four-course tasting menu. Adorable and talented, he talks diners through the principles of his cooking while making magic with his flaming pans; a "kitchen supper" of great class. The sea bass, suckling pig and chocolate extravaganza were highlights.
As for Dos Casas itself, the hotel is Seventies-chic-meets-urban-cool; all leather sofas and textured rugs contrasted with immaculate wet rooms and Nespresso machines, but done with soul. It somehow manages to be cosy and fashionable at the same time. Many of the rooms have a large private terrace, some with a dramatic view of the Parroquia church, floodlit at night, and the sounds of fiesta drifting up from the lively streets. It's the kind of space that makes you immediately want to throw a party.
Another must-visit eatery is La Mezcaleria which turned out to be run by those "models" in the bakery. They are a couple: Monica and Alexander (he's Swedish, she's Mexican) who have recently arrived from Monterrey. Their stylish, simple restaurant on Correo goes in for small plates of such deliciousness that to call them tapas doesn't convey the gravitas of their culinary ambitions or the generous portion size. Grilled vegetables sound boring but they were quite the opposite – each vegetable singing out – and the pork ribs were divine. Grasshoppers are offered as a starter (I didn't dare) – a Oaxacan speciality and quite popular, it seems.
The decor here wouldn't be out of place in New York or Los Angeles. The groovy, functional furniture turned out to be designed by my our multi-talented hosts. Early evening it's the expatriate crowd, later on (at weekends) young Mexicans appear from the city in sleek black quilted jackets and designer shades. Monica and Alexander often oversee the tables themselves, drifting about looking interesting and rather mournful and serving delicious cucumber and coriander margaritas that may or may not bridge the divide between their two very different types of client.
Of course, there's more to recommend than boutique hotels and restaurants. There are several historic churches in the town, a botanical garden, Ignacio Allende's house and a wonderfulcraft market. However, a personal highlight was taking a taxi out to the "private museums" a short drive north into the countryside near Atotonilco.
Museo de Arte Popular and Galleria Atotonilco have been lovingly curated by elderly Americans who have been living in San Miguel since the first wave of arrivals from the US in the Fifties and Sixties. In love with the place, they have travelled around Latin America collecting wonderful examples of the indigenous art, some of which is for sale. At Galleria Atotonilco, you can see excellent examples of the traditional carved and painted Tree of Life as well as colourful carnival masks, carved Day of the Dead skeletons dressed as Frida Kahlo, paintings, costumes, sculptures, pottery and silver work. You make an appointment, turn up, and your host will show you round or leave you to browse. To my surprise, I spotted Gloria Steinem perusing the artefacts.
For the more adventurous, there's horse riding in the countryside or driving to the stunning university hill town of Guanajuato, where Diego Rivera lived. There's also the charming Rancho La Trinidad only a 10-minute drive out of town. Here, De Temporada organic farm and shop is attached to a relaxed restaurant which serves inventive, fresh-out-of-the-ground organic salads and home-made lavender ice cream.
San Miguel de Allende doesn't have the Caribbean beaches of the Mayan Riviera or the glamour of Puerto Vallarta or Los Cabos, nor does it have the buzz of Mexico City. It is like visiting an Italian hill town, but 5,000 miles away. It's for those who like wandering the streets, sitting in cafés, browsing the craft market – going out to eat in a different restaurant every evening and generally lapping up a vibrant culture at the same time as getting some sun. And if you're wondering why Gloria Steinem – it turns out there was a literary festival going on. That's San Miguel for you.
Getting there
The closest airport is Mexico City, served from Heathrow by British Airways (0844 493 0787; ba.com) and Aeromexico (0800 977 5533; aeromexico.uk.com).
Connections are available from other UK airports via Amsterdam on KLM, Paris on Air France, Madrid on Iberia and Frankfurt on Lufthansa.
Staying there
Dos Casas Hotel (00 52 415 154 4073; doscasas.com.mx). Doubles from 2,468 pesos (£107), B&B.
Eating and drinking there Cumpanio (00 52 415 152 2984; cumpanio.com).
Aperi (00 52 415 152 0941; aperi.mx).
La Mezcaleria (00 52 415 121 5354).
De Temporada Farm Restaurant, Rancho La Trinidad (00 52 415 151 0673; de-temporada.com).
Visiting there
El Charco del Ingenio Botanical Garden (00 52 415 154 4715; elcharco.org.mx).
Casa de Ignacio Allende (00 415 152 2499; casadeallende.inah.gob.mx).
Galleria Atotonilco (00 52 415 185 2225; folkartsanmiguel.com).
Museo de Arte Popular (00 52 415 152 0804).
More information
Click here to view holidays in Mexico, with Independent Holidays.
Register for free to continue reading
Registration is a free and easy way to support our truly independent journalism
By registering, you will also enjoy limited access to Premium articles, exclusive newsletters, commenting, and virtual events with our leading journalists
Already have an account? sign in
Join our new commenting forum
Join thought-provoking conversations, follow other Independent readers and see their replies