Santiago: Poetry and motion in Chile's capital

Show all 5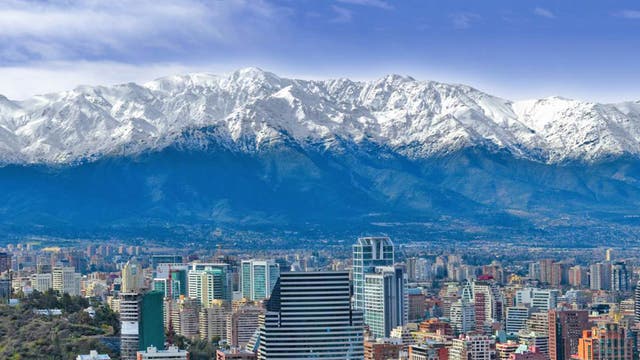 Santiago: Poetry and motion in Chile's capital
Santiago carries reminders of a troubled past, but Simone Kane discovers that art and architecture are much in evidence too
Simone Kane
Sunday 05 February 2012 01:00 Comments
Look at the map: Chile is a very long, thin country – from north to south it stretches further than the distance from London to Baghdad. Which means that the position of Santiago de Chile, at its geographical centre, is paramount. Almost every traveller will pass through the city, which is well worth a stay. Chile's sprawling capital, wedged between the Andes and the Chilean Coastal Range, has a charming colonial-era centre to wander – and a turbulent history to explore.
The city's rapid expansion over the last decade has brought prosperity to many, but by no means to all. Last August, students repeatedly took to the streets in their fight for a free education. But the winter of discontent has passed, and there are still a couple of months of fine summer weather to enjoy, making now a great time to visit.
The quieter side of the city is immediately apparent as you start your walk at Plaza de la Constitución. On the south side, the Palacio de la Moneda (see panel) is Santiago's pre-eminent landmark Almost all of it is open to the public. A fine, late 18th-century building, it was designed to house the national mint. In the mid-1840s, it was designated as the seat of government and still acts as the presidential palace. This was the site of socialist leader Salvador Allende's (still-disputed) suicide in 1973, as he succumbed to General Pinochet's military coup.
A short stroll north-east, Plaza de Armas is dominated by the symbol of another influential force in Chilean society. The neo-classical Catedral Metropolitana (Mon-Sat 9am-7pm, Sun 9am-noon) was built between 1748 and 1800. The site was nominated in 1541, in the city layout ordered by Santiago's first royal governor Pedro de Valdivia. The cathedral's baroque interior – with its altar of marble, bronze and lapis lazuli – offers respite on a warm day.
Plaza de Armas is also where you'll find the Museo Historico Nacional (00 56 2 411 7000; www.museohistoriconacional.cl). There's a limited display on pre-conquistador culture; the emphasis is on the periods of conquest and colony, independence and industrial revolution. It ends rather abruptly – perhaps fittingly – with the military coup. President Allende's broken spectacles are a stark symbol of the onset of dictatorship.
Head south on Estado to pick up Alameda, an avenue that carves through the city from east to west. Its official name, Avenida Libertador Bernardo O'Higgins recalls another of Chile's founding fathers. O'Higgins led the fight for liberation from Spanish rule and became the first leader of the newly declared independent state in 1818.
Continue east along Alameda until you reach Cerro Santa Lucía. Back in the 16th century, Pedro de Valdivia founded Santiago on this then-barren hill. Today, it's one of the city's popular parks. Ornate façades and fountains, sweeping stone staircases, terraces and little castles enhance the idyllic scene as paths wind their way to the Torre Mirador. The compensation for the 69-metre climb is one of the best views of the city.
Post-Pinochet Santiago is a capital that's coming to terms with itself. The modern is embraced in the growth of areas such as Vitacura, where Beverly Hills-style boulevards are lined with high-class boutiques. Yet, it is still protective of its past. This is evident in the regeneration of the central, historic barrios such as Lastarria, just east of Cerro Santa Lucía – check out the aptly named Bar La Junta (00 56 2 638 6864; barlajunta.cl) on José Victorino Lastarria.
Satisfy your cultural appetite by shadowing Cerro Santa Lucía's western boundaries to its north exit and taking José Miguel de la Barra to reach the Parque Forestal, a strip of green by the Mapocho River. In the middle is the Palacio de Bellas Artes. It is home to two of the country's most important art museums: the Museo Nacional de Bellas Artes (00 56 2 4991 600; www.mnba.cl) and the Museo de Arte Contemporáneo (00 56 2 977 1741; mac.uchile.cl, closed Feb); the focus of the permanent collections is on homegrown talent.
Another local talent, Nobel Prize-winning poet Pablo Neruda, celebrated the diverse Chilean landscape, but also wrote about the exploitation of his countrymen. His house-turned-museum, Museo Casa La Chascona (00 56 2 777 8741; fundacionneruda.org), epitomises his eccentricity. To get there from Palacio de Bellas Artes, head north on José Miguel de la Barra, which becomes Loreto. Turn right on to Antonia López de Bello and after five blocks go left on to Constitución, finally turning right onto Fernando Márquez de la Plata. Here, La Chascona presents an eclectic selection of art and anecdotal artefacts. Neruda's Nobel Peace Prize is also here.
Hop on a funicular at Castillo station to reach Cerro San Cristóbal (parquemet.cl). The hill stands 300 metres above the city and has panoramic views. The best vantage point is the east side. Stand beneath the 14-metre high Virgen de la Inmaculada Concepción, who watches over the city as it sprawls for miles. Santiago's growth is only curtailed, it seems, by the physical obstacle of the Andes.
The big attraction
The Palacio de la Moneda, spanning the south side of the Plaza de la Constitución, is an imposing, late 18th-century legacy of the colonial era. The north façade of this symbol of nationhood was damaged by missile attacks back in 1973 as General Pinochet seized power. It has had a facelift, though, and visitors can walk the corridors of power and enjoy a few moments' peace in its pretty inner courtyards.
Palacio de la Moneda: Morandé, 130, Santiago (00 56 2 690 4000). Open Tues- Fri, 10am-6pm, Saturday and Sunday 11am-2pm, entry free.
Travel essentials
Getting there
With no direct flights between the UK and Chile, the usual approach is via Madrid: Iberia (0870 609 0500; iberia.com) has connections from Heathrow and Manchester, or fly BA to Madrid and connect to LAN (0800 977 6100; lan.com) to reach Santiago. Simone Kane travelled with Cox & Kings (0845 154 8941; coxandkings.co. uk), which has a 10-day private tour to Chile, from £3,950 per person. The price includes return flights with LAN; three nights with breakfast at the Hotel Lastarria in Santiago, two nights full board at The Singular in Patagonia, and three nights full board at Tierra Patagonia, plus transfers and excursions in Patagonia.
More information
Chile Tourist Board: chile.travel
Register for free to continue reading
Registration is a free and easy way to support our truly independent journalism
By registering, you will also enjoy limited access to Premium articles, exclusive newsletters, commenting, and virtual events with our leading journalists
Already have an account? sign in
Join our new commenting forum
Join thought-provoking conversations, follow other Independent readers and see their replies