The Independent's journalism is supported by our readers. When you purchase through links on our site, we may earn commission.
Secret Mexico: Get beyond the beaches
Latin America's most accessible country has plenty to offer beyond the Mayan Riviera's beautiful beaches. Tom Masters finds it's easy and rewarding to leave the crowds behind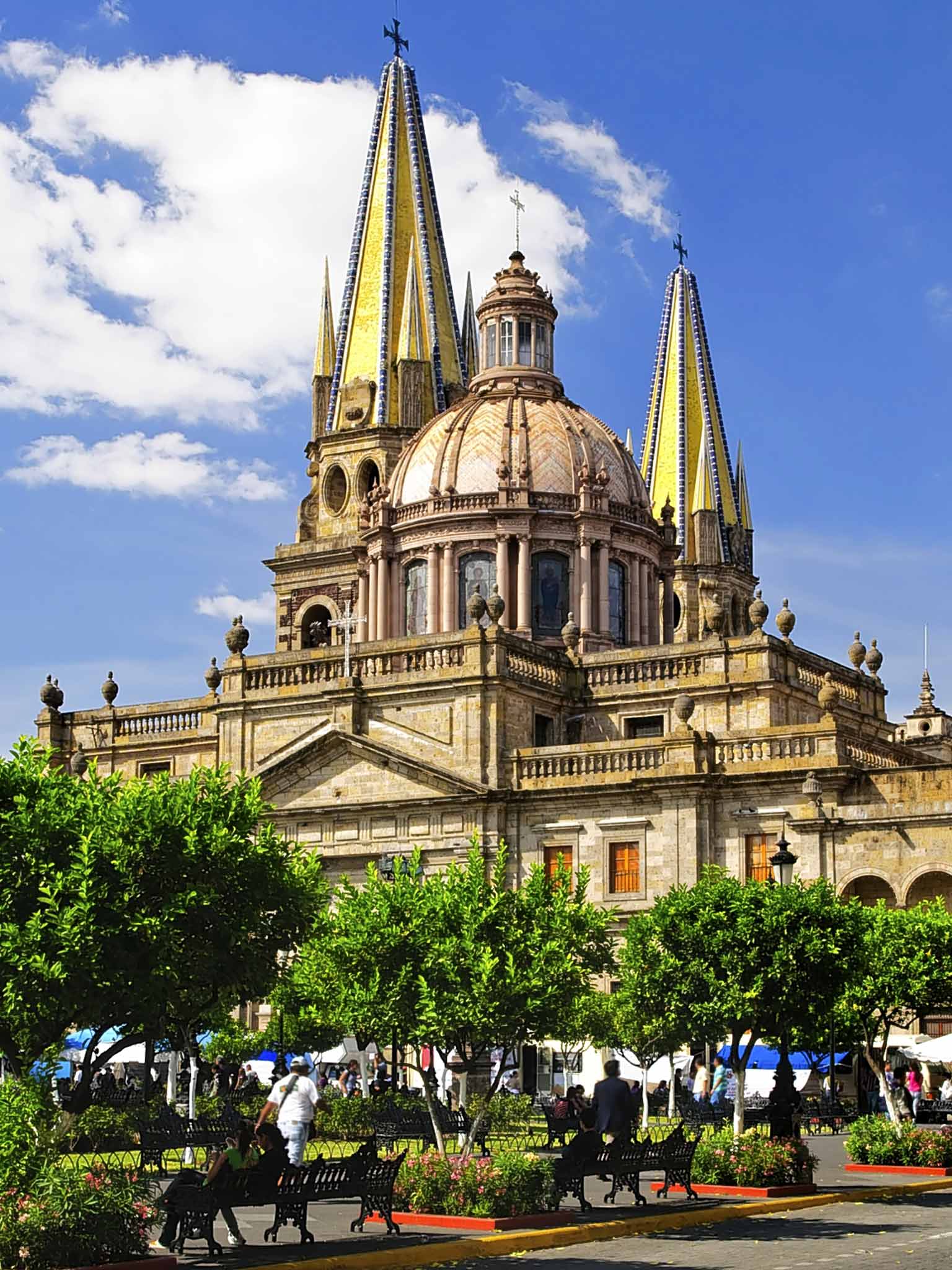 Between its vast cosmopolitan cities and tiny mountain villages, thick rainforests and endless northern desert, spectacular coastline and snowcapped volcanoes, Mexico has a versatility that few other countries can offer. Its dazzling list of natural and man-made wonders has almost every holiday fantasy covered.
You can enjoy world-class cuisine (a tradition recognised by Unesco), astounding history, soaring mountains, colonial architecture and astonishing wildlife straight away. And, once you've scraped the surface, it's hard not to be amazed by what else can be found here: whale watching, indigenous cultures, dozens of different musical traditions, forgotten Mesoamerican cities, extraordinary 20th-century art and Unesco World Heritage Sites by the bucket load. Your main challenge is deciding where to begin.
Preconceptions about Mexico are rife and deep-rooted, but few countries conform to stereotypes as unwillingly. You may go your entire trip without seeing a sombrero, eating a chilli pepper or drinking tequila, and indeed, if you're looking for the Mexico of televisual representation, head to the north, where the desert states next to the US border have provided plenty of grist to the Hollywood mill. Elsewhere, it's quickly apparent how futile it is to try to generalise about this country or its people, with its dozens of indigenous languages and cultures, Americanised urban centres, Iberian cultural heritage and revolutionary spirit proudly on display almost everywhere.
What's more, compared to other Latin American nations, Mexico is astonishingly accessible, affordable and easy to travel in. Safety is certainly something to be conscious of, particularly in big cities and in the country's northern states, where drug violence has essentially created no-go areas in many border cities and where tourism has dried up to just a trickle in recent years, but elsewhere a few basic precautions are all that are needed to keep your mind at rest. And, despite the bad press, tourist numbers continue to rise, totalling some 14.2 million people last year.
Even in a country with so many visitors, there can be few places in the world where escaping the crowds can be so easy, as travellers so often flock to the same places: megalopolis Mexico City, the resorts of Cancún, the lost Mayan cities of Palenque and Chichén Itzá, the pyramids of Teotihuacán and the spring break favourites of Los Cabos, Puerto Vallarta and Acapulco. This leaves you with a huge amount of choice and almost limitless options. In fact, all you need to do is leave the places listed here and branch out on your own and you will discover a land still largely unknown to mass tourism.
Bear in mind that Mexico is vast, and so unless you have months, you'll only see a relatively small part of it, so keep your plans realistic. The destinations included here may take a little extra effort to reach, but all of them are well worth it. No country in the world has the roll call of attractions that Mexico does, and it spreads them out surprisingly evenly. By taking the road less travelled you're going to be having an adventure that few others will have had.
Spice and salsa
Guadalajara may be Mexico's second city, but it has retained the easy-going charm of a small town. The exceptionally varied gastronomic culture, which stretches from its wondrous street food (best found in the sprawling Mercado San Juan de Dios) to its fancier restaurants such as La Fonda de la Noche (00 52 33 3827 0917), is the real reason to come.
One unmissable local speciality is birria, goat or lamb meat that's slow cooked in its own juices for hours until it melts in the mouth. Try this at Birriería las Nueve Esquinas (00 52 33 3613 6260; las9esquinas.com), a low-key institution where meat comes with a pile of flour tortillas, coriander, pickled onions and two spicy salsas for you to pile up.
For a whistle-stop initiation into the city's food scene, try Guadalajara Food Tours (00 52 133 1772 6488; guadalajarafoodtours.com), whose guides will feed you with information as well as tasters at several downtown restaurants. An afternoon tour is US$40pp (£27).
Bed down at Casa Pedro Loza (00 52 33 1202 2423, casapedroloza.com.mx) at Pedro Loza 360, where doubles in the colonial mansion start at M$1200 (£53), including breakfast.
Beautiful backwater
The state of Veracruz on the Gulf of Mexico is often only visited for the pre-Columbian ruins of El Tajín. But delve deeper, because there's lots more here, including the tiny backwater of Tlacotalpan. This Unesco World Heritage Site is a hauntingly beautiful colonial town that was once an important 19th-century river port; it fell into decline once travel routes changed.
This oblivion has paid dividends though, and today it's a perfectly preserved collection of colonial mansions, elegant plazas and soaring churches with a still-tiny tourist industry. You'll find you're one of very few travellers in this part of the country.
Bed down at the Hotel Posada Doña Lala (00 52 288 884 2580; hoteldonalala.mx), at Carranza 11, where a room-only double costs M$750 (£33). Take a ride on the Río Papaloapan, see the town's gorgeous pastel-painted houses from the water and eat fresh fish cooked up by the riverside at sunset.
Make tracks
Northern Mexico gets a bad rap, but large swathes of it remain accessible and safe. This includes the Copper Canyon Railway (chepe.com.mx), often named the most beautiful in the world. It's Mexico's only passenger train route, an engineering marvel that runs from the highland mining centre of Chihuahua to the Pacific coast, taking in mountain passes and unforgettable views as it crosses no fewer than 37 bridges along its 650km length.
While it can be done in one day, it's best experienced in stages, stopping off at the delightful highland towns and enjoying excellent walks along the way. Try hiking and horse-riding with El Aventurero (00 52 635 456 0558; ridemexico.com) or biking with Tres Amigos (00 52 635 456 0546, amigos3.com).
Make a beeline for Urique, a former mining town found at the bottom of the deepest canyon in the region, where you can hike in pristine surroundings. Stay at Entre Amigos (amongamigos .com), where a room-only double costs M$700 (£31).
Surreal surprise
In the remote jungle of San Luís Potosi, Las Pozas (xilitla.org; admission M$50/£2.20), is a labour of love created by Edward James, a British patron of the Surrealist art movement in the 1930s.
James spent 17 years building this unique sculpture garden, spread across a luscious hillside dotted with streams and waterfalls amid a thick canopy of trees.
He embellished this slice of wilderness with his own visionary sculptures, bridges, temples, abstract pieces, staircases and treehouses, all of them recognisably Surrealist.
Being virtually alone here and exploring this breathtaking spot is both wonderful and humbling. Even the journey to get here is visually stunning, through hilly countryside and mountain valleys.
On reaching the charming small town of Xilitla, you can even stay in Edward James's own atmospheric mansion, Posada El Castillo (00 52 489 365 0038; junglegossip.com), where doubles start at US$60 (£40), including breakfast.
Pacific paradise
The word "Mexico" is synonymous with beaches, but to find your own little slice of paradise, head to Oaxaca, a state that makes converts of nearly all who visit it.
The Pacific coastline here is already an open secret to Mexicans, though foreign travellers have only recently begun catching on.
With endless stretches of sandy beach, whales, dolphins and turtles to be seen, great surfing and several small beach villages that have yet to be properly discovered, this is the perfect antidote to the overdevelopment and glitz of Cancún.
Perhaps the most idyllic spot of all here is San Agustinillo, a village on a curved sandy bay that's become a low-key surfer haunt in recent years. Stay at Cabañas Punta Placer (00 52 958 109 0164; puntaplacer.com), which has doubles right on the beach that start at $90 (£60), room only. Either side of San Agustinillo are laid-back Zipolite and Mazunte, two villages with excellent sandy beaches.
Getting there
British Airways (0344 493 0787; ba.com) and Aeromexico (0800 977 5533; aeromexico.com) both fly non-stop from Heathrow to Mexico City. BA and Virgin Atlantic (0344 209 7777; virgin-atlantic.com) fly from Gatwick to Cancún.
Getting around
Domestic flights in Mexico are frequent and affordable, and given the country's size, they're the best way to cover longer journeys. Aeromexico, Aeromar (00 52 55 5701 7114; aeromar.com.mx), Interjet (00 52 1102 5555; interjet.com.mx) and Volaris (00 52 55 1102 8000; volaris.com) are the main carriers.
Shorter distances can be covered by comfortable long-distance buses; all cities and towns have busy bus stations, and buses are clean, air-conditioned and excellent value. It's worth paying a little extra for the ejecutivo services.
Driving in Mexico is feasible, and major and local car hire agencies can be found in all cities. Road conditions are variable, however, and there can be some dangerous driving.
Join our commenting forum
Join thought-provoking conversations, follow other Independent readers and see their replies