The Independent's journalism is supported by our readers. When you purchase through links on our site, we may earn commission.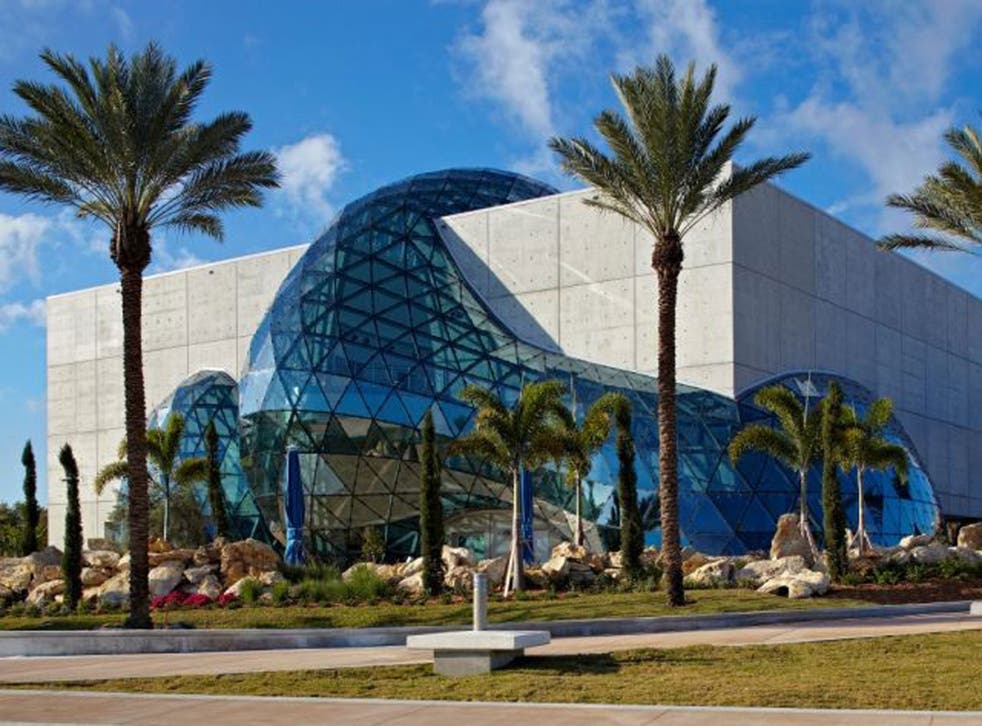 St Petersburg, Florida: Miami has a rival for the finer things
Co-founded by a Russian émigré, this Tampa Bay city brims with culture, says Chris Leadbeater
Intriguing in both name and location, St Petersburg is the antidote to the suggestion that – beyond the cosmopolitan confines of Miami – Florida has plenty in the way of warm weather, soft beaches and gravity-defying rollercoaster rides, but little discernible culture.
It sits at the south-eastern corner of the Pinellas Peninsula beneath Tampa, midway up the west coast of the Sunshine State. As such, it is lapped not by the Atlantic or the breakers of the Gulf of Mexico, but by the gentle waves of Tampa Bay. This sense of calm transfers itself to streets that are dotted with museums and galleries, as well as inviting places to have dinner.
The name, incidentally, comes from one Pyotr Dementyev, who brought the railroad to this undeveloped part of Florida in 1888, and named it as a salute to the Russian metropolis where he grew up. The comparison does not prosper in reality – there are no grand palaces or doomed tsars here. But this alternative St Petersburg is fascinating nonetheless.
Start your tour at its artistic exclamation mark, the Dali Museum. This temple to Spain's great Surrealist has been a fixture in the city since 1982, and the jewel of the waterfront in its current building – an angular feast of steel, concrete and glass at 1 Dali Boulevard – since 2011. It showcases 96 striking oil paintings and a range of other works (see Fresh Cuts).
You need to spend a fair chunk of a morning here – but once done, forge north along Bay Shore Drive SE and choose the first left, First Avenue SE. If it is the opening half of the weekend, you can trawl the Saturday Morning Market, which is held between 9am and 2pm (from October to May) on the corner of First Street SE – with its glut of cheese, chocolate and organic food stalls (001 727 455 4921; saturday morningmarket.com).
Foray north on First Street SE, then turn first left on to Central Avenue. The stretch of this key drag between Second and Third Streets South is a busy enclave for lunch – or a lively option for after dark. Bar Milo (001 727 822 7273; twitter.com/barMilo), at No 300, brings a dash of New York cool to the heat of the South, with its chalk-scrawled wall menus and chic cocktails – including a tequila-heavy New Fashion – from $10 (£6).
Swerve north up Third Street North, then turn immediately right on to First Avenue North for more eating and watering holes such as The Kitchen, at No 226 (001 727 565 0540; kitchenstpete.com), where a 10-metre bar flanks the street, tables are set up on the pavement, and plates of sushi start at $9 (£5.50).
Stroll down First Avenue North and return to the waterfront on Beach Drive NE – then head north along the edge of South Straub Park, a green space that regularly hosts outdoor artworks. At the moment, that means Big Max – a towering concoction of red steel girders arranged by the American sculptor John Henry. This marks the beginning of a cultural corridor which continues, at 225 Beach Drive NE, with the Museum of Fine Arts (001 727 896 2667; fine-arts.org; daily 10am to 5pm except Thursday, 10am to 8pm, and Sunday, noon to 5pm; $17/£10). Here, the collection features European greats Monet, Renoir and Cézanne, as well as a wealth of photography. It is complemented, directly to the rear, on the periphery of the marina at 335 Second Avenue NE, by the St Petersburg Museum of History (001 727 894 1052; spmoh.com; daily 10am to 5pm except Sunday, 1 to 5pm, closed Monday; $15/£9), which gazes at the city's back-story via everything from baseball memorabilia to exhibits on the early wooden seaplanes that once landed on Tampa Bay.
Opposite the Museum of Fine Arts at 208 Beach Drive NE, Red Cloud extends the trend by selling Native American crafts, including pottery by Hopi artist Gregory Lomayesva (001 727 821 5824; redcloudindian arts.com). And if you amble north, along the verge of North Straub Park, to No 400, you find the Chihuly Collection (001 727 822 7872; moreanartscenter.org; daily 10am to 5pm except Sunday, noon to 5pm; $15/£9), which celebrates American glass-sculptor Dale Chihuly via a clutch of bright works. His Florida Rose Crystal Tower might be a series of purple throat lozenges stacked stickily into one giant column.
You can pause next door for a dozen Gulf oysters ($13/£8) or other marine dishes at 400 Beach (001 727 896 2400; 400beachseafood.com). Or you can take the next right, on to Fifth Avenue NE, and halt at No 501, where the Vinoy Renaissance Hotel (001 727 894 1000; marriott.com) is a glamorous shard of the past. This pink landmark opened in 1925, and while it tumbled into dereliction in the Seventies, a big Nineties refit ensured that its opulent lobby and gleaming chandeliers still sing of the Roaring Twenties.
Fresh cuts
The Dali Museum (001 727 823 3767; thedali.org; daily 10am to 5.30pm except Thursday, 10am to 8pm, and Sunday, noon to 5.30pm; $21/£12.75) comprises the collection of Reynolds and Eleanor Morse, friends of Dali. The pieces include some of the genius's finest works – not least Gala Contemplating The Mediterranean Sea, which outwardly depicts his wife starring at a seascape, but which, when viewed in a concave reflective surface, reveals the face of Abraham Lincoln.
At 340 Beach Drive NE, The Birchwood swaps Surrealism for Art Deco. This hotel opened last summer in a restored set of 1924 apartments and offers doubles from $280 (£171) B&B (001 727 896 1080; the-birchwood.com).
Travel essentials
Getting there
Virgin Atlantic (0844 209 7310; virgin-atlantic.com) flies to Orlando from Gatwick, Manchester, and Glasgow. The airport is around two hours' drive from St Petersburg. American Airlines (0844 499 7300; americanairlines.co.uk) serves Miami from Heathrow; the airport is around three and three-quarter hours' drive from St Petersburg. British Airways (0844 493 0787; ba.com) flies to Orlando from Gatwick, and Miami from Heathrow.
A seven-night fly-drive package, including return flights to Orlando from either Gatwick or Manchester, plus car hire, costs from £699pp (based on two sharing) through Virgin Holidays (0844 557 3859; virginholidays.co.uk).
Staying there
Vinoy Renaissance Hotel, 501 Fifth Avenue NE (001 727 894 1000; marriott.com). Doubles start at US$200 (£121), room only.
More information
Register for free to continue reading
Registration is a free and easy way to support our truly independent journalism
By registering, you will also enjoy limited access to Premium articles, exclusive newsletters, commenting, and virtual events with our leading journalists
Already have an account? sign in
Register for free to continue reading
Registration is a free and easy way to support our truly independent journalism
By registering, you will also enjoy limited access to Premium articles, exclusive newsletters, commenting, and virtual events with our leading journalists
Already have an account? sign in
Join our new commenting forum
Join thought-provoking conversations, follow other Independent readers and see their replies