The Big Six: Nicaraguan beach retreats

Show all 6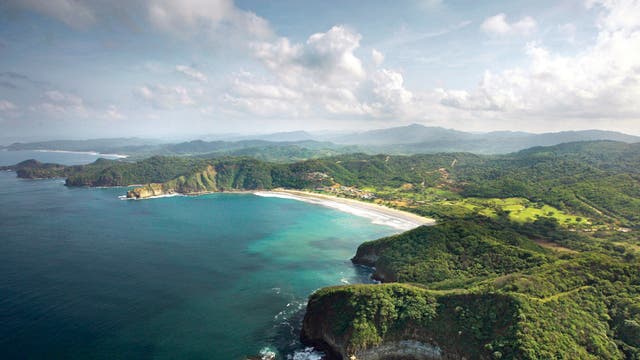 The Big Six: Nicaraguan beach retreats
Pristine sands, golden shores, sea turtles, luxury wellness, fun surf and seafood shacks
Mukul Resort: Playa Manzanillo
This new resort opens on the far southern reaches of Nicaragua's Pacific Coast on Friday. Set within Guacalito de la Isla, a private beach community of pristine sands and lush rainforest, it offers 12 ocean-view villas with tropical gardens and al fresco monsoon showers, and 23 treehouse-style huts elevated above Manzanillo beach with sliding glass doors for taking in the rolling waves below. A spa that blends Balinese, Thai and Indian principles and an 18-hole golf course seal the upmarket deal.
Mukul Resort, Tola, Las Salinas (00 505 2563 7160; mukulresort.com). Doubles start at US$635 (£397), half board.
Arenas Big: Corn Island
Big Corn Island was a British protectorate for two centuries until it was ceded to Nicaragua in 1894. It's located 40 miles off the country's wild Caribbean coast, which remains hard to reach due to poor road access. Sleeping options on Corn Island are basic, but Arenas offers a set of more comprehensive suites and bungalows, draped around a golden shore. A beach bar with wooden chairs dotted amid brightly painted boats, Caribbean music and ice-cold beers add to the laid-back ambience.
Arenas, Big Corn Island, Atlantic (00 505 2222 6574; arenasbeachhotel.com). Doubles start at US$104 (£65), room only.
Morgan's Rock: Playa Ocotal
Morgan's Rock is a hacienda with heart. Not only does it offer 15 luxury bungalows, but it's also responsible for some impressive conservation work. Since opening in 2001, it has planted more than 1.5 million native hardwood and fruit trees, protected an 800-acre section of primary forest and reintroduced endangered species to the private reserve. Perfect for nature lovers and adventurers, activities include jungle tours, horse-riding and watching sea turtles waddle up the beach.
Morgan's Rock, Playa Ocotal, San Juan (00 505 8670 7676; morgansrock.com). Doubles from US$377 (£236), half board.
Aqua Resort: Playa la Redonda
This luxury wellness resort is ideal for those who like to take things slowly. It has an open-air yoga deck with daily classes and a spa that seeks to soothe with cacao body scrubs and papaya polishes. After all that healing, head down to Redonda beach to lounge beneath shaded palms, fruit juice (or cocktail) in hand. From July to December, spot leatherback, hawksbill and green turtles coming in to nest. At other times, the surf breaks of Colorado and Manzanillo are a boat ride away.
Aqua Resort, Playa la Redonda, Tola (00 505 8849 6235; aquanicaragua.com). Doubles from US$152 (£95), room only.
Pelican Eyes: San Juan del Sur
Seafood shacks and sail boats line the shore of San Juan del Sur – a one-time sleepy fishing village that's now a favourite with surfers and sunbathers. Here, set above the crescent-shaped bay, Pelican Eyes stares down from its verdant hillside location with a collection of one-bed rooms, spacious studios, larger townhouses and family sized villas, all with kitchens and dining rooms. There are several pools in the grounds and two restaurants serving authentic local food.
Pelican Eyes, San Juan del Sur (00 505 2563 7000; pelicaneyesresort.com). Doubles from US$210 (£131), room only.
Punta Teonoste: El Astillero
This fun surf hotel isn't shy on added extras. A night in one of its 16 beach bungalows grants guests free use of surf boards, a scenic horse ride, mountain bike hire, a spa treatment and a guided tour of a turtle hatchery. The open-fronted rooms forgo air conditioning in favour of cool sea breezes. Each has a thatched roof, muslin-draped beds and hammocks for lazing away long afternoons. The beach bar is perfect for watching the sunset.
Punta Teonoste, El Astillero, Tola, (00 505 2563 9001; puntateonoste.com). Doubles from US$174 (£109), B&B.
Click here to view tours and holidays in Central & South America, with Independent Holidays.
Join our new commenting forum
Join thought-provoking conversations, follow other Independent readers and see their replies