The Big Six: Panama retreats

Show all 6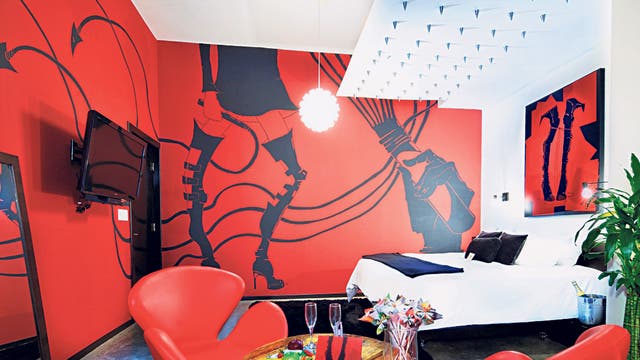 The Big Six: Panama retreats
Tropical forest, beach-facing suites and luxury tents
Sophie Lam
Saturday 02 March 2013 01:00 Comments
Tantalo Hotel: Panama City
Packed into a peninsula with views of Panama City's skyscrapers across the bay, Casco Viejo feels far removed from the city centre. The old town has 17th-century churches, peaceful plazas and immaculately restored colonial buildings, one of which hosts the newly opened Tantalo Hotel. Each of the 13 suites has been designed by a local artist. The rooftop bar serves cocktails against a dazzling backdrop, while the Tantalo Kitchen has anything from coconut cashew chicken to Cuban-style pulled pork.
Tantalo Hotel, Avenue B and 8th Street, Casco Viejo, Panama City (00 507 262 4030; tantalohotel.com). Doubles start at US$129 (£81), including breakfast.
Resort at Isla Palenque: Gulf of Chiriqui
Set on one of the larger islands in the Gulf of Chiriqui, The Resort at Isla Palenque has just unveiled its take on colour-splashed luxury amid sparkling ocean, tropical forest, mangroves and lagoons. Spot (or hear) howler monkeys, armadillos, coati, racoons, hummingbirds, toucans and parrots, as well as dazzling marine life. Estate rooms are tucked between the trees, while tented suites will open in the summer.
The Resort at Isla Palenque, Isla Palenque, Gulf of Chiriqui (001 855 777 9260; amble.com/IslaPalenque). Doubles from US$353 (£221), with breakfast.
Panamonte Inn: Boquete
Pitched in the cool Chiriqui Highlands, this luxury inn has offered a refined sanctuary to guests since 1914. Tiled floors, wicker chairs, teak furniture and plump beds set the scene, with Jacuzzi baths and fireplaces in some rooms. It's a place to unwind after hiking amid lush coffee plantations, listening for songbirds and howler monkeys in La Amistad National Park, wallowing in hot spring pools or rafting on the Río Chiriquí.
Panamonte Inn, Avenida Central, Boquete, Chiriqui Highlands (00 507 720 1324; panamonte.com). Doubles start at US$138 (£86), including breakfast.
El Otro Lado: Portobelo
This colourful retreat is on the "other side" of the bay of Portobelo, opposite the city once prized by the Spaniards as a silver port and attacked by Henry Morgan. The hotel's four villas burst with tropical hues, set against the lush forest backdrop of Chagres National Park. Inside, Arte Povera meets mid-century Modernism, with patterned tiles and local artwork. Caribbean fusion cuisine is served at the poolside Gazebo.
El Otro Lado, Portobelo Bay, Colón (00 507 202 01 11; elotrolado.com.pa). Doubles start at US$490 (£306), including breakfast.
Palmar Tent Lodge: Bastimentos
The Bocas del Toro archipelago has gone from dreamy backwater to desirable hideaway. On the island of Bastimentos, the Palmar Tent Lodge lies between the white sand of Red Frog Beach and dense forest where minuscule strawberry poison-dart frogs hop about. Fall asleep in the luxury tents, listening to the jungle, then take a rainwater shower and grab a snorkel to explore the offshore marine park.
Palmar Tent Lodge, Red Frog Beach, Bastimentos, Bocas del Toro (00 507 6880 8640; palmartentlodge.com). Tents start at US$50 (£31), room only.
Villa Camilla: Pedasi
The sleepy town of Pedasi, on the tip of the Azuero Peninsula, attracts surfers in search of big swells, off white- and black-sand beaches. Sybarites, meanwhile, come to Villa Camilla, a tranquil hotel overlooking the Pacific breaks. Conceived by a French couple who set up an artisans' workshop in the area, it has seven suites in the main house, beach-facing suites, split-level lofts and a private three-bedroom villa.
Villa Camilla, Playa Los Destiladeros, Pedasí, Azuero Península, Los Santos (00 507 994 3100; villacamillapanama.com). Doubles from US$225 (£141), room only.
Register for free to continue reading
Registration is a free and easy way to support our truly independent journalism
By registering, you will also enjoy limited access to Premium articles, exclusive newsletters, commenting, and virtual events with our leading journalists
Already have an account? sign in
Register for free to continue reading
Registration is a free and easy way to support our truly independent journalism
By registering, you will also enjoy limited access to Premium articles, exclusive newsletters, commenting, and virtual events with our leading journalists
Already have an account? sign in
Join our new commenting forum
Join thought-provoking conversations, follow other Independent readers and see their replies