The Independent's journalism is supported by our readers. When you purchase through links on our site, we may earn commission.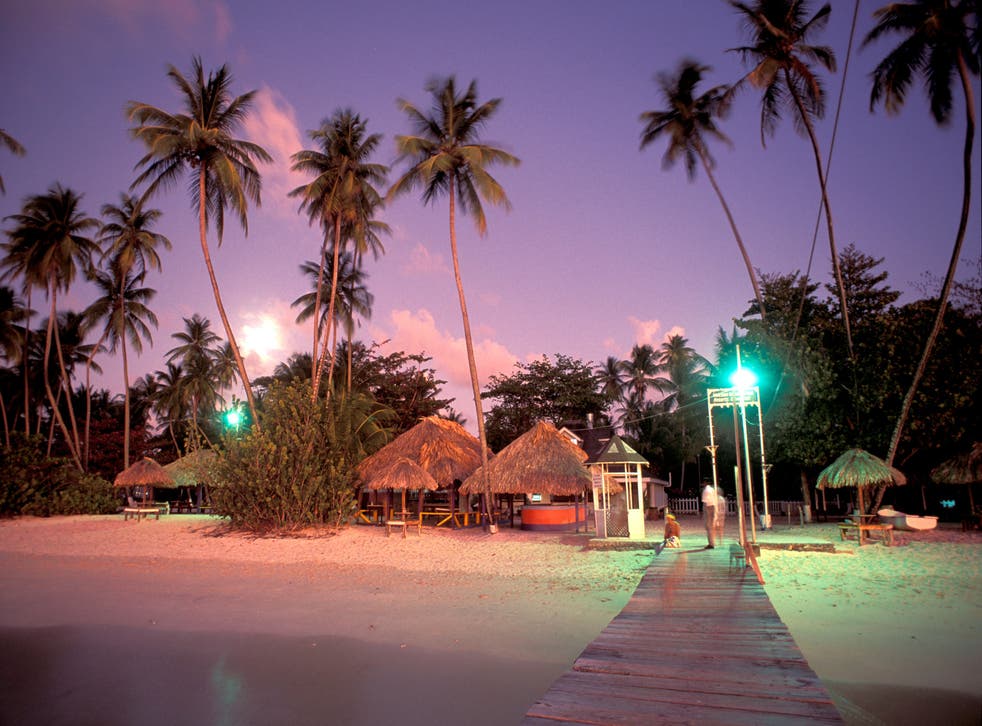 Putting the 'dance' in church attendance
On this island, Sunday School is a street party and Harvest is more than an autumn festival. Andrew Eames joins the fun. Image from Alamy; the jetty at Pigeon Point
In Association
,
Tobago Tourist Board
Wednesday 20 May 2015 11:05 Comments
Drinking and dancing:
You can't miss the bright lights on Tobago, because the hub of the action is also the main axis for the airport and the big hotels: Crown Point's Milford Road.
For much of its length this street is lined with restaurants, small supermarkets and shops, but after dark the action focuses in on its junction with Pigeon Point Road, known as Pigeon Point Corner. There's a flea market, night-time food stalls with local specialities, fast food joints, a casino and two informal liming joints, Jade Monkey and Illusions.
Neither of these two venues (liming is the local word for any gathering that involves laughter, conversation, alcohol and dancing) really gets going until midnight. Both are dominated by locals, so you'd expect to see plenty of wining, a sensual dance that involves plenty of hip gyration and strong leg and backside muscles.
There's eating, drinking and dancing at Pigeon Point Corner every night of the week, but if you really want a party night out in a big venue, with a mix of visitors and locals and a variety of music types, then a better choice is The Shade (facebook.com/shadetobago). This nightclub, which is part roofed and part shaded by giant Saman trees, is a few metres off Milford Road up Store Bay Branch Road in the suburb of Bon Accord, and it only opens on Fridays and weekends.
Outside Crown Point, the best place for a good vibe and excellent dance possibilities is the seaside village of Buccoo, which hosts a weekly street party called Sunday School. On an island with a Jesus Christ Supermarket and where church attendance is very strong, you might expect the name to designate a sober period of Bible study. On the contrary, Buccoo's Sunday School is a blast: loud, sweaty, intoxicating, vibrant and welcoming. Even if you are not a nightlife person, it is well worth a pilgrimage.
Food stalls line the streets and impromptu barbecues set up on the water's edge, so if you haven't tasted corn soup with pigtails, this is your chance. There are three main dance locations in close proximity.
The Paris ballroom is where gents with dapper suits, natty hats and fancy footwork twirl their partners and where the music is mainly dancehall. The steel pan area by the water, which tends to wrap up early, draws a decent crowd. Most popular of all is the big outdoor disco next to the steel pans where the music is a mix of soca, hip hop, reggae and calypso. All are free, and the mix of tourists to locals in the latter is evenly balanced, although the later it goes on, the more local Sunday School becomes.
Buccoo doesn't have a monopoly on Sunday dancing, however, because on Tobago each community actually takes it in turns to erupt into what is effectively its own Sunday School, called Harvest.
There's usually at least one Harvest taking place somewhere on the island every weekend (tntisland.com/calendar.html). During the day, Harvest's main theme is socialising, eating and drinking, with everyone invited into everyone else's houses.
When night falls the blocko dancing begins, in the streets, outside community centres or outside any of the bars where someone has set up a sound system. Even though the majority of dancers are local, these are genuinely hospitable events and you wouldn't be made to feel like a gatecrasher by joining in, because lots of islanders from other communities are doing the same.
Eating out
Outside these specific hot spots, Tobago is on the whole a quiet place, where households go to bed a few hours after sunset, and rise again shortly after sunrise. For most international visitors, therefore, nightlife will mean going out to local restaurants and bars.
Not far from the bright lights of Crown Point is another venue which mixes local and international in charming fashion. Pleasant Prospect's Triangle Square (just beyond the Mount Irvine golf course on the road to Plymouth) is almost like a village green; around its rim is the Moon over Water bar, a roti shop, a pizza place, Jeanine's Diner and the Fish Pot restaurant. The Moon over Water is a cheerful place, lively at the weekends, full of lads playing pool, and with signs along the lines of "We do not serve women here. You have to bring your own." Across the green, Jeanine's Diner serves takeaway food, such as chicken and peas and curried goat. Next door the perennially popular Irish-owned Fish Pot (001 868 635 1728; thefishpot.blogspot.co.uk) also focuses on local ingredients, particularly flying fish and mahimahi, in a synthesis of local and international styles. It is informal and good.
Pleasant Prospect is just a skip away from Tobago's smartest evening out: the Seahorse Inn (001 868 639 0686; seahorseinntobago.com) in Black Rock. The restaurant is perched on a high terrace overlooking Turtle Beach, and is cleverly split between open and roofed areas in case of evening rain. Food here is locally sourced but internationally styled, and diners dress up for the occasion. This is where you'll see government ministers entertaining visiting dignitaries, so reservations are essential.
A final dining out recommendation involves an expedition down the winding road along the southeastern coast all the way to the village of Speyside and to Jemma's Seaview Kitchen (001 868 660 4066), so it is worth checking she's actually open before you travel. The food here is the finer end of traditional, and it is basically the side dishes – breadfruit pie, tania fritters, eggplant casserole – which come as standard and make it special, with the likes of sorrel shandy to wash it down. The fish is always going to be the best bet, and the stilted wooden clapboard building is perched on the edge of the beach, gathered around a big old almond tree – so the restaurant is often referred to as Jemma's Treehouse.
Wild nights
After dark doesn't just involve the three Ds of drinking, dancing and dining. There are a couple of further activities that highlight Tobago's wilder side.
The still water in the Bon Accord lagoon, which lies inside Buccoo reef off the northern coastline of Crown Point, is a fertile breeding ground for a particular type of photosynthesising marine plankton. During the day you'd barely notice its presence, but at night time, particularly when there is little or no moon, the lagoon lights up with blueish bioluminescence, particularly when disturbed, creating a sort of undersea Northern Lights.
The whole wondrous spectacle is best viewed from a stand-up paddle board on a special tour from nearby Pigeon Point Beach, with your progress through the water creating your own Milky Way. Happily, stand-up paddle boarding is a skill relatively easily learned on a calm evening, so you don't need any previous experience. The tours last two to three hours, and cost £40 per person (001 868 681 4741; standuppaddletobago.com).
The other very common activity that takes place under cover of darkness is turtle watching during the egg-laying season, from March until July. The best spots are Grafton Beach, Stonehaven Beach and Turtle Beach within Great Courland Bay. At these locations leatherbacks come lumbering out of the water after dark and haul themselves towards the treeline to dig a hole for their eggs.
These are big creatures, and often you can hear them moving from some distance away. Generally, each of these beaches will have a volunteer turtle watcher who takes care that the eggs are not stolen and that spectators keep their distance. Local community charity SOS Tobago (001 868 328 7351; sos-tobago.org) can advise on responsible practice and good turtle-watching guides.
Register for free to continue reading
Registration is a free and easy way to support our truly independent journalism
By registering, you will also enjoy limited access to Premium articles, exclusive newsletters, commenting, and virtual events with our leading journalists
Already have an account? sign in
Join our new commenting forum
Join thought-provoking conversations, follow other Independent readers and see their replies