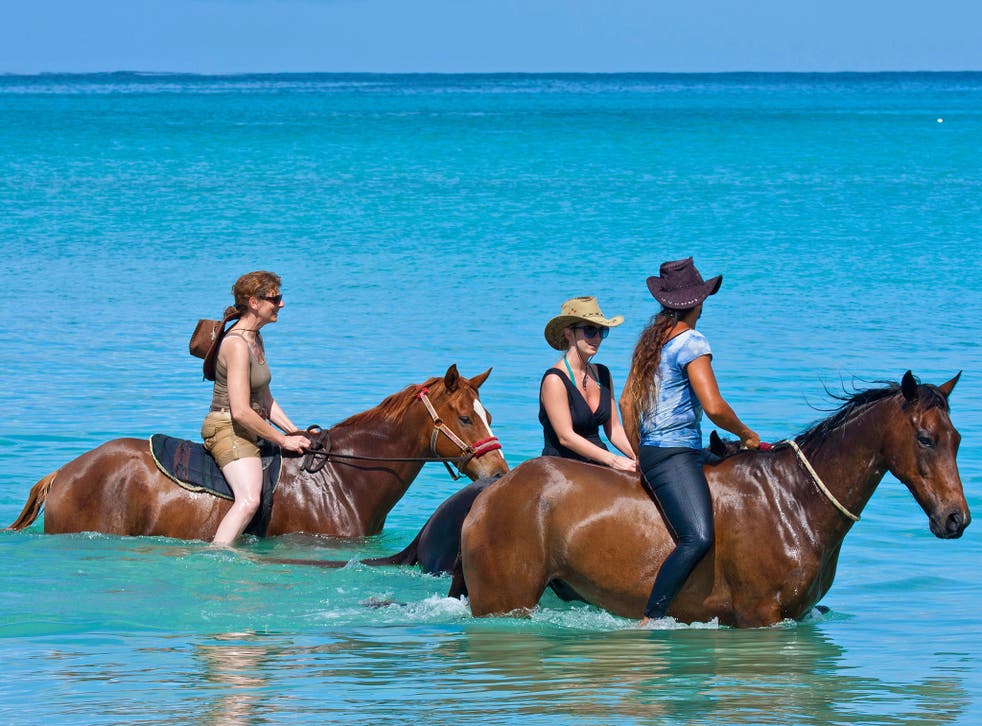 Sun, sea, sand and stamina
Tobago has more leisure activities than you can wave a palm tree frond at. Andrew Eames spends his mornings exploring the options, before recovering on the beach in the afternoon.
Friday 27 March 2015 10:26 Comments
DAY ONE
AM: See how the other half lives. Civilisation and tourism –e may have colonised Tobago's southwestern lowlands, where most of the hotels are located, but the vast majority of the island's landmass is steep, cloaked in green and sizzling with life. A huge and ancient rainforest, a protected reserve since 1776 and on the list as a potential Unesco World Heritage site, runs down the island's spine. Meanwhile, a thin ribbon of a road throws a loop around the island's perimeter, teetering through ridgeback communities and then plunging down to fishing villages in a roller coaster ride.
Anyone with an ounce of curiosity will want to experience some of this, either by renting a car or taking a tour. Distances are not great (the island is only 26 miles long) but progress is slow. Be sure to venture up the Roxborough to Parlatuvier Road, the only ribbon of tar that traverses the rainforested spine. If you have time, take a walk down one of the marked trails. Even if you don't have the right footwear, a popular path like Gilpin's Trace has welly-boot hirers ready and waiting by the side of the road.
PM: Time to relax. Enjoy the elegant oasis that is Castara, a fishing village on the Caribbean shore with a surprising number of distinctive guesthouses snuggled in among the rioting greenery that lines the steep-walled bay. There are two beaches, the main one where the fishermen come and go, and Little Bay, with the better view, quieter water and multi-coloured beach bar with a deck for watching the sunset. If you are in Castara on a Wednesday or Saturday, local women bake delicious bread in a domed wood-fired oven just behind the beach.
DAY TWO
AM: In and out of the bright lights. Tobago's southwest corner, particularly at Crown Point, is the holidaymakers' hub, with restaurants, hotels and shopping centres. It can be busy, particularly along the main artery, Milford Road, but even here there's some remote country where you can ride on horseback past disused sugarcane mills and canter along empty sands, yet still be in plane-spotting distance of the airport.
These horse-friendly trails are in former plantation lands in the community of Friendship, just south of Milford Road. Here Derek Hearn at his endearingly ramshackle Friendship Stables (001 868 308 7201; tours T$150/£15) may look a touch wild and woolly, but he loves his horses, and his horses love to wade out into the warm sea. Ask to ride his docile 17-year-old former racer, Sweetman in Thong.
PM: Afterwards, you may need reminding that despite barely having seen another soul all morning, you are just a stone's throw from the hub of tourism. So head back down Milford Road to Pigeon Point, Tobago's big set-piece white sand beach, and a location much loved by wedding planners. Here there's plenty of space for everyone and everything, including many more forms of riding: windsurfing, Jet Skiing, stand-up paddleboarding, and kite surfing, with equipment hire and lessons all available (001 868 681 4741; standuppaddletobago.com; US$60/£40). Pigeon Point's placid, shallow offshore waters are ideal for all this, thanks to the long, protective arm of the Buccoo reef. Reef trips and glass-bottomed boats come and go from Pigeon Point's jetty, the setting for many a photograph, all of which have a backdrop of surfers' kites.
DAY THREE
AM: You have only got to open a menu here to realise that "teeming" is the keyword, because fish are colourful, delectable and never far away: catch them yourself. One of the most excellent sport fish is the "ghost of the flats", or bonefish, stalked in reef-protected shallows that are rarely more than thigh deep. Caught on the fly or with lures, these superbly athletic fish can reach up to 10lbs, growing far larger here than on most Caribbean islands. Gerard "Frothy" de Silva at Hard Play (001 868 639 7108; hardplay.net; fishing tours from US$150/£100pp) has the gear and the expertise.
PM: Escape from the glare of the sun on Turtle Beach, over by Plymouth, where there's a chance to get even more fish by helping the locals haul seine nets onto the sand. As the beach's name suggests, leatherback sea turtles come ashore after dark along this sandy mile to lay their eggs during the nesting season (March to August). Ask the charismatic Henry the leatherman about it; he dispenses wisdom, and fixes shoes, under the mango tree by the Turtle Beach Hotel.
DAY FOUR
AM: By now you might be feeling the need to take some serious exercise. So combine fitness gain with a fresh view of the island by renting a bicycle at Easygoers (001 868 681 8025; easygoersbikes.com; from US$15/£10 per day) in Crown Point's Milford Road. Get off the main drag quickly by heading down Golden Grove Road towards Mount Irvine, swing around the golf course and climb up to the village of Patience Hill, for a taste of village life and excellent views in all directions. If you feel the need for speed, Easygoers can also drop you and your bike at the far end of the island, to make your way back along the hilly coastal road.
PM: Collapse onto a sun lounger at popular Store Bay, just across the road from the bike hire. The beach is excellent, with good snorkelling to the left side, but can be crowded, particularly at weekends. To refuel, good quality and good value local food is sold from takeaway outlets (try Silvia's for goat curry) at the back of the beach, alongside several souvenir kiosks.
DAY FIVE
AM: Once upon a time Tobago was a prized colonial possession, changing hands an amazing 33 times. To get a sense of this history, head up to the British-built Fort King George (001 868 639 3970; admission T$10/£1, open Monday-Friday 9am-4pm), which lords it over the island's capital Scarborough. From there you can admire the island's best preserved fortifications (from 1780) and the terrific view. Travel that view by driving out along the Atlantic coast to Roxborough. Just inland here, by the Argyll waterfall, is the Tobago Cocoa Estate (001 868 390 2021; tobagococoa.com; tours T$60/£6), the only remaining plantation of what was once a valuable island-wide industry. The anger will walk you round this very peaceful, fruitful glade, and then slide back the roof of the drying- house to let you smell the beans. When ripe, they taste of nothing; when dried, they smell of bad feet. It's a miracle that anyone ever discovered chocolate.
PM: Kings Bay, beyond Roxborough, represents peace in the east, with one of the calmest spots on the (generally rougher) Atlantic shore. It's a quiet, laid-back place of soft sand tucked into the corner of a big protective bay. Come here midweek, and it could be just you and the lifeguards.
DAY SIX
AM: Cruise-sail the coast: Every day the all-inclusive catamaran Island Girl (001 868 639 7245; sailtobago.com; US$90/£60 per adult) sets off at 9.30am from the beach at Mount Irvine to dawdle along the island's more placid Caribbean coast, her steady progress unwrapping the steep, green-cloaked tumbling shore. Captain Danny and crew drop anchor in Cotton Bay (only accessible from the sea) and serve up a lunch of marinaded fish and caramelised chicken stew, before moving on to Emerald Bay, where the snorkelling is particularly good. Usually the return journey is made under sail, scudding peacefully home pursued by dolphins and followed at a distance by huge wingspan frigate birds, on the hunt for flying fish.
PM: You'll be back by 3.30pm. Afterwards, Mount Irvine beach itself makes excellent sunset watching, and there's a handy beach bar to consolidate any friendships made on board. For anyone seeking more excitement, the far righthand side of the beach has a surfer's reef-break which can reach 15ft high, with boards for rent under the almond trees (ask for George).
DAY SEVEN
AM: The seventh day is the Lord's day, and it won't have escaped a visitor's notice that this is an island that loves to celebrate its faith, which it does in a uniquely Tobagonian way. Every community holds its own harvest festival (tntisland.com/calendar.html) once a year, when the whole village decamps outside to cook local food, laugh, talk and drink a lot of rum and beer. Usually there's a harvest taking place somewhere on the island every week, and everyone is invited, for free, even tourists. Key features are the Cantata, at mid afternoon in the local church, with lots of singing, and "blocko", in the evening, where dancing takes to the streets. These are genuinely hospitable events and you wouldn't be made to feel like a gatecrasher – lots of islanders from other communities are doing the same.
PM: The choice of after-party relaxation will of course depend which harvest you attend, but if you leave early enough, have had a few drinks and would rather chill in a safe place, then the beach at Fort Bennett (near Black Rock) has a big reef-protected tidal pool where many an islander learned to swim. If you don't get there till after dark, then the gazebo up on the fort headland is an excellent place to philosophise and gaze out to sea.
Register for free to continue reading
Registration is a free and easy way to support our truly independent journalism
By registering, you will also enjoy limited access to Premium articles, exclusive newsletters, commenting, and virtual events with our leading journalists
Already have an account? sign in
Join our new commenting forum
Join thought-provoking conversations, follow other Independent readers and see their replies