The Independent's journalism is supported by our readers. When you purchase through links on our site, we may earn commission.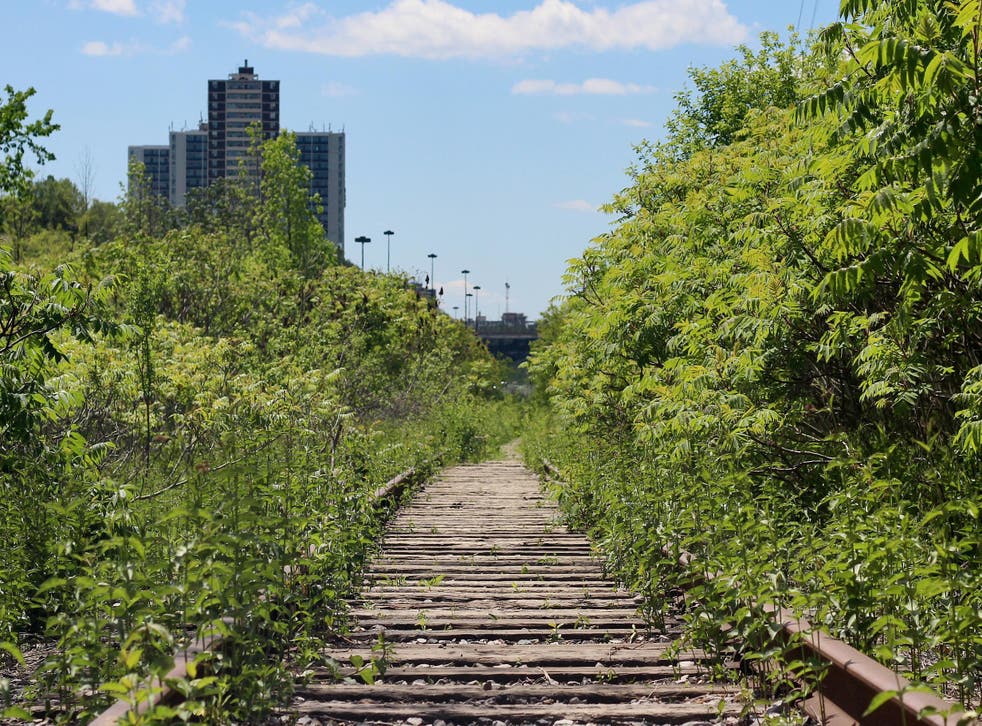 Toronto's ravines: This underground forest playground has been transformed into the greatest urban park ever
Toronto is marketing the city's greatest landscape feature: a 45,000-acre ravine system
It is lush and quiet in the forest under the city. The trails are largely unimpeded by roads, and twist far beneath our highway overpasses. From an aerial perspective, they seem to surround the city core; in actuality, they lie underneath it. Toronto's ravine systems snake their way from the Don River and extend in almost all directions, from east of the city centre and into the outer suburbs.
Just less than half of them fall under private ownership, but that still leaves about 45,000 acres for people to hike, bike, and walk their dogs along. That expansive acreage dwarfs New York City's Central Park, which clocks in at 843 acres, but has become the world's most iconic urban park. Toronto has the largest ravine network in the world, and to uncover the history of the city is to go deep into our urban forest: After all, it is in the centre of the Don Valley where the bricks that built the city were made.
"Our entire city was built around them," says Jason Ramsay-Brown, a ravine expert and author of Toronto's Ravines and Urban Forests. "If you've ever been on a bus and it short-turns in some completely inexplicable manner, chances are it's going around a ravine. If you've ever turned in an area and you're on a giant bridge crossing nothing, chances are, you're crossing a ravine. Whether we're aware of their direct influence or not, we are all influenced by them."
Ramsay-Brown has been been active in stewardship and conservation for about 10 years, but growing up in the city, his fascination with its ravines took root when he was a kid. Leading me through the Don Valley from Todmorden Mills, a former industrial lumber mill, he points out new growth as well as ecological missed opportunities: Areas that used to be illegal dumping sites, marshlands that were paved over, areas where the river was straightened, fields that have been colonised by invasive species. His ecological journey with these beloved ravines is an exercise in understanding industrialisation, population growth and its toll on our surrounding natural life.
Part of the reason why the ravines aren't cherished as a defining feature of Toronto is simply that the city has been using them as industrial sites and dumping areas for centuries. However, there is an ongoing effort from Ramsay-Brown, the Toronto and Region Conservation Authority and environmental NGOs to turn back time, replant native species, restore natural habitats for local wildlife, and encourage human interaction in a safe and responsible manner.
Just on the other side of the river, Evergreen Brick Works is preparing for its next big initiative. From 1889 to 1984, the site of the Brick Works was a quarry of shale and clay. Following the Great Fire of Toronto, which took out most of the downtown core, the Brick Works provided the rich red clay and brick that colours many of Toronto's most historic landmarks, including Casa Loma, Osgoode Hall, Massey Hall, and the Legislative Assembly of Ontario. By the 1980s, the quarry was tapped out of clay and anything else useful and the soil was contaminated nearly beyond repair. When it closed in 1984, the quarry and its 16 surrounding factory buildings were largely abandoned, left for urban explorers, ravers, graffiti artists and illegal dumpers. Around 1991, Evergreen, a local NGO, began their restoration process.
Now, getting to Evergreen Brick Works feels a lot like a trip to Ikea: You hop onto a free shuttle bus which takes you from a subway station to a small bus stop at the entrance of a modern industrial visitors' centre. There's plenty of outdoor seating, a bike repair shop, a children's playground, a small indoor market, a restaurant that serves seasonal Canadian fare and Niagara wines next to a cafe counter for casual grab-n-go items. On Saturdays, the Brick Works hosts a farmers' market with vendors selling everything from local organic produce to additive-free, dairy-free milks. Their Sunday market food stalls hawk a range of fare, including Tibetan momos (dumplings) and local craft beer. If it sounds like the campus of a hipster startup, that's because it is one, but all the urban agricultural food offerings, the LEED (Leadership in Energy and Environmental Design) Platinum-certified visitors' centre and bike workshop supports the business in the back: A sprawling, impeccably manicured urban park that feeds into the rest of the Don Valley.
Soon this urban park will become part of a larger urban forest network called the Don River Valley Art Park, which will feature unique arts programming and play host to Canada's top artistic talents. On 23 September, the park will be initiated with statues cast from gargoyles seen on prominent buildings in the city core, by Omaskeko Cree artist Duane Linklater.
Geoff Cape meets me by the Water Wall, a piece of public art in the front of the visitors' centre which traces all the tributaries of the Don Valley in metal and vines. Wearing sunglasses and an oxford shirt, he looks more like a gen X entrepreneur than a champion of urban agriculture. He and his team are instrumental in figuring out how to turn Toronto's ravines into an iconic and touristic landscape feature, like Venice's canals or San Francisco's hills.
"The idea of marketing a park is critical," he says. "We have to find a way to communicate it in a compelling and unique way and make it feel valuable, and turn it into an idea that people connect with emotionally."
The first step, according to Cape, was restoration and beautification. The next, creating a model that will allow the public to share bits and pieces of it via social media.
"We were pretty aware that art becomes a magnet for conversation and an idea that people coalesce around, and it's therefore ripe for social media," says Cape. "I think a branding strategy for the entire ravine system is a bigger need, and we're trying to figure out how to participate in that."
Both Cape and Ramsay-Brown expressed a need to amplify the ravine's recreational capabilities while balancing the obligation to keep it free from destructive human intervention. However, the two have vastly different approaches; while Ramsay-Brown focuses on educational public tours and quietly restoring the ecological balance of these natural spaces, Cape's emphasis is on Instagrammability and marketing the site effectively once it has been restored.
"It was a pretty raw industrial site, and the transformation of it into something that has this kind of a feature to it means that human involvement can actually help transform the ecology and health of the site," says Cape.
However, to Ramsay-Brown, the best way to transform a natural site is to leave it alone.
"Nature is way more efficient at dealing with this than we are," he says. "The problem comes when humanity tries to outthink it, or worse, tries to stop it from doing its job."
But whatever the approach, one thing is clear: Toronto's ravines, once hidden at the edges of the city's subconscious, are rising once more into view. The question is, how do we come to meet them?
Travel essentials
Getting there
Direct flights from C$934 (£560) via Air Canada (aircanada.com), Lufthansa (lufthansa.com), American Airlines (aa.com), British Airways (ba.com), Iberia Airlines (iberia.com) and Westjet (westjet.com).
Staying there
The Broadview Hotel (004 163 628 439; thebroadviewhotel.ca) offers views over the Don Valley. Doubles from C$284, room only.
Register for free to continue reading
Registration is a free and easy way to support our truly independent journalism
By registering, you will also enjoy limited access to Premium articles, exclusive newsletters, commenting, and virtual events with our leading journalists
Already have an account? sign in
Register for free to continue reading
Registration is a free and easy way to support our truly independent journalism
By registering, you will also enjoy limited access to Premium articles, exclusive newsletters, commenting, and virtual events with our leading journalists
Already have an account? sign in
Join our new commenting forum
Join thought-provoking conversations, follow other Independent readers and see their replies