The Independent's journalism is supported by our readers. When you purchase through links on our site, we may earn commission.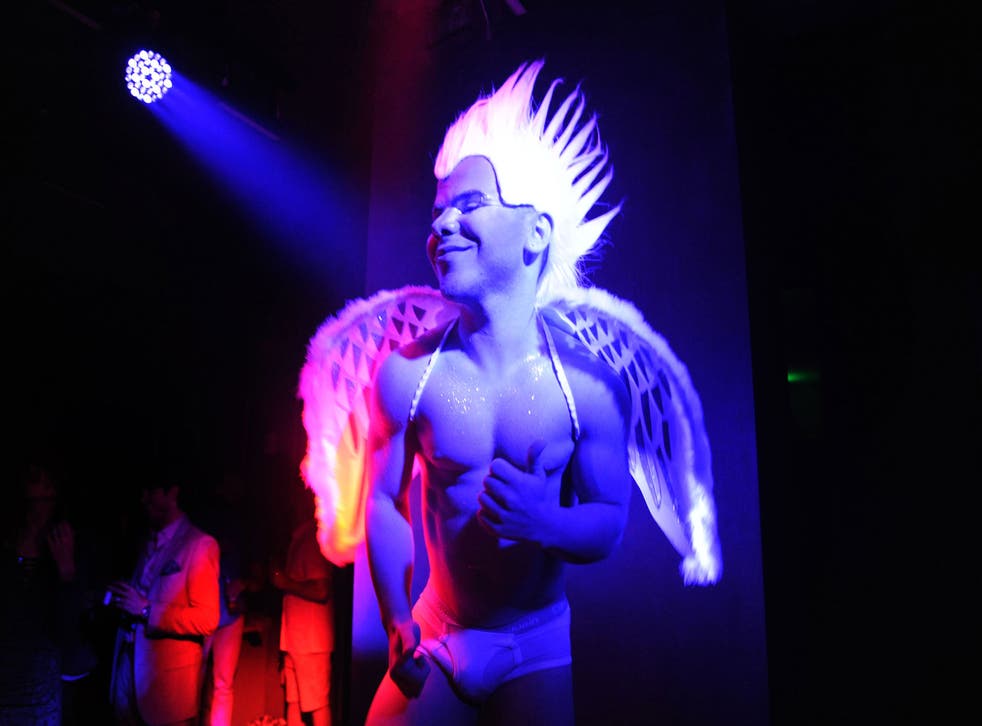 At Art Basel Miami Beach, the most impressive piece of artistry is getting on the evening's guest list
During the first week in December, art doesn't so much distract Miami as swallow it and South Beach is the focus of an extraordinary, week-long binge of parties, dinners, and receptions. Samuel Muston joins the queue
Samuel Muston
Saturday 24 January 2015 01:00 Comments
People don't so much queue as bunch. The doors to the Matador Bar are like a sluice. If you are thin enough or famous enough or just plain well-connected, you are waved through by the iPad-toting PR girls gridded across the entrance. But if you aren't... well, you get stuck in the grills, collected like drift wood.
"I am sorry, you don't appear to be on the list."
"But Jane from Rubelli said she put me on the list."
"You don't appear to be on the list."
The problem is once you have been refused entry, pride demands the battle continues, so people stand remonstrating in their best dresses and $1,000 bags.
You soon forget the door though, because Linda Evangelista just walked in, head-to-toe in black, and isn't that James Murphy? Hard to see. But that is definitely Dev Hynes. Oh look, the cocktails are coming out and they're served in bronze pineapples that are so heavy they threaten to upend that gaggle of models in the corner.
No one seems to notice though, because at Art Basel Miami Beach no one stays still enough to notice.
I am sitting in the lobby of the Miami Beach Edition hotel a day before its opening party. There is a white rug, white sofas, and a man saying: "$250,000? Play a bit of hard ball. He has money," while wearing blue pastel shorts and a purple polo shirt. I try not to listen.
There are gold pillars studded through the atrium, made of innumerable little gold tiles, which have been incorporated into the new design from its previous incarnation as The Seville Hotel. "I was up at 6am," a woman with a strangulated face is saying in a stage whisper to her mobile phone, "so I didn't really get any sleep at all."
Perky gallerists add to the backbeat noise as they direct removal men to their pop-up galleries and beleaguered PRs to their artists. Tracey Emin just walked in and Ian Schrager's phone won't stop ringing, it is loud and shrill and for a brief moment seems to block out the African drum music that is pumped into the lobby.
During this week, the first in December, art doesn't so much distract Miami as swallow it. It seems to close around the city, like water around a diver. And with it come the buyers, and sellers, and celebrities and Champagne. And above all, the money.
Over four days, the 13th Art Basel Miami Beach runs 265 galleries, each with a booth in the Miami Convention Centre. It will sell $3bn (£1.9bn) worth of art. Prices range from the plain expensive – £75,000 for a minor Keith Haring – to the star-scrapingly pricey, £22m for a work by Alexander Calder. Its location, smack bang between North and South America and eight hours from Paris and London, means it attracts more billionaires than Davos. Money talks here and it's a conversation everyone seems to be enjoying.
Up all night at Art Basel Miami Beach

Show all 12
You get a general sense of proceedings when you notice the guidebook marked 'Public' has 20 fewer pages than the one marked 'VIP programme'. In art terms, this is the big one, making its sibling fairs, in Hong Kong and Basel, look like village well dressings. In this atmosphere, competitive one-upmanship abounds. John Pawson, the minimalist architect and the man who designed the residencies – effectively serviced apartments – at the Edition hotel, explains the form of buying at show. "When people ask the gallerists for prices, you will hear a lot of 'That's a one', 'That's a two'," he explains. "They aren't talking about hundred thousands. They mean millions." Later that day, I hear one Warhol priced at "18, madam".
Most of this movement of 'ones', 'twos' and so on, is done on the first day of the fair, which is split into two. First in are the real high rollers. They have a preview card stamped with 'First Choice VIP' and then later in the day, the slightly-less-high-rolling people arrive. They have plain old VIP preview cards. This secondary demarcation is a new innovation and causes a certain amount of consternation on the door. "This," one Hermès bag-wearing New Yorker declares, "is a joke", on being told she can't use the chauffeured BMWs which are lined up outside to ferry those with the First Choice cards to wherever they want to go. Normal punters pay $45 a go to enter the show; if you have either card, you go for free.
If the financial centre of ABMB is at 1901 Convention Center Drive, the social centre is South Beach. It is the focus of an extraordinary, week-long binge of parties and dinners, receptions and first views, after-parties and the type of after-after-parties that stretch into the next day.
It is extraordinary, given that in the mid-Nineties, the once notorious Miami had started to resemble a retirement home. It took until 1994 for it to lose its image as God's waiting room. What changed was simple: Ian Schrager came to town.
In 1994, the man who founded New York nightclub Studio 54 and is credited for pretty much single-handedly inventing the whole boutique hotel concept with his Morgans Hotel Group, opened the Delano on South Beach. A whimsical Art Deco confection, its lobby, suites and bars drew celebrities like a free dinner, and in their wake came a new, younger, chicer clientele to South Beach. "It was a seminal moment," a well-known competitor of Schrager's tells me. "Ian changed the whole landscape."
Since 2005, when he sold his stake in Morgans, Miami has been a Schrager-free zone. This week, though, he returns with the third and latest act in his career: Edition hotels.
You might think that the Edition partnership, between Schrager and Marriott, is a recipe for disaster. Marriotts are not known as temples of chicness. Before the London Edition opened – the second, the first was in Istanbul – during fashion week in 2013, certain sections of the travel press were scathing of the idea. It proved, however, a startling success.
The Miami Beach Edition, with its 294 rooms and its 26 residences, is the partnership's first hotel in the US market. "It is 10 steps in sophistication up from the Delano 20 years ago," says Schrager, who refers to his partnership with Marriott as "the odd couple come good". And how good: the hotel has the widest plot of any on South Beach, has two vast cerulean pools, serviced bungalows (arranged in a tower), an ice rink, nightclub and bowling alley, and two restaurants by starry French chef Jean-Georges Vongerichten. It is as if someone had been asked to list all the amenities they liked in hotels and Schrager had nodded each one through.
Arriving there on a Sunday evening three days before the big opening, it feels as though it is still in its cocoon. Even the presence of Jane Fonda in the bar goes unnoticed by the harried staff.
It's the night of the Edition's opening party and there is a good omen in the lift in the shape of Derek Blasberg. Blas-y, as he is sometimes called, is a sort of roaming fashion journalist who clocks up air miles flitting from party to party making high-faluting connections and reporting on what dresses are "gorrrjus" and which parties are hot. Some describe him as a sort of social scene on wheels. Others are less complimentary.
"Have you booked a car?" he asks his blonde companion.
"Are Vuitton sending one?" she retorts.
He is off down the road to the Louis Vuitton dinner at the W Hotel, one of the dozens of other events competing with Edition for the laurels of Best Party That Night. Still, that he is 'in residence' at the hotel bodes well.
The events at Art Basel come in several flavours. First, there are the art bashes. These tend to attract lots of people in business lunch suits and tend to have the names of families rather than brands attached to them: things like the 'Lehmann Maupin Family Dinner', the 'Michelle Papillion Cocktail Party', or the 'Bill Powers Bowling Party'. They, with the exception of the Bill Powers shindig, tend to be serious networking events with lots of mwah-mwahing. It is probably not so hard to blag your way into these events, but unless you want a contract with David Zwirner Gallery, you probably wouldn't want to.
Then there are the fashion parties. Aside from the Vuitton dinner, there are dinners for Balmain and Erdem, cocktail parties for Salvatore Ferragamo and Jimmy Choo, full-blown parties for Moschino and DKNY. These are the natural turf of models and actors and Derek Blasberg, and are similar in style to the celeb parties (which reach a sort of camp zenith in a Miley Cyrus concert on the second day of the fair) that also proliferate – though counter-intuitively, the fashion events seem to involve the eating of food, while the celeb ones tend to involve only drinking. Both are hotbeds of blaggery and only the sharp elbows of the PR people on the door keep the numbers down.
The Edition's opening party is co-hosted by W magazine and is guarded by many smiley, sharp-armed PRs. There is a dinner for 200 in the restaurant. Before that, though, there is cocktails, many of them, all the better for unwinding after a hard day spent buying art.
The room is at first a sea of blue and black and white blazers and suits. But then the second wave of people appear. I am immediately distracted by a woman in a white puffer jacket embellished with weed symbols and a backpack in the same hue with a tiger's head on it. Soon, though, Jourdan Dunn arrives all in black, and then David Schwimmer and his wife, with an ever-so-slightly dishevelled looking Tracey Emin bringing up the rear. And there's a well-coiffed Douglas Booth being photographed against those glinting gold pillars and Marina Abramović just strode in like a Bourbon monarch.
Dinner passes in what seems like minutes and then we indulge in what is an obsession here: party hopping. We take an Uber down to the W hotel, assess the scene, and then return to the Edition just in time to catch Dev Hynes playing in the grounds of the Edition. "You have to [party hop] here," a swimwear designer called Lisa tells me as we walk away from Hynes's now-finished gig. "You don't want to miss anything." Indeed not: the night culminates in a 4am bowling party which improbably includes Princess Eugenie and André Balazs, owner of London's most talked about hotel, the Chiltern Street Firehouse.
This rough pattern, drinks, dinner, party, perhaps another party, is repeated until Saturday night, with the number of parties increasing as the week progresses and the chances of normal punters getting in commensurately increase. What happens is you end up bumping into the same people until you go from nodding terms to mwah-mwahing. "It is like being on a very upmarket cruise ship," my friend Ed says sagely as we see each other at the Miley Cyrus gig, which is on just after the Erdem dinner at the Edition.
What this breeds, though, is a certain airlessness. Everyone knows what everyone else got up to last night and because of that there is a strange intimacy to the whole fandango. What begins as a networking event for the art world grows into a fully functioning night-time society. The heat, the darkness, the glow of celebrity commingles and produces an atmosphere that wouldn't be out of place in a Scott Fitzgerald. And behind it all, the thing that keeps everyone going until dawn, spending a fortune on taxis, and charming every PR in sight, is the fear of missing out.
At Art Basel, there is always another party.
Virgin Atlantic flies daily to Miami from London Heathrow. Economy fares start from £380 plus £364 taxes. For more information call 0844 2092770 or visit virginatlantic.com
The Miami Beach Edition, 2901 Collins Avenue, Miami Beach, FL 33139, editionhotels.com; rooms from £283 per night
Register for free to continue reading
Registration is a free and easy way to support our truly independent journalism
By registering, you will also enjoy limited access to Premium articles, exclusive newsletters, commenting, and virtual events with our leading journalists
Already have an account? sign in
Join our new commenting forum
Join thought-provoking conversations, follow other Independent readers and see their replies