The Independent's journalism is supported by our readers. When you purchase through links on our site, we may earn commission.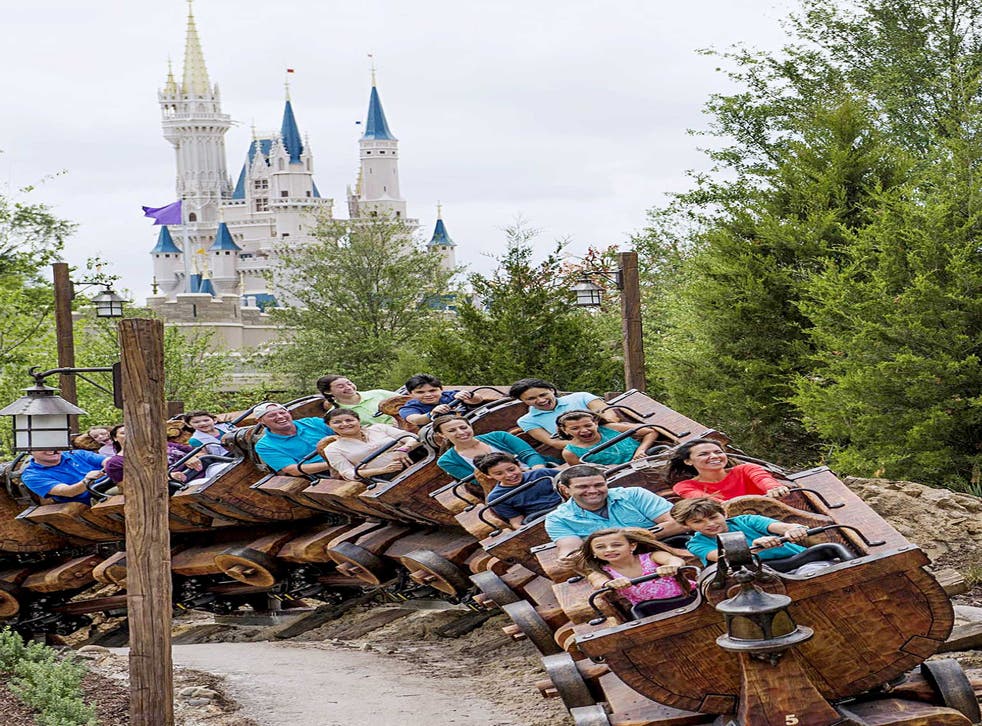 Traveller's Guide: Family Florida
There are plenty of reasons why the Sunshine State is still a top destination for children and adults alike, says Chris Leadbeater
The fog of former decades has long since rolled across the identity of the wit who first described Florida as "God's waiting room". Yet whoever this wrestler of words may have been, they certainly overlooked the Sunshine State's enduring appeal to younger visitors.
True, the south-eastern corner of the United States is renowned as a retirement zone. A US census report in 2012 revealed that 17.3 per cent of Florida's 19.5 million population is aged 65 or older – a higher ratio than in any other American state. But the qualities that have drawn so many of America's baby-boomer generation to purchase a quiet home in this much-desired part of the country are the same ones that sing to families seeking a summer holiday – balmy temperatures and a coastline that seems to flow on forever.
Florida can claim 1,350 miles of seashore – more than any of the 50 states except Alaska (yes, more than either California or Hawaii). It is also the only American state that is able to boast beaches on both the Atlantic Ocean and the Gulf of Mexico, and many of them are complemented by hotels and resorts which – whether in big cities or ocean-side idylls – cater to guests with gusto. Throw in areas that are abuzz with wildlife and you have quite the package for a family getaway.
Florida in pictures

Show all 6
Of course, Florida also offers one tourist destination that may not matter to retirees, but which registers a sonar ping that's audible to children across the planet. Pitched almost at the geographical heart of the state, Orlando is host to those twin titans of the family breaks, Walt Disney World Resort and the Universal Orlando Resort, and it has several other enclaves of thrills and gravity-taunting rides.
The city's popularity with British travellers was recently underlined by statistics released by holiday price comparison portal Momondo (momondo.co.uk), which revealed that in the weeks between 24 January and 23 April this year Orlando was the destination most commonly searched for by website users seeking flights from United Kingdom airports in June, July and August.
In part, Florida is held in such high affection because it is so very accessible – via a wealth of direct flights. British Airways (0844 493 0787; ba.com) serves Orlando and west-coast Tampa from Gatwick and flies to Miami from Heathrow. American Airlines (0844 369 9899; aa.com) covers Miami from Heathrow. Virgin Atlantic flies to Orlando from Manchester, Gatwick and Glasgow, plus Miami from Heathrow (0844 209 7310; virgin-atlantic.com). Norwegian (0843 3780 888; norwegian.com/uk) launches flights from Gatwick to Fort Lauderdale, north of Miami, next month.
Then there are also the charter specialists. Thomson's (0871 231 4787; flights.thomson.co.uk) aviation arm flies to Sanford – 25 miles north-east of Orlando – from Gatwick, Manchester and Birmingham (May to November), East Midlands, Newcastle and Glasgow (May to October) and Edinburgh (July only).
Thomas Cook Airlines also uses Sanford (0844 855 0515; flythomascook.com) – from Manchester (March to November), Glasgow (March to October) and from Belfast (July only), and it is set to start a Manchester-Miami flight in May, 2015.
Many tourists like to choose a location and put down roots there, but Florida is also a state that rewards exploration, even with children. A basic fly-drive package for a family of four, departing from Manchester to Orlando on 19 July and with seven days' car hire, costs £4,065 in total, through Virgin Holidays (0844 557 4321; virgin-holidays.co.uk).
More information on the state is available via the official tourist board at visitflorida.com.
East Coast
Florida's Atlantic edge stretches for 450 miles and has happy holiday zones such as West Palm Beach and Fort Lauderdale. Some more intriguing family options lie in the north of this golden strip. Titusville (visitspacecoast.com) has the all-American history of the Kennedy Space Center Visitor Complex (001 866 737 5235; kennedyspace center.com; daily 9am-7pm) whose allure was boosted last summer by the installation of Atlantis, the last operational Space Shuttle (entry $50/£30 for adults, $40 /£24 for three-11 year-olds).
St Augustine (floridashistoriccoast.com), meanwhile, is America's oldest city, founded in 1565. Colonial Quarter (001 904 342 2857; colonial quarter.com; daily 10am-6pm) traces its tale in engaging fashion, with costumed actors and musket demonstrations – adults $13 (£7.70), children aged five-12, $7 (£4). Thirty-five miles to the south, Flagler Beach is an old-fashioned slice of seaside (palmcoastand theflaglerbeaches.com), all unblemished sand and unfussy seafood. Si Como No Inn is a bright motel with doubles from $125 (£74), room only; children free. Surfboards and kayaks can be rented at $40 (£24) and $60 (£36) per day respectively (001 386 864 1430; sicomonoinn.com).
Miami
Florida's south-east urban hub (miamiandbeaches.com) is known for the palm trees and parties of South Beach, not as a child magnet, but Miami Children's Museum (001 305 373 5437; miamichildrensmuseum.org; daily 10am-6pm; $16/£9.50) lights up Watson Island in Biscayne Bay with 14 permanent galleries for the young. There's Castle of Dreams, with its fairytale fun; Meet Miami, where you can time-travel to the city's past; Safety Zone, where kids can become firefighters or police officers; and Jungle Island, where wildlife residents include kangaroos, condors and a rare liger (001 305 400 7000; jungleisland.com; weekdays 10am-5pm, weekends to 6pm; adults $35/£21, children 3-10 $27/£16). Seven nights for a family of four at Eden Roc Miami Beach – four pools, kayaks and catamarans – is £4,684 room only, with flights from Heathrow on 19 July, via Expedia (020 3564 3904; expedia.co.uk).
Orlando
Florida's fabled holiday city (visitorlando.com) is dominated by its two most celebrated attractions – and each proffering something new for 2014. Walt Disney World Resort (0800 169 0730; disneyworld.disney.go.com; opening hours vary daily) is rolling out an expanded Fantasyland (part of Magic Kingdom, the most famous of the complex's four distinct theme parks) – with a new Seven Dwarfs Mine Train, pinned to the Snow White story, being the key innovation. One-day, one-theme-park tickets cost from $94 (£56) per adult and $88 (£52) for children aged three to nine. Seven-day passes are £272 per adult, £252 per child.
Universal Orlando Resort (0800 408 4834; universalorlando.com; opening hours vary), meanwhile, is continuing its homage to Britain's foremost teenage spell-caster. The Wizarding World of Harry Potter has been the flagship area of the bigger of the resort's two theme parks, Islands of Adventure, since its launch in 2010. But the big Potter-based birth for 2014, Diagon Alley – a recreation of the books' magical London shopping street, complete with wand stores, Leaky Cauldron pub and a thrill ride inside Gringotts goblin bank – will open in the Universal Studios Florida theme park, linked to its neighbour by the Hogwarts Express. One-day, one-park tickets cost from $96 (£57) for adults and $90 (£53) for three- to nine year-olds.
You can, of course, book accommodation at Disney or Universal – but holing up outside means more flexibility to visit the pair separately. A seven-night stay at the three-star International Palms Resort on Orlando's key drag, International Drive, for a family of four (children over three), on a room-only basis, costs £3,211 in total – including return flights from Gatwick on 16 July and car hire – with Thomson (0844 871 0878; thomson.co.uk).
South of Orlando, in Winter Haven, a new Duplo Valley has opened at Legoland, for children aged two to five. It has farm rides and a splash and play area (001 877 350 5346; florida.legoland.com). Day tickets $69 (£46) for adults and $62 (£41) for three to 12 years.
The Everglades
Swaddling much of the southern tip of the Florida Panhandle, the Everglades is a realm of wetland wonder – 20 per cent of which is protected as the Everglades National Park (nps.gov/ever). There are plenty of local operators keen to show off an area where alligators and crocodiles slip thrillingly through the swamps. Based in Everglades City, Captain Jack's Airboat Tours (001 844 326 2628; captainjacksair boattours.com; daily 9am-5pm) offers hour-long reptile-spotting romps through this imagination-capturing wilderness – they are priced at $38.65 (£23) for adults, $22.50 (£13.50) for children, aged four to 12 years, $2.50 (£1.50) for those aged under four.
Florida Keys
Arcing out below the Florida mainland, the Keys (fla-keys.co.uk) are the US's south-eastern extremity – ideal for a road-trip adventure with older children along the 128 miles of the Overseas Highway (part of US Route 1) as it curls across sandbars as far as the southernmost isle, Key West. Easily reached from Miami and hugely picturesque, this is an area where you can merrily pass a week on a lounger. Property rental specialist Home Away (homeaway.co.uk) lists 3,008 possibilities for the archipelago – such as Dolphin Jump Key (property 217104), a private-island home near Marathon that sleeps up to six and comes with its own motorboat. Prices starts at $3,354 (£2,003) per week and go to $5,267 (£3,145) in August.
West Coast
Further engineered excitement can be found on Florida's Gulf Coast flank, where Busch Gardens Tampa (001 888 800 5447; buschgardens.com) also has a daredevil debutante for the 2014 season. Falcon's Fury is a "drop tower" ride that tries to mimic the dive of the titular bird, plunging 335ft (a height that makes it the tallest ride of its kind in North America) at a speed up to 60mph.
The park is open daily 9.30am to 9pm during July, admission is a flat-rate $65 (£39) – and it lies within range of the holy trinity of west-coast sunshine destinations; St Pete Beach, Clearwater (pictured, right) and Tampa (visitstpeteclearwater.com; visittampabay.com). All three deal in soft sands and modern hotels. Seven nights for a family of four (children aged two to 11 years) at the four-star Sheraton Sand Key Resort (Clearwater), flying from Gatwick to Tampa on 19 July, costs £4,767 in total, room only, via British Airways Holidays (0844 493 0787; ba.com).
Some 150 miles south, Sanibel (fortmyers-sanibel.com) – a barrier island, 12 miles long and laced with cycle trails – delivers a quieter form of family holiday. Here, the Sanibel Inn (001 239 481 6124; theinnsofsanibel.com) has 600ft of beach, free bike use for guests and two-bedroom residences available at $355 (£211) per night, room only, during July.
Register for free to continue reading
Registration is a free and easy way to support our truly independent journalism
By registering, you will also enjoy limited access to Premium articles, exclusive newsletters, commenting, and virtual events with our leading journalists
Already have an account? sign in
Register for free to continue reading
Registration is a free and easy way to support our truly independent journalism
By registering, you will also enjoy limited access to Premium articles, exclusive newsletters, commenting, and virtual events with our leading journalists
Already have an account? sign in
Join our new commenting forum
Join thought-provoking conversations, follow other Independent readers and see their replies