Traveller's Guide: Camping in Canada
This vast wilderness offers countless opportunities to get back to nature, from watching wildlife by day to spotting stars at night, says Sarah Barrell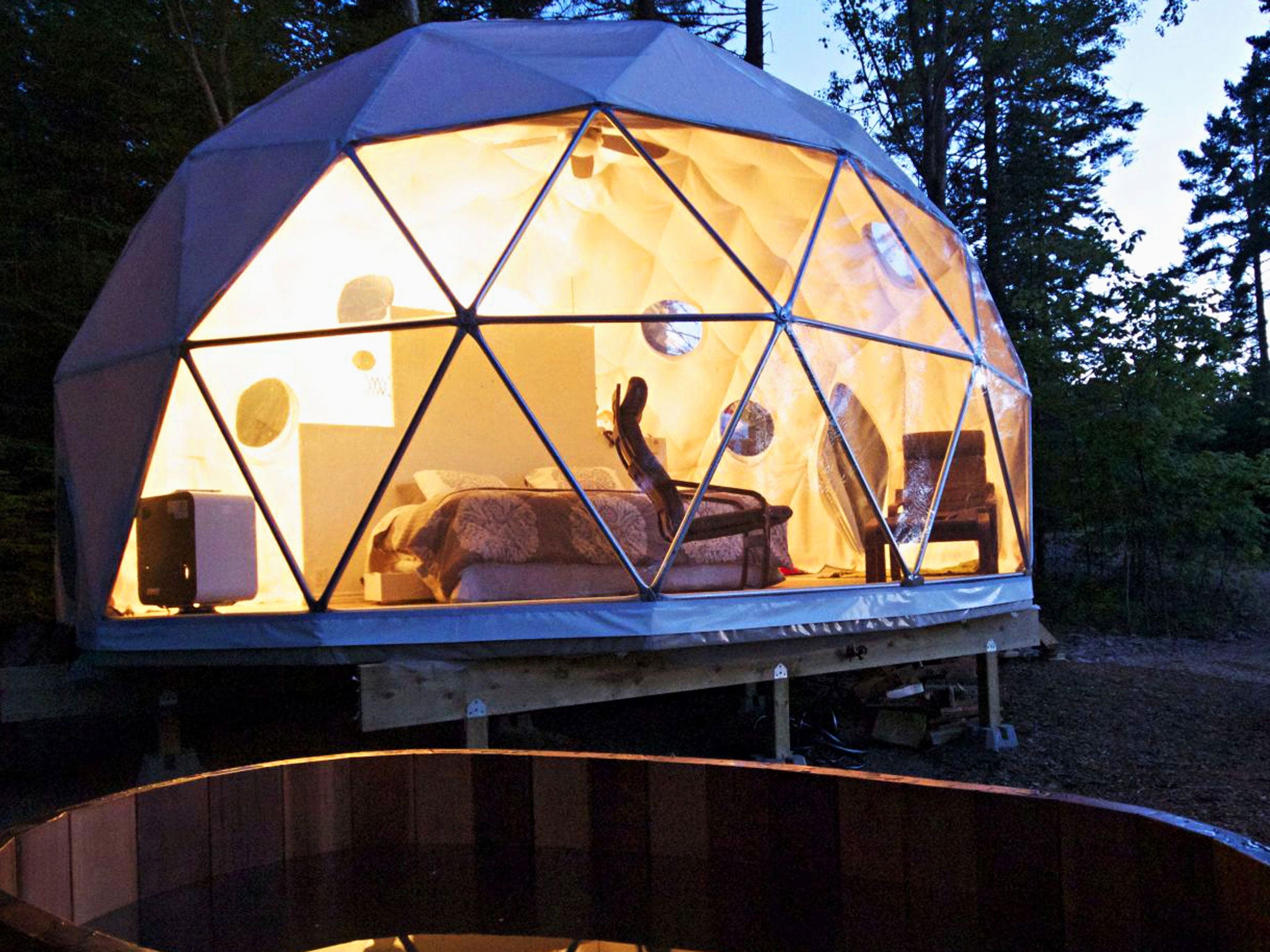 Where British campers traditionally seek pitches with shower blocks and a rambling route to the local pub, Canadians will often set out on camping trips with a GPS, a Parks Canada permit and a vague sense of how far they want to hike before setting up tent. But camping in Canada is not exclusively for those who know how to portage their birch-bark canoe, decoy a bear, and bed down on a mattress of spruce fronds.
Parks Canada (001 877 737 3783; pc.gc.ca), the national body responsible for some 200 protected natural and historical sites, manages tens of thousands of campgrounds in destinations as varied as the Rocky Mountains and the Atlantic coast's Bay of Fundy. Most offer a mix of "back" and "front" country camping; the latter, with facilities such as loos, cafés and parking, are ideal for visiting British travellers, home to pre-pitched tents and cabins for hire, some offering guided hikes, biking or canoe/kayak trips with overnight camping.
For more experienced campers, some parks have outfitters renting out everything from canoes and tents to stoves and sleeping bags, which means you don't have to cart everything with you on the plane. For example, Algonquin Outfitters (algonquinoutfitters.com), serving Ontario's eponymous and best-known park, even rents GPS messengers, fishing tackle, and child carriers.
Travellers still wary of setting off into the wild should note that Parks Canada recently announced plans to install Wi-Fi hot spots across 75 of its most remote sites, notably where phone signals are scarce. Guides to most parks are available online where many sites and services can be reserved.
Camping in Canada
Show all 6
While Canada's outdoors is far from being tamed, the country is lately embracing "glamping". In New Brunswick, several immaculately furnished geodesic "dream domes" were introduced last summer to the 180-acre wooded grounds of Ridgeback Lodge (001 506 763 2617; ridgebacklodge.com). Each comes with a plush bathroom, kitchenette, barbecue and wood-fired hot tub. From C$170 (£96) per night, two-night minimum stay.
Some parks in New Brunswick and neighbouring Nova Scotia have installed oTENTik structures: covered, raised sleeping platforms, with a dining area and solar power. Nova Scotia's Kejimkujik National Park has 156 square miles of hiking country and flooded forest to canoe through. This dark sky preserve, home to deer, beaver and loon, has oTENTik accommodation sleeping four, from C$90 (£51) a night, including access to shared loos/showers (001 519 826 5391; bit.ly/CampDarkSky).
Miles from the Mongolian steppe it may be, but Canada has welcomed the inevitable migration of yurts. In the Quebec Maritimes, Bic National Park – spread across islands, bays and mainland coves in the St Lawrence Estuary – has 181 sites combining wild camping, "Huttopia" safari-style furnished tents, and several yurts with keystone windows framing views of starry skies and whale-rich bays. Yurts cost C$137 (£77) per night, sleeping four, including stove, beds/bedding and access to loos/showers (001 418 736 5035; bit.ly/QuebecYurt).
Out west, in Whistler, the Riverside Resort has yurts sleeping five, set on raised platforms, with beds/bedding and quintessential Canadian mountain views, from C$100 (£56) a night (001 604 905 5533; whistlercamping.com). Or you could hop across to wild and watery Vancouver Island, home to Canada's hippest surf town, Tofino. The island offers a whole host of yurts, tepees and novel camp dwellings, such as the wooden spheres suspended in the coastal rainforest canopy at Qualicum Beach (001 250 757 9445; freespiritspheres.com), complete with beds, built in speakers and tea/coffee-making facilities. From C$129 (£67) per night, adults only.
But no matter how glamorous or well guided your Canadian camping experience, it's worth brushing up on animal etiquette. There are bears in them woods – both grizzly and black varieties – along with racoons, midges and moose. The Parks Canada website (pc.gc.ca) offers detailed advice on camping safely in individual parks, including tips on how to avoid confrontation with the country's fiercest fauna.
Pacific adventure
Clayoquot Sound World Biosphere Reserve is an outdoor playground of temperate rainforest, rivers and inlets on the west coast of Vancouver Island. Stay at Clayoquot Wilderness Resort (001 250 726 8235; wildretreat.com) in a prospector-style tent, each with wood furnishings, plush beds and loos, some with showers. Take guided excursions into the wild by canoe, kayak and on foot. Tents from C$4,740 per adult, C$2,375 per child (£2,564/£1,285), all-inclusive, with return seaplane or boat transport from the village of Tofino.
For a romantic retreat, book into a "tenthouse suite" overlooking the Pacific at Rockwater Secret Cove Resort (001 604 885 7038; rockwatersecretcoveresort.com) on Vancouver's Sunshine Coast. Go scuba diving, kayaking, hiking, biking and fishing, before bedding down in "tents" that have pillow-topped king-size beds, fireplaces and hydro-therapy tubs. From C$236 (£128) per night, adults only.
Really wild shows
The highest range in mainland Canada east of the Rockies, Labrador's Torngat Mountains are cloaked with remnant glaciers, their peaks overlooking the iceberg-choked waters of the Labrador Sea. Stay in insulated Inuit tents and set out each day with a local guide to track polar bears as they hunt seals along the shore, spot whales, and watch demonstrations on everything from soapstone carving to storytelling. Adventure Canada (001 905 271 4000; adventurecanada.com) offers the eight-day Torngat Safari from C$7,904 (£4,264) pp, all inclusive; flights to basecamp, via Goose Bay, are extra.
Wild Exodus (001 705 266 1555; borealforest.travel/glamping) in the Boreal forests of northern Ontario offers camping that focuses firmly on the wildlife and exploring the surrounding watery wilderness – home to polar bear, moose and beluga whale. Take guided hiking and canoe trips and bed down in a lakeside yurt with campfire dinners. From C$199 (£108) per day including activities and meals.
Ice road campers
Drive the Dempster, Canada's only all-weather road across the Arctic Circle. This unpaved two-lane highway starts outside Dawson City in the Yukon, following the Klondike River into the Arctic Circle. From autumn to spring, the frozen Mackenzie River extends the drive by some 125 miles; mid-summer sees almost 24-hours of daylight. North America Travel Service (020 7499 7299; northamericatravelservice.co.uk) offers motorhome packages from £1,973pp including flights, one night in a hotel and 11 days' motorhome rental.
Or try the classic RV route from the Rockies to the Pacific, beginning in Calgary and ending in Vancouver. Take in both Banff and Lake Louise in the Rockies and Kelowna in the Okanagan wine region, with stand-out campgrounds en-route including Castle Mount in the mountains and Apple Valley Orchard, a 10-pitch site in Acres Park, Glenmore Valley. Bridge & Wickers (020 3642 7964; bridgeandwickers.co.uk) offers two-week RV self-drives from £7,999 for a family of four, with flights.
First Nations experience
Take part in a full-moon canoe tour, drumming sessions, medicinal plant walks and nature hikes, led by guides from the "Anishnawbek": the Ojibwe, Odawa and Potawatomi peoples of Ontario's Manitoulin Island. Stay in tepees decked out with apple strip wood flooring and beds dressed with buffalo hides. Tepees for two cost from C$155 (£84) per night; C$10 (£5) per additional child or adult (001 705 377 4404; circletrail.com).
Tepee sleepovers are also offered at Blackfoot Crossing (001 403 734 5171; blackfootcrossing.ca), home to the Siksika people in Alberta. This National Heritage Site – which promotes and preserves the Siksika's language, culture and traditions – has several traditional tepees where you can overnight and learn about everything from hide tanning to meat smoking. Tepees from C$35 (£19) per night.
Family forays
Dinosaur Provincial Park (reserve.albertaparks.ca) in Alberta offers the chance to sleep under the stars and listen to coyotes and crickets. Stay in heated tents with double beds, pull-out futons, linens, dishes, electricity and even a small fridge. All you have to do is fire up the barbecue and enjoy the view from the deck while the children explore the site's 30-mile Dinosaur Trail and work alongside paleontologists on an authentic fossil dig. Tents sleeping four cost from C$95 (£51) a night.
Of you could stay overnight at the Zoo Sauvage de St-Félicien (001 800 667 5687; zoosauvage.org) in Lac Saint-Jean (near the whale-rich waters of the Saguenay River), and learn to track moose, observe bears, and cook dinner over an open fire. Accommodation is in prospector-style tents with springy spruce branches to bed down on. Activities, camping and meals in this safari park-style zoo costs C$351 (£195) per adult and $311 (£170) per child (six-14 years).
The Rockies
Stay in authentic Sioux-designed tepees or trapper's tents in the heart of the Rockies, at Sundance Lodges in Kananaskis Country (001 403 591 7122; sundancelodges.com). This family campground, set in a forested valley, feels beautifully remote. Activities include hiking and riding. A tepee for two costs from C$59 (£32) , C$85 (£46) for four.
On the outskirts of Jasper National Park, Rocky Mountain Escape (001 780 865 0124; ecolodge.com) is a collection of classic, handcrafted log cabins and a great base to go hiking, canoeing, fishing or white-water rafting. Cabins for two cost from C$135 (£73), with all meals, use of the retreat's canoe, and guided hikes.
Join our commenting forum
Join thought-provoking conversations, follow other Independent readers and see their replies