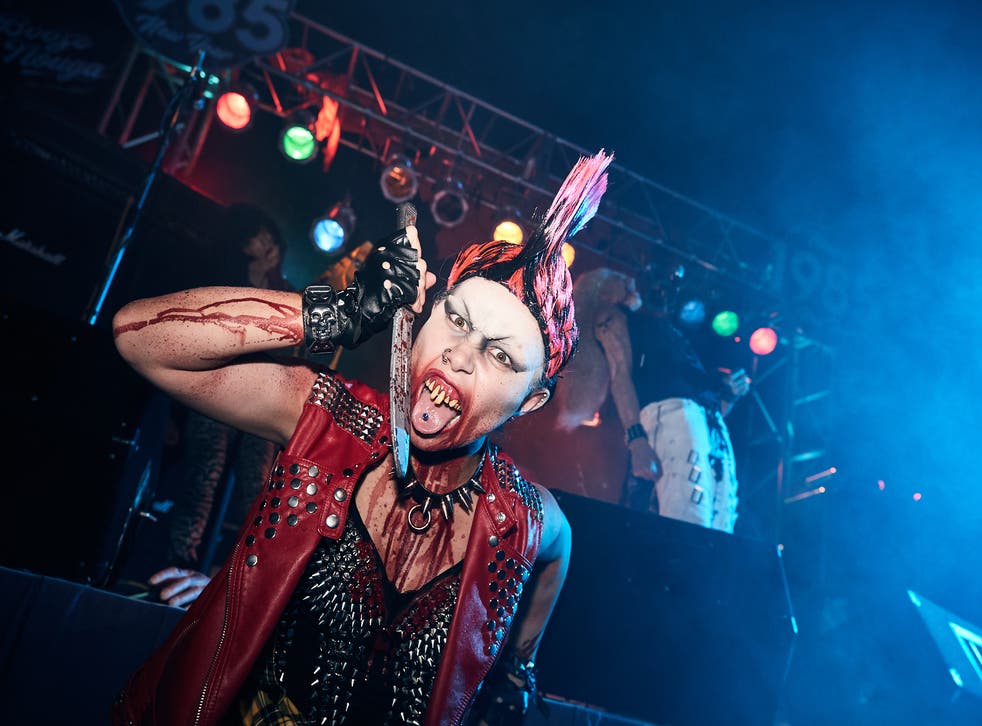 What it's like to be a scare actor at a Halloween Horror Night at Universal Orlando
Tamara Hinson goes behind the scenes at Universal Orlando's Halloween Horror Nights
"Fangs or no fangs?" ponders Nix, the make-up artist who's just fitted my prosthetic, bulging brow. I'm backstage at Universal Orlando, one hour into a fake blood-splattered make-up session that will transform me into a vampire. I'm here because I've been given special permission, for one night only, to take on the role of the park's terrifying scare actors – the people tasked with spooking visitors silly at the annual Halloween Horror Nights, which run until 3 November.
Outside, I hear the screams of children, no doubt running from the chainsaw-wielding circus escapees rampaging around the park. This year's event is bigger, better and scarier than ever, with 10 haunted houses (including one inspired by hit series Stranger Things) and five themed scare zones.
The thousands of people who come from all over the world to be scared out of their wits are warned against bringing children under 13, although there's no official age limit. "Last night I saw a six-year-old having her picture taken with a chainsaw," says Blake Braswell, Halloween Horror Nights show director.
The 1,200 scare actors take their job seriously. "When visitors properly freak out, it's a badge of honour," says Braswell. "You'll hear the actors discussing the funniest reactions, swapping notes about new types of scare they've perfected." He says the Stranger Things haunted house has been a huge hit. "But everyone's saying the Poltergeist house is the most frightening. We're doing stuff in that house that we've never done before."
My transformation is almost complete. Nix, one of 80 make-up artists, uses airbrush foundation to add finishing touches. Like many of Universal's creative geniuses, he's a huge Halloween fan. "As a kid, Halloween was always my thing," he recalls. I played around with make-up, although I never thought of it as a career. But I've been here for 15 years."
Braswell informs me I'll be in the Vamp '85 scare zone, where fanged punks prowl the streets to a soundtrack of 1980s classics. It's when I'm handed my costume – a corset, heavy boots and slashed leggings – that the nerves kick in. My only other acting role was a crisp in a primary school play, so I'm well outside my comfort zone. But it's too late for nerves. I'm escorted to my allocated scare zone (by day, the New York area of the theme park) and told to channel my inner vampire. "Sniff out that Type O Negative," Braswell bellows from the sidelines as I stand there, looking slightly lost as visitors swarm past. "Think the scariest thing you can imagine," he shouts.
I try not to panic. If I'm rubbish, I'll be laughed at. If I'm too good, children might cry. I lean against a barrier and wait for unsuspecting visitors to draw near, then spin around and lunge at them, rolling my eyes and lolling my tongue in a way that probably has more in common with a rabid poodle than a bloodthirsty vampire. The couple in question look decidedly unimpressed, but I slowly get into the swing of things. I scare one man so badly that I fear I've given him a heart attack, and I ruin what could just be a couple's first date by making the boyfriend squeal.
I'm relieved when my make-up is peeled off.
Next is a visit to the haunted houses, which I wrongly assume will be child's play after my scare actor stint. I'm wrong. I won't spoil the surprise, but they're petrifying. In one house, howling winds and rain cause me to lose all sense of direction, but the scariest moment occurs when a screeching clown dives towards me from above (I learn that this particular move, carried out with the help of bungee cords, is known as planking). There are dismembered limbs, Triffid-like plant monsters, blood-splattered operating theatres and machete-wielding psychopaths who lunge from concealed doorways.
We're all programmed with fight or flight instincts and, in the dark passageways, I become genuinely worried that I might lamp the next monster to jump out at me. At one point, the appearance of a bloodthirsty zombie proves too much for the man behind me and he grabs me around the waist. I navigate the rest of the house with a total stranger clinging to me like a limpet.
My walk to the exit provides another opportunity to see the professionals at work. I pass a screaming scare actor strapped to an upright gurney, his fake guts spilling out of a gaping hole in his chest. Seconds later, I'm lunged at by an axe-wielding, blood-soaked woman who threatens to gouge my eyes out. The dainty, pirouetting ballerina who almost spins into me seems out of place – until I notice the bloody stump where her arm should be.
This year's event finishes in early November, but the good news (or bad, depending on your outlook) is that next year's Halloween Horror Nights, which Braswell is already working on, will be just as terrifying. I ask him if there's a limit to how far he'll go to scare people silly. "We're still trying to find it," he says with a rather unsettling grin. "The only safe place is the bathrooms." I get the impression that's exactly how he likes it.
A seven-night visit to Universal Orlando Resort with Virgin Holidays, including car hire, flights and accommodation at Universal's Aventura Hotel, starts from £1,165pp. Also included is a 3 Park Explorer Ticket for access to Universal Orlando's parks and a Halloween Horror Nights Frequent Fear Plus Pass Ticket.
Join our new commenting forum
Join thought-provoking conversations, follow other Independent readers and see their replies