The Independent's journalism is supported by our readers. When you purchase through links on our site, we may earn commission.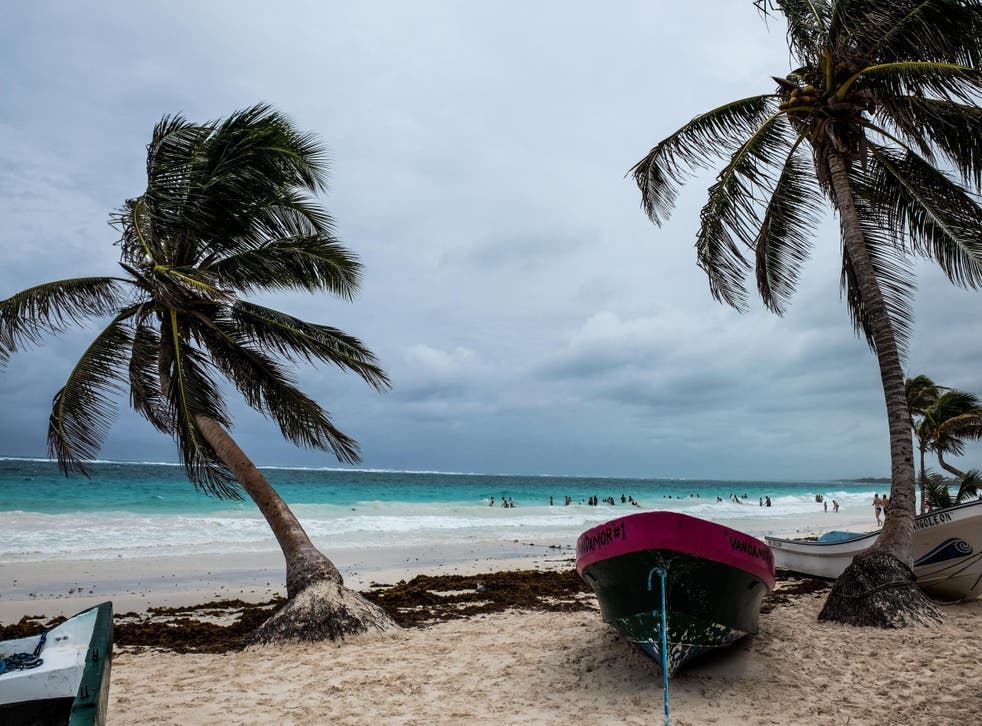 Why Tulum doesn't deserve its bad reputation
I am lying on warm, white sand, at that perfect point when it has adjusted to fit me like memory foam, listening to the tide break near my feet. Listening to the tide, and to the cluster of tourists standing behind me. "We can't stay here," one has just said. "This is awful."
It feels like a war is being waged against Tulum, Mexico, by the same affluent bohemians who made it an aspirational destination in the first place. The short stretch of jungle and beach on the Caribbean coast, close enough to Cancun for convenience and far enough for its ugly resorts to be a distant memory, made its name as a hippy hangout in the Nineties. Surrounded by Mayan ruins, its quasi-mystical atmosphere turned the sleepy Mexican town into a meeting place for yogis and crystal-hoarding meditators of all varieties.
As with so many backpacker destinations – think anywhere on the "banana pancake trail" in southeast Asia – Tulum soon went mainstream. Now, people come to buy a week in paradise – which is where it starts to go wrong.
Recently, the beaches of Tulum have been overwhelmed by a kind of seaweed called sargassum. For a Brit used to the pebble beaches of Brighton and Essex, it is really not that big a deal: the sea is tinged a light red, and you have to wade through some weeds to get to clearer water.
"I thought that's just what the sea looked like," I told an incredulous American tourist when they wondered how I could bear a holiday in such intolerable conditions. But because of it tourism in the region has dropped by an astonishing 35 per cent: in desperation, richer resorts now pay locals to wheelbarrow it away from their pristine beachfronts. Some of the more enterprising locals have started building houses and hotels out of bricks made from the dried seaweed.
World's best beaches 2018

Show all 10
"Tulum goes from beach paradise to eco-nightmare," a recent headline warned. The environmental impact of the tourist boom – seen in landfill overflow and water contamination – is undeniable, but is the solution really to abandon the region?
"Who killed Tulum?" an article wondered last week. Tourism did: and, as with similar eco-nightmares in Southeast Asia (the closure of Maya Bay in Thailand, for example), it is local government that has been left to pick up the pieces. At the end of last year Tulum became Mexico's first sustainable tourism zone, clearing the way for the local authority to impose stricter building regulations and to prioritise money for green initiatives. The Secretariat of the Environment recently blocked the construction of a 520-room resort in northern Tulum and, earlier in the year, five similar resorts were ordered to halt construction. The tide is turning, and it is turning against reckless development.
So what is Tulum really like?
When I was there last, for a month in off-season (which runs late August-December, but is really any time outside the peak seasons of Christmas and mid-April), it was paradise. The beach road, a bumpy track that runs between the sea and the jungle, from Tulum town to the beach strip, was almost silent; you could walk into the hottest restaurants on a whim; hotels that usually charged $10-20 (£7.50-15) a day for a spot on the beach let me lounge all day for the price of a coffee or bowl of nachos. My twice-daily yoga classes were often one-on-one, held in an open walled shala set back in the jungle 20 paces from my bedroom. Including breakfast, this set me back £40 a night. Between classes I dived in cenotes – giant, cool, underwater pools and cave systems; one day I pottered up to the Mayan Clay Spa, and because it was 40 per cent off for low season, treated myself to a 90-minute massage that almost made me melt through the table. At night I dragged friends from my yoga classes to jungle raves; in the mornings we nagged our yoga teacher into leading us in restorative classes that always stretched long past the allocated hour and a half.
If you visit Tulum in high season the jungle road will roar with taxis, the beach loungers will be reserved, the restaurants heaving. But the playa will still have soul, because that is preserved in the noises from the jungle that startle you when you're walking home at night; at the bottom of the dark cenotes when you explore them with a diving torch; when a yoga teacher you trust coaxes you into a pretzel-like pose you could never do at home.
Of course Tulum's soul will evade you if you're only in it for Instagram, or if a clump of seaweed can ruin your holiday. Hopefully a brief drop in tourism will give local businesses room to breathe and new pro-environment policies a chance to have an impact. If high season becomes the new low season, the backlash against Tulum could be the best thing to happen to it.
Eat
It's a bit of a walk to Charly's Vegan Tacos but well worth it: the Chicharron Prensado tacos, crackling with pepper sauce and garlic aioli, are out of this world.
Drink
The noisy and enjoyably un-hip Ice Cream Bar serves michelada – glasses of beer seasoned with hot sauce and lime – and generously filled $2-$3 tacos.
Stay
Yoga Shala is one of the cheapest places to stay on the playa, offers twice-daily yoga classes and a range of accommodation. Double with shared bathroom from £45, B&B.
At the luxe end, Dos Ceibas offers a genuinely eco-friendly stay. Entirely solar-powered, it sources its own water from a well to avoid contributing to traffic, and strives for zero-waste. Doubles from £180.
Getting there
British Airways flies to Cancun from £362 return. Tulum is two hours' drive away.
Register for free to continue reading
Registration is a free and easy way to support our truly independent journalism
By registering, you will also enjoy limited access to Premium articles, exclusive newsletters, commenting, and virtual events with our leading journalists
Already have an account? sign in
Join our new commenting forum
Join thought-provoking conversations, follow other Independent readers and see their replies