The Independent's journalism is supported by our readers. When you purchase through links on our site, we may earn commission.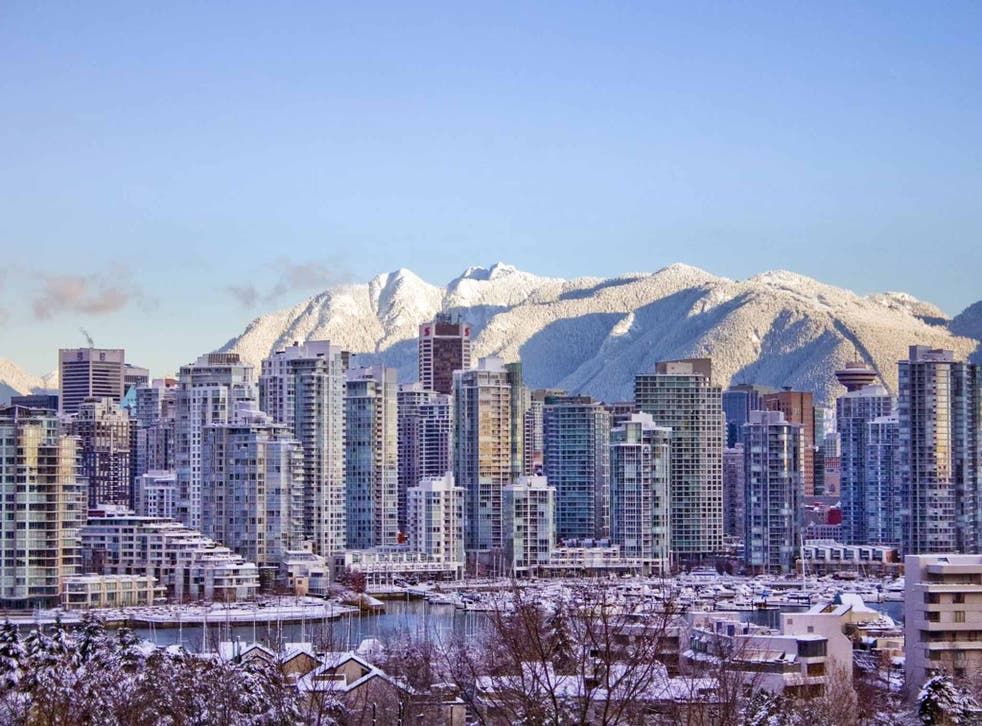 Vancouver travel tips: Where to go and what to see in 48 hours
British Columbia's biggest city is a superb appetiser for a winter-sports adventure
Travel essentials
Why go now?
British Columbia's great metropolis is also arguably Canada's most cosmopolitan city – a fine mixture of culture, cuisine and bohemian sophistication. And it is surprisingly appealing in the depths of winter thanks to the world-class ski resorts on its doorstep. Both Grouse Mountain (001 604 980 9311; grousemountain.com) and Cypress Mountain (001 604 926 5612; cypressmountain.com) are quickly and easily reached from the city centre. The latter, with its 51 pistes, played host to the downhill events at the 2010 Winter Olympic Games.
Touch down
Both British Airways (0844 493 0758; ba.com) and Air Canada (0871 220 1111; aircanada.com) fly non-stop daily from Heathrow to Vancouver. Air Transat (020 7616 9187; airtransat.co.uk) offers a year-round non-stop flight from Gatwick – with seasonal services from Manchester and Glasgow (both May-October).
Vancouver airport (001 604 207 7077; yvr.ca) is eight miles south of the centre, in Richmond. The simple way into town is the Canada Line (001 604 673 6230; thecanadaline.com) – one of the three lines of the city's SkyTrain metro system. It operates daily (5.07am to 12.56am), taking 24 minutes to reach Vancouver City Centre station (1), at West Georgia Street and Granville Street. One-way fares cost C$9 (£5) (although the return trip to the airport is just C$4/£2.25).
Taxis from the airport to the centre take about 30 minutes. Fixed-rate fares range between C$25 (£14) and C$37 (£20), depending on your precise destination.
Get your bearings
Vancouver is tucked into the south-west corner of the mainland. Its Downtown core occupies a narrow peninsula, which juts into Burrard Inlet. Many of the key areas (West End, Gastown, Yaletown, Stanley Park) are here. Granville Island and Kitsilano, due south, are also of note, and East Vancouver is increasingly chic.
Most public transport – including buses, SkyTrain and SeaBus ferries – comes under the Translink umbrella (001 604 953 3333; translink.ca). Most major sights are in Zone One – where a single fare is C$2.75 (£1.50). A day-pass for all three zones is C$9.75 (£5.50). The Tourism Vancouver Visitor Centre (2) is at 200 Burrard Street (001 604 6832000; tourismvancouver.com), open daily 9am-5pm. For details on British Columbia see hellobc.com.
Check in
The St Regis Hotel (3) at 602 Dunsmuir Street (001 604 681 1135; stregishotel.com), is a 1913 property restored to its former glory – doubles from C$165 (£92), with breakfast.
Hotel Georgia (4), at 801 West Georgia Street (001 604 682 5566; rosewoodhotels.com), is all dark wood, with doubles for C$297 (£166), room only.
The Shangri-La Hotel (5), at 1128 West Georgia Street (001 604 689 1120; shangri-la.com) is part of the tallest building in British Columbia (201m). Doubles from C$273 (£153), room only.
Click here to see a bigger image of the map
Day one
Take a hike
You can see a snapshot of Vancouver on a swift five-block walk. Start at the Bentall Centre (6) – a cluster of five skyscrapers at 505-595 Burrard Street which sums up the gleaming architecture of the financial district. Then head south-east along Dunsmuir Street, pausing at the Pacific Centre (7) (001 604 688 7235; pacificcentre.ca) – a vast mall. Continue along Dunsmuir to the Holy Rosary
Cathedral (8) at 646 Richards Street (001 604 682 6774; holyrosarycathedral.org). This is the city's Catholic bastion, a Gothic revival landmark, built in 1900, which recalls a less high-rise metropolis.
Window shopping
Ride the SkyTrain's (yellow) Millennium Line three stops south-east from Granville station (9) to the Commercial-Broadway stop (10). This drops you at the south end of Commercial Drive, the most alluring shopping drag in East Vancouver. Mintage (11), at number 1714 (001 604 646 8243; mintagevintage.com), deals in every-thing from old leather jackets to antique typewriters. Santa Barbara Market (12), at 1322 (001 604 253 1941), is a superb deli awash with local cheese and wine.
Alternatively, pick up the Canada Line from Vancouver City Centre (1), and head south to Broadway-City Hall (13), at Cambie Street and West Broadway. A short walk east will bring you to Main Street, the key thoroughfare in Mount Pleasant – where Vancouver Special (14) at 3612 (001 604 568 3673; vanspecial.com), sells funky home decor. Front & Company (15), at 3772 (001 604 879 8431; frontandcompany.ca) displays an intriguing array of bags made from recycled plastic bottles.
Lunch on the run
Commercial Drive has an outlet of revered Vancouver coffee company JJ Bean (16), at No 2206 (001 604 2543723; jjbeancoffee.com). It serves a stout-braised beef sandwich for C$8.75 (£5). The Foundation (17), at 2301 Main Street (001 604 708 0881), is a vegetarian hotspot. Its "East Van Town" (C$8/£4.50) merges black beans, banana and rice.
Cultural afternoon
The Museum of Vancouver (18) at 1100 Chestnut Street in Kitsilano (001 604 736 4431; museumofvancouver.com), examines the city in depth – via First Nations artworks and neon signs from lost beauty salons and cabaret clubs. It opens 10am-5pm daily except Monday (late opening to 8pm on Thursday); C$14 (£8). Vancouver Art Gallery (19) at 750 Hornby Street (001 604 662 4719; vanartgallery.bc.ca) has work by Canadian painters. Open daily 10am-5pm (Tuesdays to 9pm); C$20 (£11).
An aperitif
Gastown has some of the city's liveliest bars. Pourhouse (20) at 162 Water Street (001 604 568 7022; pourhousevancouver.com), serves a raft of good local beers that start at C$4.50 (£2.50).
Dining with the locals
Gastown is also home to L'Abattoir (21) at 217 Carrall Street (001 604 9863256; labattoir.ca), where the Canadian lamb loin with gnocchi is C$32 (£18).
Yaletown is another foodie district. Fish specialist Blue Water Cafe (22) at 1095 Hamilton Street (001 604 688 8078; bluewatercafe.net) has sturgeon with a pumpernickel crust for C$37.50 (£21). The Parlour (23) at 1011 Hamilton Street (001 604 5683322; theparlourrestaurants.com) dishes out gourmet pizzas. The Five-O (ham and pineapple) is C$18 (£10).
Day two
Sunday morning: go to church
Built in 1889, Christ Church Cathedral (24) at 690 Burrard Street (001 604 682 3848; cathedral.vancouver.bc.ca) fended off 1970s schemes that would have incorporated into a skyscraper. It lives on as a sliver of calm amid Downtown offices. Sunday services at 8am and 10.30am; also open Monday to Friday 10am-4pm .
A walk in the park
Stanley Park is wonderful for a stroll, whether you seek out the First Nations totem poles (25) – red cedar giants carved as eagles and wolves, or the soft sands of Third Beach (26). The six-mile path which traces the park's edge is perfect for cycling. Spokes Bicycle Rentals (27) at 1798 West Georgia Street (001 604 688 5141; spokesbicyclerentals.com; open daily 9am-8pm), hires bikes hourly from C$8.57 (£4.80).
Out to brunch
Get to Granville Island on the Aquabus ferry in two minutes from Hornby Street Dock (28) (001 604 6895858; theaquabus.com). The island has eateries such as Edible Canada at the Market (29), 1596 Johnston Street (001 604 682 6681; ediblecanada.com) – with BC fare such as a boar bacon cheddar burger (C$17/£9.50).
Take a ride
Both the city's ski zones lurk in North Vancouver. Grouse Mountain is reached on the SeaBus ferry from Canada Place dock (30) (Sunday, 8.16am-11.16pm, other days 6.16-1.22am, at least every half-hour) to Lonsdale Quay (31) – from where the 236 bus runs to the resort. The Skyride, North America's largest "aerial tramway", whisks skiers to an enclave of 26 pistes – 14 of which have night skiing. Slopes open weekdays 9am-10pm; weekends from 8.30am. One-day passes, which cover the Skyride, cost C$58 (£33), Night Lift tickets (4-10pm) are $48/£27.
Cypress Mountain has a direct bus link (001 604 637 7669; cypresscoachlines.com), from Thurlow and Davie Streets (32) in West End. A round-trip is C$23 (£13). Open daily 10am-3.30pm, one-day passes cost C$39 (£22), afternoon tickets (from 12.30pm) C$33 (£19).
Icing on the cake
Forbidden Vancouver has inventive 90-minute walking tours of Gastown (001 604 839 3126; forbiddenvancouver.com). Tours by arrangement for C$22 (£12.50).
Register for free to continue reading
Registration is a free and easy way to support our truly independent journalism
By registering, you will also enjoy limited access to Premium articles, exclusive newsletters, commenting, and virtual events with our leading journalists
Already have an account? sign in
Register for free to continue reading
Registration is a free and easy way to support our truly independent journalism
By registering, you will also enjoy limited access to Premium articles, exclusive newsletters, commenting, and virtual events with our leading journalists
Already have an account? sign in
Join our new commenting forum
Join thought-provoking conversations, follow other Independent readers and see their replies