The Independent's journalism is supported by our readers. When you purchase through links on our site, we may earn commission.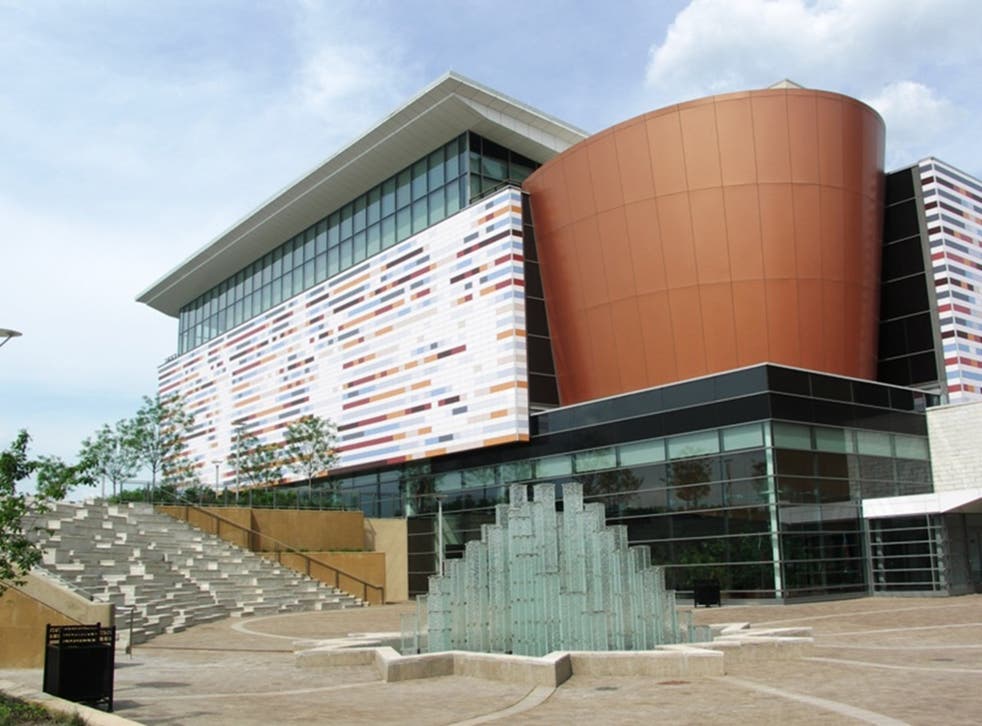 Visiting Muhammad Ali's hometown, forty years after the famous Rumble in the Jungle
A staff member in The Muhammad Ali Center in Louisville revealed that Ali has, on occasion, slipped into the museum incognito to relive his victories
The Muhammad Ali Center is a building which makes a statement.
Six storeys of glass and steel, it rises on the south bank of the Ohio river at the heart of Louisville. The views from its top floor are majestic. Peer through its wide windows – Kentucky's biggest city laid out under your feet; one of America's most significant rivers flowing broadly alongside it; the next-door state of Indiana over the water – and you feel like the lord of all you survey.
The man whose name the building bears knows a good deal about this sensation. Louisville's greatest son, born Cassius Clay in the city on 17 January 1942, Ali was – in his prime – a true phenomenon who treated the heavyweight boxing division like his personal fiefdom.
It is four decades now – 40 years precisely on Thursday – since his most important bout. On 30 October 1974, Ali faced George Foreman in Kinshasa, Zaire (now the Democratic Republic of the Congo) – in a battle that will always be called "The Rumble in the Jungle".
It was an event with a back-story. Seven years earlier, Ali, the world heavyweight champion, had been stripped of his titles after refusing to answer the draft to fight in the Vietnam War. Already a figure of concern for the US establishment after converting to Islam and changing his name in 1964, he would be banned from boxing for three years. Beaten by Joe Frazier in 1971 in his first attempt to re-ascend the throne, he was 32 by the time he earned another chance to win back what he considered to be rightfully his. Foreman, now the incumbent – a powerful, muscular force – was seven years his junior.
For all his prior brilliance, Ali's victory – mainly through a tactic he dubbed "rope-a-dope", where he leaned against the ropes, covered up and absorbed a barrage of blows, before countering to knock down a tiring Foreman in the eighth round – was a shock. It was also the closing of a circle. The crown returned to a hero who was always so much more than a dispenser of punches – a lithe, gifted athlete capable of turning an often brutal sport into ballet; an incisive advocate of black civil rights; a loquacious self-promoter whose arch confidence led him to produce some of the finest quips to emerge from a sportsman.
One of these greets me at the entrance to the museum which forms the core of the Center. It is a transcript of a lyrical assault wherein the 22-year-old Ali (then Clay) taunted the then-champion Sonny Liston ahead of their showdown in February 1964. It is astonishing in its lack of fear. "Clay comes out to meet Liston and Liston starts to retreat," it smirks. "If Liston goes back an inch further, he'll end up in a ringside seat." The contender would win at the start of the seventh round – the first of three times he claimed the heavyweight title.
His boxing achievements are, naturally, the centrepiece of the museum. A long gallery proffers images and details from each of his 61 professional bouts. And you can watch them in a multimedia area, where footage of Ali in his pomp – flickering, flitting around baffled opponents – is cleverly beamed on to the canvas of a boxing ring. There are touch-screens too, where you can call up his fights and enjoy them in full. Three, inevitably, receive special attention – the Rumble in the Jungle, and two of Ali's three seismic tussles with bitter rival Frazier: 1971's "Fight of the Century", his first professional loss, and 1975's "Thrilla in Manila", where he retained the title he had extracted from Foreman.
The joy of the museum, however, is that it is not a one-sided parade, obsessed with glory and triumph. It does not shy away from Ali's failings. One giant image catches him on the way to defeat in 1971, falling backwards in black and white, Frazier's arm still extended. There is context, too, on the way he beat Ernie Terrell in 1967, where Ali seemed to toy with, and stretch the suffering of, a man he disliked – his confidence curdling into cruelty.
There are also sections on some of the less pleasant elements of Ali's character beyond the ring – such as the womanising that has led to four marriages and a number of affairs.
But this approach gives a fuller picture of the man. In fact, the museum's most pertinent exhibit is a recreation of a Sixties diner – where, as you step inside, a voice booms out: "Hey you, what you doing in here? You know I can't serve you. Now leave!" This refers to a notorious incident when the boxer returned to Louisville from Rome in 1960 as the newly anointed light heavyweight Olympic champion – only to be refused service at a whites-only restaurant. In his autobiography, published in 1975, Ali claims to have walked to the Ohio riverbank and hurled his gold medal into the water.
The tale may be apocryphal (friends of the boxer have refuted it). What was rather clearer was his dignity in the face of racism, and the way he used his fame as a platform. While banned, he embarked on a university lecture tour, speaking about civil rights and his opposition to the Vietnam conflict. The museum quotes an excerpt of a speech given in LA in 1967. "I'm with you," it reads, as eloquent as any statesman's manifesto. "Anything designed for peace and to stop the killing, I'm for 100 per cent. I'm not a leader. I am not here to advise you. But I encourage you to express yourself – and stop this war."
As I leave, I return to the TV area. A staff member has revealed that, when in town, Ali has, on occasion, slipped into the museum incognito to relive his victories. It is unlikely he will be there – recent reports have suggested his Parkinson's Syndrome is now close to being terminal, and he missed the premiere of a new film about his life, I Am Ali, earlier this month – and I am glad when he is not. It seems a desperate idea – a champion devoured by ill health, gazing at his youth. He, least of all, needs reminding of the heights he scaled.
Getting there
United (0845 607 6760; united.com) flies to Louisville from a range of UK airports via US hubs.
Visiting there
The Muhammad Ali Center, 144 North 6th Street, Louisville (001 502 584 9254; alicenter.org). Open 9.30am-5pm, except Sunday (noon-5pm) and Monday (closed), admission $9 (£5.50).
Staying there
Galt House Hotel, 140 North 4th Street, Louisville (001 502 589 5200; galthouse.com). Doubles from US$190 (£113), room only.
More information
Register for free to continue reading
Registration is a free and easy way to support our truly independent journalism
By registering, you will also enjoy limited access to Premium articles, exclusive newsletters, commenting, and virtual events with our leading journalists
Already have an account? sign in
Register for free to continue reading
Registration is a free and easy way to support our truly independent journalism
By registering, you will also enjoy limited access to Premium articles, exclusive newsletters, commenting, and virtual events with our leading journalists
Already have an account? sign in
Join our new commenting forum
Join thought-provoking conversations, follow other Independent readers and see their replies