24-Hour Room Service: Aditya, Sri Lanka

Show all 2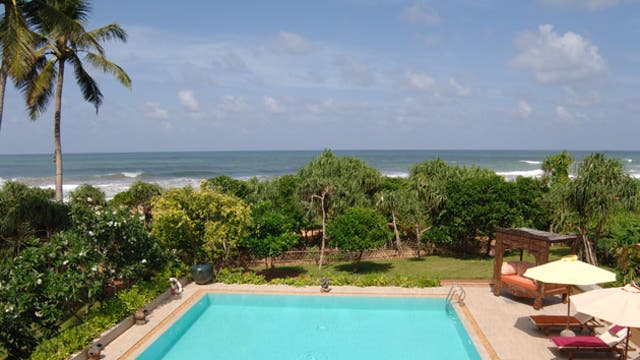 24-Hour Room Service: Aditya, Sri Lanka
Inside-out living with a tropical flavour
Sophie Lam
Saturday 14 November 2009 01:00 Comments
The road that curls around Sri Lanka's south-west coast traces vacant beach after vacant beach, where the teal waves of the Indian Ocean heave on to the sand. Some stretches are sheltered from the road by gangly palm trees, others by intermittent scars of the devastating 2004 tsunami.
The coast has also suffered from effects of the fitful and prolonged civil war in the north of the island – even this far south of the conflict, tourists were notably absent (although numbers are starting to increase). But even in some of the darkest days there was a tangible sense of peace here, due in part to the space and seclusion, but also because of the warm welcome visitors receive.
On one of the blissfully deserted beaches is Aditya, part of Sri Lanka's burgeoning boutique-hotel scene. Halfway between the sleepy Dutch colonial city of Galle and the surf-party town of Hikkaduwa, the hotel is tucked off the coastal road on Rathgama beach – a long, broad stretch of coarse amber sand that tapers into a mist of sea spray at either end.
Aditya was built in 2006 on the site of a derelict dispensary and is partly influenced by the celebrated Sri Lankan architect Geoffrey Bawa and his Tropical Modernism aesthetic: horizontal roof-lines and a blurring of the division between inside and out. Trees and palm fronds sprout from courtyards within the capacious lobby, which is open to a coconut tree-planted garden and pool area, with the beach just beyond. The prevailing white walls are broken up by polished concrete, avocado green-painted panels, cobalt blue sofas, cerise cushions and stone carvings of Hindu deities.
Next to the lobby is a double-height dining room, where traditional brightly painted marionettes are suspended in one corner (the nearby town of Ambalangoda is the centre of this national craft). Here, the all-day menu means you can take breakfast at lunchtime, dinner at sunset or take it at face value and graze all day. The food was some of the best I'd sampled on the island, starting with home-baked breads, eggs any how, hoppers (crispy rice flour, bowl-shaped pancakes) with curry, tropical fruits and fresh juices for breakfast. Once that was digested, there was the innocuous-sounding rice and curry – a procession of spiced chicken, prawn, beetroot and dall dishes; rice; breads and sambal – to coriander-encrusted mahi-mahi fish with tropical fruit salsa.
After testing the menu to its limits, there are beaches to wander, a spa to indulge in, waves to board or views to drink in. The pace here is unhurried and Aditya, with its simple luxuries, makes the ideal base from which to enjoy it.
Location
The hotel is a good three-and-a-half-hour drive south from the capital, Colombo. Surf-central Hikkaduwa, brimming with restaurants and beach bars, is around five minutes' drive to the north, while the lovely Dutch fort at Galle is 15 minutes to the south. Otherwise the area is quiet – I saw just a few families wandering the beach. The waves can be strong but Aditya has a lifeguard keeping a look-out should you venture in. Bodyboards are free to borrow from the hotel.
Comfort
The 12 suites are named after the adityas, a group of Hindu solar deities. The rooms continue the inside-out theme: the choice upper-level "Sagara" suites open on to large balconies with sweeping coastal views, while my ground-floor Shanthi suite had a small garden patio with tropical plants, woven chairs and local wildlife (a large rat snake fell inelegantly out of a tree one evening; thankfully it skulked off without any prompting).
The bathrooms are open in part to the elements, and come with a monsoon shower and a huge stone Jacuzzi. These are more decorative than practical, since they take around an hour to fill and the water is unheated.
Each room has its own charm – perhaps a carved wooden Indonesian headboard, an antique painted Indian cupboard or lights that create a planetarium effect on the ceiling at night. Antiquity is juxtaposed with contemporary luxuries: polished concrete or wooden floors, big comfy beds splashed with bright silk throws and elegant rattan sofas and armchairs. There is also, of course, a supply of Ceylon tea that comes with a selection of sweet treats.
Aditya Resort, 719/1 Galle Road, Devenigoda, Rathgama, Galle, Sri Lanka (00 94 91 226 7708; aditya-resort.com).
Rooms
Value
Service
Suites start at US$225 (£150), including breakfast.
Register for free to continue reading
Registration is a free and easy way to support our truly independent journalism
By registering, you will also enjoy limited access to Premium articles, exclusive newsletters, commenting, and virtual events with our leading journalists
Already have an account? sign in
Register for free to continue reading
Registration is a free and easy way to support our truly independent journalism
By registering, you will also enjoy limited access to Premium articles, exclusive newsletters, commenting, and virtual events with our leading journalists
Already have an account? sign in
Join our new commenting forum
Join thought-provoking conversations, follow other Independent readers and see their replies