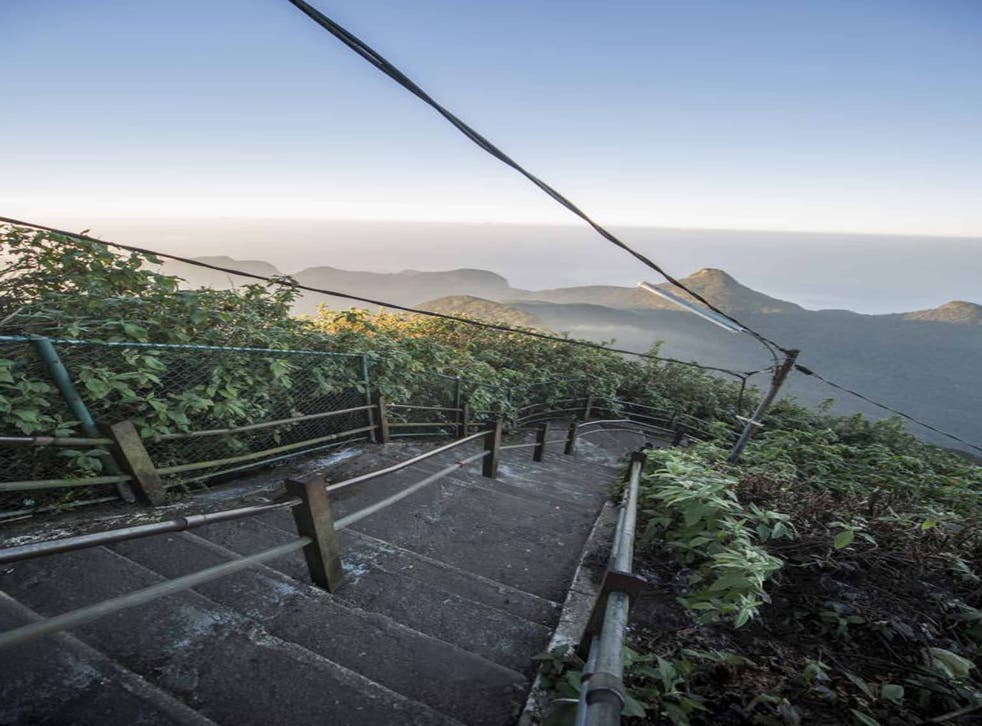 Adam's Peak: Trekking Sri Lanka's most sacred mountain
Lauren Rayner joins the pilgrims on Adam's Peak where Buddha left a footprint
'Every second, new colours," said my guide, Dharme, as the sky turned from crimson to gold. As the sun rose, the landscape below took shape – distant peaks soared above valleys which dipped beneath a canopy of mist. Waterfalls plunged, white stupas peeked out from the jungle, and coloured flags were illuminated in the early light.
It was 6am and we were standing on the summit of Sri Lanka's sacred mountain, the conical Adam's Peak (or Sri Pada as it's known locally), which has been venerated since antiquity for a footprint-shaped indentation, which Buddhists believe was left by Buddha and Muslims attribute to Adam, Hindus to Shiva, and some Christians to St Thomas.
According to Sinhala tradition, Buddha left his mark on Sri Pada ("sacred footprint") on his third and final visit to Sri Lanka. Some say it is actually impressed upon a sapphire beneath the rock. A temple has been built to house the imprint, to which Sri Lankan devotees aspire to make a pilgrimage at least once in their life. We set off at 2.45am from Nallatanniya, deep in hill country, to reach the top in time to see the "shadow of the peak" – when the sun projects the shape of the mountain on to the mist below.
But it wasn't just pilgrims we were likely to encounter. The mountain is home to all sorts of wildlife such as the slender loris and the purple-faced langur. Each year, scores of butterflies flock there to die in a mysterious migration pattern that has given the mountain the nickname Samanalakande, "butterfly mountain". "And there are leopards," Dharme said.
"Leopards?"
He nodded casually. "Leopards, wild boar, pythons ..." Sightings are rare, but Dharme had encountered a leopard just a few months earlier. I scanned the foliage for eyes.
10 best rucksacks for backpackers

Show all 10
Ahead of us, a trail of sparkling lights ascended until they became indistinguishable from the stars. Our footsteps were accompanied by a forest a cappella as frogs croaked, monks chanted, and, occasionally, the bushes rustled. Every so often, a cloud shifted and I glimpsed the peak, veiled in moonlit mist. Our path was dotted with glowing teahouses serving steaming tea and roti with "dynamite" – wild chilli and onion paste. "Climbing fuel," Dharme explained. Half a teaspoon and my lips were scorching; Dharme went back for more.
At a small plateau, we reached a post that was knotted with thousands of white threads. "Indikatupana," Dharme explained – the needle place. Here, pilgrims thread a needle to mark the spot where Buddha paused to mend his robe. Past Indikatupana the trail grew steeper. An elderly pilgrim rested while her family waited ahead. It is considered taboo to return to the base without reaching the summit, so pilgrims often use songs to encourage others along. On poya (full-moon) nights, when the trail is busiest, singing can be heard across the mountain.
A local saying goes: "If you have never climbed Sri Pada you are a fool; if you've climbed it twice you're a bloody fool." Dharme announced that this was his 1,510th time, which, I joked, positioned him as bordering on certifiable. As we climbed the final steps to the summit, a watermelon glow seeped from the horizon. The lights of Nallatanniya twinkled far below. I looked back across our route – all that way and no leopards.
But before I could fill my camera's memory card, Dharme rushed me to the other side. There, stretching from the mountain's base towards the horizon was a shadow of the peak so perfect it looked as if it had been superimposed. We watched as pilgrims left gifts at the footprint, pressing palms and forehead to the white cloth that covered it. It was then that I noticed in the netting that hung in the temple, thousands of dead butterflies.
Nearby was a bell that pilgrims ring as many times as they've reached the peak. Dharme encouraged me to ring it once to celebrate. It chimed out across the valley – were Dharme to take his turn, we'd be there until dusk.
Getting there
SriLankan Airlines offers the only non-stop service from Heathrow to Colombo (020-8538 2000; srilankan.aero).
Lauren Rayner travelled with Real Holidays (020 7359 3938; realholidays.co.uk). A seven-night trip to the cultural triangle, Kandy and Galle, with a climb of Adam's Peak costs from £899pp excluding flights.
Staying there
Simple guesthouses are located in Nallatanniya, where the trail begins. More luxurious is Ceylon Tea Trails (00 94 11 774 5700; teatrails.com), 45 minutes' drive away. Doubles start at US$670 (£444) all inclusive.
Jetwing Vil Uyana (00 94 11 2345700; jetwinghotels.com) is a good base for exploring the Cultural Triangle, including Kandy. Doubles start at US$390 (£258), B&B.
More information
Join our new commenting forum
Join thought-provoking conversations, follow other Independent readers and see their replies