B&B and Beyond: Quintet, Shanghai

Show all 3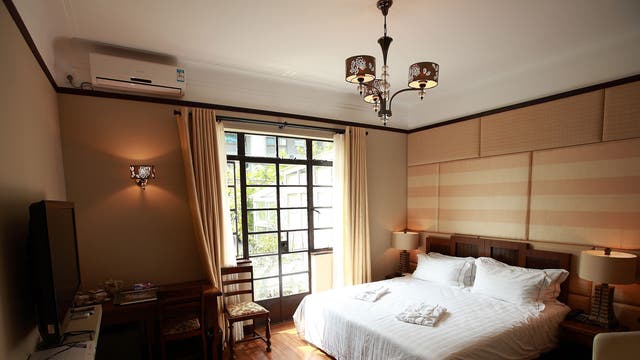 B&B and Beyond: Quintet, Shanghai
For an escape from the city's modern skyscrapers, find sanctuary in this charming 1930s house, says Lucinda Baring
In a city characterised by skyscrapers and bright lights, a small and unassuming B&B immediately sets itself apart. Hidden behind high walls and a heavy wooden door, Quintet is so understated that had the owner not sent me detailed instructions on how to get there, I might not have found it. The original 1930s house, in Shanghai's French Concession, has been converted to provide six en-suite bedrooms, a small courtyard strung with fairy lights and a roof terrace with views of the street below. Although the uninspiring façade doesn't look like much, there is plenty to charm you behind the walls.
The bed
Each room is different: the Fleur de Shanghai has silk panels covered in bright red leaves; the Oriental Pearl has an antique chaise longue and a bath featuring mother-of-pearl.
My room, called Grand Cathay after the iconic hotel on the Bund, is the biggest but also the most muted in decor. The high ceilings and large doors leading on to a balcony give the room light and space. However, while the pale mushroom-coloured walls, cream silk curtains and furniture are attractive enough, this room is missing the more imaginative flourishes of the other rooms.
What singled my stay out, however, was the attention to detail. The large bed, made up with fresh white linen, was turned down and there was a white towelling dressing gown laid out on top. A selection of English DVDs set in China were on the desk; the wall-mounted, flat-screen television programmed to BBC World News. There is a pretty, floral ceramic teapot and cups for making tea and coffee, and the towels in the small but well-appointed bathroom, equipped with decent local products and waffle slippers, are big and fluffy.
The breakfast
Breakfast is a slightly limp affair served at a long communal table. In a country where tea-drinking is a national pastime, the lonely box of Lipton was disappointing, and the slices of granary toast served with a sachet of strawberry jam and bottles of Sunny Delight even more so. The main courses of fruit salad with yoghurt and honey and porridge with green raisins were good and hearty, but the whole affair could do with a dose of imagination.
The hosts
Fay Yen opened the house as a B&B in 2008. She runs the place with Kenny, the general manager who not only booked a restaurant for me but also offered to escort me there. Although Quintet is a small operation, Fay and Kenny can arrange just about anything, from airport transfers to a city tour in the sidecar of a Second World War motorbike.
The weekend
The French Concession is the most charismatic neighbourhood in Shanghai. Despite citywide redevelopment, this leafy residential pocket has managed to retain most of its charms. The pretty, tree-lined streets are peppered with new cafés, restaurants, and boutiques sitting alongside buildings of myriad architectural styles, from 1930s Art Deco apartment blocks to extraordinary mock-Tudor mansions.
Fuxing Park is worth seeking out for a morning stroll, followed by coffee or lunch at Antique Garden (44 Sinan Road; open daily 11am-11.30pm), a little den stuffed full of treasures, from coat stands to clocks. As a former French settlement, the district is also home to the magnificent Catholic Saint Ignatius Cathedral (158 Puxi Road), where Mass is said in English on Sundays at midday.
Although the district is easily covered on foot in a couple of days, Quintet has a handful of bicycles you can borrow but beware: only brave or foolish souls should attempt to take on the Shanghai traffic.
The pit stop
Within walking distance of the B&B, Spicy Moment (00 86 21 5403 0775) is a rare combination of great Chinese food served in a stylish, contemporary interior. The Hunan cuisine is on the spicy side, but the steamed and deep-fried lamb chop with garlic and cherry tomatoes for RMB98 (£10) is particularly good.
If you need a break from fiery local flavours, head around the corner to Mr Willis (00 86 21 5404 0200; mrwillis.com.cn), an Australian restaurant in a converted house also home to a fabulous bakery and pizzeria. This cosy place attracts a trendy mix of expatriates and locals after food that ranges from the simple (bruschetta, chicken liver pâté) to the sophisticated (snapper tartare). However, it is the comfort food that is the main draw: roast chicken, Eton mess and a glass of wine will set you back RMB245 (£26) per person.
The essentials
Quintet, 808 Changle Road, Shanghai, China (00 86 21 6249 9088; quintet-shanghai.com). Doubles start at RMB850 (£85), including breakfast.
Join our new commenting forum
Join thought-provoking conversations, follow other Independent readers and see their replies