Barefoot luxury lives on in Phuket

Show all 3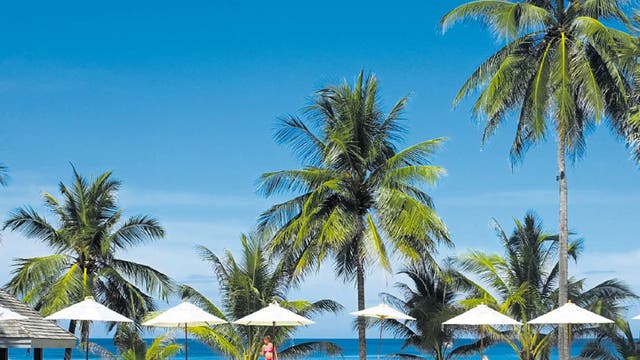 Barefoot luxury lives on in Phuket
Twenty-five years ago, the opening of the Amanpuri resort saw high style arrive in a backpacker haven. Now it's here to stay, says Mark C O'Flaherty
Mark C. O'Flaherty
Saturday 16 March 2013 01:00 Comments
At the southern end of Pansea Beach, on Phuket's west coast, stands a line of perfectly spaced lemon-yellow Japanese parasols. With their elegantly tapered spines and frills they create a sweet, painterly scene between two sets of huge, theatrical boulders, as if recently abandoned by a group of holidaying geisha. A uniformed figure weaves his way between the parasols, spraying an even and ordered path of cold water on the midday sand: at the Amanpuri resort, where San Pellegrino is served in crystal Riedel shiraz wine glasses and staff outnumber guests three to one, no one has to suffer the indignation of walking across inconveniently hot ground.
The Amanpuri opened 25 years ago. It was the first property in Adrian Zecha's peerlessly luxurious, aggressively exclusive, violently expensive, ever-growing Aman empire. The lead-in room rate here is $950 a night (without taxes or breakfast), but for many "Amanjunkies" – who will eyeball a previously unconsidered destination and book a flight purely because Zecha has blessed it with a presence – there simply isn't anywhere else they'd consider staying. It's all about details, from candles and musicians around the pool at dinner time to the edible flowers mixed in with the pomelo and seabass carpaccio served on richly ornate fine china in the Japanese restaurant.
The rise of Aman runs parallel with a revolution on this Thai island that has seen the backpackers of yesteryear driven to extinction. When the now iconic 81 steps from Pansea Beach up to the main pool at Amanpuri were constructed, it was a pivotal point for tourism: the wonky baby carriage of gap-year students, fiver-a-night beach huts and chemists selling valium by weight with no questions asked began careering downhill, at speed, to its doom.
I asked Chariva, who has been on staff at Amanpuri since the opening, what things were like 25 years ago. "This whole strip of the island was just beach," he told me. "It was all just farms and water buffalo and other wild animals. Since the Amanpuri opened, lots of new places have tried to cut and paste the same style, and at the same time, the backpackers have disappeared because things have become more expensive. Twenty-five years ago, there were just a few hotels down in Patong."
Ah yes, Patong. I passed through it one evening before going for dinner at Lim's, which serves all the usual Thai classics in a chic grey concrete room. It feels more Balearic cool than Siam traditional, with artful lighting, a skilled kitchen and expensive wine. It's a world away, in style, from Patong itself, which is a nightmarish riot of inextricably tangled overhead cables, naff cocktail bars, tattooists, teeth-whitening boutiques, troupes of lady boys and gangs of masseurs in orange boiler suits, looking like graduates of an aggressive Guantánamo beauty therapy academy. Strangers hurl all manner of wildlife in your direction with a view to taking a photograph to sell to you. Why, one wonders, when there are so many options and so many beaches to choose from, would anyone travel to endure this?
More and more people are visiting Phuket – arrivals at the island's airport rose by one-sixth last year – but they're not coming for Patong. It's the mid and luxury market that's booming. Thomson will launch non-stop flights from the UK in November, and the super-modern Como – from the team behind the Metropolitan in London and Parrot Cay on Turks and Caicos – will be opening around the same time. I flew to Phuket on Emirates, which launched a new route to the island from its hub in Dubai at the end of last year. That places the island just one stop from Birmingham, Manchester, Newcastle and Glasgow. Travelling from Heathrow there's a minimum four-hour stopover in Dubai, but you're still cutting out the faff of a night in Bangkok, and there's the option of breaking the journey for a two-centre stay, with some desert rambling and mega-mall safaris in the Middle East before you head to the beach.
There's no denying that the main appeal of Phuket lies in resort life. There's little in the way of must-sees here. There's shopping, of course, including several Jim Thompson stores selling fine silks, but unless you've always hankered after Pop Art Buddhas, water buffalo skulls or giant lanterns, it's difficult to see why visitors are – according to a recent report – spending close to a quarter of their holiday budget on shopping. Some of that might be going on dodgy trinkets at "the world's largest gem store" just outside Patong, but more of it is probably going on Nike and Ed Hardy at the Premium Outlet Phuket. Along with fine dining and state-of-the-art spa design, this is 21st-century Thailand.
Phuket used to be a vital trading post, rich in tin, attracting Arab, Chinese and European entrepreneurs. It remains one of the wealthiest regions in Thailand, and for those expecting the kind of cosy, short-hop tuk tuk rides of Samui and similar, a first visit can be a shock. There are dual carriageways, mega-malls and Tesco Lotus hypermarkets aplenty. There are still shacks selling gasoline at the side of the road in what look like old Tizer bottles, but there are also vast glass-fronted interior design stores, and endless hoardings for new luxury apartments.
Tre is the Banyan Tree's lagoon-side restaurant: it stands adjacent to the most deluxe of the Banyan Tree villas, each of which has a bedroom encased in glass and surrounded by a private pool. Here, the newly deep pockets of many Muscovites keep room occupancy rates as high as some of the prices. Bargain Thailand, RIP.
With myriad activities, from golfing to trampolining, and exceptionally generously sized villas, the Banyan Tree is popular with families from around the globe. (The menu offered guidance on how to pronounce "saffron", while also detailing the £45 corkage charge should you have brought your own champagne from duty free. Ouch.)
The food, however, was faultless. The resort's spa, with its gold and layered slate flourishes, and treatments using lush ylang ylang and black pepper body oil is wonderful, as is the adjacent pool, surrounded by plumeria trees in full blossom, and the neighbouring restaurant, Tamarind. I had some of the best sushi I have ever eaten in my life here. But I expected to: the prices don't just put Nobu in the shade; they put a little hat on it and hand it a margarita.
At The Surin, which shares otherwise private Pansea Beach with the Amanpuri –and shares an architect and designer in Ed Tuttle too – you can order bargain chilled coconuts, gin and tonics and pina coladas from the local women who have enterprisingly set up a ramshackle bar a short stroll from the hotel's striking, dark-tiled hexagonal pool.
The Surin was refurbished last year, its villas lightened up with pale greys and metallics, and some very chic Californian 1950s interior touches introduced into the bright amber library and dining areas, all set into the cliff that overlooks the pool and beach. This is one of the most enjoyable and attractive hotels I've been to in years.
The best food I had on the island was – as is often the way – at an anarchically run, dirt-cheap place stuffed with locals, plastic chairs and sticky tables identified by roughly painted numbers. The cauldron of tom yam soup and a super-spicy lemon grass salad I ate at Laem Hin were precisely the kind of things that keep me coming back to Thailand time and time again.
Another dinner of grilled squid with lime, at the somewhat flashier Kan Eang @ Pier, on the south-east coast, past the landmark Big Buddha, was also very good indeed. But the seafood at The Surin is a knockout: I had steamed white fish with lime and garlic just about every night on Phuket, and the very best I had was at The Surin.
As virgin beaches become scarcer on the island, developers are looking further afield. There are plans for a 10-room retreat called Iniala on Natai beach, just north of the strait that separates Phuket from the mainland. And one of the most popular luxury destinations in the area is an outpost of the Six Senses, on Koh Yao Noi. ("Beyond Phuket" as they describe it.) This largely Muslim island has very little other development, although you can head out to Takao Pier for a pizza at La Luna, run by an expatriate Italian who came to the island on a rock-climbing expedition and never left.
The Six Senses goes to great lengths to push its barefoot luxury ethos: it looks like a bunch of expert Amish carpenters were cast away with an infinite amount of bamboo at their disposal, while chef John Sun Beck – who helped launch The London hotel in Los Angeles with Gordon Ramsay – grows much of his own produce on site.
It has one key wow factor: the view from its Hilltop Reserve, out across the infinity pool and Phang Nga Bay, where huge emerald green rocks line the horizon, like Jurassic chess pieces. All day, I lost myself in the view. Then, after dark, they erected a screen at the edge of the pool and projected The Man with the Golden Gun. This was the movie that, for many, put Phuket on the map: Bond villain Scaramanga's hideout is Khow Ping Khan, part of Phang Nga Bay. When they filmed here in 1974, there was nothing, not even a gap-year backpacker.
The next morning, I took a boat trip to see the island, and it's precisely as it was on film, right down to the top-heavy jungle-covered limestone formations in the water. Except of course, these days Christopher Lee would have a hard time plotting his dastardly deeds in private because – like most of Phuket – it's a secret everyone's in on.
Travel Essentials
Getting there
There are currently no direct flights to Phuket from the UK. Mark C O'Flaherty was a guest of Emirates (0844 800 2777; emirates.com), which flies daily from various UK airports via Dubai. Thomson (0871 230 2555; thomson.co.uk) launches non-stop flights from Gatwick in November.
Staying there
Amanpuri (00 66 76 324 333; amanresorts.com). Doubles from $950 (£637), room only.
Banyan Tree (00 66 76 324 374; banyantree.com). B&B doubles from £177.
The Surin (00 66 76 621 580; thesurinphuket.com). B&B doubles from £149.
Six Senses, Koh Yao Noi (00 66 76 418 500; sixsenses.com). B&B doubles from £199.
Eating and drinking there
Kan Eang @ Pier, Chalong (00 66 76 381 212; kaneang-pier.com)
Laem Hin, Phuket Town (00 66 76 239 35)
La Luna (00 66 084 6291 550; lalunakohyao.com)
Lim's, Kalim Beach (00 66 76 344 834; limsphuket.com)
Register for free to continue reading
Registration is a free and easy way to support our truly independent journalism
By registering, you will also enjoy limited access to Premium articles, exclusive newsletters, commenting, and virtual events with our leading journalists
Already have an account? sign in
Join our new commenting forum
Join thought-provoking conversations, follow other Independent readers and see their replies