The Independent's journalism is supported by our readers. When you purchase through links on our site, we may earn commission.
Why Bhutan's 'hardline vegetarian right' wants everyone in the country to stop eating meat
Choosing what to eat while on holiday in the Himalayan Kingdom can feel intensely political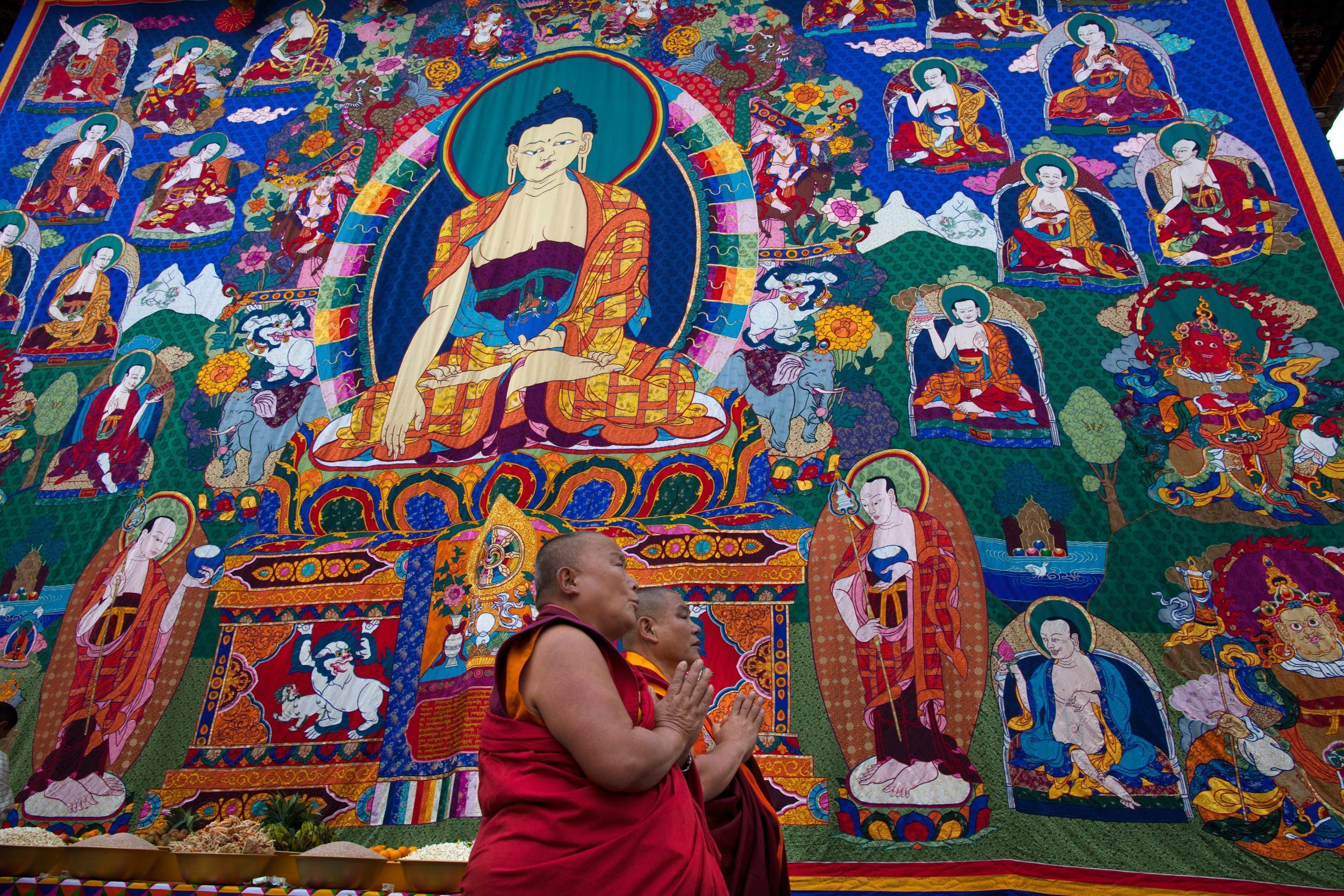 It is purported to be the happiest country in the world, but if there is one subject guaranteed to flare tensions in the Buddhist Kingdom of Bhutan, it's meat.
"It is okay because the animal was not killed in Bhutan," explains my guide Kinley, when I question whether it is socially acceptable for us to be sitting down to a chicken curry in a country where butchering animals for consumption is outright banned. This reasoning might seem bizarre, but it goes a long way to explain the complex issues surrounding the consumption of meat in Bhutan.
Buddhism teaches that it is wrong to kill animals, which are seen to be part of the divine creation. But while this teaching is not taken particularly seriously in other Buddhist majority countries outside monastic circles, it is law in Bhutan, where Buddhist leaders enjoy an influential voice in public policy.
Problem is, most Bhutanese – even many monks – enjoy eating meat. So much, in fact, that Bhutan is the highest consumer of meat per capita in South Asia. As it is not illegal to consume meat in Bhutan, it's all imported. Yet Bhutan's meat-eating community is increasingly under threat from the wrath of the nation's "vegetarian right" – a growing movement led by religious figures that are calling for sanctions on the importation, sale and consumption of meat on religious grounds, despite Buddha himself well documented to have eaten meat.
This hardline approach jars a little in the context of a country that measures its success not by economics, but by a Gross National Happiness Index. And it's true that during my 10-day visit, I found Bhutanese people to be among the world's most welcoming. It's easy to see why Bhutan has become such a bucket list destination: the famous Tiger's Nest monastery perched on a misty mountaintop near Paro looks just as magical in the flesh as it does in the pictures, and the phallus-emblazoned houses of the Punakha district – an ode to a monk known as the Divine Madman for his, er, unconventional methods of "enlightening" women – have to be seen to be believed.
But if you like your meat, eating it does feel a little more political here. I felt a bit put off consuming anything non-veggie – despite my guide having no issue with it.
To illustrate just how seriously the vegetarian right takes the issue, in 2015, the announcement of government plans to build a series of plants to process imported meat (in an effort to control quality and hygiene) outraged them enough that the Zhung Dratshang – Bhutan's central monastic body – ultimately called for the projects to be halted.
Last year, Bhutan's Agriculture and Food Regulatory Authority moved to appease religious leaders by proposing a ban on the sale of meat during the holy first and fourth Bhutanese months, with heavy penalties for commercial vendors caught storing or selling meat during these sacred periods.
Some towns, including all hotels in the northern district of Bumthang, have since signed agreements among themselves to stop storing or selling meat during the auspicious months, while also agreeing to submit to surprise inspections from vegetarian committees.
Imagine my surprise, then, when I spotted a group of farmers slicing up a cow in broad daylight as my tour bus bumped along a pretty country road en route to a rural homestay. "The cow must have died of old age," Kinley shrugged when I queried what was going on. "They harvest the meat before it spoils." Now, I'm not a huge carnivore, but as someone who enjoys a juicy burger now and then, I sympathise with anyone who has to wait for a cow to die to enjoy a bit of steak.
In Bhutan, however, it is easy – for tourists, at least – to go without meat. Never, except perhaps in southern India, have I found it such a delight to "go vego" than I did here. Tourist meals in Bhutan are typically served banquet-style, and while there's usually at least one meat dish, the vegetarian options are the highlight.
The local red rice is as healthy as it is deliciously nutty, fresh organic vegetables burst with flavour, and the buckwheat momos (dumplings) served in Western Bhutan's Haa district are next-level good. It is said that a Bhutanese meal isn't complete without a serving of ema datshi or chilli cheese (literally hot green chillies cooked with local cheese), and I couldn't resist sampling this eye-wateringly spicy dish at least once a day. The key flavouring agent in Bhutanese cuisine, chilli, poses a greater challenge for many tourists than the availability of meat.
But that said, it has been a somewhat bland culinary start to 2017 for locals in Bhutan. The government has been forced to rethink a 2016 ban on the import of "toxic" chillies from India that has seen the price of local chillies skyrocket. Poor families without the land to grow their own have thus faced flavourless mealtimes thanks to reduced access to their key source for taste.
The challenges of maintaining a self-sufficient chilli crop is just one of many hurdles Bhutan has faced while ploughing ahead to become the world's first wholly organic country by 2020, an ambitious goal in an era when youth in developing nations like Bhutan are more reluctant to follow in the farming footsteps of their parents.
Despite its status as a poster child for sustainable development, Bhutan has not been left untouched by the effects of climate change either, with erratic weather over recent years having left some farmers struggling to reap a viable harvest without the use of chemicals.
While I thoroughly enjoyed being a pseudo-vegetarian during my trip to Bhutan, I'm grateful my choice to sink my chops into a juicy piece of meat sometimes isn't under threat from a hardline vegetarian sect. If Buddha was okay with eating meat, surely Bhutan's meat-lovers deserve a bit of slack?
Travel essentials
Getting there
British Airways (0870 850 9 850; ba.com) flies to Delhi from about £480 return, from where connecting flights are available to Paro with Druk Air (00 975 8 271 856; drukair.com.bt) from about £445 return. UK citizens transiting via Delhi also need to obtain a double-entry Indian visa (in.vfsglobal.co.uk).
Staying there
Tourist hotels run from the quaint and comfortable (such as Gangtey Palace in Paro; hotel.bt) to sheer luxury (such as the Aman group's five Amankora lodges scattered throughout the country; amankora.com). Many organised tours include at least one night at a basic village homestay.
Visiting there
All travellers to Bhutan need to book a package with either an international or local tour operator. British passport holders require a visa to visit Bhutan, which is issued upon arrival – applications are submitted in advance by the tour operator. The writer travelled with G Adventures (gadventures.com).
More information
Join our commenting forum
Join thought-provoking conversations, follow other Independent readers and see their replies