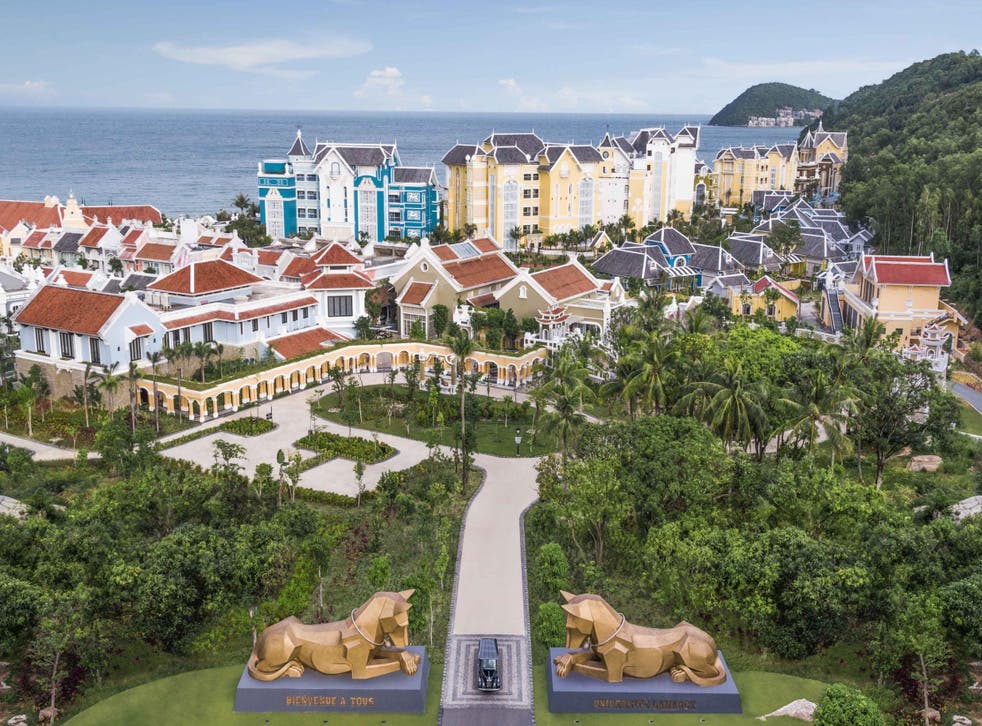 Bill Bensley: Meet the designer who builds quirky luxury hotels in a completely sustainable way
On a tour of the new JW Marriott Phu Quoc Emerald Bay Resort & Spa in Vietnam, Helen Coffey meets the off-the-wall designer combining far-out luxury with responsible tourism
Helen Coffey
Thursday 17 August 2017 13:05 Comments
"Do you want to see the coolest toilet in the world?" So says revolutionary hotel designer Bill Bensley, beaming with the sort of excitement not usually associated with excrement.
"Come on!" He doesn't wait for a reply, bounding off around the corner like a week-old puppy and leaving our slightly startled group to hurriedly try and catch up with him.
We are being shown around his new baby, the JW Marriott on the southern Vietnamese island of Phu Quoc. And it really is his "baby" – Bensley designed, purchased and positioned every feature, from the exact shade of bubblegum pink that adorns the inside of the cocktail bar to the array of vintage coffee grinders that line the wall of the on-site café.
"Here – what do you think? Pretty neat, huh?" Flinging open the door, he gestures to the famed bathroom. It features floor to ceiling mirrored walls – cool, yes. Intimidating, definitely. We all shriek and squeal at the idea of watching ourselves use the facilities, but Bensley's already gone, onto his next favourite room, his next favourite prop.
He's an eccentric guy. In fact, eccentric doesn't quite cover it – crackling with an energy that's almost palpable, he is part Willy Wonka, part mad scientist. This is his creation: and what a creation it is.
Although commissioned by Marriott International, the hotel couldn't feel any less like part of a corporate chain. It is, quite frankly, one of the strangest yet most beautiful places I've ever stayed; like wandering onto a Tim Burton set and not quite knowing how you got there. Bensley has designed the entire 243-room hotel to resemble a university campus – albeit a sort of Alice in Wonderland meets Disney version. Each building is a scholarly department and themed as such: there is the conchology department (shells), the zoology department, the spa is the department of mycology (mushrooms) while the bar is, rather aptly, the department of chemistry. Buildings are splashed with colourful paint in hues of butterscotch, coral, cornflower blue.
If this all sounds a bit, well, tacky, then let me reassure you – somehow, I know not how, it isn't. Perhaps it's because it's just too unusual to fall into that trap. All manner of props and bric-a-brac flesh out the place, with much of it authentically antique, rather than shop-bought gimmicky plastic, and that helps give it soul. It doesn't hurt that the rooms themselves are pure luxury – high ceilings, giant dark wood wardrobes and a spacious bathroom complete with stand-alone tub and rainfall shower remind you that, although knowingly quirky, this is five-star accommodation. And at an estimated cost of $1 million to build each room, it's no wonder it all feels more decadent than Disney.
The university theme is taken to the absolute limit, making the whole experience oddly yet pleasantly theatrical. The hotel manager is referred to at all times as the Dean (and he really doesn't break character, no matter how hard you push him); the schedule of activities, which includes paddle board yoga and traditional Vietnamese lantern making, is laid out like a student timetable; and Bensley has even given the hotel an elaborate backstory, claiming it's built on the former site of Lamarck University, which used to be a hub of colonial intellectualism in the early 20th century. All codswallop of course, but enjoyable enough to play along with once you know the score. There's even a university mascot, a Phu Quoc Ridgeback (the native breed of dog).
Development has come swiftly to this small island. Realising that, with its golden beaches and balmy weather, it could easily be turned into a slice of paradise with which to tempt tourists, big money has been thrown at it in the last five years in a bid to turn Phu Quoc into the next big holiday hotspot. While Marriott got in there quickly as the first international luxury hotel brand, it's been swiftly followed by Eden Resort, Novotel and MGallery, as well as domestic contenders Saigon Phu Quoc Resort and a Vinpearl mega resort. Next year will see a slew of further hotel openings, including Lux Phu Quoc.
The Vietnamese government has got involved too, incentivising tourists to visit by offering VAT refunds at Phu Quoc Airport for foreigners carrying goods bought in Vietnam. At the moment, the majority of visitors are Vietnamese and from the wider Asian market. Brits can currently travel there with Vietnam Airlines, the only airline that flies direct from the UK to Vietnam, offering daily services from London Heathrow to Hanoi and Ho Chi Minh City. But with Thomson and First Choice offering a direct flight from London Gatwick to Phu Quoc launching in November 2017, there are clearly hopes of attracting even more far flung holidaymakers.
Of course, such quick development comes at a cost. For someone like Bensley, responsible design is a key priority. How does he balance the two?
"I always try and take into account how the hotel impacts on the local community and environment," he says. "In St Kitts I designed a series of small Kittitian homes that were familiar in scale and materials with the locals, in the hope that the villagers could build the entire 88-room hotel, as opposed to having it built in the usual way: by Chinese or Korean contractors. They did, and they are very proud of Belmont Farm at Kittitian Hill.
"At our current project, Shinta Mani Wild in Cambodia, we are working directly with the villagers to discourage logging and wildlife trapping."
During our tour, after the excitement of the bathroom, Bensley points out a veranda with an unusual design feature. The deck and the roof have been built around the previous incumbent, a large and rather beautiful tree. "Wherever possible we try not to disturb the landscape," he says. Rather hard to do when constructing a 170,442sqm hotel complex, I think to myself – but he and his team really do seem to be committed to creating positive change with each design and build, and putting back as well as taking away.
"For years now our Shinta Mani Angkor has sponsored hundreds of unfortunate young adults to learn hospitality, with a 99.9 per cent placement success rate," he adds.
It's an intoxicating and unusual mix – ethics combined with a luxe yet bizarre aesthetic that culminates in our group being treated to a Mad Hatter's Tea Party in the hotel spa. In true Bensley style it is completely, wonderfully over the top, with an actor in role as the Mad Hatter who welcomes in countless trays of outlandish rainbow-coloured cakes and biscuits, pours us an endless stream of Champagne and Pimms, and makes us each wear a silly hat for good measure. I look around the table stupidly as if in a dream – what is going on? Why am I here? And then I inwardly shrug. If responsible hotel building can be this much fun, I'm happy to fall through the looking glass.
Travel essentials
Getting there
Vietnam Airlines (vietnamairlines.com) is the only airline that flies direct from the UK to Vietnam, offering daily services from London Heathrow to Hanoi and Ho Chi Minh City from £462 return. Phu Quoc is then a 50-minute internal flight from HCMC, costing from £42 return with Vietnam Airlines.
Staying there
JW Marriott Phu Quoc Emerald Bay Resort & Spa (jwmarriottphuquoc.com) offers doubles from £308, B&B. Daily transfers to Phu Quoc's night market are complimentary, as are many of the hotel extracurricular activities.
Register for free to continue reading
Registration is a free and easy way to support our truly independent journalism
By registering, you will also enjoy limited access to Premium articles, exclusive newsletters, commenting, and virtual events with our leading journalists
Already have an account? sign in
Join our new commenting forum
Join thought-provoking conversations, follow other Independent readers and see their replies