The Independent's journalism is supported by our readers. When you purchase through links on our site, we may earn commission.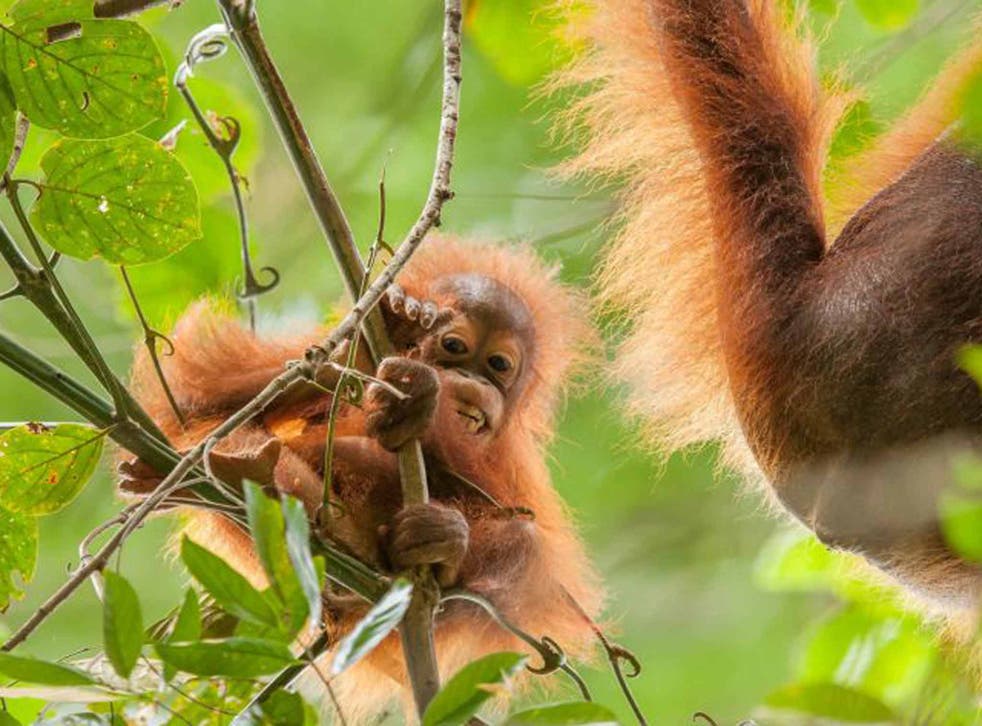 Borneo's endangered orang-utans are clinging on in the rainforest
Orang-utans are being threatened by climate change and the deliberate fires set to clear areas for the production of palm oil. Richard Waters goes in search of a jungle celebrity
Our guide, Ateh, freezes statue-still, sniffs the air, then whispers "Ssh ..." pointing up at the church-high canopy. I feel my pulse quicken with expectation, for this is our third and final day searching the pristine rainforest of the Danum Valley in Malaysian Borneo for the endangered orang-utan. We've seen plenty of other wildlife as we've variously tramped across rheumatic-looking tree roots, scrambled over fallen dipterocarp trunks, body-swerved sleeping pythons and crossed rivers on shaky suspension bridges. But the orang-utan? We might as well have been pursuing Lord Lucan.
"Where?" I mouth to Ateh.
Something large and slow shifts into view a few feet away ...
Further south, Kalimantan – Indonesia's section of Borneo – is rich pickings for everything from diamond extraction, offshore oil rigs, and open-pit mining, to massive incursions into the rainforest by palm oil plantations. However, this has been perhaps one of the worst years for environmental disasters in the region. From April to October, the annual slash and burn by palm-oil companies clearing and planting forests drove vast plumes of smoke across South-east Asia as far as Singapore and the Malaysian peninsula. El Niño had already delivered drought and the tinder-dry conditions proved perfect for the burning peatlands on which the forests have their roots (and store vast reservoirs of carbon dioxide) to advance. Smouldering like a vast underground stove, burning up to 10 metres high, the fires were soon out of control and were impossible to put out – the worst Kalimantan had seen in decades.
A thick pea-souper of yellow fog engulfed Borneo, within which an apocalyptic scene of disrupted transport, schools, and businesses, and thousands of people sick with respiratory problems, played out; meanwhile orang-utans were dropping out of burning trees, mothers emerging from vast walls of smoke clutching their young. Scientists and environmentalists estimate that 30 per cent of Kalimantan's orang-utan population has been affected, and some 4.2 million acres of their habitat have burnt down.
With orang-utan sanctuaries reporting a rise in the number of rescued animals, my quest to find them in the wilderness of Malaysian Borneo feels all the more poignant. The Danum Valley Conservation Area is a 472sq km Eden of protected original-growth forest in south-eastern Sabah, and it's here that I head with Sabah's best wildlife tour specialists, Sticky Rice Travel (which also acts as fixers for National Geographic). Having taken a 30-minute flight from Sabah's capital, Kota Kinabalu, to the town of Lahad Datu, our group of 10 hops on to a 4x4 and is driven into the interior, passing deer, monkeys, elephant dung, and a huge tusked warthog.
We hole up in simple wooden rooms at the Danum Valley Field Centre, which was designed to accommodate visiting scientists – astonishingly, a new species of plant is discovered here every week. The Danum Valley may be home to clouded leopards, bay cats, langurs, pythons, orang-utans, pygmy elephants, gibbons, hornbills and tarantulas, but whether you'll see any of them is down to how quiet your group can be, and how lucky you are.
After an excellent curry, we head out into the forest and switch on our headlamps, gingerly following Ateh into the pulsing jungle. Soaked in equatorial sweat, I pass drunken-looking lizards, huge Grant spiders, and cobwebbed tarantula holes burrowed into the ground. A Sambar deer walks delicately from the darkness and sniffs our scent before moving on. Later, we see what looks like a cuddly toy, a saucer-eyed tarsier watching us thoughtfully from a tree bough, eyes bright as headlights as they catch our beams.
At 5 o'clock the next morning, in chilly pre-dawn darkness, we climb shivering into an open truck and head to a watchtower on a hill to witness the rising sun. As the first hint of salmon daubs the glittering black sky, it's followed by brushstrokes of vermilion and Turkish Delight-pink, the endless forest below an ocean of thick white mist. Then a gibbon, the forest's elegant caretaker and alarm clock, sounds his beautiful call, a kind of melodic ray gun; dew glistens on the appearing foliage and the cicadas join in. The sun finally makes its entrance in an arc of brilliant light from behind a distant mountain.
Somewhere in here, I think to myself, are orang-utans, waking up to be home-tutored by their mothers in the medicinal qualities of plants. I think back to news footage of a mother clutching her baby as she sought sanctuary in a village where she was then stoned; no wonder she wouldn't let go of her prized investment, for mothers spend seven years with their progeny before leaving them to the wild.
Back at the camp, we're called to watch a couple of gibbons high up in banyan trees. Swinging a hundred feet above us, with long-limbed abandon they execute leaps of faith from one canopy level to the next.
The next day passes in a cycle of sweat, fatigue and exhilaration as we penetrate the endless green, spotting enticingly fresh orang-utan nests, sweet-faced red-leaf monkeys and angry mobs of thuggish macaques. Our last day's hiking, far from the camp, we swim in a gin-clear, serenely cool river. Crocs? We're too hot to worry. Dusk is not far off so Ateh rallies us to set back off into the jungle. While my sights had been set on the wild man of Borneo, I've seen plenty of equally entrancing wildlife in my time here, from elephants to marbled cats, rhinoceros hornbills to pythons. No more than two minutes' walk into the green cathedral, our guide spots some half eaten fruit, and catches the vague scent of urine. He places a finger to his lips and points upwards.
Just at that moment, a mother and her fuzzy-haired baby emerge from the foliage just a few feet away and blink at us benignly – still as ninjas, they've been watching us the whole time. We collectively lose our breath at the unexpected close encounter – in the context of orang-utans' increasingly precarious position, a few of us even have wet eyes.
Getting there
Richard Waters travelled with Singapore Airlines, which flies four times daily from Heathrow, and daily from Manchester, to Singapore for onward connections to Kota Kinabalu. Economy fares start at £745pp (0844 800 2380; singaporeair.com).
Flights from Kota Kinabalu to Lahad Datu (Danum Valley) are operated by MAS Wings (maswings.com.my) with one-way fares costing around £35.
Sticky Rice Travel (00 60 88 251 654; stickyricetravel.com) offers three-day/two-night packages, staying at the Danum Valley Field Centre (danumvalley.info), starting at £245pp, including guide and all meals.
More information
The Foreign Office warns, "there is a threat to foreigners of kidnapping and criminality on the eastern coast of Sabah and in particular the islands close to the Sulu Archipelago" (gov.uk/foreign-travel-advice).Sabah Tourism: sabahtourism.com Malaysia Tourism: tourism.gov.my/en/uk
Register for free to continue reading
Registration is a free and easy way to support our truly independent journalism
By registering, you will also enjoy limited access to Premium articles, exclusive newsletters, commenting, and virtual events with our leading journalists
Already have an account? sign in
Register for free to continue reading
Registration is a free and easy way to support our truly independent journalism
By registering, you will also enjoy limited access to Premium articles, exclusive newsletters, commenting, and virtual events with our leading journalists
Already have an account? sign in
Join our new commenting forum
Join thought-provoking conversations, follow other Independent readers and see their replies