The Independent's journalism is supported by our readers. When you purchase through links on our site, we may earn commission.
Phnom Penh city guide: Where to eat, drink, shop and stay in the Cambodian capital
How to take the ultimate trip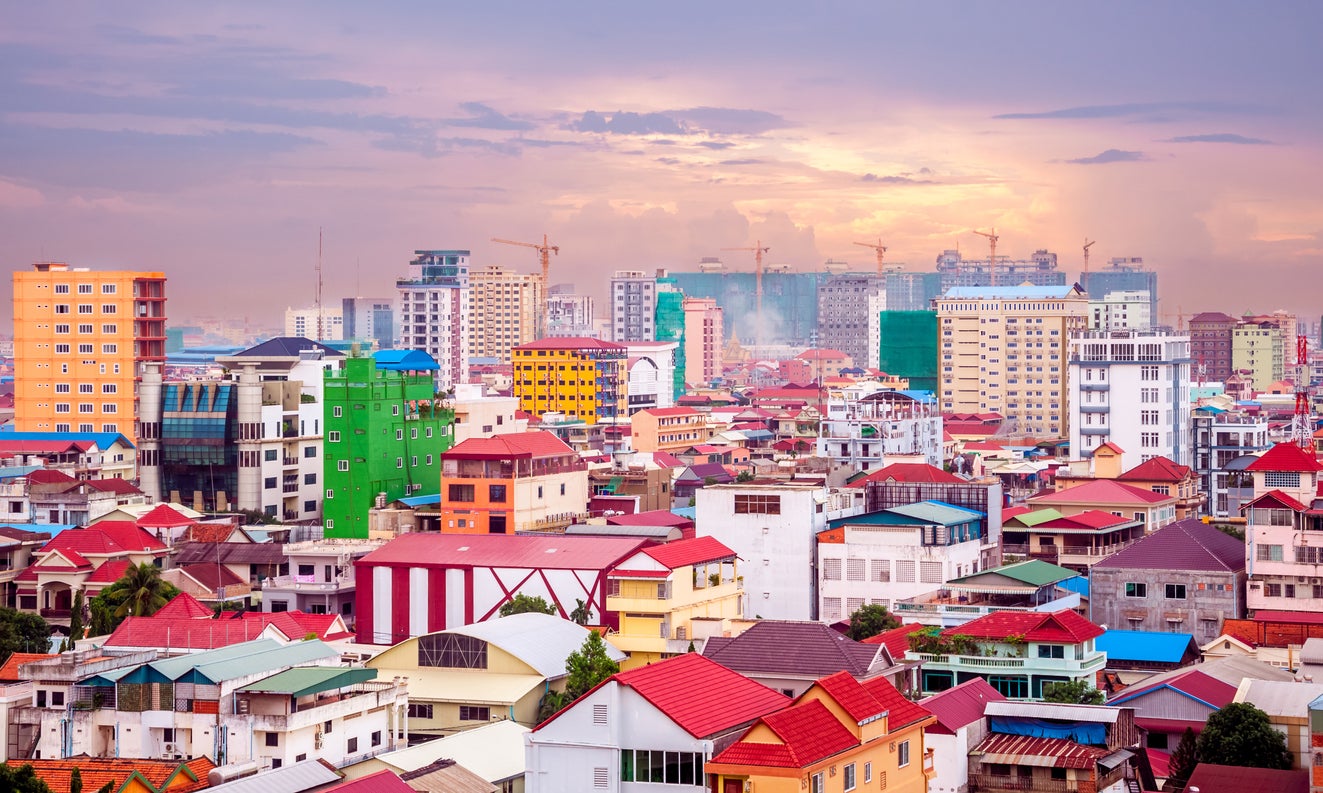 Cambodia's capital has a reputation as an unlovely arrival point for tourists heading to the ancient temples of Angkor Wat in Siem Reap, or to island resorts off the coast. But those who choose to stay will discover a city on the cusp of change, with a diverse nightlife and innovative restaurant scene emerging as an alternative to the colonial hangouts that catered to the UN personnel who tried to establish democracy in Cambodia in the Nineties.
What to do
Mingle with royalty
For a sense of Buddhist culture start with the Silver Pagoda, a temple with a silver-tiled floor, where $10 admission includes access to the Royal Palace when the king is not in residence (8-11am and 2.30-5pm daily). The walls of the Pagoda complex are covered in intricate murals depicting the Reamker, a Cambodian epic poem taking in monkey warriors, battling princes and 10-headed ogres.
Get historical
Next door, the National Museum, designed by the French historian George Grosilier, contains many ancient archaeological relics and a beautiful courtyard garden with lots of shade (entrance $10, 8am-5pm daily).
Temple crawl
Wat Phnom, in the north of the city, is said to be on the site where a landowner called Lady Penh found four Buddhas washed up from the River Mekong in 1372, on a hill that would become Phnom Penh. While beautiful, Wat Phnom is often busy with beggars and locals praying for luck or leaving offerings. A more peaceful visit is available at Wat Botum, known for its beautiful colours, or Wat Lang Ka, which offers meditation sessions on some days. All are free to visit, but remember to take off hats and shoes before entering the inner temples.
Killing Fields
Most people stop off in Phnom Penh long enough to visit the Killing Fields of Choeung Ek (admission US$6, 8am-5.30pm daily), the most famous of the hundreds of mass graves used by the communist Khmer Rouge. Between 1975 and 1979, the Khmer Rouge murdered more than a million people. The earth still throws up human bones and scraps of clothing after heavy rains at Choeung Ek, 7.5km south of Phnom Penh city, or a short 20 minutes in a tuk-tuk (around $10). But most of the time this rural site is now a peaceful monument to the dead, best explored over a couple of hours with an audio guide (included in admission).
The Tuol Sleng Genocide Museum in S21, a former high school in central Phnom Penh, is a more harrowing visit. S21 (admission $5, 8am-5pm daily) was the maximum security prison where many people were tortured into confessing collusion with foreign forces or free market activities before they were deported to the killing fields and murdered. The audio guide ($6) is the best way to understand the horror of what went on in these former classrooms, which still contain metal beds and hastily built brick cells. The walls are covered with mugshots of hundreds of prisoners, giving a human face to the genocide.
While these two sites are important to understanding Phnom Penh's recent history, visitors who only stop off there are missing out on a city where people have their sights set on the future, not the past.
Where to stay
Phnom Penh is a relatively small city with a well-established hotel scene including the massive Great Duke, a former InterContinental Hotel with a magnificent outdoor swimming pool where guests can cool off under elephant water fountains. While not the most centrally located, The Great Duke is well-placed for the area around the Russian market, with its excellent restaurants and bars. Doubles from £225, B&B.
Phnom Penh city guide
Show all 7
Among boutique options, the Pavilion is a tasteful reinvention of a colonial property that was once home to Queen Kossamak, the late King Sihanouk's mother. The hotel is spread across 36 rooms and four villas, with balcony rooms overlooking tranquil pools surrounded by dense greenery. Guests are offered a free 30-minute massage at the spa and breakfast is a la carte, served by thoughtful staff in a small restaurant by the pool at the front of the property, or delivered to your room. Doubles from £50, B&B.
The G Mekong Hotel has more of a corporate vibe, with super hi-tech rooms that have touchpads instead of light switches. The rooftop pool is the perfect place to cool off after a day on the dusty streets of the city or navigating the sprawling stalls of the Orussey Market, which is just next door. Doubles from £43, B&B.
Where to eat
Phnom Penh has no shortage of excellent restaurants serving Khmer dishes as well as other cuisines. Many restaurants in the city have a social ethos, including Romdeng (11am-11pm, kitchen closes at 10pm), a training restaurant set in a colonial villa with coveted tables around the pool. Look past the Cambodian delicacies on the menu such as deep fried tarantulas and stir-fried tree ants to get to the fish amok, a creamy curry made with coconut milk and served in a banana leaf.
Romdeng is part of TREE, an alliance of training restaurants and social enterprises that invests all profits in training new students. Friends, also in the TREE alliance, has a more casual atmosphere serving small plates and smoothies on front and rear patios (11am-11pm, kitchen closes at 10pm).
Unless you like dinner served with a side of pounding dance music, it's best to avoid tourist hotspots such as the Foreign Correspondents' Club and surrounding bars around the Riverside district on the weekend. Just a couple of streets back, David's Homemade Noodle restaurant (Street 13, +855 12 351 890) serves up delicious noodles and dumplings in a cafe that is about as no-frills as it gets. Watch David's noodle chefs roll and stretch the next batch of noodles on a counter out the front and take your seat at a plastic table to taste some of the most tender and delicate dumplings you will ever encounter.
Where to drink
The area around Phnom Penh's Russian Market was described to me as "the closest the city has to a Shoreditch". While it might take a minute for the untrained eye to see it, the streets around the market have a handful of bars that are worthy of the title if you know where to look. Long After Dark (12pm-12am) is a highlight, serving an extensive cocktail menu and Cambodian craft beers alongside an excellent menu, including unexpected dishes such as moussaka and crispy pork with red cabbage.
Sundown Social Club, by the same owners, is an open-plan rooftop bar decked out in rattan furniture (midday-11pm). On the weekends, get a jug of Pimm's for $10 and watch the sun set over the tin roofs of the market while DJs play live.
For something more low key, Ink and Drink (Street 450, 2pm-midnight) is a fun dive bar serving some of the cheapest beers around, while La Pétanque (Street 155, 4pm-12am) has beers for less than $1 during happy hour plus darts, pool and pétanque to pass the time.
For coffee, Tini (9am-9pm) is as small as the name suggests but offers incredible third-wave brews. Get your coffee on ice to cool off after a morning among the crowds at the Russian Market.
Further afield, Feel Good Café is an employee-owned business that roasts its own coffee and subsidises education opportunities for employees. It has two locations: one on street 136 near the Riverside, and another on street 29 near the Independent monument (7.30am-7.30pm).
Where to shop
Phnom Penh has so many markets, you may not have the time to see them all. If you go to just one, make it the Russian Market, which is a manageable size and has an intriguing variety of stores, from motorcycle repair shops at one end, to the women descaling fish at the other. In the middle is a restaurant area, where you can get cheap and filling noodles and other snacks. Don't miss the Vintage Shop at the southeast corner of the food stalls, which sells vintage travel and film posters.
The Central Market is worth a visit for its tall, art deco dome – a colonialist relic built in 1937. As the most foreigner-friendly market, the Central Market can be overpriced. Don't be afraid to bargain.
From 5pm, the Night Market starts up at the northern end of the Riverside. While the stalls mostly sell clothes, in the centre there is a restaurant area where you can join locals on straw mats to watch the Night Market band while eating spring rolls and Cambodian sausages.
For souvenirs and small design items, venture out of the markets to Street 240, which has a number of boutiques, including Artistanddesigner (A.N.D.), which sells homewares and clothes, and Watthan Artisans, a co-operative that sells silk scarves and textiles made by disabled artisans.
Architectural highlight
Phnom Penh is rich in architecture due to its Buddhist roots and French colonial heritage. While visiting the Central Market and Olympic Stadium will give you a taste of this history, it is best explored on a Khmer architectural walking tour (regular tours each weekend from $15pp).
Nuts and bolts
What currency do I need?
US dollars, though you will get small change in Cambodian riel.
What language do they speak?
Khmer.
Should I tip?
Restaurant staff will be delighted with 10 per cent.
What's the time difference?
Six hours ahead of the UK.
What's the average flight time from the UK?
Around 16 hours including transfers. There are no direct flights to Phnom Penh but Malaysia Airlines has daily flights from Heathrow connecting through Kuala Lumpur.
Public transport
It should take no longer than half an hour to get into the city from the airport (standard taxi fare is $15). Within the city, locals get around by tuk-tuk. It should cost no more than $5 to get from one side of the city to the other in a tuk-tuk, with most short rides costing $1-2. If a driver is asking for more, haggle.
Best view
It is hard to beat the view from the Sora Sky Bar on the 37th floor of the Rosewood Hotel in the neighbourhood surrounding Wat Phnom.
Insider tip
For locals' prices on tuk-tuks and taxis, download Grab, an Uber-like app which guarantees upfront fixed fares.
Join our commenting forum
Join thought-provoking conversations, follow other Independent readers and see their replies