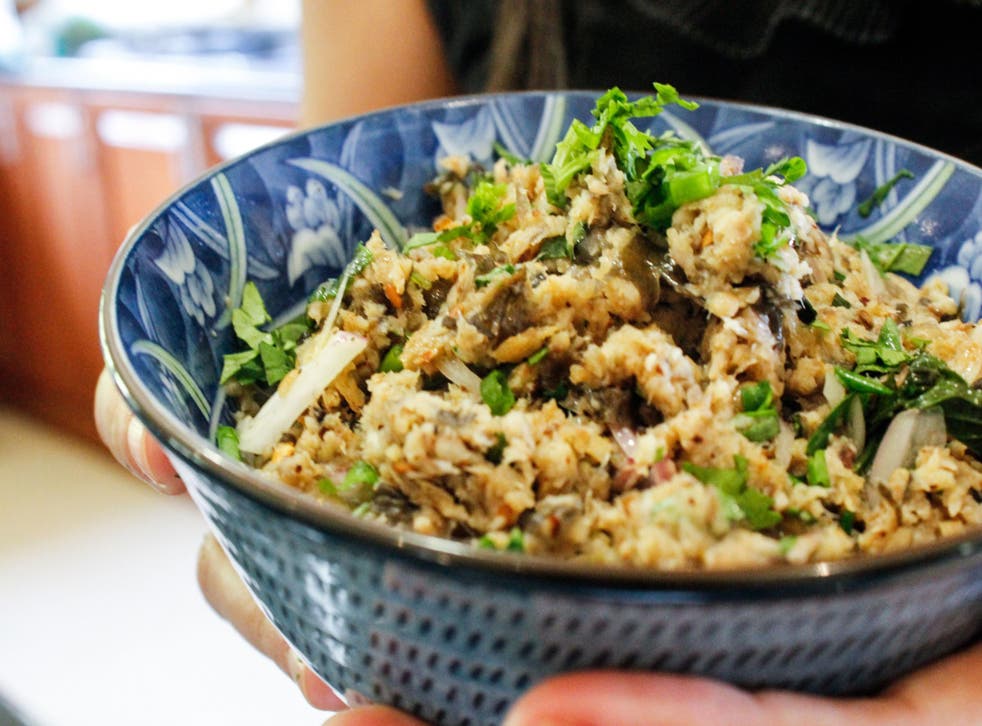 5 dishes you should try on your travels – but have never heard of
Plan your next trip around these little-known culinary creations
Some of the best dishes you'll ever eat don't come from restaurants; you have to visit a local home to find family recipes passed down through generations. Here are some of the tastiest meals that you'll have to secure a dinner invitation to try.
Jardaloo na gosht (Parsi slow-cooked lamb with apricots)
India
Parsi food is unique in India, the cuisine of a small (now 65,000-strong) ethnic minority in India, who moved to the country from Iran centuries ago. The cuisine, hard to find in restaurants in India or abroad, is distinctive and delicious, full of slow-cooked, meat-based dishes with rich gravies. One of our all-time favorites is jardaloo na gosht, a tender Parsi lamb dish, slow-cooked in a flavorful sweet and savory apricot and onion gravy and topped with crisp salli. The salli, matchstick fried potatoes, are the perfect crispy accompaniment to this dish of succulent meat that melts in your mouth and makes one of our top five dishes to try on your next travels.
Where to try: with Mahrukh in Mumbai
Bregedel (corn fritters)
Indonesia
Bregedel is a Dutch-influenced dish that is a must-eat on any Bali trip. The fried corn fritters are made by hand-grinding fresh corn, a unique experience if you get to try it yourself, on the wide, flat "cobek" (mortar and pestle) that is used in so many Balinese dishes. Bali's cuisine is unique in its use of freshly ground herbs, spices and roots in almost every dish, and bregedel is no exception. The cobek is used to grind fresh corn with bird's eye chilis, lemongrass, turmeric root, wild ginger and other aromatics, and then the ground paste is fried into light delicate fritters that are delightfully crispy on the outside and soft on the inside. You can't stop eating them. We liked them so much our hosts packed them up so we could eat them on our tour the next day.
Where to try: with Dewa and Jero in Ubud, Bali
Ensaladang talong (roasted aubergine salad)
Philippines
The Philippines is known for dishes like its infamous - and delicious - chicken adobo. However, while many restaurants make it easy to find meat-heavy Filipino delicacies, there is a wealth of incredible succulent vegetable-based dishes that are harder to come by - and are some of the best food we've eaten in the Philippines. One of our favorites that only tends to be found in people's homes is ensaladang talong, a simple dish with incredibly complex flavors that is made with roasted mashed aubergine and topped with fresh tomatoes and salted duck egg.
Where to try: with Nayna in Manila
Chirashi sushi (rice bowl)
Japan
Chirashi sushi is the home version of the ubiquitous sushi or maki rolls that we have become so familiar with. Loosely translated to "scattered sushi", chirashi sushi is something we've only encountered in local homes; it is an easy-to-make salad bowl that typically contains rice and any number of ingredients, from eggs to fried tofu. One of the best comes from a Tokyo food stylist who creatively prepares her chirashi sushi bowls to make a beautiful and flavourful dish - she dyes the rice with beetroot juice, turning the rice purple, and tops her bowls with bright egg roe, fresh sprouts and more delicious toppings creating a fresh, delicious and colorful dish.
Where to try: with Keiko in Tokyo
Laap pla duk (catfish salad)
Thailand
The first time we tried laap pla duk we were blown away by how different it tasted from any Thai food we'd ever eaten before, completely unlike the sweet pad thai and mango sticky rice of so many restaurants in Thailand and abroad - and by how delicious it was. This is an Isaan dish from northeastern Thailand, made through a long and labour-intensive process that leaves it off the menus of many restaurants. At a local home, however, we went through all of the painstaking steps to create the dish; frying a whole catfish in oil over an open charcoal fire, then using a giant machete and wooden board to mince the fish, bones and all, into the finest paste (a process which will leave even the strongest arms feeling weak). It is then mixed with a variety of herbs and spices, from fresh lemongrass to coriander root, and fried again over an open fire, creating an incredible mix of umami and fresh herb flavors that will be one of the best dishes you taste on your travels.
Where to try: with Nid in Chiang Mai
Stephanie Lawrence is co-founder of Traveling Spoon (travelingspoon.com), a website that connects travellers with local food experiences, from meals to cooking classes, in people's homes around the world
Click here to view Asian tours and holidays, with Independent Holidays.
Join our new commenting forum
Join thought-provoking conversations, follow other Independent readers and see their replies