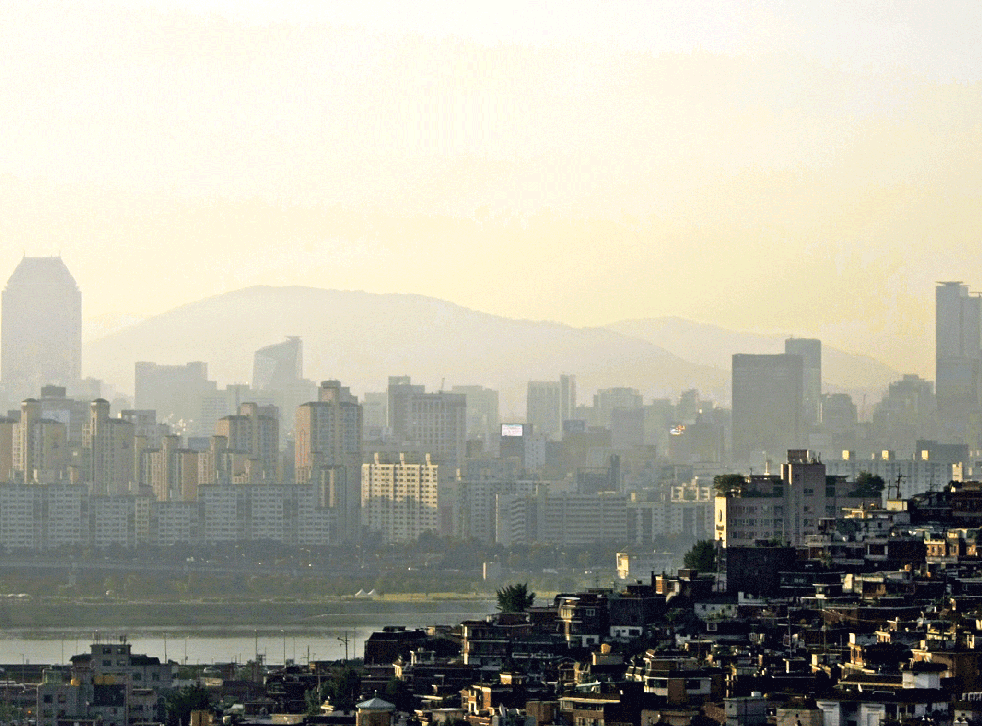 Get to the heart of Seoul
South Korea is booming, and there's no better way to see its progress than on a night out in the capital
If you arrive in Seoul on a weekday morning, as I did, you'd be hard-pressed to see why you should stay. The subway is full of people staring out the windows on their way to office jobs. There's diabolical, soul-sucking traffic. Breakfast is eaten on the go, grabbed from a convenience store or street stall. But at 9pm, you'll start to see what makes Seoul such a dynamic city. Korea is booming and its capital city is where you'll witness the rapid change. It's this dizzying economic progress that has led to British Airways resuming direct links with the city after a 14-year hiatus. Direct flights from Heathrow start again this Sunday.
When the long workday is over, Seoulites take to restaurants and bars, coffee shops and karaoke rooms, screen-golf venues and jam-packed nightclubs. Work hard? Yes. But play harder. Never mind the long work hours and "company man" hierarchical office culture – it's in their free time that the locals are at their most energetic… and it all begins with a drink.
Until a few years ago, traditional Korean spirits were the preserve of the middle-aged. But in the sort of move perfected by Brooklyn's hipsters, trendy young Seoulites have discovered for themselves soju (a clear rice wine similar to sake) and makgeolli, a milky, fizzy alcoholic beverage served in bowls. Now these two drinks can be found on cocktail lists all over town, and some bars even offer classes on how to make them. One of the best soju cocktails is served at The Timber House, a cosy bar at the Park Hyatt hotel, designed to look like a hanok, a traditional wooden house. The Blue Bell is a potent combination of premium soju, Cointreau, blueberry syrup and yogurt. It's nicer than it sounds.
For something equally refined, look no further than Seoul's poshest neighbourhood, Gangnam, which has been thrust on to the world stage by the K-pop star Psy. Since the music video went viral earlier this year, it has had over 700 million hits – David Cameron and Ban Ki-moon are said to have learned the dance moves. The song mocks the affluent lifestyle of Gangnam and it's certainly a smart and showy part of town, with its high-end shops, luxury car dealerships and dress-to-impress nightclubs.
Platoon Kunsthalle, an arts space constructed from shipping containers, sits somewhat incongruously in the midst of it all. The space serves as an incubator for new artists and designers and it hosts monthly night-time flea markets, design and film showcases and a trendy bar.
While K-pop dominates the airwaves (and the videos dominate smartphone screens), indie music is finally starting to get some attention. Powwow is a small, bare-bones venue where Korea's electro, indie, shoegaze and genre-defying live music acts and art shows can be experienced in an intimate space. Here, I saw three local indie bands rock out in the basement space – a far cry from the polished dance moves and choreographed smiles of K-pop's airbrushed teenage idols. For visitors, it can be difficult to get under Seoul's skin on a short visit, particularly since Koreans generally go out in groups and are often shy about speaking English. The best way to enjoy the city's nightlife is to jump in feet first. Don't wait for anyone to come and speak to you, it won't happen. Observe the locals, all of whom are dedicated to having the best time, and follow their lead.
When it comes to proper clubs, it's go large or go home. Entry and drinks are overpriced, women wear the world's highest heels and the men, at least some, are wearing make-up. Club Ellui in Gangnam is one of the biggest clubs in Asia with a capacity of 4,000 and several levels and lounges. It's worth checking out – if you don't mind queuing – but a far better alternative is to head to Hongdae, Seoul's lively, 24-hour student area. Wandering around the hundreds of shops, bars and clubs on any night of the week is to get a glimpse into how Koreans make the most of the college experience before settling into the work/family grind. On a Hongdae street, it's not uncommon to encounter a live band, a take-away cocktail stand (drinks come in a plastic bag for portability) and at least one karaoke business. Karaoke is an essential part of a Korean night out – grab a few friends, rent a room by the hour, order a few beers and sing your heart out. Then on to the next bar. Karaoke rooms are everywhere – just look for signs depicting a woman singing or a musical note.
And how to remedy Seoul's relentless party culture? Hangover soup is a Korean tradition. At Cheongjinok, a bare-bones restaurant, I tucked into a bowl of hearty beef broth brimming with congealed ox blood, cabbage and sprouts. It's not a fry-up, but you'd be surprised at how well it works. Cheongjinok has been serving up hangover soup to Seoul denizens for more than 70 years – a lifespan almost unheard of in this tear-'em-down, build-'em-up city. It's open 24 hours a day, which is a godsend if your hangover starts when you stumble out of the bar at 4am. Its central location in Jongno, a bustling neighbourhood that's especially lively at night, makes it popular with drinkers of all ages.
Despite a population of 10 million, Seoul runs like a well-oiled machine. The internet is the world's fastest, the subway is always on time, the public toilets are sparklingly clean. It's a city that rewards a little effort with an intensity and energy that is infinitely surprising.
Travel essentials
Getting there
British Airways (0844 493 0787; ba.com) resumes its direct service from Heathrow to Seoul on Sunday 2 December. Asiana Airlines (020-7304 9900; flyasiana.com) flies the same route, while Korean Air (00800 0656 2001; koreanair.com) flies from Heathrow and Gatwick.
Visiting, eating and drinking there
Siloam Sauna, 128-104 Jungrim-dong, Jung-gu (00 82 2 3643 9445; silloamsauna.com).
Etude House, various locations (etudehouse.com).
Powwow, B1, 559 Itaewon-dong, Yongsan-gu (00 82 10 2740 0783; powwowseoul.wordpress.com).
Platoon Kunsthalle, Nonhyeon-dong 97-22, Gangnam-gu (00 82 2 3447 1191; kunsthalle.com).
Timber House Bar, Park Hyatt Hotel, 606, Teheran-ro, Gangnam-gu (00 82 2 2016 1234; seoul.park.hyatt.com/hyatt/hotels-seoul-park).
Cheongjinok, Jongno-1-ga 24, Jongno-gu (00 82 2 735 1690).
Jongno Bin Dae Dug, 57 Unni-dong, Jongno-gu (00 82 2 742 9494; jongnobindaedug.com).
Club Ellui, 129 Cheongdam-dong Gangnam-gu (00 82 10 9111 6205; cafe.naver.com/ellui)
More information
Korea Tourism Organisation: 020 7321 2535; gokorea.co.uk
Register for free to continue reading
Registration is a free and easy way to support our truly independent journalism
By registering, you will also enjoy limited access to Premium articles, exclusive newsletters, commenting, and virtual events with our leading journalists
Already have an account? sign in
Register for free to continue reading
Registration is a free and easy way to support our truly independent journalism
By registering, you will also enjoy limited access to Premium articles, exclusive newsletters, commenting, and virtual events with our leading journalists
Already have an account? sign in
Join our new commenting forum
Join thought-provoking conversations, follow other Independent readers and see their replies