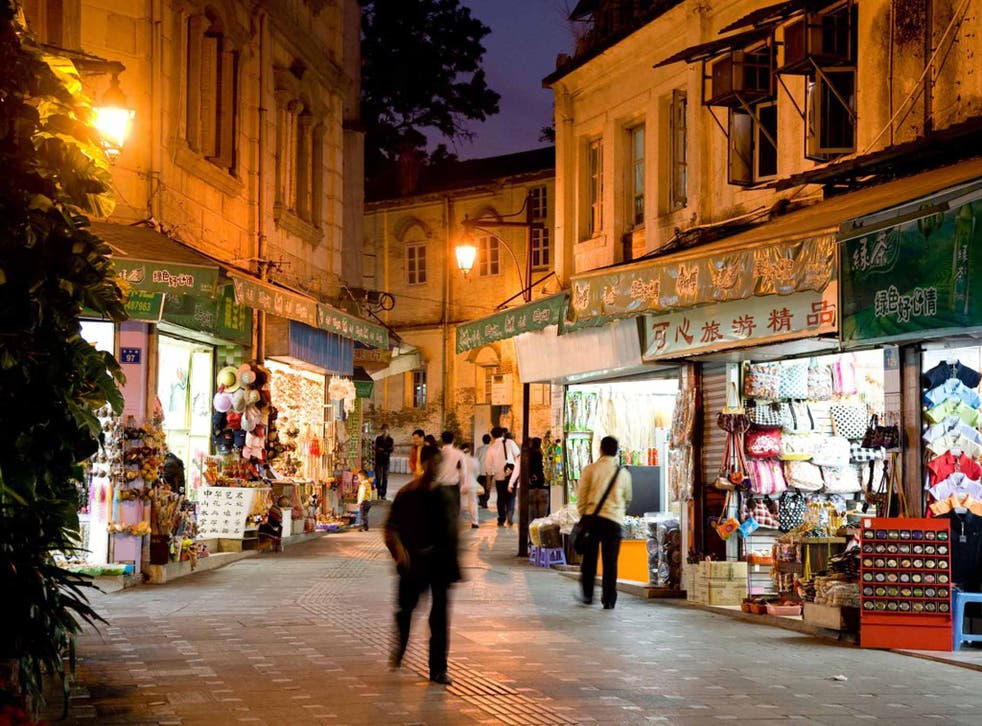 Gulangyu: Tranquil isle once home to diplomats and China's elite
Once dubbed "the richest square mile on earth", Gulangyu has now morphed into an open-air museum of East-meets-West
Lucy Grewcock
Friday 03 April 2015 09:21 Comments
More tea," I said, pouring Earl Grey into Helen's cup. "Absolutely," my friend affirmed, sticking out her little finger and sipping delicately from the bone china.
We were sitting on white wicker furniture in the grounds of a former colonial mansion, with piano music rippling from the window. We couldn't resist the urge to play-act. Pink roses perfumed the air and birdsong cascaded from the trees. As I returned my teacup to its matching saucer, a peacock wailed from somewhere in the shrubbery and a light breeze set the red lanterns swaying on the veranda behind me.
A six-minute ferry ride from Xiamen city, south-east China, the car-free islet of Gulangyu sits in a narrow blue strait, looking south-east towards Taiwan. Drenched in greenery and skirted by golden sands, two mounds rise from its subtropical centre, as if someone has given it a couple of knocks on the head with a hammer. A stone-hewn staircase leads to the top of the tallest lump, Sunlight Peak (92 metres tall), where, from a rocky pulpit, you can gaze down on hundreds of red-tiled roofs.
Known by colonialists as Amoy, Xiamen was one of five Chinese treaty ports claimed by the British in the first Opium War of 1842. As Sino-European trade gathered momentum, Gulangyu became the settlement of choice for expatriates and wealthy Chinese. Thirteen countries erected consulates here, and alongside stood the grand houses of Chinese elites, American missionaries, Dutch doctors, and British sugar barons, each building echoing the owner's homeland. The result is an eccentric mishmash of world architecture.
Gulangyu was a hotbed of arts and academia. Literature and medical research flourished, but the island found its forte in music, nurturing the country's most respected pianists. This legacy lives on in Gulangyu's Music Academy, whose students can often be heard running through scales as you wander the narrow streets.
By the 1920s the islet had been dubbed "the richest square mile on earth". Today Gulangyu is vying for global recognition of a different kind, having morphed into an open-air museum of East-meets-West. Currently on Unesco's "tentative list", Gulangyu hopes to achieve heritage status by 2016. To accelerate this application, officials have spent recent years returning the most prominent buildings to their former glory.
The restoration scheme is almost complete now but, with 1,000-plus historic buildings to consider, the budget only stretches so far, and hidden next to freshly painted façades are the haunting remains of former homes. Heavy doors hang off hinges, balconies burst with weeds, and once-glorious gardens hide behind curtains of creaking bamboo and the hairy roots of banyan trees.
Gulangyu's glory days and grandest buildings are celebrated in Hi Heaven Villa – a 1920s redbrick palace where we spent an hour engrossed in grainy photos and hand-drawn floor plans. Next we ticked-off the Piano Museum's 200-strong collection of polished uprights and elegant grands, before setting off on a self-guided heritage tour.
Lost in a labyrinth of leafy backstreets, we ducked down an umbrella lane – tiny passages deemed too tight to open a parasol in – and emerged into a different world. Pop music pumped from stereos, lights flashed over shop fronts and tour guides hollered down packed streets. Seafood sizzled on barbecues, spat in fryers and splashed in buckets, pink spider-crab claws reached out like witches' fingers and blue flames licked up from flaming oysters. With pastel- coloured townhouses peeping out behind the tourist tat, it felt as if we were in "Asia World" at a theme park.
Concentrated around the main ferry port, Gulangyu's commercial zone, thankfully, fills only a few streets; a touch bigger or busier and it could ruin the island's appeal. Aware of this, local authorities are considering capping daily visits or raising the price of ferry tickets – the return trip starts at just three yuan (about 30p).
However, at night the day-trippers disperse and overnight guests have the island to themselves. We found ourselves wandering along moonlit backstreets as thousands of frogs burped and croaked, and crickets provided accompaniment with their rhythmic chirping. Waves lapped the sleepy shores as couples canoodled on the beach or strolled along the north-coast promenade, where the bright lights of Xiamen reflected in the water. Gulangyu felt a world away from the city's stream of speeding cars; a peaceful escape from modern China, just across the water.
Getting there
Lucy Grewcock travelled with Wendy Wu Tours (0844 288 5396; wendywutours.co.uk). Three-day visits to Gulangyu can be tailored on request. The island also features in the 17-night Southern Odyssey tour. For a 22 October departure, the price is £3,790pp including flights, meals and accommodation.
More information
Register for free to continue reading
Registration is a free and easy way to support our truly independent journalism
By registering, you will also enjoy limited access to Premium articles, exclusive newsletters, commenting, and virtual events with our leading journalists
Already have an account? sign in
Join our new commenting forum
Join thought-provoking conversations, follow other Independent readers and see their replies