Hajj: How to make this three-million strong Muslim pilgrimage environmentally friendly
The annual Islamic pilgrimage to Mecca is over for another year, but the environmental impact is still being felt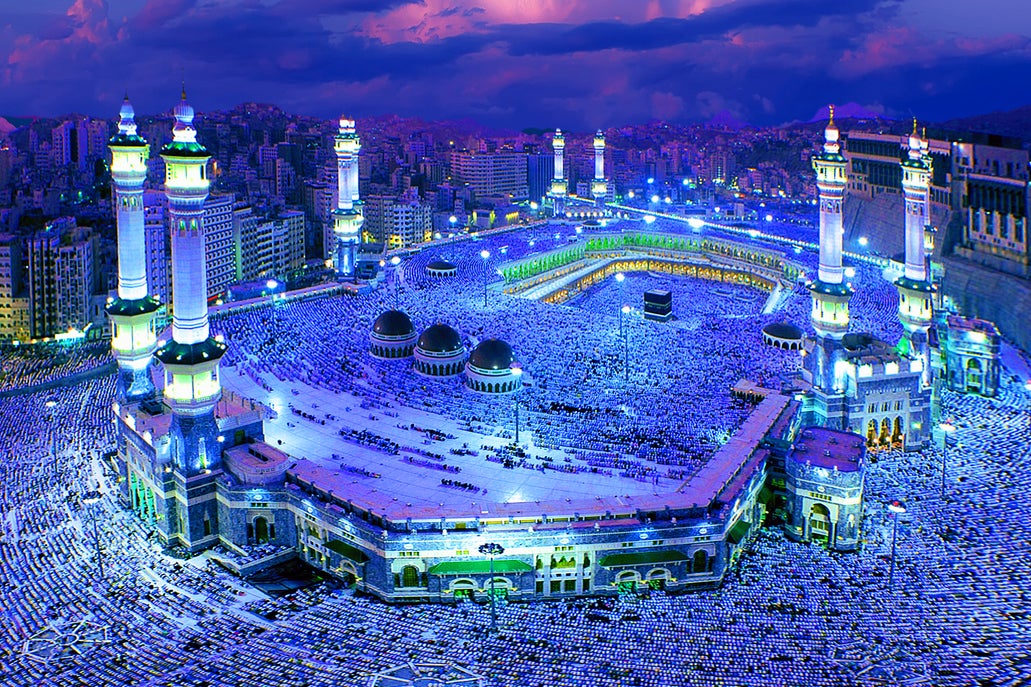 Plastic water bottles and cups, Styrofoam take-out containers with half-eaten food, plastic carrier bags; a trail of waste mingling with carbon dioxide fumes erupts from miles of cranky buses, carrying tired yet exultant pilgrims alongside dusty desert roads. These are the environmental remnants of the world's largest annual pilgrimage. It's a sorrowful sight – the antithesis to the once-in-a-lifetime spiritual experience that is Hajj.
Going green may seem the obvious choice as we continue to learn more about the effects of climate change, but for Muslims, the protection and maintenance of nature isn't just a social responsibility – it's also a religious one. According to the Qur'an, every human being is a steward of the earth, responsible for the care and wellbeing of nature in all its forms, due to, in the words of environmentalist Othman Llewellyn, "humanity's enormous ability to do both good and evil; with ability comes responsibility."
So, when approximately three million pilgrims descend upon Mecca and Medina – Islam's most holy places – during the Hajj pilgrimage, the environmental impact is cause for concern.
Six years ago, Dr Husna Ahmad OBE, CEO of the UK-based international development NGO Global One, created the world's first "Green Guide to Hajj" in collaboration with ARC. She reflects that perhaps Muslims in 2017 are more aware of their responsibility to the environment and more active in contributing to positive change.
"I set out with a very ambitious plan for the guide but unfortunately I think six years ago when it was produced the Muslim world was not ready to really take action," she says. "I am still very hopeful that others will continue this work and really push pilgrims to walk lightly on this earth, and use their consumer power to demand that travel agents think about climate change."
The guide uses extensive theological grounding from the Qur'an and traditions of the Prophet Muhammad to ponder the environmental destruction pilgrims may be causing, as well as offering practical guidance on how to experience a more spiritual, sustainable pilgrimage.
Dr Ahmad argues UK Muslims should be at the forefront of creating a greener Hajj: "While we need to be aware of the poor economic condition of Muslims in the UK, that is still not a good enough excuse for our lack of engagement on climate change. Muslims are becoming more aware of the responsibilities as stewards of this planet, especially Millennial Muslims who are very conscious of the environmental impact of our actions."
A significant factor in the environmental impact of Hajj tourism is the rise in the number of pilgrims and Saudi's extensive and continuous expansion and reconstruction of holy sites and hotels. It's not unusual to hear Hajji's (the title given to those who've performed the Hajj) declaring the number of times they've performed this ritual pilgrimage, following in the footsteps of the Prophet of Islam. Although it isn't forbidden to undertake Hajj multiple times, the environmental teachings of Islam together with scientific findings should, in theory, discourage excessive journeys.
"It is important that people realize it's irresponsible to take multiple Hajj trips, because the pressures of having a convergence of three million people mean there's inevitably an environmental impact," says Dr Ahmad, who suggests quotas as a practical way of tackling the problem.
The Saudi government undoubtedly faces a colossal challenge in managing this unique form of tourism, but progress is being made. "Saudi Arabia is working hard to bring solar energy to the Kingdom with a $50 billion push to promote solar and wind energy, and has installed the Makkah Metro for pilgrims," says Dr Ahmad.
By 2018 there should be a fully functioning high-speed railway line, serving Mecca, Medina and the entry city for Hajj pilgrims, Jeddah. Some hotels, such as the Movenpick Anwar Al-Madinah, pride themselves on educating both staff and members of the community on sustainable practices. Sameh El Nashar, the hotel's general manager and head of its environment committee, has implemented a detailed action plan, which ensures business activities do not impact cultural and natural heritage sites; prioritises environmentally friendly waste products; and continually raises awareness of sustainable practices.
Others have joined Dr Ahmad on her quest to create a greener Hajj. Dr Fachruddin Majeri Mangunjaya of Universitas Nasional in Jakarta has long been encouraging Indonesian travel agents to consider sustainable travel, and is now offering pilgrims the world's first Green Hajj app. Like the Green Guide to Hajj, the app aims to educate pilgrims about their responsibilities as stewards of the earth and to motivate them to do their bit for the environment.
So what can pilgrims do to be environmentally responsible travellers, reduce their carbon footprint and experience the Hajj in a way that is more spiritually rewarding?
Conserve water
Prophetic tradition teaches Muslims to use water sparingly, even if one finds themselves at the mouth of a river.
Choose a green airline
The newest aircrafts tend to fly the most efficient and least polluting planes.
Walk or cycle
It may seem like a hefty and daunting task, but some pilgrims choose to travel to Saudi by foot or bicycle. It may take longer to get there, but a worthwhile endeavour considering the environmental value and spiritual satisfaction.
Pick a hotel that cares
Don't leave it up to your travel agent to book your hotel; often they've bought rooms a year or two in advance and environmental responsibility doesn't tend to feature in decision making. Do your own research to discover which hotels are committed to green practices.
Pack a re-usable water bottle
Refill, rather than purchase bottled water which contributes to the creation of waste.
Avoid plastic bags
Use reusable cloth totes instead.
Buy local
Swap familiar fast-food chains which tend to import their ingredients from Europe and South America for independent cafes and restaurants using local produce. The same goes for souvenirs; buy from vendors selling locally crafted products.
Get involved
Join climate action groups, such as IFEES and MADE NGO, and help educate the UK's Muslim community on their responsibility as caretakers of the earth. Vocalise your environmental concerns to travel agents, airlines and hotels.
Join our commenting forum
Join thought-provoking conversations, follow other Independent readers and see their replies